To highlight the dangers of drink driving, a driving school in Japan adopted an experiential approach — letting participants try driving while drunk to find out for themselves.
School instructors let participants complete a test circuit when sober, and try it again once they were suitably intoxicated.
The experiment was held at Chikushino Driving School in Fukuoka, Japan, on Aug. 21, reported Mainichi Shinbun, a Japan-based newspaper.
It was part of an awareness campaign organised by the Chikushino Police Department after a drink driving accident in the Fukuoka prefecture in August 2006 resulted in the death of three children, aged four, three and one respectively.
In time for the 17th anniversary of the tragic accident, which falls on Aug. 25, 2023, the police organised the special session to let local drivers experience the dangers of drink driving first-hand.
What they did
A YouTube video by FBS News, a Fukuoka-based television network, showcased what participants went through.
They had to tackle three challenges within the test circuit: a slalom course that required them to swerve around obstacles, an S-shaped course, and a crank course with tighter turns.
In the video, FBS reporter Yuichiro Kodama started out by navigating the course while sober, with no issues.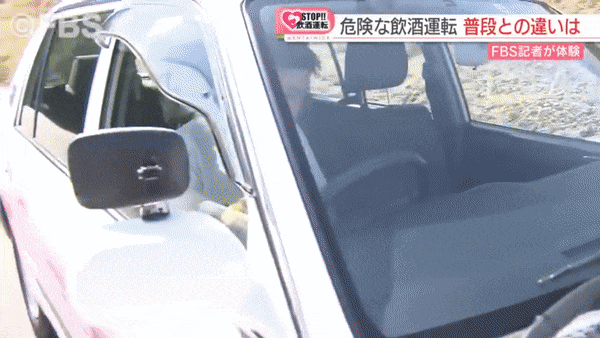 Subsequently, he downed one cup of beer and five highballs, before taking a breathalyser test.
The test detected 0.87 milligrams of alcohol per liter of breath, nearly six times of Japan's legal drink driving limit of 0.15 milligrams.
Kodama then tried the course again, this time accompanied by a driving instructor who assessed his alertness and driving skills.
However, it did not go nearly as smoothly as when he was sober.
On the slalom course, Kodama steered the car into one of the safety cones, causing the vehicle to screech to a halt.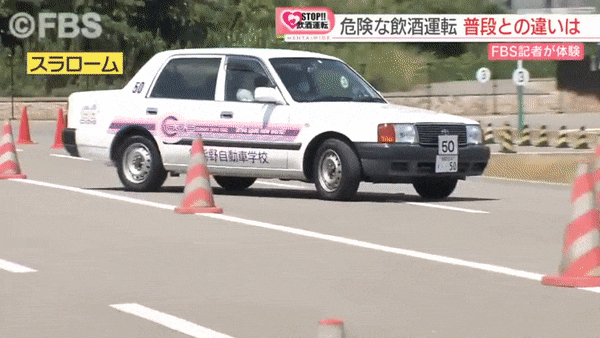 He also failed to complete the first turn on the crank course, colliding with the poles lining the sides of the course.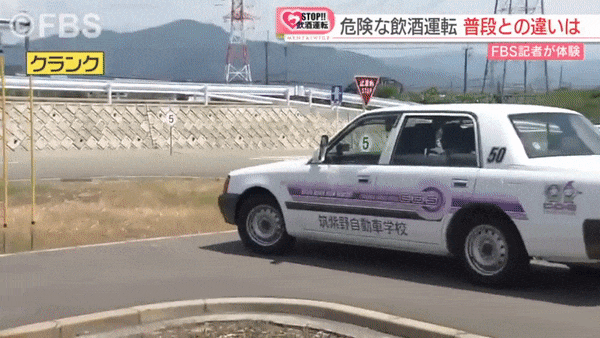 Additionally, when he reversed the car from this position, Kodama overshot the edge of the track, causing one of the car's back wheels to slip on the ground.
And at some moments during the drive, the reporter looked like he was having trouble keeping his eyes open.
After getting out from the vehicle, the instructor told a visibly tired Kodama that his driving would "100 per cent" have resulted in an accident.
She also noted that although he started out confidently, the car's handling became more and more shaky for the rest of the drive, which made it very uncomfortable for her as a passenger.
You can watch the full video here:
&amp
Police noticed trend of DUI offences
According to a police spokesperson, many participants shared how they had been "overconfident" in their ability to drive under the influence of alcohol, and had made more errors than they thought they would, CNN reported.
Others said that they felt well enough to drive after drinking, but noticed their ability to control the vehicle was affected.
Manichi Shinbun also reported figures from the Fukuoka Prefectural Police on drink driving incidents they had handled.
In 2022, 1,391 individuals were arrested on suspicion of driving under the influence (DUI).
1,122 of these drivers (80.7 per cent) were found to have high alcohol concentrations in their blood at or above the 0.25 mg benchmark.
And between January and July this year, 672 drivers were found guilty of DUI, indicating a similar trend, the police noted.
Top image from FBS News / YouTube.
If you like what you read, follow us on Facebook, Instagram, Twitter and Telegram to get the latest updates.