Firsthand is a new content pillar by Mothership, featuring in-depth articles and videos about people in Singapore and their stories.
We'll explore issues that matter by experiencing them for ourselves, gather expert opinions, and hear the perspectives of young Singaporeans, to present the points of view that matter, firsthand.

---
I received a brief description of the first Yakult Auntie in Singapore, Chong Kwai Yong before meeting her a couple of weeks ago.
What struck me was how Chong's been doing this for 37 years now. Isn't Yakult found in almost all supermarkets and convenience stores?
Why does Yakult still have door-to-door salespersons, and how does Chong still have a good number of customers, some of whom I was about to meet in a couple of minutes?
The Grab finally stopped at an HDB block in Choa Chu Kang (where the interview was held) and I saw three people in their 50s to 60s, in white polo shirts trimmed in red, with the words "Yakult" on the breast pocket.
"Yeah, I was at the right place," I thought and walked towards them.
The first Yakult Lady
Yakult was introduced to Singaporeans in 1979 but its home delivery service only started seven years later, in 1986.
Amongst the pioneers is Chong, who joined in March that year.
The drink was still new to the local market, and she had to go door-to-door to convince residents in Bukit Batok about its benefits.
But who'd believe her?
"It wasn't easy," she admitted, "they don't even know who you are".
Knocking on each door, readied with rehearsed lines about the probiotic drink and how it was good for their gut — she'd repeat this over and over.
"There wasn't anyone who'd slam the door, they just thought of me as a stranger," she said, explaining why the job was not bad, but still tough.
Every day, she navigates her way up and down HDB blocks, carrying a cooler bag filled with Yakult, for two hours at a time. This was a tedious task, even for the younger Chong.
"My legs were so painful and I wanted to give up," she recalled.
When she told her friends at the company, they came to her place, brought medicine and knelt by her feet to massage her legs.
"Would you feel touched?" she asked me. I nodded my head.
"You think it's just going up and selling the drink, I still have to talk to them," Chong laughed.
But now, after years of such efforts, she's become more than a saleslady — to her regulars, she's also a friend.
As she made her way to their houses, she debriefed me about each customer; One lives with her daughter, another has knee problems, another uses sandbags to work out, and another lost her husband a few years ago.
Leaning her weight on their gate frame, she talks to them about their day and what's been going on, before passing them their drinks, giving them a gentle pat on their shoulders and heading to the next house.
If she wasn't in her work attire, I'd think Chong was just visiting an old friend.
"You call me ah?" she ended one of her conversations, feeling the need to chat more after work.
"I drink coffee with them, go on holidays with them," she said about the customers-turned-friends she's made over the years.
Building relationships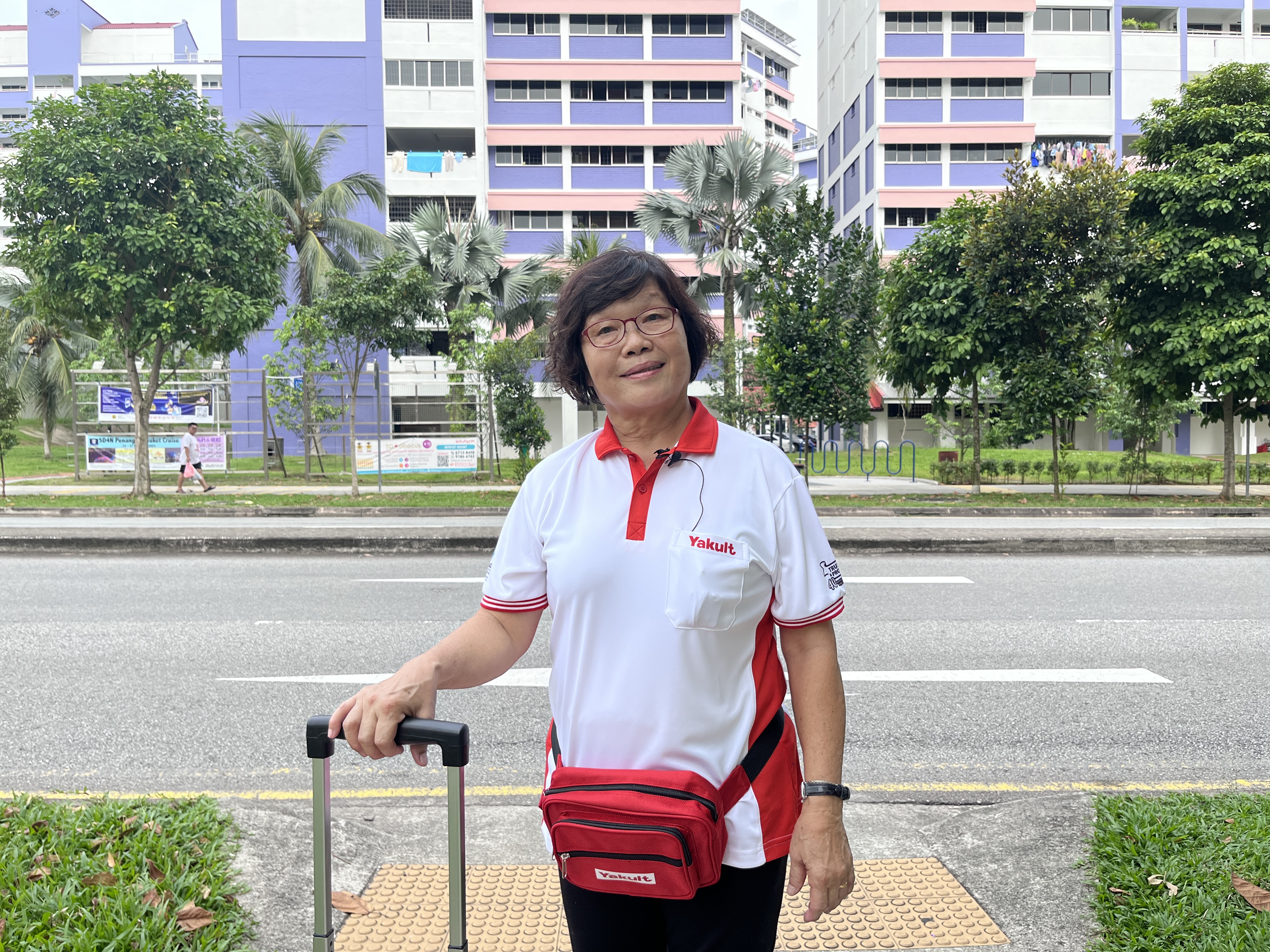 From Chong's easy rapport with her regulars, one might think of her as a naturally charismatic person — but my experience was slightly different.
Seated at the stone tables at the void deck, I got Chong mic-ed up for the interview, took out my hand-written list of questions and placed it on the table.
There were beads of sweat dripping down her face. It might have been the heat, but I knew it was nervousness too.
It was very unlike the neighbourhood Yakult aunty Choa Chu Kang residents knew.
Barely making eye contact, she stumbled over her words here and there, thinking of what she'd prepared to answer.
She couldn't quite get the words out until she starting talking about her family.
"My grandson is in the national jiu jitsu team," she rambled, flashing a picture of the teen in his gi on her phone.
Soon she divulged enough information about him that I could be the author of his Wikipedia page.
She went on to say:
"The reason I became a Yakult lady was that I have two kids at home, a girl and a boy and was looking for a part-time job."
She needed employment that allowed her to still take care of the household. And that's what she did.
When the kids were in school, she'd head off to deliver the products then come back home, take care of them, and settle everything back home before heading back out again in the evening for work.
Unintentionally, being a mum made Chong a good sales lady, because she could relate to her customers who were mostly housewives — which is probably why the company wants homemakers to join as Yakult Lady agents.
She'd talk to them about their families and kids, how to manage the household, new recipes, and neighbourhood gossip, amongst other things.
For this reason, she believes "Yakult uncles" don't exist, because they won't be able to "click" with the customers as well.
At least that's her view from 37 years of experience.
The job isn't just about selling the drinks, she told me, it's about building "关系" ("relationships").
Chong is one of the 359 Yakult Ladies in Singapore.
Today, there are still 82,000 Yakult Ladies around the world, with over 30,000 still active in Japan.
Meeting a Japanese Yakult Lady
I wanted to find out more about Yakult Ladies, so I took a trip to Japan to meet 72-year-old Karube San, who's been a Yakult lady for 40 years now.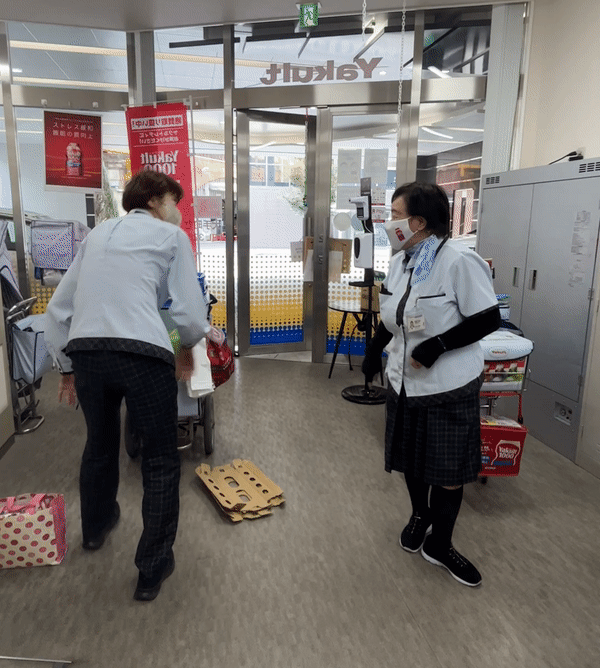 Her usual workspace is the Otemachi sales centre in Chuo City, Tokyo. She goes thrice a week, and works for around eight hours each time.
With a trolley large enough to push around an adult, she filled it with an assortment of Yakult products — a much wider range than what we see in Singapore.
Holding a list, she cross-checked the items before placing a couple of ice packs on top and sealing her two cooler bags.
On the trolley's handle, she'd hung a small green basket with a pair of scissors, straws, bright pink cloth and loose catalogues.
She donned a faded baby blue bucket hat and slung her phone across her chest, and she was ready to go.
Just like Chong, Karube is responsible for a specific target: The Tokyo metropolitan area and its office workers.
She exited the centre and already had the route mapped in her head. She crossed busy roads and crowded pavements to get to her first office building of the day.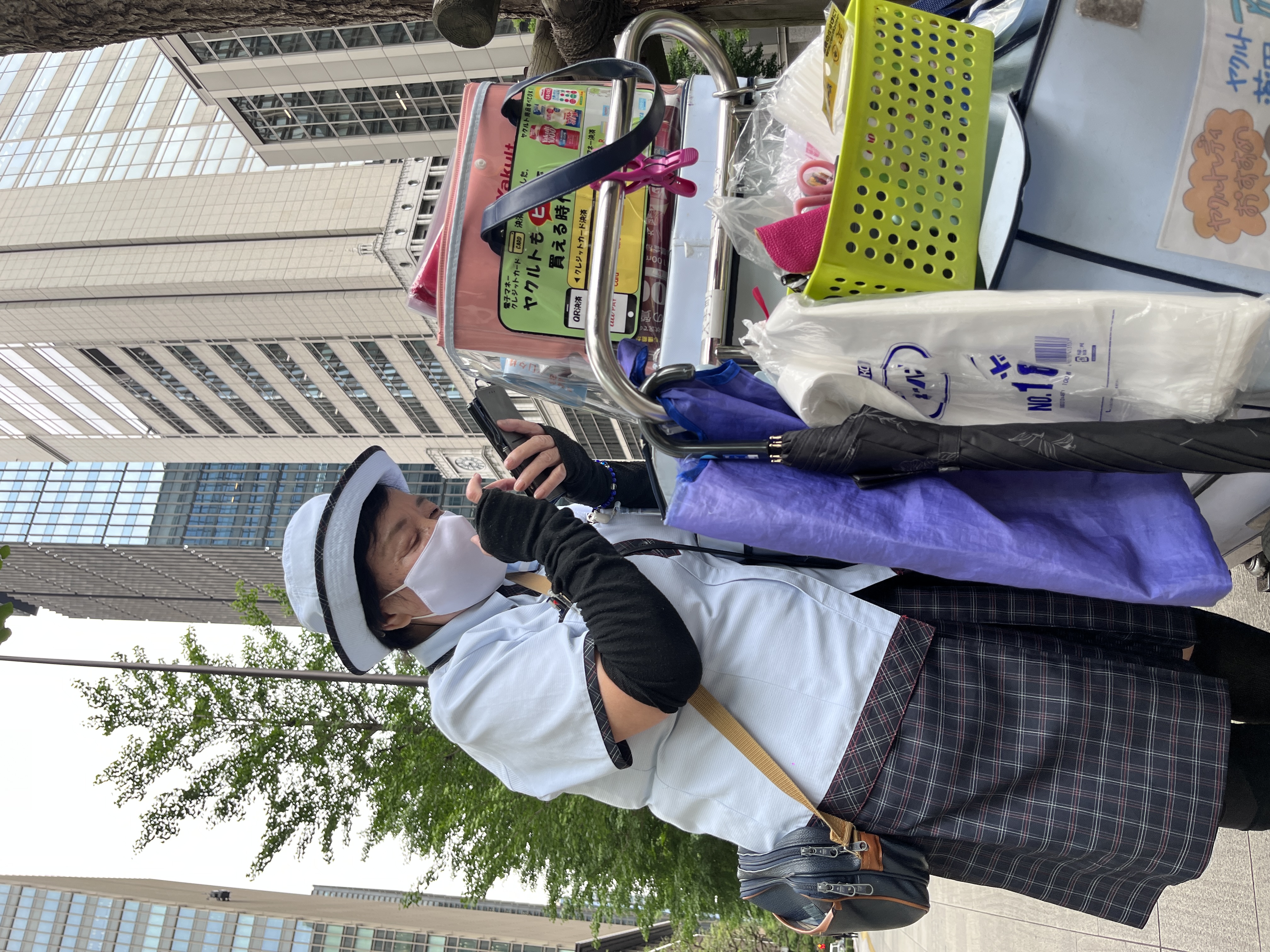 She led us up to the eleventh floor, where a staff member greeted us. Soon, a queue of workers formed.
Unlike Chong who had at most three different items in her bag, Karube San had close to 10.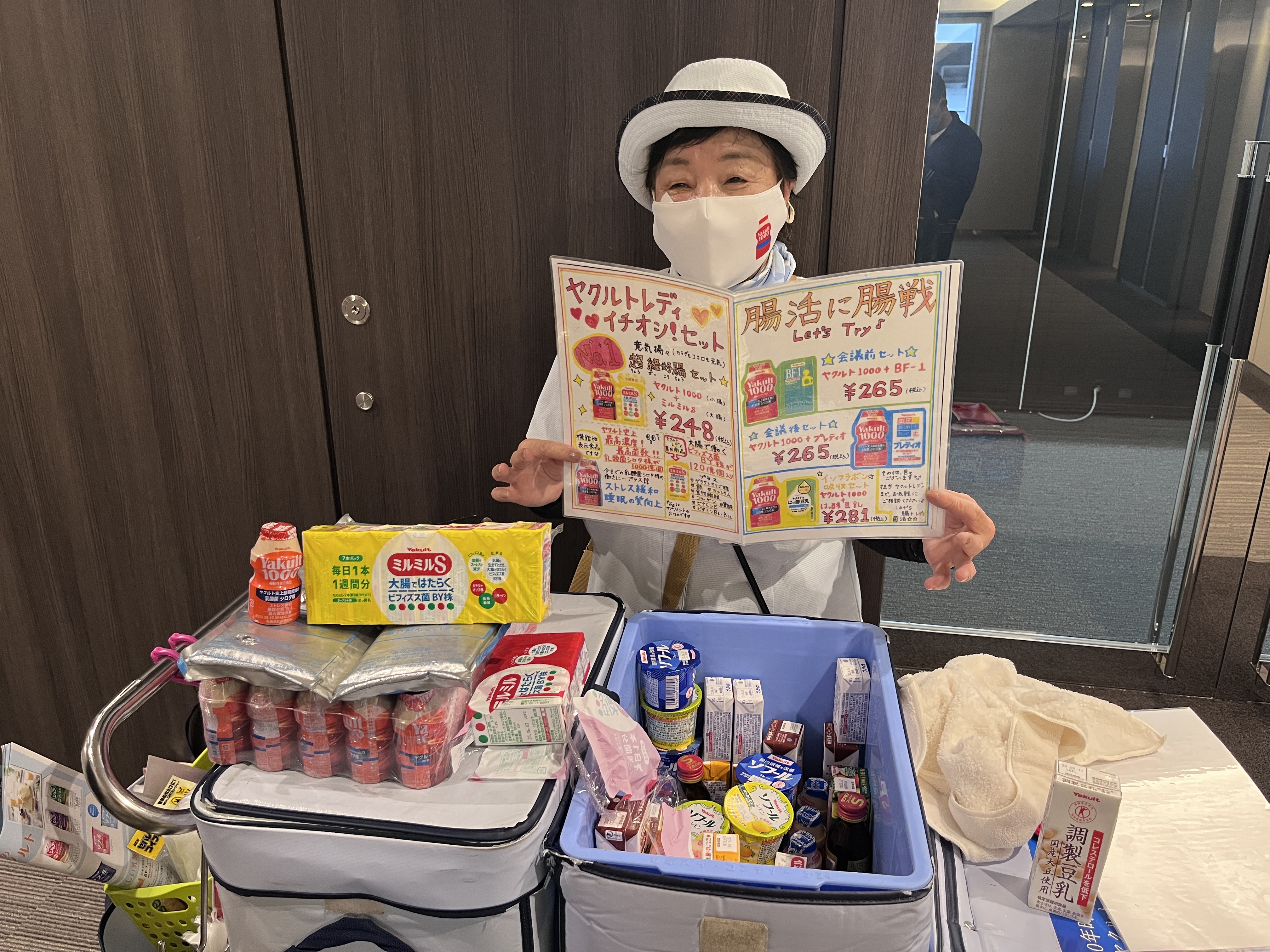 Compared to Chong and her regular customers, this seemed a little more like a business transaction. The staff would grab one or two drinks each, crack a couple of jokes and move off.
After about 20 minutes of quick interactions, Karube packed up and moved off to her next location.
It must be second nature to her at this point, seeing that she could push the cart through the fast-walking locals as she answered our questions.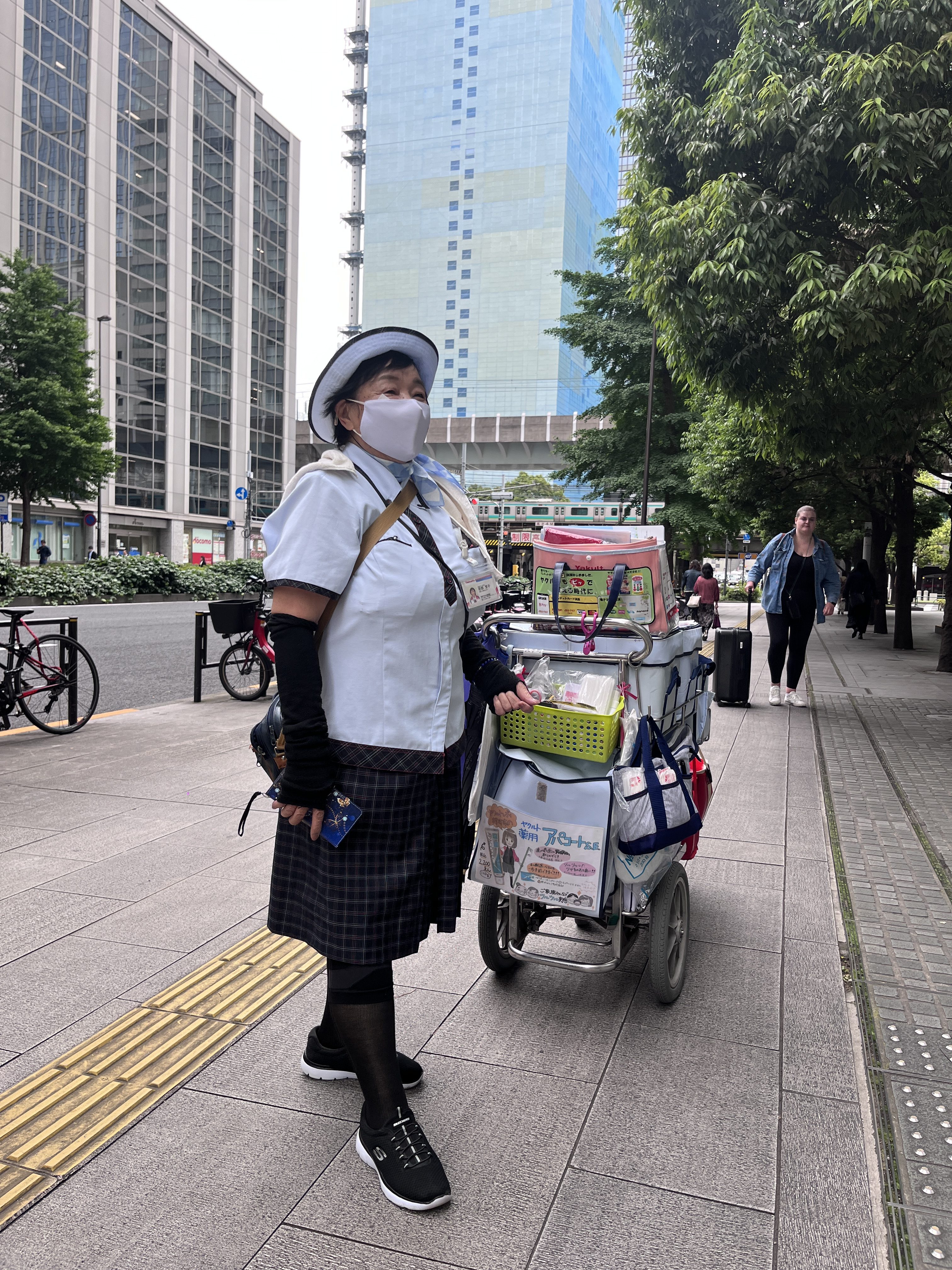 "Why did you become a Yakult Lady?" someone asked.
I wasn't surprised to find out that she too was a mother looking for a job.
Working mum
Japan undoubtedly has a richer Yakult Lady history (if you didn't know, the drinks originated from there).
The first Yakult bottle was introduced to the Japanese market in 1935. Yakult Ladies made their first deliveries in 1963.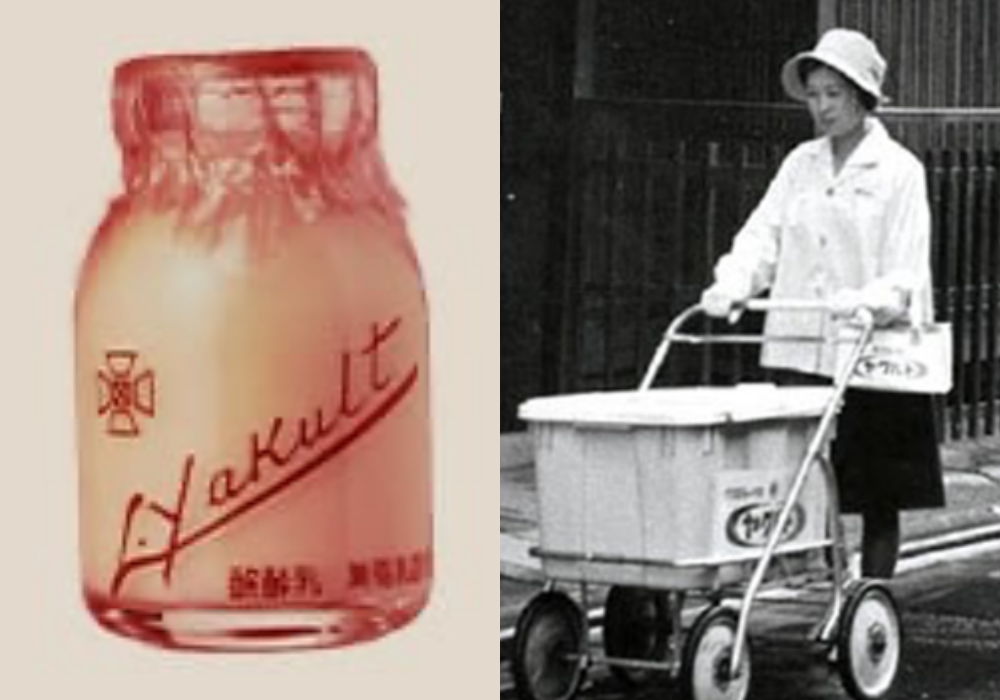 According to Financial Times, Yakult was inspired by Nippon Insurance, which provided jobs to widows from the second World War.
In fact, many of Yakult's sales centres across Japan (996 to be exact) have childcare centres — which was the reason why Karube San took on the job.
Mothers could leave their children there while they worked and according to Yakult, this contributed to the "social advancement of women at that time".
Whether through flexible working hours like in Singapore or childcare centres in Japan, mothers could aid their families financially while still being able to take care of their kids.
The introduction of Yakult ladies has an undeniable impact on the wider community.
Did you know that for more than 40 years, Yakult Ladies have been visiting elderly people living alone in Japan as they make their deliveries to check in and spend some time with them?
In 2020, 3,000 Yakult Ladies will pay regular visits to more than 37,000 elderly people in response to requests by local governments and other institutions in Japan.
In South Korea, Yakult Ajummas check up on the safety of about 30,000 elderly persons living alone.
Yakult Aunties going strong
It's the same back home in Singapore too.
One of Chong's customers, an 82-year-old widow, shared that during the Covid-19 lockdown, Chong would buy bread and vegetables for her and place the items outside her door.
And a week later, medicine was sent straight to her door when she contracted the virus. Not that it was part of Chong's job scope, but because she wanted to help.
After chatting for a bit, Chong began interrogating me:
How old are you?

Where do you stay?

Do you have a boyfriend?
I laughed and answered them all. I didn't mind the questions, and honestly, quite liked how she responded to them — especially when she said my boyfriend was a lucky guy.
She was good at this, talking about topics that made people feel at ease.
Which made me think — the "关系" ("relationships") she was talking about probably meant the "friendships" she's had over the years.
This is the reason she's been able to work for 37 years at the same job. Yeah, Yakult products are readily available to buy off the shelf, but who wouldn't want their good friend dropping by with them instead?
Top images via Alfie Kwa and Chong.
If you like what you read, follow us on Facebook, Instagram, Twitter and Telegram to get the latest updates.