PERSPECTIVE: What goes on in the day of a tissue seller?
Muhammad Jasni (also known as Uncle Jasni) is a licensed tissue seller, currently making most of his sales near Clementi Mall. He has been selling tissue since 2020. 
He also meets regularly with volunteers from The Signpost Project.
In a 2022 interview, Jasni talked about how he goes about selling tissues, recalled his interactions with customers, and reflected on what makes him happy in life.
Jasni's interview was first published in The Birthday Book: (Re)Start. Mothership and The Birthday Collective are in collaboration to share a selection of essays from the 2022 edition of The Birthday Book.
The Birthday Book (which you can buy here) is a collection of essays about Singapore by 57 authors from various walks of life. These essays reflect on the narratives of their lives, that define them as well as Singapore's collective future.
---
As documented by Hazeem Nasser and Aaron Maniam
When did you start selling tissue?
I'm selling tissue paper around three years already. Stopped selling because of the license problem. I tried two trips; jump here, jump there until I can start here [where I currently sell].
After get license, can handover to my counsellor lah. After I get the license, there are less complaints, no people can disturb me.
What time do you start everyday?
Nowadays I start around 9 o'clock. Sometimes 8:45am, depending on what time I wake up. Take MRT reach here around 8 something. Now got time at about 1 o'clock, now crowded already.
Last time I made two trips, at about 12 o'clock I go back home, I makan, I sleep for one hour or half an hour relax, then I come again.
Now I don't want that anymore. Morning to afternoon, I don't want to make two trips. 9 to 5, then I cabut (leave) already, I don't want to go back. Cannot tahan sit long long.
How much must you make in a day to cover all your expenses?
This one sometimes... yesterday I made around S$65. Today, around S$50. This one see day by day lah.
Raining time, no people. Actually have lah but if I just make S$2-$4 then I cabut already. Very heavy rain, no people. All inside [the mall and sheltered areas].
If you need to take a break, what happens to your spot?
I just leave my stuff and I go use the toilet. I put my bag here, I take my money, then I go fast ah. Usually ten minutes.
Do you always come here or do you sometimes change locations?
I'm always here. Last time, I runner... run to Geylang, Bukit Merah until time to go back you know. I told Hazeem, I think this place very good – very crowded because of the market.
There's a temple. Inside got another hawker centre, also got the food store, pawn shop. Here see people eat, never stop. Until night – 10pm, slowly all the shops close.
Most customers are good people and some will buy food or hampers
In the past four years, you've met many people. Have there been any interesting ones?
Oh! Many. All the customers, very good, very nice. Give me money, sometimes buy food or hamper for me. Malay, Chinese, all the same.
The good old customer always gives me S$5, S$10. This one make money, must want to work hard. This job sit down, you just diam diam (quietly) and say good morning and see them happy.
Who's your favourite customer?
Don't have one. All same ah. All good. I don't want to say this one no good, I say all good.
If you like to buy my tissue paper, come I give you. If you don't want, I just say, "Thank you!"
[If the customer goes] "Nonononono", I cannot force him – the customer is always right. I say nicely, be happy.
If he don't want to buy, I say "Thank you, thank you! Have a nice day, slowly walk ah!" Just to make them happy. This time he don't want to buy, next time he come maybe.
Used to work long hours as a cleaner
[I was also cleaning] at the food court but now no more already. I just do my own job better. Do cleaning the salary very little, one hour S$5...the plate I clear, hand over to the shop, clean the table.
On Monday sometimes 3 o'clock until 11, sometimes 10. That one I work quite long already you know.
Now I no more work there. Left one or two years ago. In 2018, I stop my [cleaning] work then I sell tissue paper. Just do it slowly slowly. Like that, like that one luh.
On sewing
Sometimes Saturday, I go early. Meet friend and sew. Using sock, I made this [teddy bear]. The legs here, I use the big socks. Got bow tie also.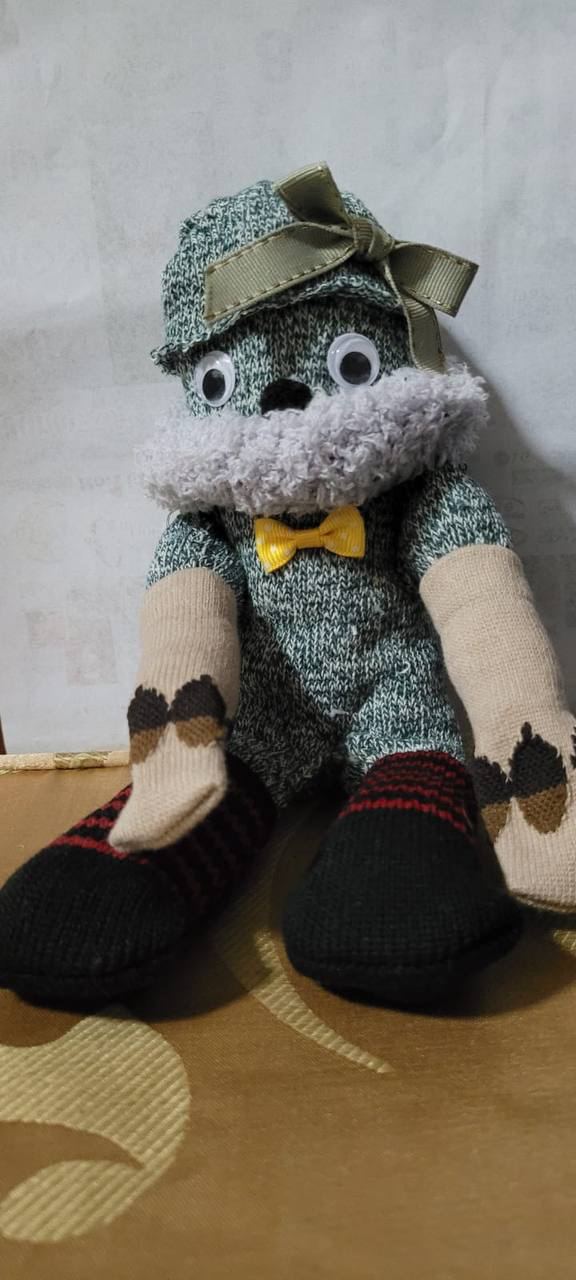 On learning English
My English is not so good. Sometimes got rojak one. All this while, I learn, learn, and learn until can speak English. I can understand what to talk. I can understand when someone talking to me, I understand the content there.
Used to shift around a lot
On any day, when are you most happy?
As long got work. Everyday different. Morning wake up, see people, happy already. Relax lah. Don't want to stay home everyday, go out.
Last time ah, got kampung. Kampung can keep open door. Now no more. Like prison like that. Cannot run. Kampung can run. Some more now warm. Now the light all change already.
Where did you live when you were younger?
Oh! I used to stay in kampung at Mount Pleasant Road. I shift around five times – shift here, shift there.
My mother born with eight children. All got married already ah. I number five. All got children. After Mount Pleasant, I shift to Prince Charles Square. After that, I shift to Bukit Merah View.
Bukit Merah got trouble... trouble with my sister-in-law, [involving] my mother and me... we go to Pasir Panjang. After that, I apply for house for two years then get HDB letter that give me Yishun. I stay there for three to four years, wait for my elder sister to get married.
Then I go to Jurong, jump jump jump.
Social worker has been helping with health matters
How's your medical situation so far?
On Monday, I want to see the doctor again because last time I kena stroke. The doctor is also going to advise me and say everything so far ok.
How many times do you for medical checkups?
I only go every two to three months.
Do you want to share more about how the medicals started?
The doctor asked me come down because they want to check again. They said this one ok, don't need to pay money. Social worker help me.
I stay in hospital for two days. This one my social worker help me, they SMS and tell me when to go. Any problem I can just go tell them.
Saving money by not drinking
There was a time when you had trouble with alcohol and smoking during your one year of absence from tissue selling...
Now is stop for a while lah. Not very good, ok lah. I say this [problem] still have.
Drink still have and cigarette a bit lah. I realise myself don't drink so much, just carry on your job. Happy then happy. Life is like that. When you see your temper, just pray to God.
I don't like it [when my blood pressure is] up, then heart pain. Now it's ok, don't worry. My counsellor already tell me, "Jasni, if got any problem, pick up the phone. I can talk and give advice to you."
The doctor gave me medicine to relax in the morning so that the blood pressure go down.
I tell you ah, cut drinking can make money. S$4,000+. I can buy handphone, speaker for my phone once I stop drinking. I think back, I sit down slowly and I stupid I say why I must throw money every day.
If still boring, I still drink a bit but normally I won't drink. I stay at home, I cook, I watch TV, I sleeping or what – everyday life lah.
Cannot gain one, life like that. Tick tock tick tock, go to work, tick tock tick tock, make breakfast.
Doing the job to stay occupied
You used to stay with your brother?
My brother no longer staying here [in Singapore]. He retired already because the company don't want him. He's old and diabetic. Now he go back Malaysia. Now I stay alone. He already clear his barang barang.
Only he want to come back to Singapore to chop passport once every month – Malaysian procedure.
Where do you stay now?
Ghim Moh. Now I stay alone – what to do? Don't think so much, just do my job.
I sell tissue paper and then I think I don't want to sell, I go home and do my house cleaning, clothing, mop the floor and do some exercise.
After that I go out makan at the coffeeshop, meet friend and talk. Everyday like that, just following my mood.
Now I no more father mother. My mother passed away around 2019.
My father... 2005. My mother three years already. My mother old already, 82 mah. I now 60 years already, I don't know [whether] can stand 40 years extra – that one I also don't know. If can get longer, more better.
Just pray to the God. We are all not God.
If you had a birthday wish for Singapore, what would you wish for?
I want a very good Singapore. Very safe country. Want Singaporeans to be happy, hard-working for their future and ever. Do stronger and do good for Singapore. Do together. Work hard. Happy National Day!
What do you think Singapore can do better?
All people must work together. Don't work together, Singapore also habis (finished). Singapore know, just slowly, must take own time otherwise zwoop one time habis. If you want to do well, you can do well. Slowly slowly.
Top photo via The Birthday Book
If you like what you read, follow us on Facebook, Instagram, Twitter and Telegram to get the latest updates.