With so many Singaporeans moving out of family homes in the past few years, a wave of young, and not so young people, are now facing new and exciting experiences. 
At the top of that list is trying to figure out what energy supplier to use, and how to pay them as little money as possible.
As if adulting is not a challenge on its own, the global energy situation remains as uncertain as ever with rising oil price and infrastructure costs just to name a few. 
But nothing screams growing up like finally understanding why your parents kept yelling at you to turn off the lights when you left the room. 
The real question is how effective was that, and if there are better ways to save money and use less energy in general? 
Here's how to save some energy – and a suggestion on an energy supplier. 
1) Turn it off 
It's not just lights; almost any device with a standby mode comes at a cost. 
Nothing ever really turns off any more. 
I recently discovered that even your PC doesn't really shut down any more, as changes to the way computers operate means that shut down is really a different type of hibernation.
But it's still better than leaving it on idle.
The National Environment Agency (NEA) said leaving a desktop PC on for eight hours a day could cost you about S$175 a year. 
Which is all well and good if you're actually using it, but if you, like me, have a habit of jumping directly from PC screen to bed, without turning it off or even setting up a hibernation mode, that's money you can't get back. 
This is also true for all other devices with standby modes, including TVs, laptops, even chargers. 
While NEA estimates you can save S$25 a year, one American writer for Wired magazine estimated he saved S$40 a month by turning off devices at the socket. 
2) Efficiency
Energy savings isn't just about turning things on and off. 
For one, you'll find that it's a terrible way to use a refrigerator. 
Energy efficient appliances are a key consideration in saving energy. 
NEA's Tick Rating system helps consumers identify which appliances provide more energy efficient alternatives.
To help put things into perspective, a two-tick air conditioner is estimated to cost you S$303 more a year as compared to a five-tick air conditioner.
For a refrigerator, a two-tick model will cost S$59 more a year than a five-tick model. 
These savings on every appliance in a house – washing machine, dryer, televisions – can have a real impact on energy bills. 
3) Choose your provider
Usage is important, but so is the provider you choose.
Using the Open Electricity Market price comparison site, it's easy to see at a glance that there doesn't seem to be much splitting the market in terms of rates. 
What sets Senoko apart from other retailers is its promotional and rebate rates. 
When you stack a credit card promo code with a referral code at Senoko, it offers a rebate of up to S$150. 
Pro-tip: If you are unable to obtain a referral code from your friends, head over to Senoko's social pages, and you'll find other customers sharing their referral codes. 
Exclusive promotion for new homeowners
If that's not enough savings for you, Senoko will also be offering an exclusive promotion for new homeowners – a rate that is fixed for 12 or 24 months. 
You won't want to miss this low, low rate!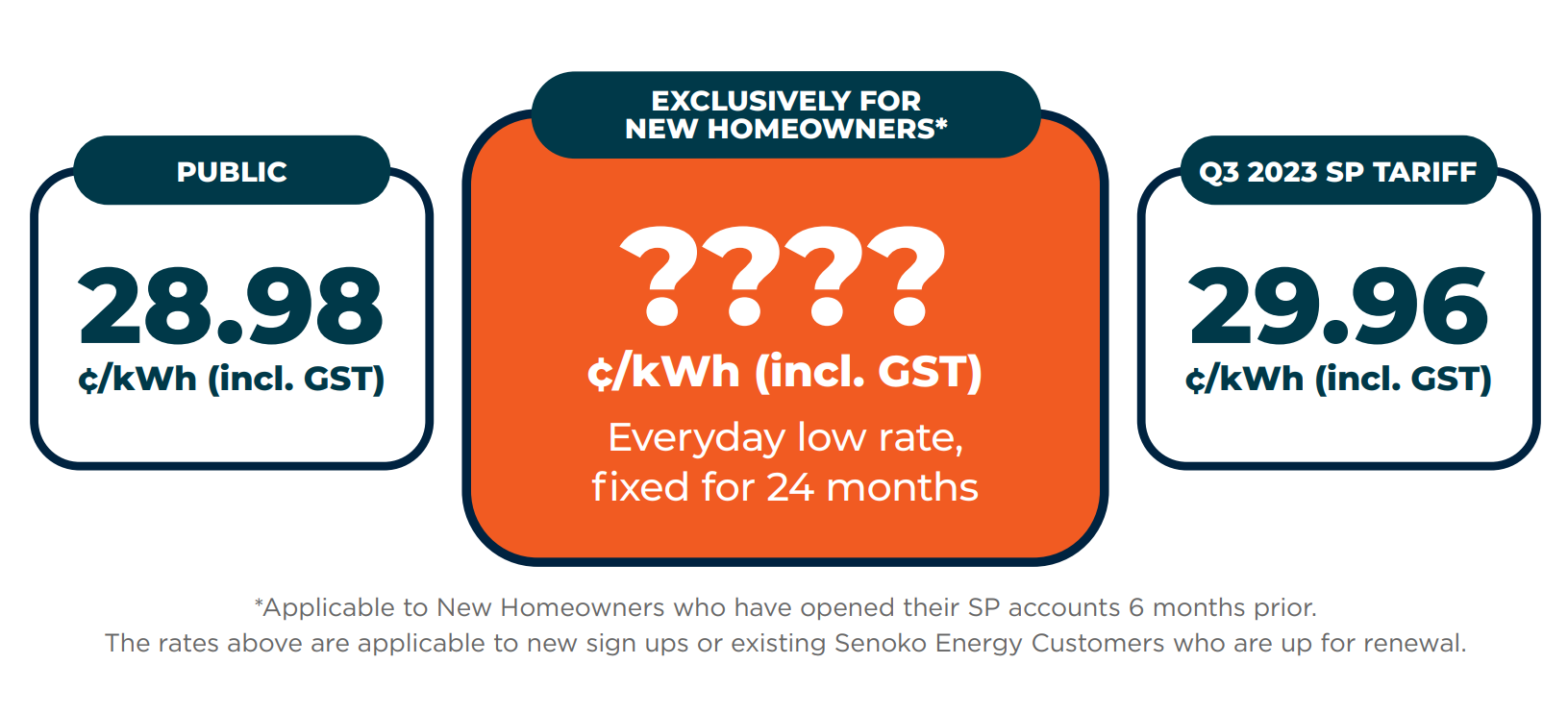 Find out more about the promotion by submitting your email to Senoko here.
With Singapore planning to significantly increase carbon taxes in 2024, this is a good opportunity to consider locking in your energy bills at a fixed rate for the foreseeable future, and enjoy some peace of mind on your energy bills.
In addition, Senoko is offering exclusive coupons from their partners such as MyRepublic, Philips, Hipvan, and DeLonghi.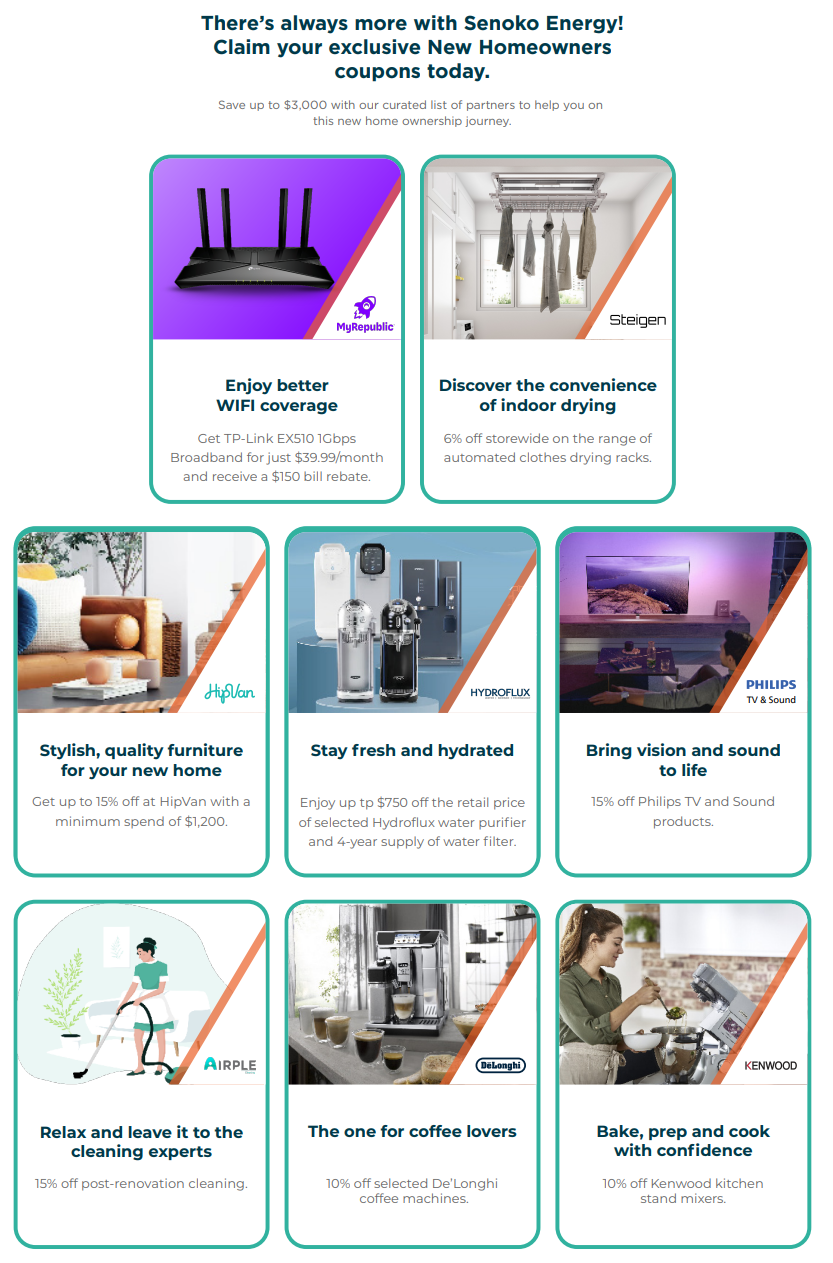 S$30,000 worth of Courts vouchers up for grabs
Senoko is also offering three winners a total of S$30,000 worth of Courts vouchers. 
Simply take a video of yourself in your new home for the first time, post that video to Facebook, Instagram, or TikTok, with the phrase "New Home, New Vibes" and #LiveSmartSaveSmart in the caption, while tagging @senokoenergy and two friends.
Don't forget to check that your profile and post is public. 
Hint: Funny and quirky videos are always the quickest way to the hearts of the judges!
The contest runs from now till Dec. 31, 2023, and winners will be announced in Aug. and Nov. 2023, as well as Jan. 2024. 
This sponsored article by Senoko Energy made this author aware of how to #livesmartsavesmart. 
Top images via Canva
If you like what you read, follow us on Facebook, Instagram, Twitter and Telegram to get the latest updates.