"What keeps a bookstore around for 40 years?" I wondered, on the ride over to iconic secondhand bookstore Beauty World Book Centre.
The bookstore, which has been a mainstay in the mall since it opened in 1983, is set to close its doors in end-September after an impressive 40-year tenure.
Having grown up with books, I've also seen the decline of physical bookstores firsthand, with the pages closing on my favourite bookstores like Borders and MPH, where I used to hang out on a leisurely Saturday afternoon or two.
So for a locally grown bookstore, with only a single outlet, to boast a tenure spanning four decades, is really impressive to me.
Sell books to survive
In my first visit to Beauty World Book Centre, Chan was sitting quietly behind the counter, dressed simply in a nondescript beige-grey polo shirt, black pants and sandals.
When I told him that I wanted to share his story, his eyes lit up.
Like many of his customers, I thought it was a passion for books that sustained the 75-year-old owner, surnamed Chan, to continue running the store.
On the contrary, Chan told me that selling books was simply a means of survival to him.
"I'm not very well-educated, so it was very hard to find jobs," he admitted.
Dropped out of primary school
Growing up in a poor family as the oldest of seven siblings, Chan said there was not always enough food on the table or to pay school fees.
His father did not have regular employment but instead took on odd jobs to make ends meet.
Halfway through his primary school education, Chan dropped out to find work and support his family.
He first worked at a hawker stall, serving customers and washing dishes, before helping a friend out at the latter's makeshift stall at Katong Park, where he sold food out of a trishaw and offered transport services.
However, he only did these jobs for a couple of months, citing lack of "interest".
Worked at a roadside bookshop before starting his own
Chan's fortunes changed when someone recommended him to work in a roadside bookshop at Sembawang. He pointed out that in that era, such stalls could still operate without a license.
"I just thought I would give it a try," he shared. The pay was double what he previously earned, at S$40 a month.
He plied the trade for a good five years under his then-boss, managing to pick up enough English to speak at his own wedding, despite not finishing his education.
When he was 17, Chan said his boss "took pity on him" as he had a large family to support and helped him set up his own stall along Jalan Jurong Kechil in the 1960s, contributing a good number of books.
This is just down the road from where Chan's current store is located.
The original stall, he said, had a zinc roof, and the rent was S$40 (pricey at the time), but he took up the challenge.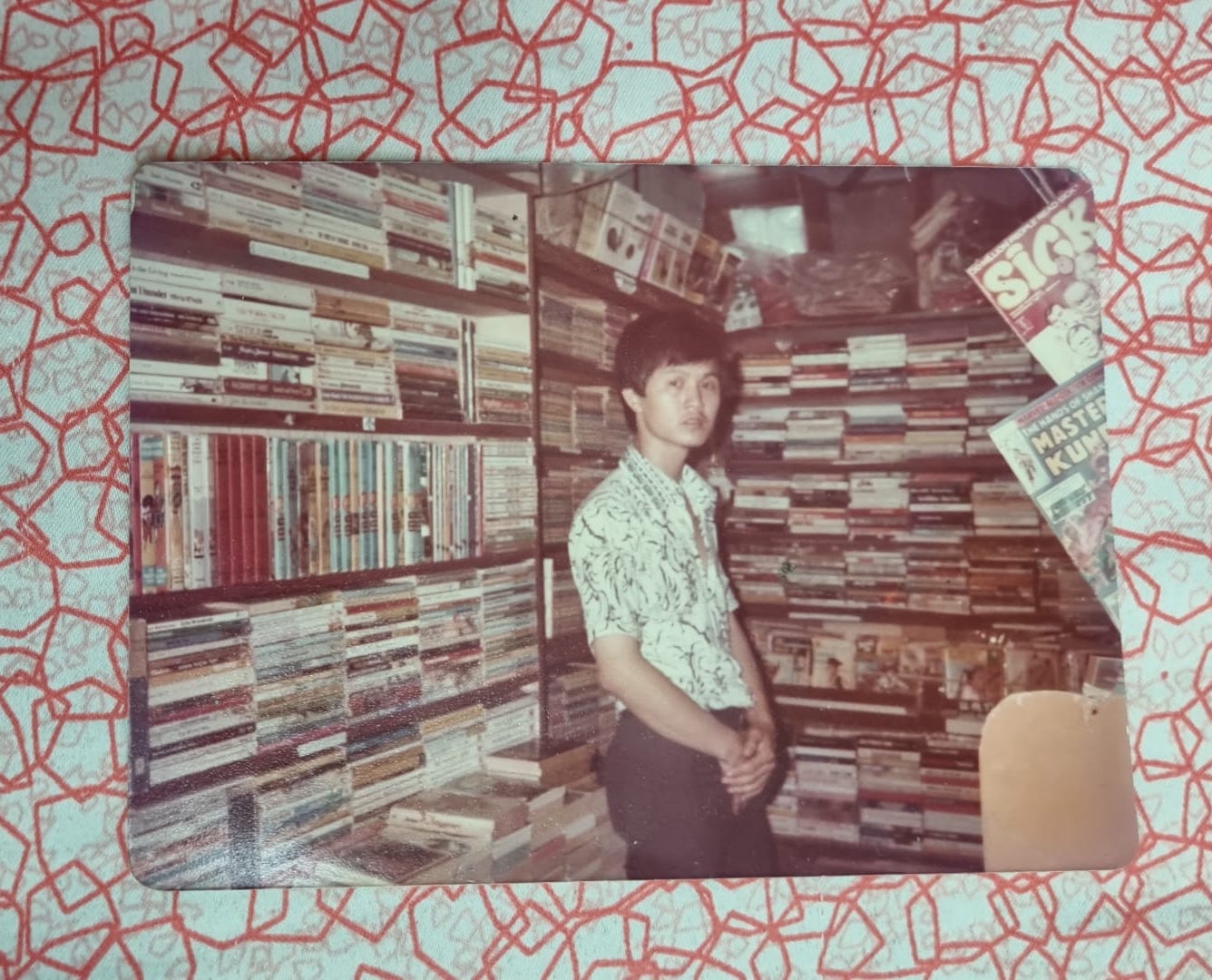 First book 'suppliers' were his customers
When Chan started out, his first book "suppliers" were actually the rich Europeans living in the area, many of whom would bring over books that they had already finished reading for a trade-in deal.
For instance, he might offer a customer a deal to trade 10 to 12 books of theirs for any six from the store.
In this manner, Chan's stall accumulated a sizeable collection of books, without having to go out of this way to buy many of the new ones.
"Back then, we didn't need to buy new books. We just needed to wait for the ang mohs to bring them over and trade them in," Chan shared.
And when customers requested more books than this "conversion rate", Chan would charge them a small amount for each extra book.
Perhaps S$1.50 for a brand-new book, he said, which seems like a steal by today's standards.
Post-independence blues
As Singapore entered the post-independence era after 1965, Chan says that he was worried because he saw a gradual exodus of his European customers.
He even went out of his way to acquire a taxi driver's license as a backup plan, in case the business failed.
Thankfully, with more English-speaking schools being opened in the country — schools were required to be bilingual from 1960 and English was taught as an official language — Chan saw more Asian families patronising his stall with their children.
Some of these customers, who were of primary school-going age, are now grandparents, he pointed out.
Moving into Beauty World Centre
Eventually, the land was gazetted and some of the businesses, including Chan's, were relocated to Beauty World Centre in 1983.
Chan's bookstore was located at Basement 2.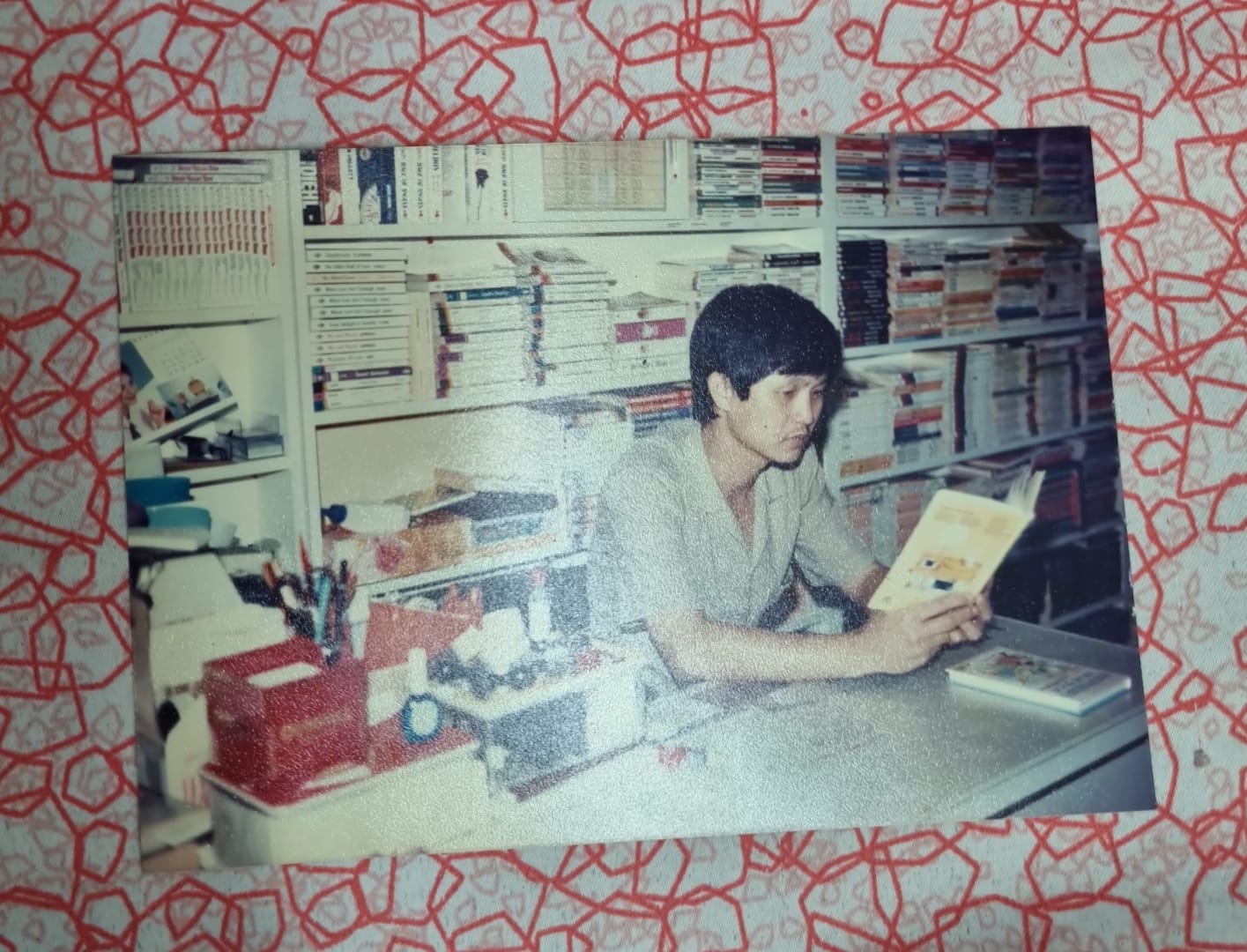 Back then, he didn't even have enough books to fill his bookstore, but thankfully he had established a good enough relationship with his suppliers — larger bookstores like Times and MPH — who allowed Chan to pay them monthly.
Around the time he paid off his debts, customers began streaming in, and business was doing well. So well in fact that Chan was able to buy over the unit after renting it for about 15 years.
Unfortunately, Chan's business was badly hit by a string of crises around the turn of the millenium, such as the Asian financial crisis in 1997, but Chan persevered despite facing significant financial difficulties.
He caught a break in 2015 when the nearby Beauty World MRT was constructed.
As property prices rose, Chan managed to sell the shop to pay off his debts, and relocate to his current unit on level 3, which he has been renting ever since.
What kept his business going for so long?
Chan has had friends who also ran bookstores, but they lasted less than 10 years before they had to close.
So what sustained him for so long?
"God helped me," Chan opined simply. He explained that he does not subscribe to any particular religion, but felt that God had guided him down the right path.
When I probed further, Chan also shared that he had good customers who helped and supported him in the venture.
On his side, he adopted a flexible mindset as a business owner in order to make customers happy.
Chan sold his books at a 20 per cent discount compared to prices outside, and he was was flexible with his pricing, sometimes giving regular customers a slight discount upon request.
Customers also had the option of renting them from the store for a stipulated time period, like a month or two.
And if they happened to bring the books back slightly overdue, Chan might choose to overlook it.
Additionally, just like a number of other secondhand bookstores, Chan's place had a buyback policy for books that customers had bought from him.
This means that those who finished the books could sell them back to Chan at a lower price, essentially getting a partial refund.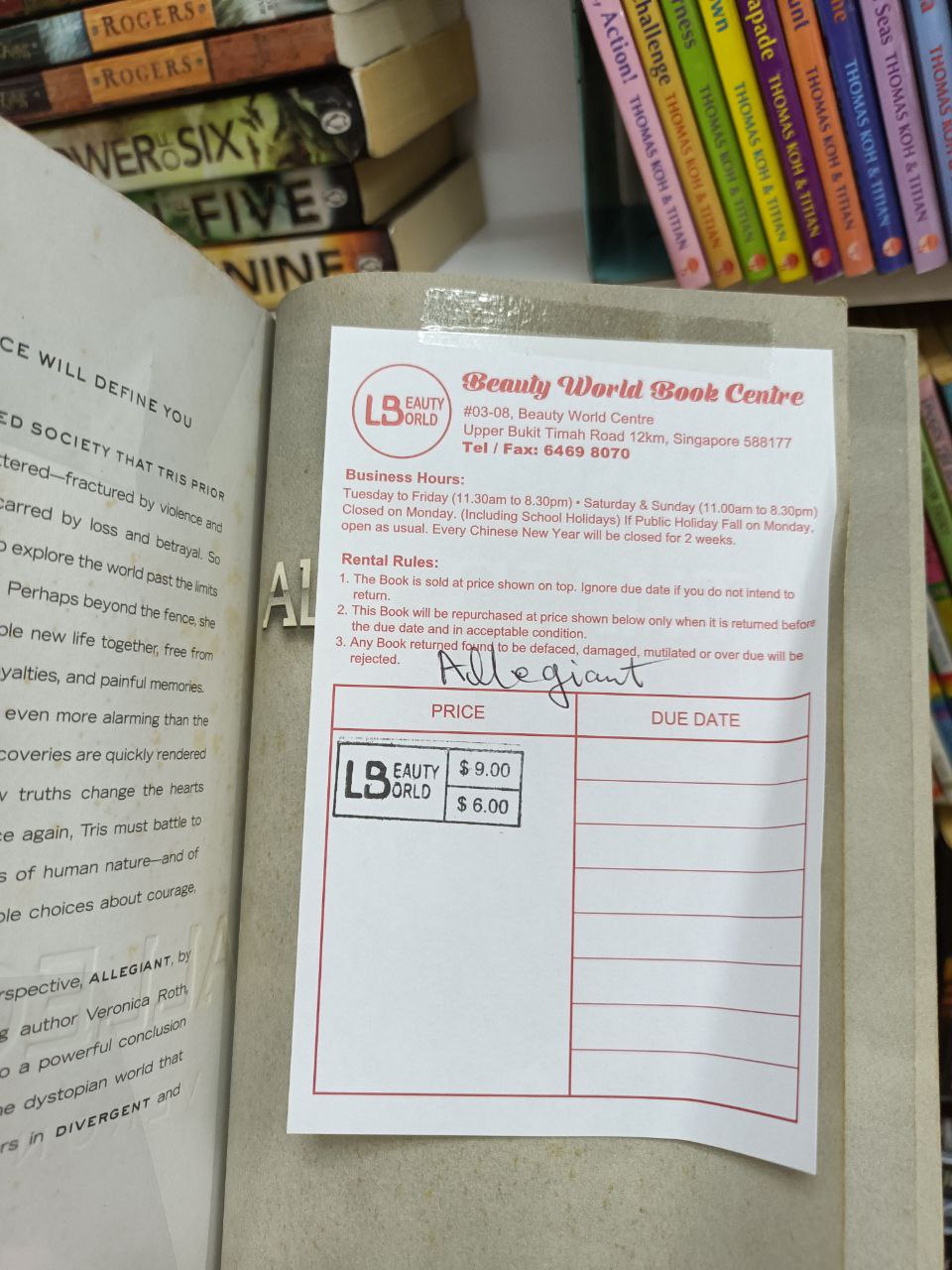 Selling books back to Chan not only makes reading a more affordable hobby for his customers, but also reduces clutter in their houses.
"We buy back because we want to encourage them to keep reading books and to come back again," he explained.
Sometimes, he would recommend books to customers who weren't sure what they wanted.
Other discerning customers would specially request certain books from Chan — like the popular Harry Potter series — and he would try his best to acquire them from his suppliers.
"Most of them know [which authors] they want," he said, "So it will depend on them. What they want, I will carry [in the store]."
Customers over a lifetime
Many of Chan's customers were primary school students at the time when they visited the store, either by themselves or accompanied by their parents.
Last September, when Chan announced that he was planning to close the shop due to high rentals, he was surprised that some of his old customers came back to visit him.
Most of them found it hard to believe that he was still running the store, after all this time.
"But now they are all grown up," Chan shared, "Some are married and their children are now the ones buying books from me."
And when they took pictures with him and the store, he was reminded of "good memories" in the past.
This renewed interest from customers also helped to keep his store open for another year.
Changing trends
Chan admitted that the advent of e-book readers like the Kindle have led to a decline in his business, which is another reason why he's closing the store.
On whether digital books are better, Chan didn't comment much but noted that physical books just feel "different".
Some parents have told him that they will continue to buy physical books for their kids so as not to "spoil their eyes", Chan added.
So for some time, the shop has been riding on the demand for children's books.
As his business is winding down, Chan has been taking shifts with his wife, who would come in at around 4-5pm to relieve him.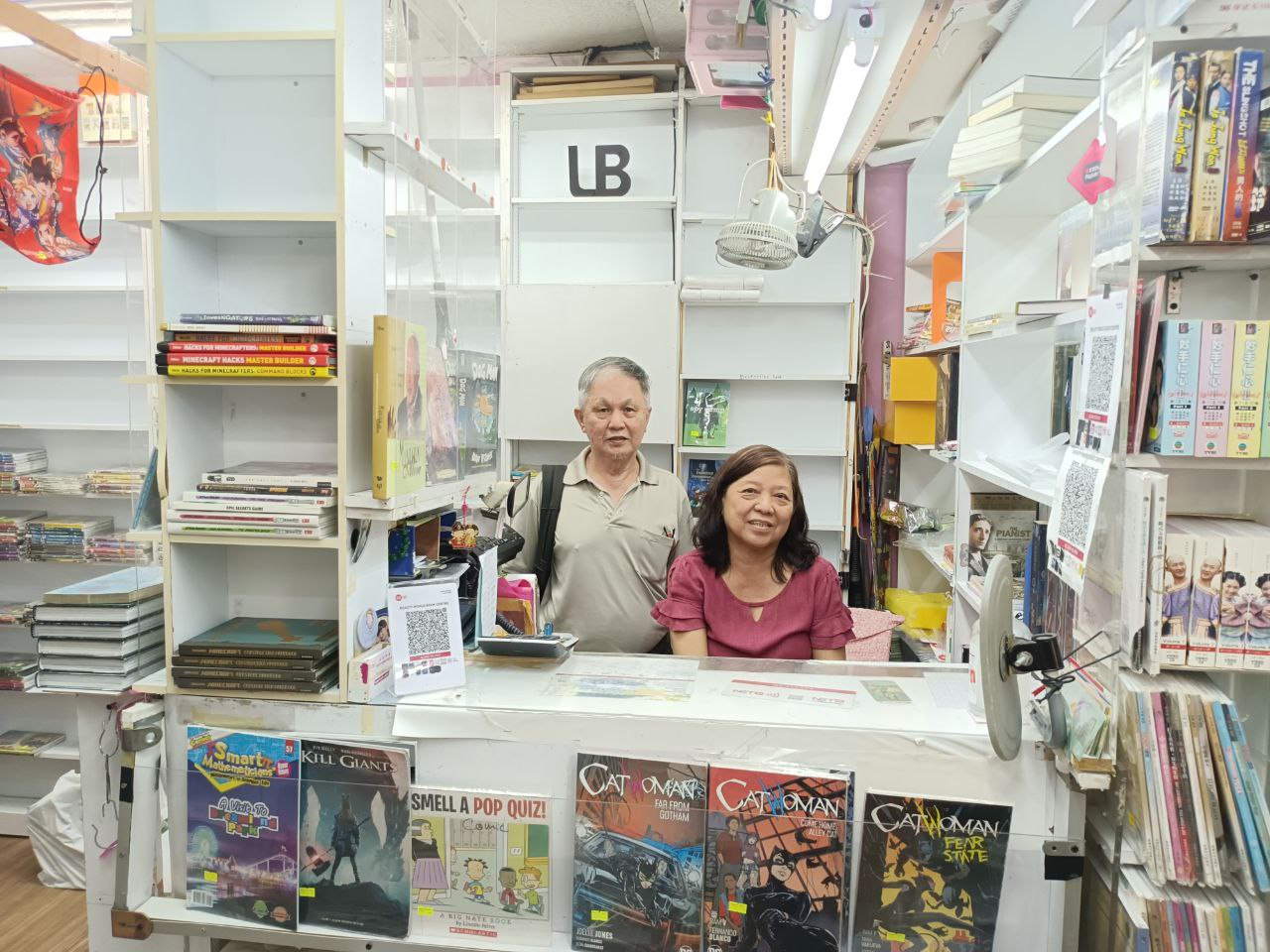 Apart from that, Chan shared, the business has largely been a one-man show. In order to keep operating costs low, he never engaged an assistant over the decades of running the store.
Books gave him a 'good life'
Throughout the interview, Chan kept emphasising that he was "fortunate and lucky", as he never expected to have such a "good life".
Without the bookstore, he said, he might have been forced to take up more menial jobs elsewhere, due to his lack of education.
Chan joked that as a bookstore owner, he feels like "a chairman" as he has spent a good portion of his time seated at the counter.
So, he's grateful.
"These books are my benefactors, and they really helped [give me a better life]. That's why I love [them]," he said.
I asked Chan what he is planning to do after he closes the store.
He said he would probably take a break, since it's been such a long run.
"Or maybe I'll apply for President (sic)," he joked.
Closing sale
Beauty World Book Centre will also be having a closing sale until Sep. 30, 2023, with 40 per cent off all items storewide.
Address: Beauty World Book Centre, #03-08 Beauty World Centre, 144 Upper Bukit Timah Rd, Singapore 588177.
Opening hours: 11:30am to 8:30pm from Tuesdays to Fridays, 11am to 8:30pm for Saturday and Sunday, closed on Mondays.
Top image by Daniel Seow.
If you like what you read, follow us on Facebook, Instagram, Twitter and Telegram to get the latest updates.