It is challenging to become a parent for the first time.
Now add starting a business from scratch and you have an extraordinary undertaking.
Yet, that's exactly what Gabrielle Seet did as a new mum at 29.
In July 2018, Seet had given birth to her firstborn, when she found herself struggling with low breast milk supply.
"I did not want to take any lactation cookies or bakes as I had already put on 25kg during my pregnancy," said the now-34-year-old to Mothership.
"Then I came across Legendairy Milk Supplements which are organic herbal supplements that are not only sugar free but also fenugreek free," she continued, referring to the legume plant that some milk supplements are made from which may have unwanted side-effects like gastrointestinal problems.
Finding that Legendairy Milk's products worked a treat for her, Seet decided to distribute their supplements in the region.
Four months after giving birth, Seet found herself launching into the world of e-commerce, selling products on Shopee with a focus on promoting lactation and supporting breastfeeding mothers.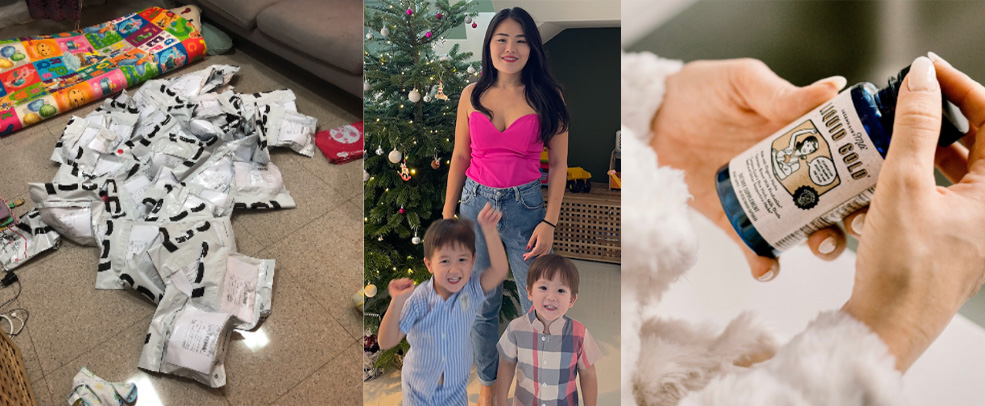 Seet took part in an acceleration program hosted by Shopee, where she was provided with a dedicated incubation manager, curated learning materials on running a business on Shopee, and opportunities to participate in flash deals and other campaigns.
"Creating and fine-tuning listings, running ads and taking advantage of campaigns — these were all part of the incubation program," said Seet.
The program was a helpful way to kickstart her onboarding journey as a Shopee seller, and contributed to the increased exposure of her products to a wide customer base.
Together with her partner, the entrepreneur worked out of their tiny one-bedroom apartment, while caring for her son Caius.
"It was alright in the beginning when my baby was still young because he would only eat and sleep, but when he started to crawl it got really difficult. We had to think of ways to entertain him."
Apart from demands related to balancing parenting and business, Seet said that figuring out the logistics proved especially challenging.
The couple packed every single parcel themselves in their living room, before handing them off daily to couriers.
"It was very hard for me to breastfeed, exclusively pump, plus work from home all in one and still take care of my baby," recalled Seet.
"However, I felt very blessed that I could spend every single minute of my time with my firstborn then."
Figuring out the e-commerce landscape
As demanding as balancing business and parenting can be, e-commerce platforms like Shopee are fast helping to address pain points business owners face.
Serene Sim — a 35-year-old mother of a 6-year-old — had 10 years of work experience before turning to e-commerce in 2019.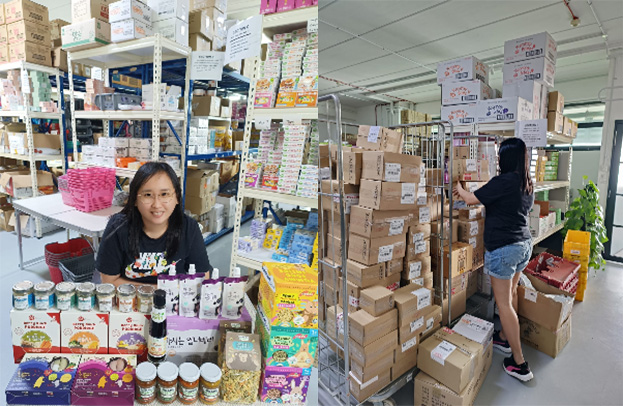 "I did not wish to return to the workforce as I needed flexible working hours to take care of my baby who was two at the time and often fell sick."
While on holiday in Bangkok, Sim noticed how Thailand seemed to have a wider variety of baby food options as compared to Singapore.
"At the time, I saw great potential in bringing unique baby food products into Singapore," she recalled.
The e-commerce landscape can be an intimidating one for newcomers to navigate, and Sim often found herself burning the midnight oil (and her savings) trying to figure out how to get her business off the ground.
She particularly struggled with learning how to use the features of different online marketplaces.
Using Shopee, however, was a breath of fresh air.
"I have tried different e-commerce platforms and Shopee has the most user-friendly interface for sellers," said Sim, "I believed most sellers would agree on that."
Today, Sim's store — E-Essential SG Food Store — has over 17,500 followers while holding a 5-star rating from over 27,600 reviews.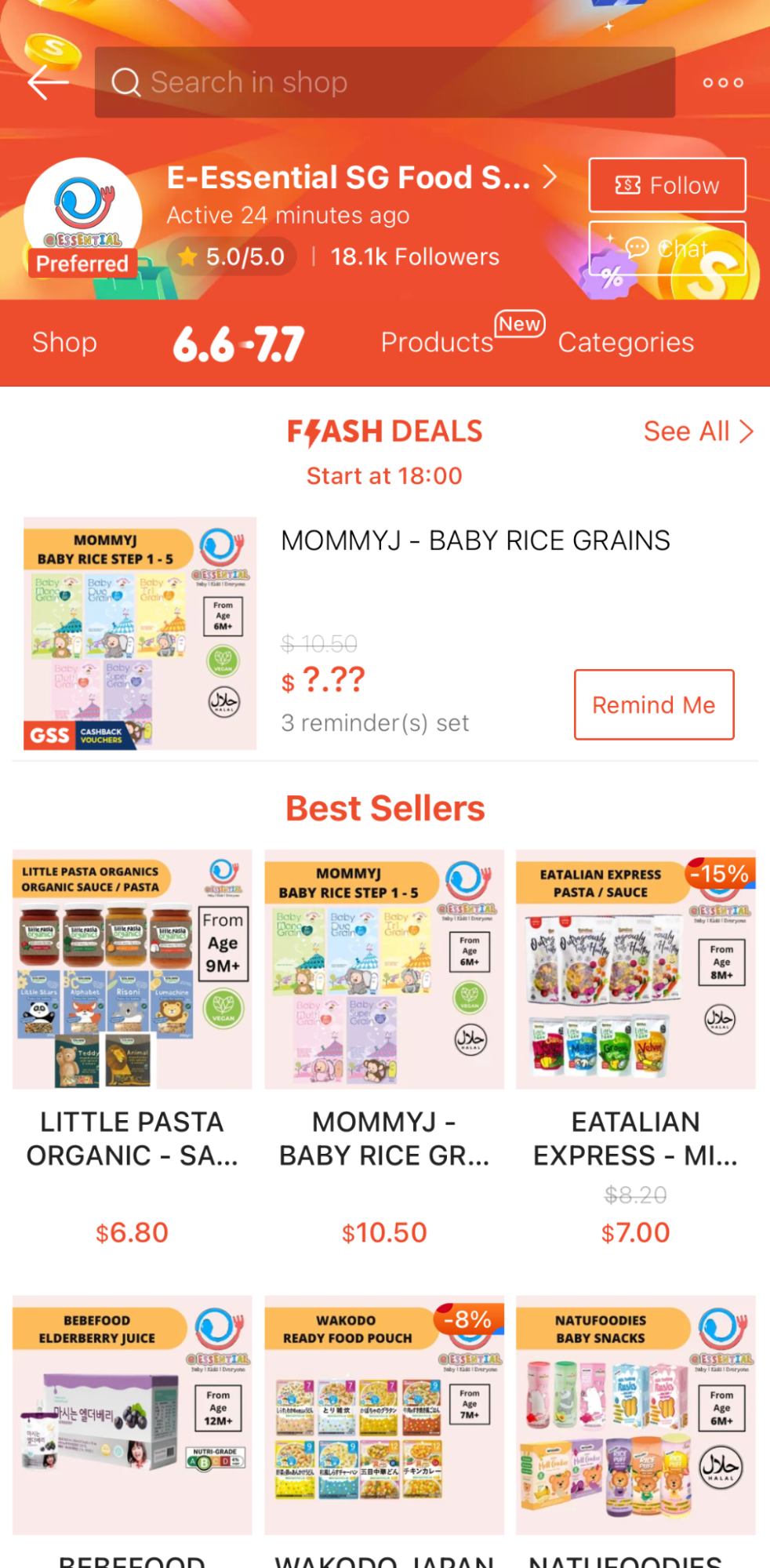 Taking care of the practicalities
Of course, the practical details are taken care of by Shopee, as told by Joy Tan, 33.
The mother of three has had extensive experience in the e-commerce space — she started at 16 with her own blogshop.
These days, Tan runs Joybaby, selling products for babies and toddlers like child-sized masks.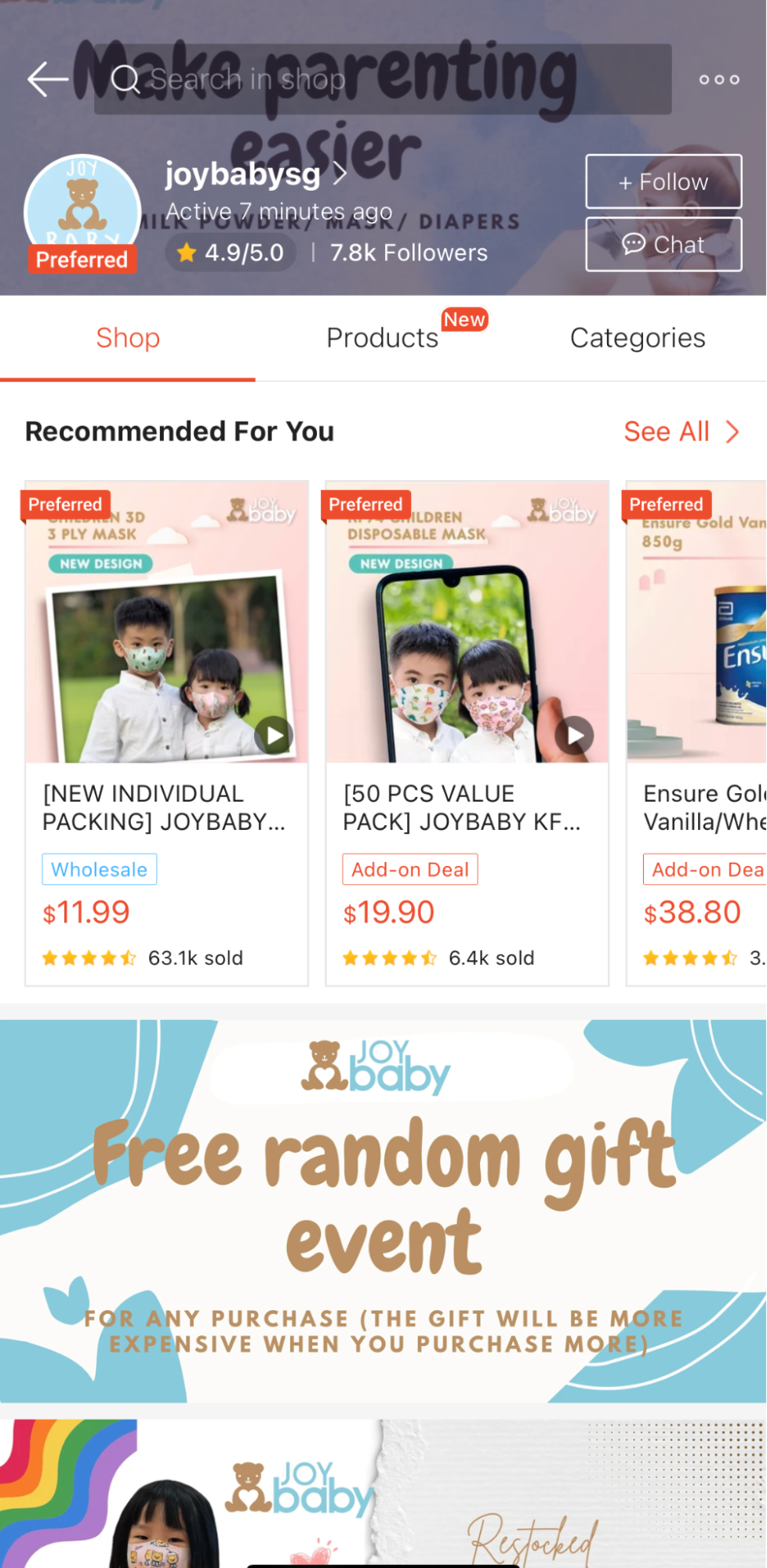 "There were a lot of challenges I was facing during my start-up years," said Tan.
"Cash flow was tight. I did not ask for money from anyone."
At the time, Tan's sole goal while building her business was to ensure that she had enough money to maintain stock levels.
When Shopee started out in Singapore, Tan, ever the go-getter, decided to give it a go.
"I listed some items on the platform and loved how easy it was to onboard," she said.
"I got a lot of inquiries even though I didn't spend much on advertising."
Reflecting on her journey with Shopee so far, Tan said she enjoyed the support and the initiatives that the platform has to support her entrepreneurship.
One function in particular that she appreciated was the flexibility that Shopee gave her to withdraw money from her sales.
"The cash flow for Shopee is always great — cash out two times a week," said Tan.
"That really eases my cash flow issue."
Up for the challenge
With support from Shopee, "mumpreneurs" like Tan, Sim, and Seet are able to handle whatever it is that running an e-commerce business takes, despite the challenges of parenting.
After all, being able to balance their work and parenting duties testifies to their resourcefulness and problem-solving ability.
"I love challenges and thinking of creative ways to solve the issue," said Tan.
This month, Shopee celebrated the achievements of its sellers and announced a suite of initiatives to empower businesses on its platform at its Seller Summit 2023.
It introduced several initiatives to boost the sales of sellers and help them to grow their businesses on Shopee. These initiatives include increasing platform vouchers under Shopee's Coins Cashback Program and introducing 30% vouchers on all products sold on Shopee Live from 8pm to 11pm daily.
Selected retailers can also benefit from Shopee's Next Day Delivery to support urgent purchases and offer users greater certainty on delivery arrangements.
In addition, sellers can tap on Shopee's Mari Business Loan for a ready cash line to meet their business needs, while enjoying a competitive interest rate of 2.5% p.a. on their Mari Business Account.
Sell on Shopee and grow your business today. Click here for more information.
Writing this Shopee-sponsored article made the writer appreciate all the work that mothers do for their families.
Top image courtesy of Gabrielle Seet
If you like what you read, follow us on Facebook, Instagram, Twitter and Telegram to get the latest updates.