If you've been by Sengkang Community Club (Sengkang CC) of late, you might have stumbled across this particular contraption.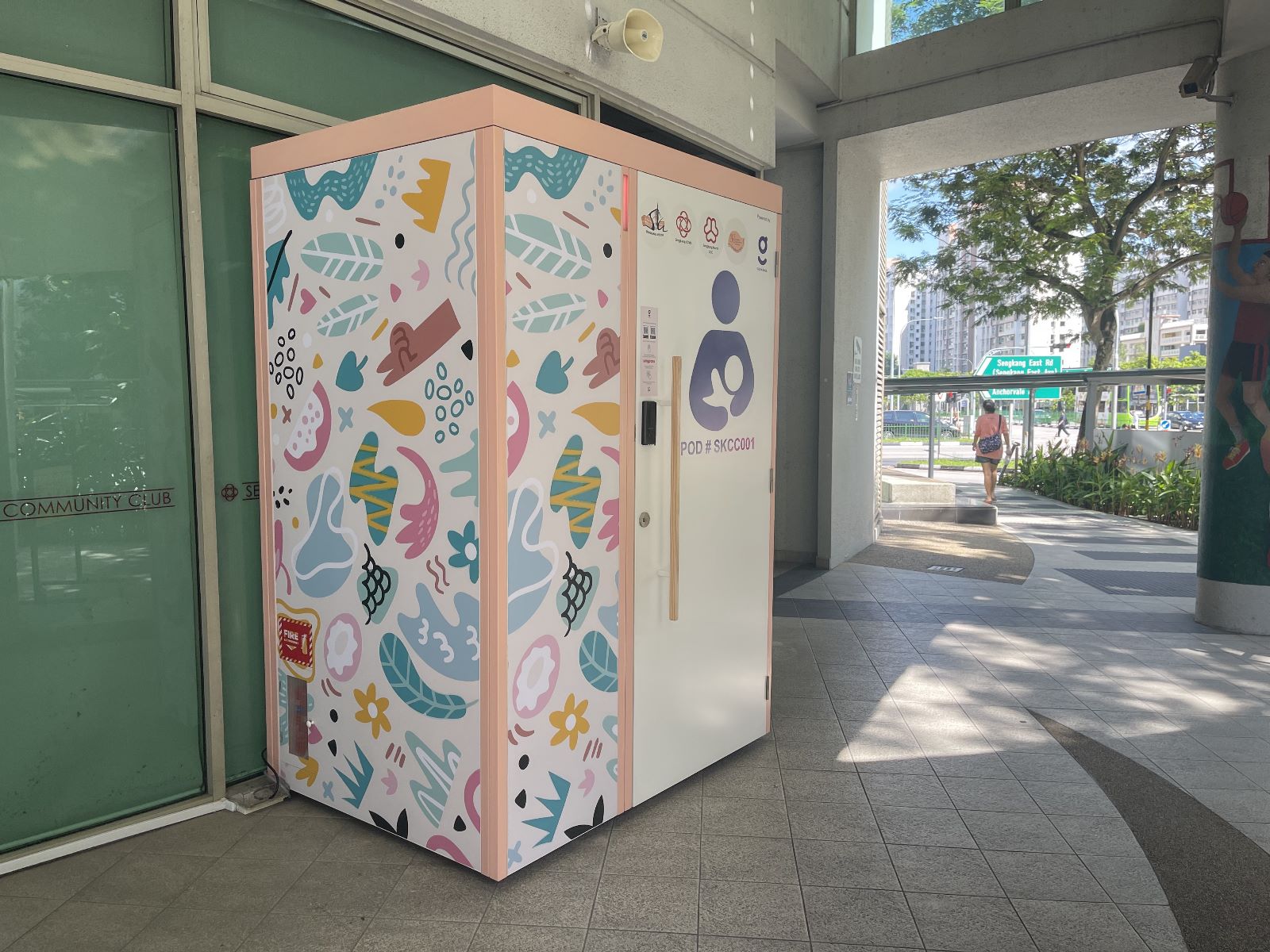 In case the graphic outside didn't clue you in, this is a "lactation pod" — which basically means its for breastfeeding.
This is the latest addition to the fleet of pods deployed by Go!Mama around Singapore, as part of an initiative to give mothers conducive nursing environments.
Convenient and comfy
Speaking to Mothership, the company's co-founder Vivian Lee explained how these "human-centred" pods are a step-up from public nursing rooms, which tend to lack a consistent standard across the board.
According to Lee, the pods offer an accessible alternative that takes into account the realistic needs of nursing mothers, such as having everything conveniently within arms-reach, as well as charging points that can accommodate USB plugs, which are used by most breast pumps.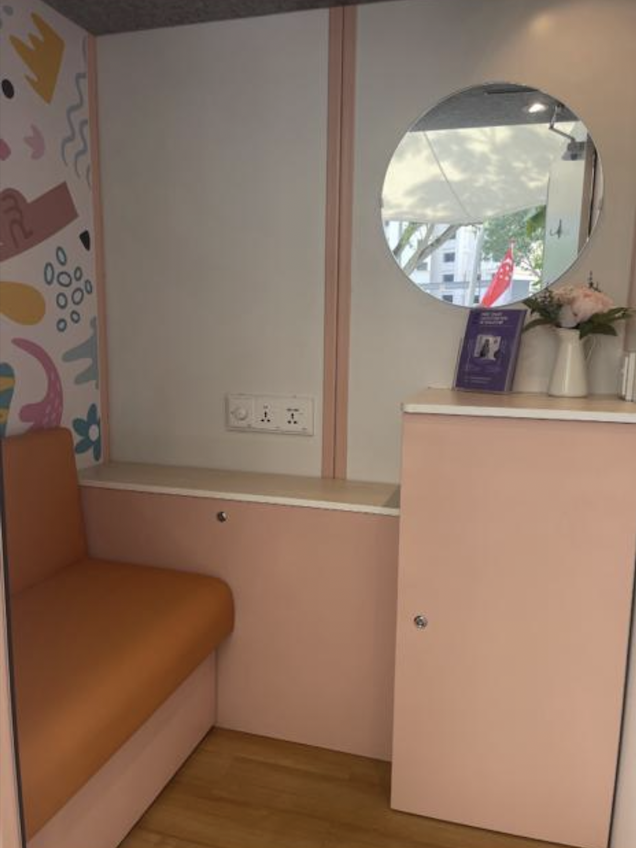 Each pod is also equipped with comfortable cushion seating, dimmable lighting, and flat surfaces to safely place one's belongings.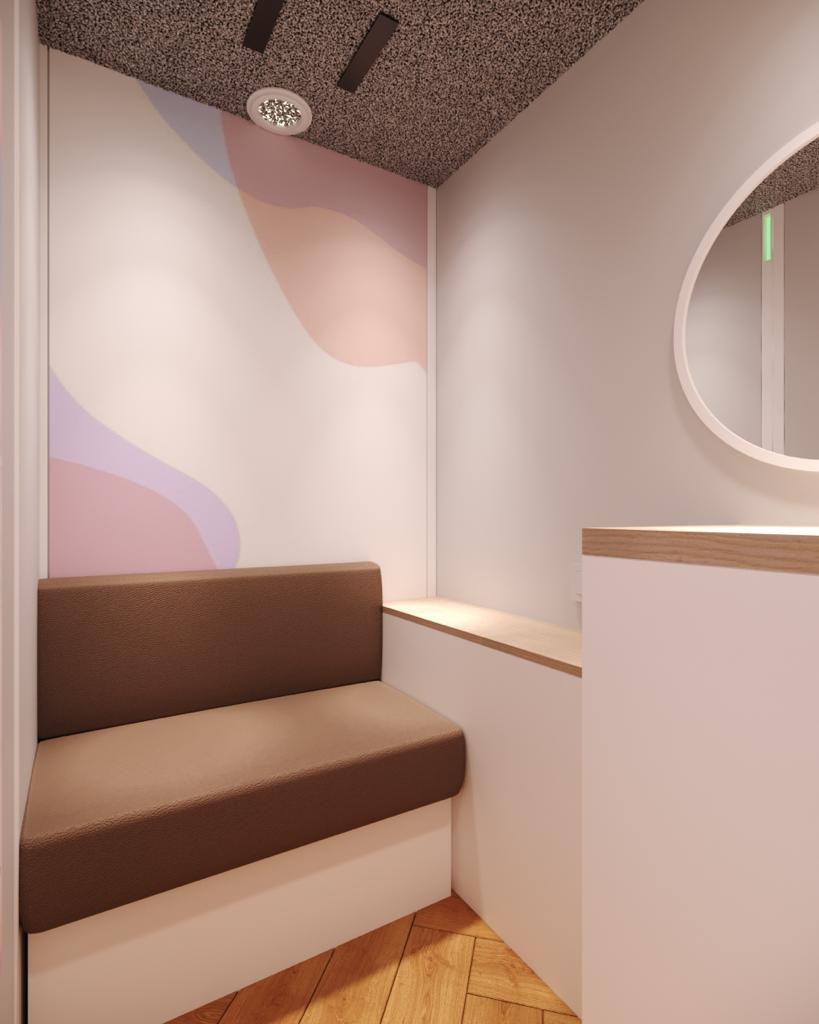 Mothers can also have peace of mind knowing that the pods are well cleaned.
Once someone vacates the pod, automatic UV lights are activated to sanitise high-touch points and prevent cross-contamination.
While you're inside, the pods are also secured with a double-locking system comprising of one automatic digital lock and one manual lock, creating a "fully enclosed space for complete privacy".
This privacy doesn't come at the cost of air quality, as Lee assures us that the rooms are well-ventilated, and that those in warmer places — such as the one at Sengkang CC — even have air conditioning.
The facilities are occupancy activated, so that no energy is wasted when the pods are empty.
Enter with Singpass
Free entry into the pods are exclusive to mothers with at least one child below 36 months old.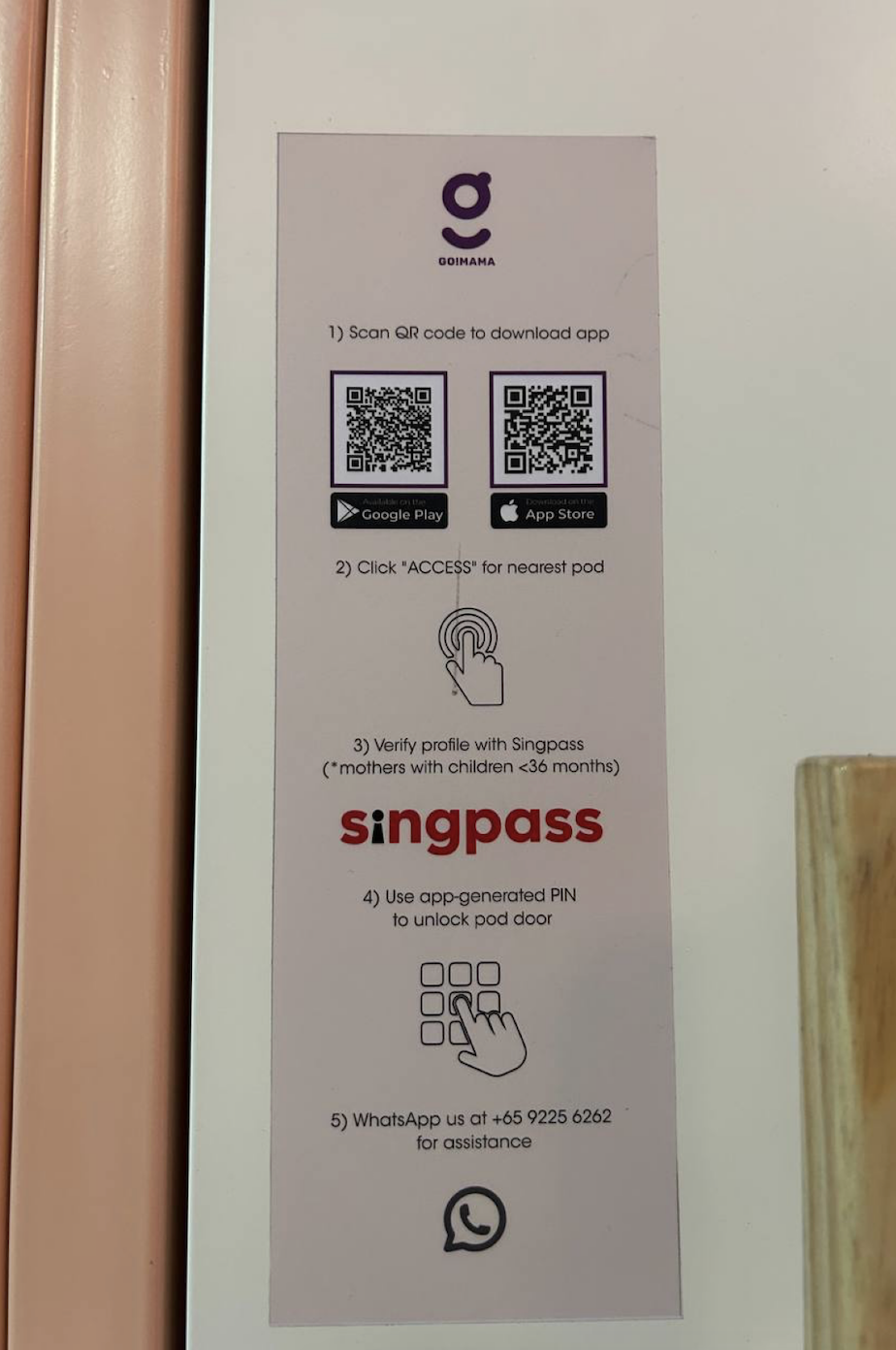 Each session is limited to 30 minutes, with a 15-minute extension.
You can locate your nearest pod or nursing room through Go!Mama's mobile application.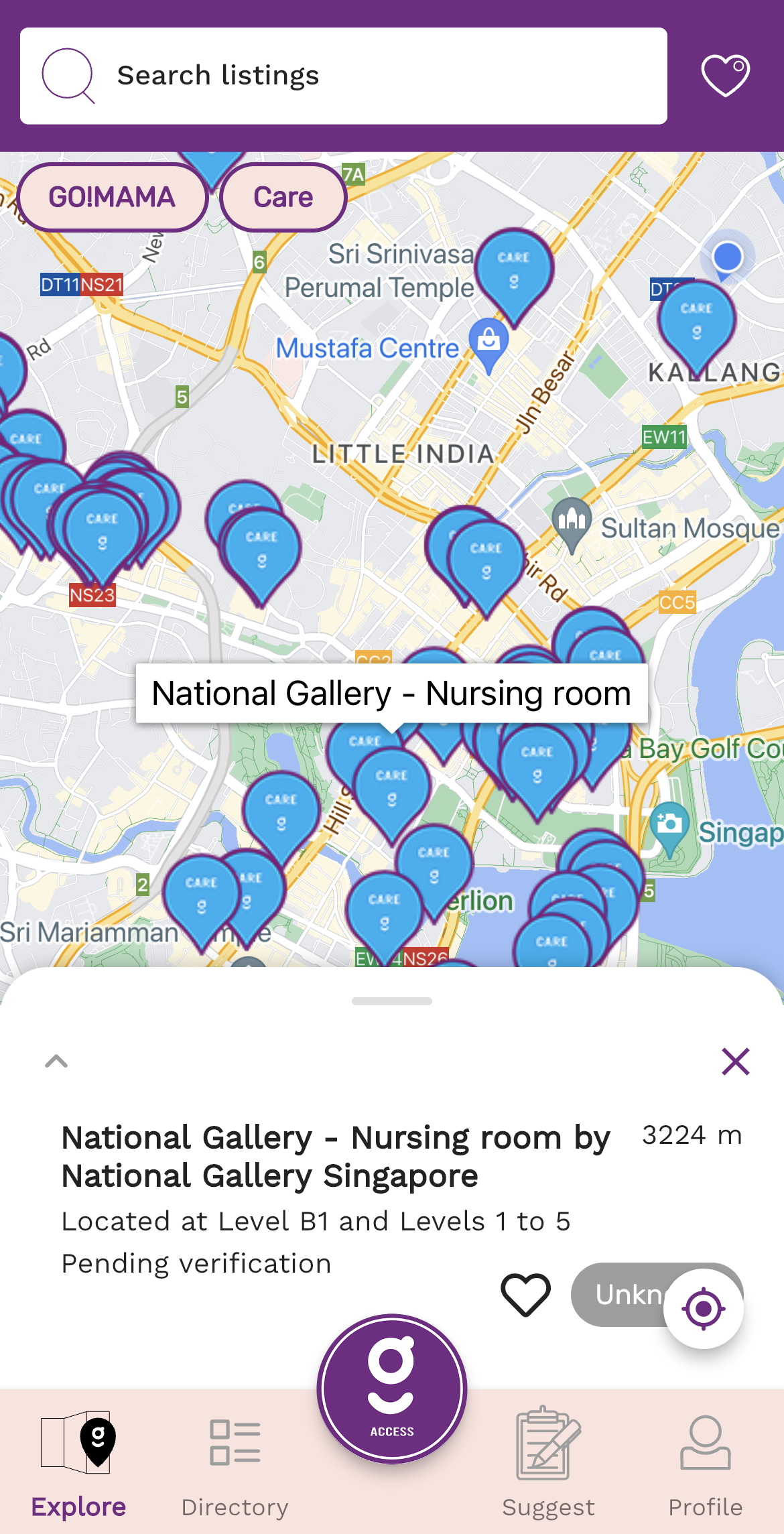 More coming soon
Go!Mama first came into existence during a trial run in December 2021, but only as a humble group of five pods on Sentosa.
Over the course of six months, the pods lodged more than 1,000 sessions and garnered around 200 positive feedback from mothers.
This encouraging response prompted Lee and her business partner Eunice Lim to take Go!Mama to the mainland and deploy the pods to community hotspots.
Their most recent pod at Sengkang CC, one of the places attracting the "highest footfall", was set up just a couple of weeks ago.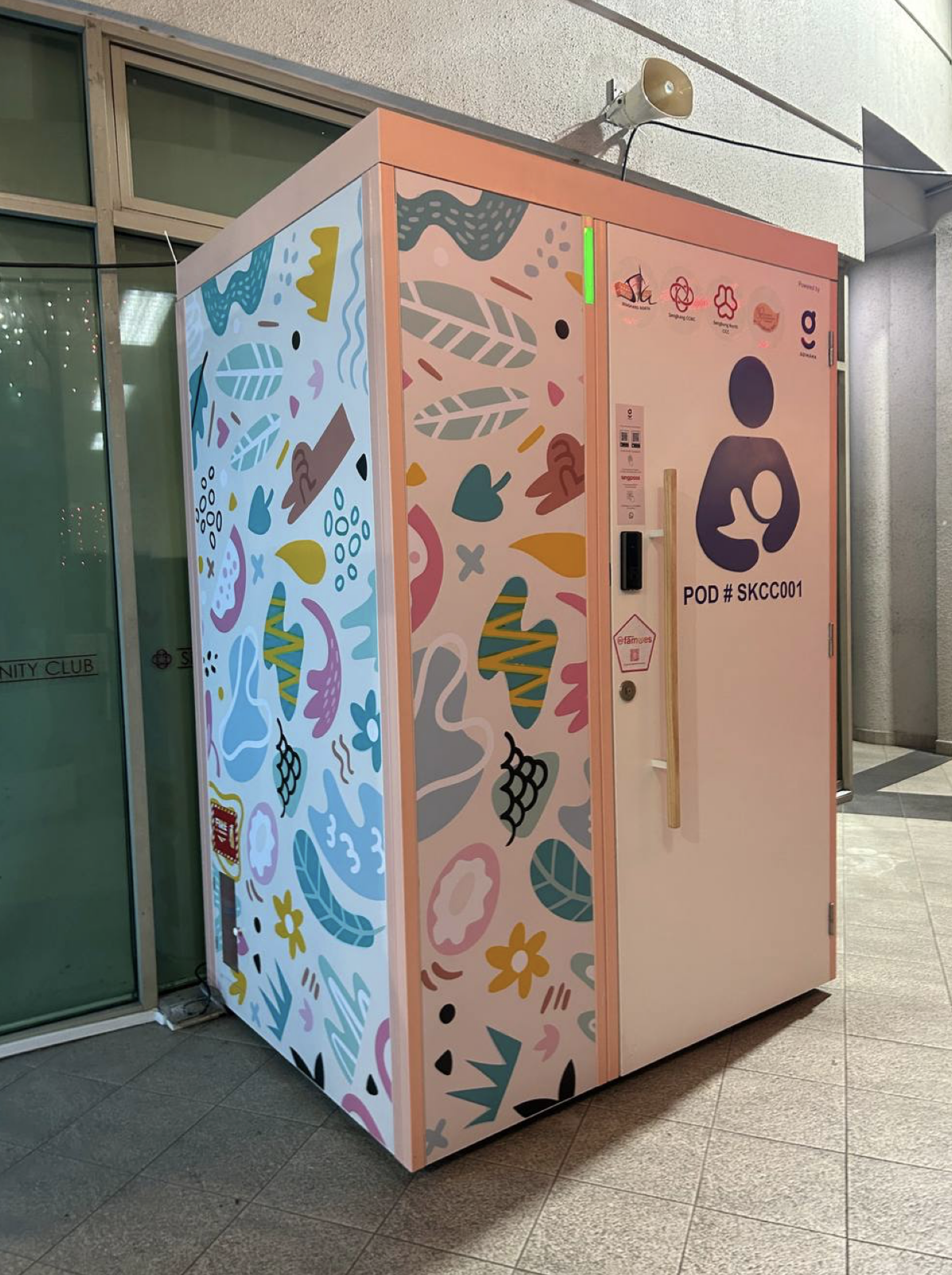 Apart from setting up shop in churches, private businesses, and stakeholders like JTC Corporation, the company also loans out temporary pods for conferences and events.
The next two newest additions will be found in Republic Polytechnic.
According to Lee, the company is also in talks with Changi Airport to see if they can bring Go!Mama there as well.
Speaking from the vantage point of a mother herself, Lee compared the importance of breastfeeding pods to that of wheelchair-accessible facilities.
"The pods are not measured by usage level but by the assurance that the facility is there when someone needs it. We wish to spread the message that supporting mothers includes caring about their wellbeing and that of their child," she said.
Top images via Zheng Zhangxin and Go!Mama
If you like what you read, follow us on Facebook, Instagram, Twitter and Telegram to get the latest updates.