Follow us on Telegram for the latest updates: https://t.me/mothershipsg
A woman who was involved in a road accident with a Lalamove van has come forward to seek aid for her medical bills.
According to the woman, she has not been able to get compensation from the transport company, despite having sought the help of her MP.
The incident
The accident took place on Apr. 18 at the Textile Centre in Jalan Sultan.
The driver of the vehicle — a Lalamove van — had allegedly driving been under the influence of drugs.
The victim, Candy Zhang, said that she had been about to enter a 7-Eleven when the van knocked her over.
"He was so fast and came out of nowhere...he didn't even horn or try to brake," she told Mothership.
"I tried to dodge but he hit me upfront and I flew out onto the building pavement.

The moment he hit me, my brain went blank, and the next thing I knew, I was bleeding from my head with excruciating pain all over my body."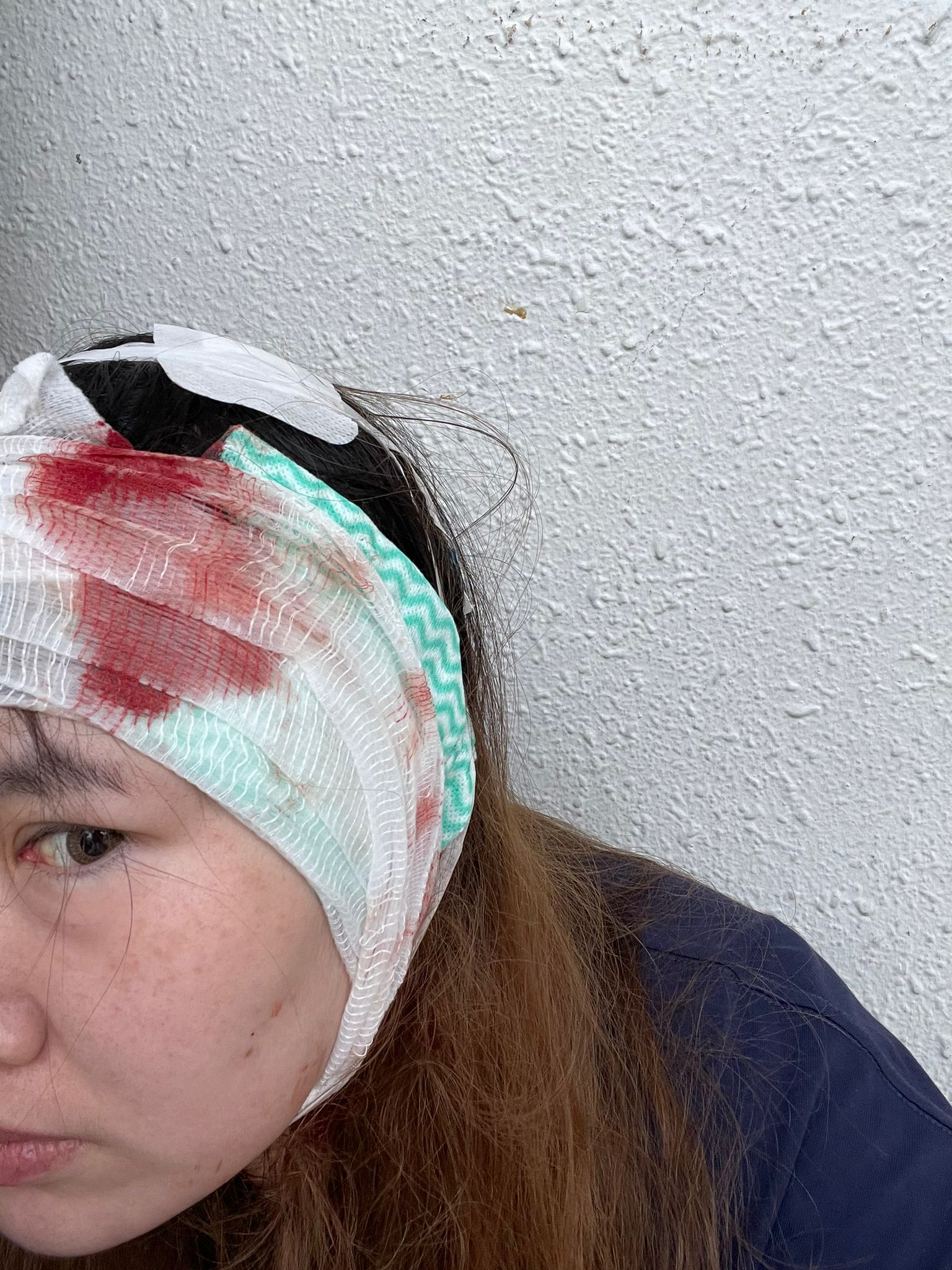 The aftermath
The day after she was conveyed to the hospital, Zhang woke up to news reports about the incident.
One of her friends, an insurance agent, told her that incidents involving DUI (driving under the influence) would not be covered by insurance.
This meant that the driver might not have the means to compensate her for her hospital bills.
"I was devastated and feared for the high cost of my medical bills. I immediately contacted my doctors in charge and asked to be discharged as I couldn't afford to stay longer," said Zhang, who is a single mother of one-year-old.
Due to her injuries — including a concussion, tears in her neck and spine, and a torn ligament on her knee — the medical team recommended that she stay longer.
There also was a "white spot in [her] brain" that required further observation.
"But I conveyed to them that my financial situation wouldn't allow me to stay warded any longer," Zhang said.
At her insistence, she was discharged just a day after the incident.
Unable to work
In total, Zhang estimates that she has paid over S$20,000 in hospital bills, loss of income, and transport costs over the past month.
While her insurance will cover about 50 per cent of her hospitalisation bills, the remainder will have to be paid by herself.
In addition, she still needs follow-up MRIs to diagnose the nature of the white spot in her brain.
And while her doctors have recommended physiotherapy and therapy for her depression, anxiety, and PTSD, Zhang said that she "does not dare" to go for these sessions as they will cost even more, and are not covered by her insurance plan.
To make things worse, she is no longer able to fulfil the more manual parts of her job scope as she recovers from her injuries — a process which in total might take as long as two years.

"With my financial situation getting worse and no means to claim compensation, I'm at the breaking point where I really don't know what to do anymore," she said.
"Right now,  because of my financial situation, I'm no longer able to sustain my basic living and care for my daughter. [Never mind] hiring a lawyer or professional advice, or claiming via lawsuit."
According to Zhang, she tried to ask her MP to write to Lalamove for compensation, but has heard no reply from the company.
"Now I'm just lost and don't know what to do," she added.
"I hope to share my story [sic] and ask the public and media for help."
Lalamove's reply
In response to Mothership's queries, Lalamove said that they have not yet received a request for compensation from Zhang.
They added that they attempted to reach out to the driver to understand his situation but failed to do so.
"As safety is our first priority, the driver-partner is now banned on our platform until we have more information on his situation," the spokesperson said.
They declined to comment on the company's standard operating procedure with regard to compensation.
Top photo courtesy of Candy Zhang
If you like what you read, follow us on Facebook, Instagram, Twitter and Telegram to get the latest updates.