Follow us on Telegram for the latest updates: https://t.me/mothershipsg
Update on May 19, 11:17pm: The article has included MAS' response to UN Special Rapporteur Report on Myanmar.
A report published on May 17 by the United Nations Special Rapporteur states that Myanmar's military has imported at least US$1 billion in arms and raw materials to manufacture weapons from international suppliers, since the February 2021 coup.
UN Special Rapporteur Tom Andrews identifies the top five countries linked to this trade, and Singapore is third on that list, behind Russia and China, and ahead of India and Thailand.
Entities operating in Singapore have reportedly shipped US$254 million (S$342.5 million) worth of trade in arms and related materials to Myanmar's military.
Trade in arms, related materials not linked to Singapore or Thailand governments
The highest number of suppliers is said to be operating in Singapore, at 138, more than the other four countries combined.
Andrews approached all the nations specified in his report, and the report includes "the context and additional information that Member States provided him during this consultation process", which he says was appreciated.
He also specifically singles out the entities based in Singapore as not being named, in order to allow the Singaporean government time to "take action against these entities".
Andrews said that he has "no information to indicate" that the governments of Thailand and Singapore, or entities owned or controlled by either government, were involved in the trading of arms to the Myanmar military.
This in contrast to the other three nations named, where entities owned or controlled by their governments were "directly involved in transferring arms to the Myanmar military".
But Andrews also recommends that Singapore and in particular major financial institutions take a more concerted effort to prevent Singapore being used as a transit point for arms, related materials, and money used; as well as levying additional sanctions on Myanmar's junta comparable to that levelled at Russia in response to its invasion of Ukraine.
It should be noted that Singapore's sanctions on Russia are in response to it being a breach of international sovereignty, whereas the fighting in Myanmar is seen as a domestic conflict, and is unlikely to be considered comparable by the Singaporean government.
MFA Response
A spokesperson for Singapore's Ministry of Foreign Affairs issued a statement in reply on May 19:
"UN Special Rapporteur Tom Andrews noted in his report that the Singapore Government prohibits the transfer of arms to Myanmar. Singapore also does not authorise the transfer of dual-use items which have been assessed to have potential military application to Myanmar where there is a serious risk that they may be used to inflict violence against unarmed civilians.

Special Rapporteur Andrews has also noted that "there are no indications the Government of Singapore has approved, or is involved in, the shipment of arms and associated materials to the Myanmar military."

Singapore has taken a principled position against the Myanmar military's use of lethal force against unarmed civilians and has worked to prevent the flow of arms into Myanmar as called for in United Nations General Assembly (UNGA) resolution A/RES/75/287 "The Situation in Myanmar".

We appreciate the Special Rapporteur's efforts to provide information to aid Singapore's investigations into whether any offences were committed under Singapore law. Singapore will not hesitate to take action against any individual or entity which contravenes our laws.

In the meantime, the Singapore Government remains committed to providing humanitarian assistance to support the people of Myanmar. We will continue to work with our fellow ASEAN Member States and the United Nations to facilitate peace and national reconciliation in Myanmar."
2 years of fighting in Myanmar
Myanmar has been enmeshed in a civil conflict since a military coup in February 2021 ousted the democratically elected government formed by the National League for Democracy, led by Aung San Suu Kyi.
The coup came after nearly a decade of democratic reforms that had returned much, but by no means all, to a civilian government.
Resistance to the coup began almost immediately, with large protests eventually giving way to significant armed resistance.
Fighting between the military and armed resistance armies has been ongoing ever since, with the military relying on air strikes that have also involved significant civilian casualties.
The coup, and the resultant fighting, has been met with international condemnation, with the United States and European Union issuing several rounds of sanctions on the Myanmar military.
Asean, usually reticent to react to the domestic affairs of its members, has issued unprecedented condemnation, including disinviting Myanmar's ministerial level leadership from Asean meetings, urging it to comply with its Five Point Consensus which, amongst other things, calls for the end of violence and for negotiation between all sides in the conflict.
If you are interested in learning more about the conflict and its impact of Myanmar's citizens, please watch this video:
Singapore's position on arms trade with Myanmar
A question related to a similar report put together by the Special Advisory Council for Myanmar (SAC-M), an NGO, was responded to in Parliament by Foreign Minister Vivian Balakrishnan on Feb. 14, which was also cited by Andrews.
In it Vivian referred to the UNGA resolution 75/287, saying that while UNGA resolutions were "not strictly legally binding"
... nevertheless, the government of Singapore has decided to prohibit the transfer of arms to Myanmar. We also decided not to authorise the transfer of dual-use items which have been assessed to have potential military application to Myanmar, where there is a serious risk that they may be used to inflict violence against unarmed civilians.

We will not hesitate to take action against those who contravene our laws, including Singapore's Strategic Goods (Control) Act which controls the transfer and brokering of strategic goods and technology."
In the same response, Vivian also refuted allegations of Singapore directly supplying arms to the Myanmar military.
He said that SAC-M's assertions regarded economic activities that predated the 2021 coup, as well as saying that there had not been defence sales between Singapore and Myanmar for over 16 years.
Singapore as a hub
The report claimed that "critical components and raw materials are being shipped into Myanmar via Singapore based entities. These range from spare parts for advanced weapons systems to raw materials enabling KaPaSa's weapon production."
These shipments had occured since the February 2021 coup. KaPaSa is a major weapons manufacturing facility in Myanmar.
The report highlights four types of imports of concern,
Arms - such as spare parts for aircraft and radar equipment

Dual-use military supplies - such as radio equipment and software

Manufacturing equipment - such as CNC machines and laser cutting machines

Raw Materials - such as steel and construction material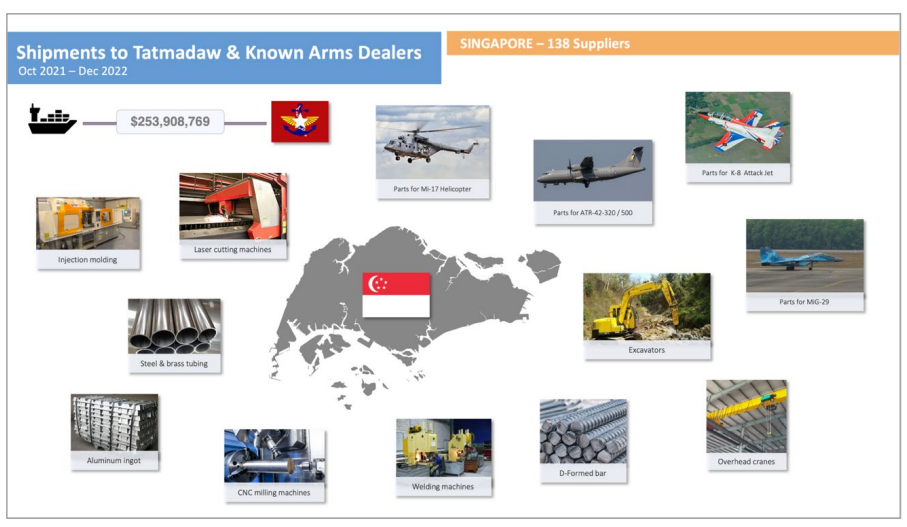 The special rapporteur also highlighted the role supposedly played by financial institutions in facilitating the trade in arms.
Noting that only the U.S. has so far frozen Myanmar's reserves in their country, the report claimed that three Singaporean commercial banks, DBS, UOB, and OCBC, are suspected of holding "substantial reserves".
It also claimed that Singaporean banks have been used extensively by arms dealers operating in and outside of Singapore, with "payments for hundreds of millions of dollars of arms transfers described in this report moving through Singapore banks".
Andrews approached the Singaporean government with his findings, urging Singapore to urgently review trade with Myanmar, as well as acting against entities that were using Singapore to deliver arms and material to the Myanmar military.
Singapore responded by saying:
"We appreciate that you have provided data to aid Singapore's investigations into whether any offences were committed under Singapore law as regards the possible transfer of goods and raw materials to Myanmar.

The Singapore Government constantly reviews the effectiveness of our export controls in relation to Myanmar, and will take the information provided by your Office into consideration. We may also approach your Office for further details to facilitate our checks into the alleged transactions."
Back in 2021, the Monetary Authority of Singapore (MAS) also said that its regular surveillance of the banking system has not found "significant funds" from Myanmar companies and individuals in banks in Singapore.
The authority stressed that it expects financial institutions to "remain vigilant to any transactions that could pose risks to the institution, including dealings with companies and individuals subject to financial sanctions by foreign jurisdictions".
MAS: Banks in Singapore will not facilitate the sale and transfer of arms to Myanmar
In response to Mothership's queries on May 19, a MAS spokesperson said that banks in Singapore will not facilitate the sale and transfer of arms to Myanmar.
"This is in line with the Singapore Government's ban on such transactions," the spokesperson added.
The authority also said that banks are also keenly alert to the risks arising from the deteriorating situation in Myanmar and have been applying enhanced due diligence on all transactions involving Myanmar entities and individuals which present higher risk.
Banks in Singapore are also alert to the risk of shell companies and concealed networks of related entities being used to obscure links to the Myanmar military and have since stepped up efforts to detect such entities and networks by deploying data analytics and intelligence sources, MAS shared.
Banks have also been alerted based on the information provided by the said report and several entities mentioned in the report no longer have business relationships with the banks, according to the MAS spokesperson.
Banks are closely scrutinising transactions of the remaining entities and will take further actions as necessary.
Impact and recommendations
The report detailed the potential impact of such imports, noting that weaponry used in air assaults, such as the April 2023 air strike on Pa Zi Gyi village, was produced in KaPaSa facilities.
Although acknowledging it was difficult to isolate the impact of material shipped via Singapore-based entities, the report said the scale of the materials sent would mean that if Singapore could stop the exports to Myanmar, it would be"severe for the Myanmar military's domestic weapons production", at least in the short to medium term.
The report ends its section on Singapore by saying there were no indications that the Singaporean government approved of or was involved in shipments of arms or associated materials to Myanmar's military, but urged it to strictly enforce its "clearly stated ban".
The report's recommendations to Singapore included a call to undertake enhanced due diligence, including more stringent checks to ensure that sources of funds or wealth do not constitute proceeds from crime, as well as additional searches to obtaining information about transaction parties from a more extensive range of reliable and independent sources.
You might enjoy
Related stories
Top image via Getty & CHUTTERSNAP/Unsplash
If you like what you read, follow us on Facebook, Instagram, Twitter and Telegram to get the latest updates.