Follow us on Telegram for the latest updates: https://t.me/mothershipsg
On May 20, a Singaporean's trip to Malaysia was ruined by an unsavoury encounter with "impolite" Malaysian custom officers.
The disgruntled traveller, Abdul Qayyuum Rahim, took to Facebook to unleash his ire.
Displeased with M'sia custom officer's passport chopping and attitude
After an hour's wait at Tuas Checkpoint, Qayyuum and his wife arrived at one of the two opened counters on the Malaysian side of the border, only to be ordered by a female officer "with an impolite tone" to remove their passport covers.
Upon receiving back their passports, the pair were dismayed to see that the officer had wasted their passport pages by chopping, voiding, and re-chopping on separate pages.
"The officer purposely left a blank page on my passport and for my wife's passport, she chopped on page 27 before scribbling it [out] and re-chopping on page 28 for no good reason."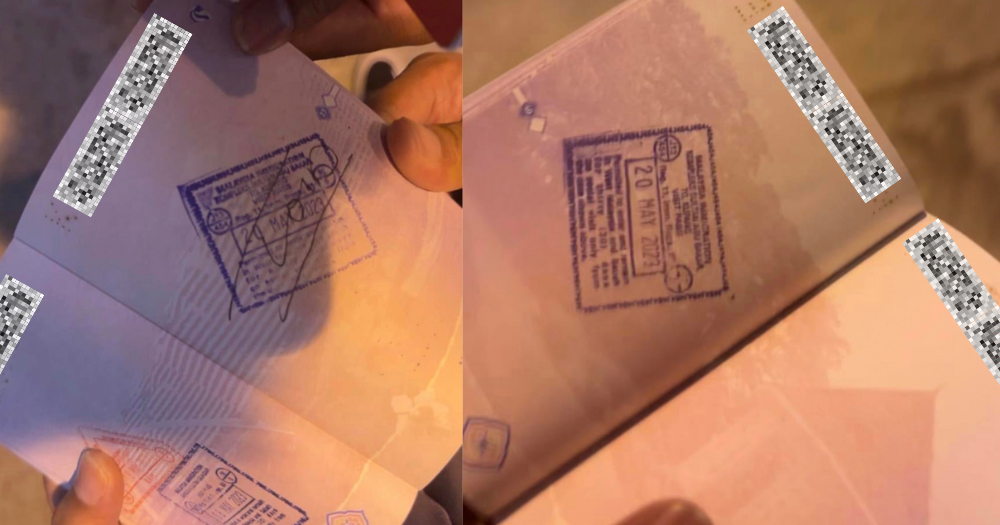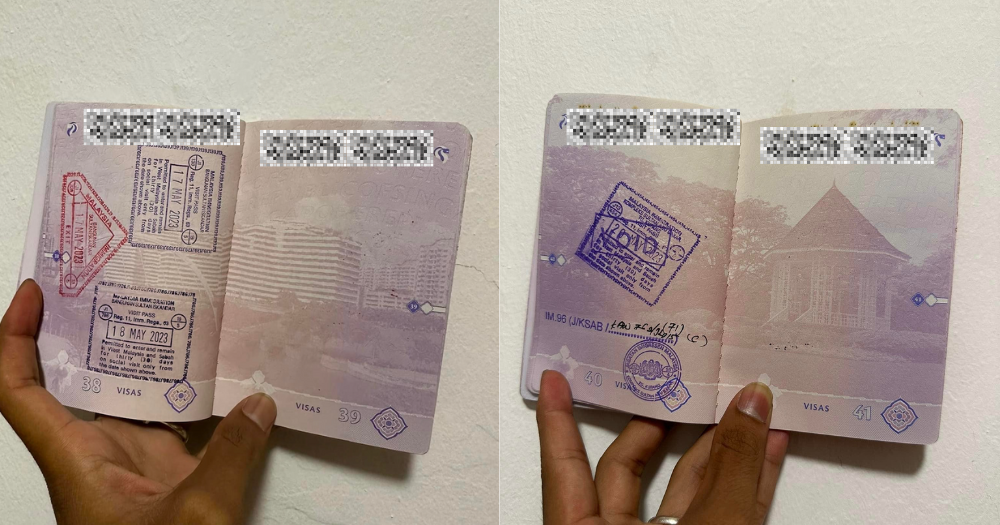 Qayyuum failed to identify the officer working at the counter (counter M8) as she was not wearing a name tag.
Displeased, the couple decided to make a complaint at the customs office.
Issued a notice of refusal of entry
When Qayyuum and his wife approached another officer to lodge the complaint, their bad day got even worse.
The male officer at the office's first level, who wore a "dri-fit t-shirt and jacket" in place of "proper immigration uniform", told them to make the complaint online without explaining how to do so.
"He also raised his voice and told us to do it outside of the office instead," Qayyuum said.
Refusing to back down, Qayyuum's wife pressed the officer on how to make the online complaint.
This resulted in the officer becoming more irritated.
Taking hold of their passports, he ushered the Singaporeans to the second level of the office.
There, the two were issued a "Refusal of Entry" letter by a female assistant superintendent named "Rexsus".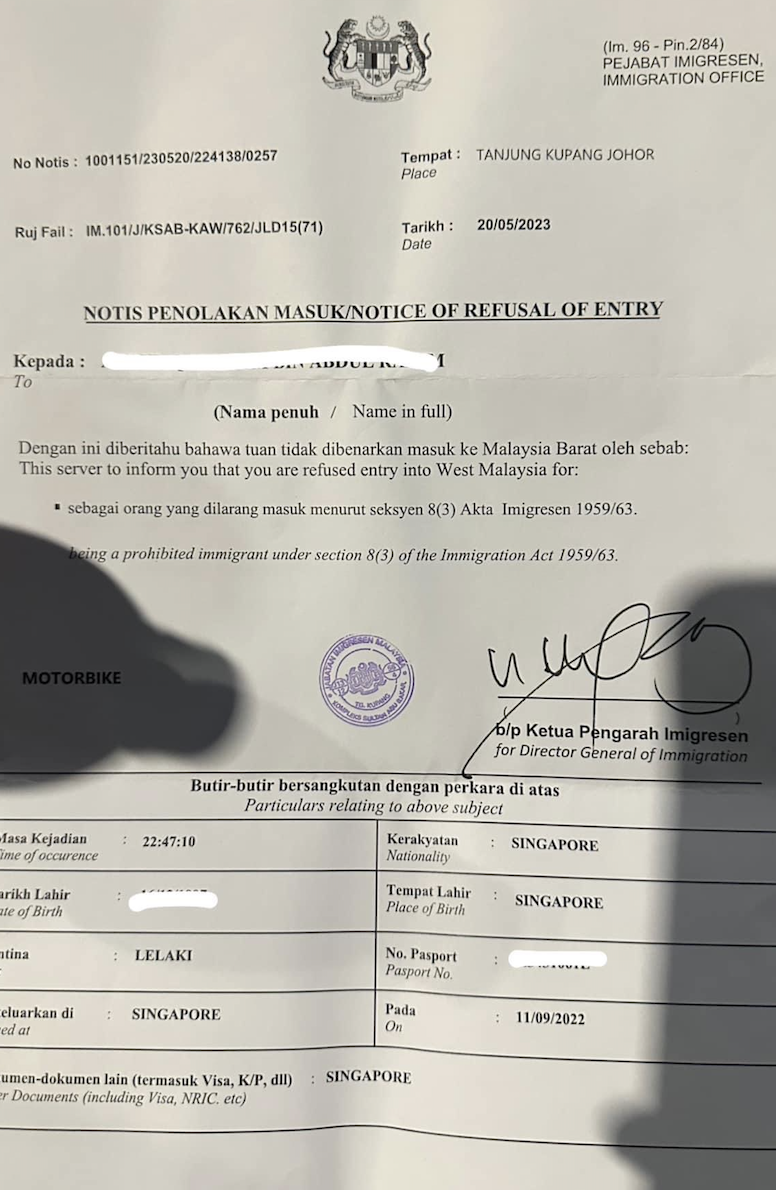 When they asked why they were being issued the letter, they were told that they have been banned from entering for at least six months.
"[The officer] couldn't give us an answer, yet she raised her voice and sarcastically asked if we wanted to be banned from Malaysia for six months or a year. After everything, she told us we were banned from entering Malaysia for six months for no valid reason."
Qayyuum added that he wasn't the only one subjected to the inexplicable processes of the Malaysian customs.
His friend was also slapped with the same letter after her boyfriend had asked an officer why he chopped the centre of his passport page.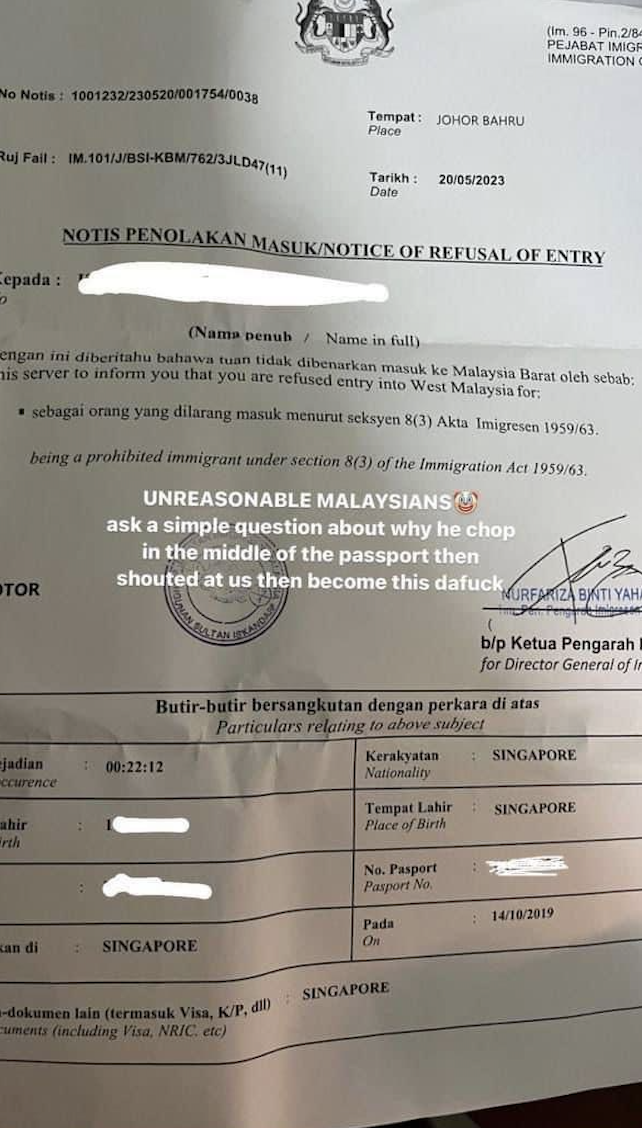 "The officer then shouted at my friend's boyfriend and brought them to the office," stated Qayuum.
"How are they supposed to chop our passports?"
After his rant, Qayyuum appealed for information on the "proper procedures" for Malaysian immigration.
"I think this needs to be standardised because it's not fair for us (Singaporeans) to be paying for our passports and [have] the officer [just waste] our pages," he said.
He added that Malaysian immigration should tighten the reins on officer conduct and the treatment of "foreigners".
Qayyuum told Mothership that he had lodged the online complaint through the Malaysia Immigration Portal on May 21, but he had yet received a response.
Top photos via Abdul Qayyuum Rahim on Facebook
If you like what you read, follow us on Facebook, Instagram, Twitter and Telegram to get the latest updates.