Follow us on Telegram for the latest updates: https://t.me/mothershipsg
A jobseeker in Singapore was asked to pay for his share of the coffee after he turned down a position at a marketing company.
His interviewer conducted the interview at a coffee place and picked up the tab.
The coffee cost S$6.50.
Ordered for both of them
The jobseeker who wanted to be known as S, told Mothership that he was first approached by the company on LinkedIn.
Another personnel had contacted him to share some details about the job.
They talked on the phone afterwards and arranged for S to meet another employer, C, for an in-person interview.
Both of them arranged to meet at C's office.
After meeting at the office on the arranged date, C decided to bring S to one of the coffee places nearby.
Upon entering the shop, C asked S whether he liked coffee or tea, to which he responded by saying he was fine with anything.
She then asked S what kind of coffee he liked -- iced or hot, black or white.
She asked him to sit down and ordered for both of them.
After the interview, C stayed at the coffee place as she had more work to do. They parted ways then.
"The topic of paying never came up," S said.
Asked to pay S$6.50
C contacted S a few days after the interview.
S told Mothership that C tried to persuade him to try the job for two weeks as there was "nothing to lose".
But S ultimately decided to reject the job offer as he wanted something more stable.
The sales and marketing role that the company was hiring for had no basic pay and was commission-based, he told Mothership.
After S passed up the job offer, C wished him all the best and requested him to pay his share of the coffee.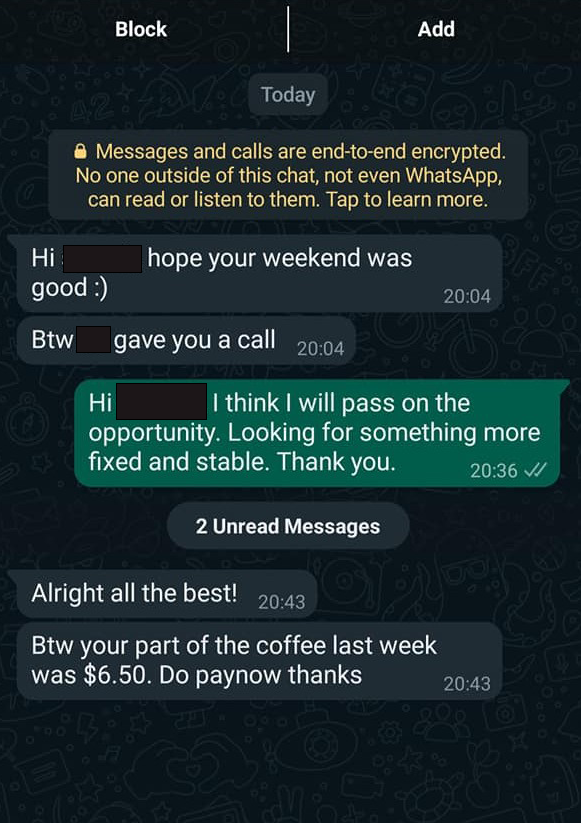 S was "stunned" when he heard the news.
He said: "Like, is this for real?"
He paid for the coffee via a bank transfer and decided to share his experience online.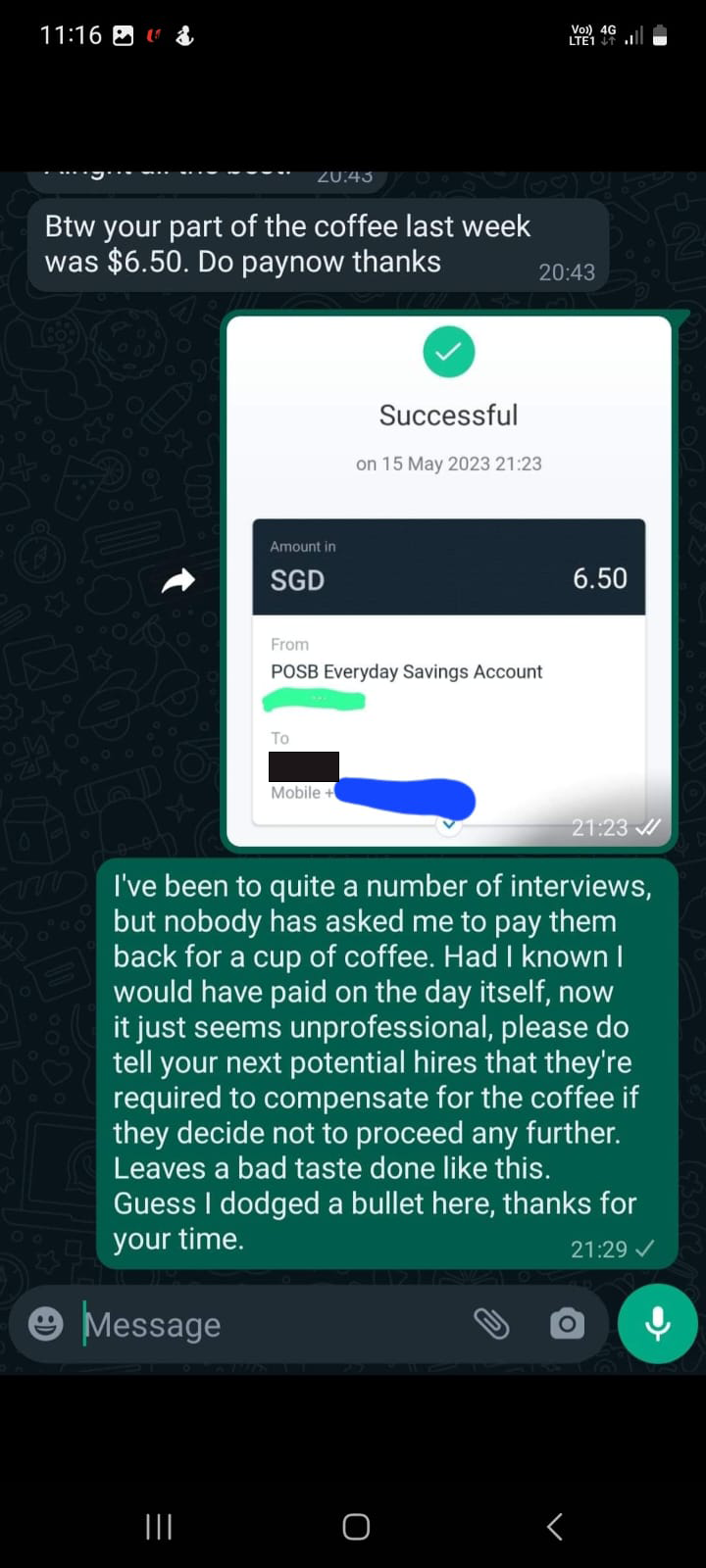 He wrote:
"I've never encountered such people before, you ask people to come for interview, you bring them down for office, you ask what they want and ask them to go sit down first and when people decline, immediate true colours are shown," S explained to Mothership.
Reported her to the supervisor
Within the same night, S decided to message C's supervisor, JJ.
"Once I notified him of her behaviour, I got a PayLah! back of S$6.50," he said.
JJ also subsequently messaged S to apologise for C's behaviour and affirmed that this was not what their company stands for.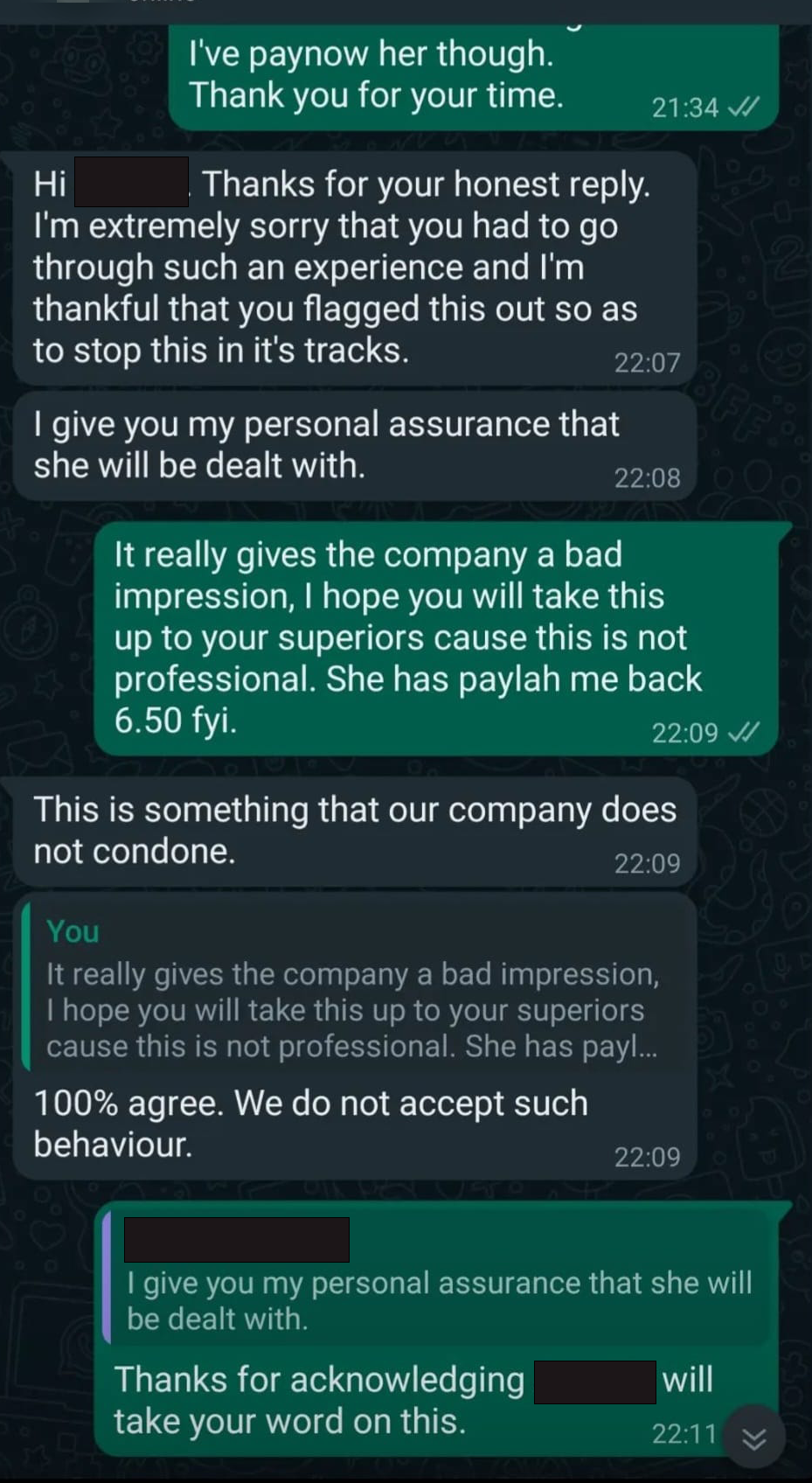 Glad to dodge a bullet
C did not reply to S's message after S made the payment.
There was no contact from her apart from the PayLah! transaction.
S told Mothership that the company's manager called him on Thursday (May 18) afternoon to apologise for her actions and said he was "truly sorry".
Reflecting on the experience, S said he was "just glad [he] didn't give any more of [his] time" to the company.
"In conclusion, just glad to dodge a bullet early," he said.
Top image via S and Quang Anh Ha Nguyen/Pexels.
If you like what you read, follow us on Facebook, Instagram, Twitter and Telegram to get the latest updates.