Follow us on Telegram for the latest updates: https://t.me/mothershipsg
A video clip of an argument between two MRT commuters has been circulating online.
Posted by media page @sgfollowsall, the clip features a young man arguing with an older male commuter on the MRT.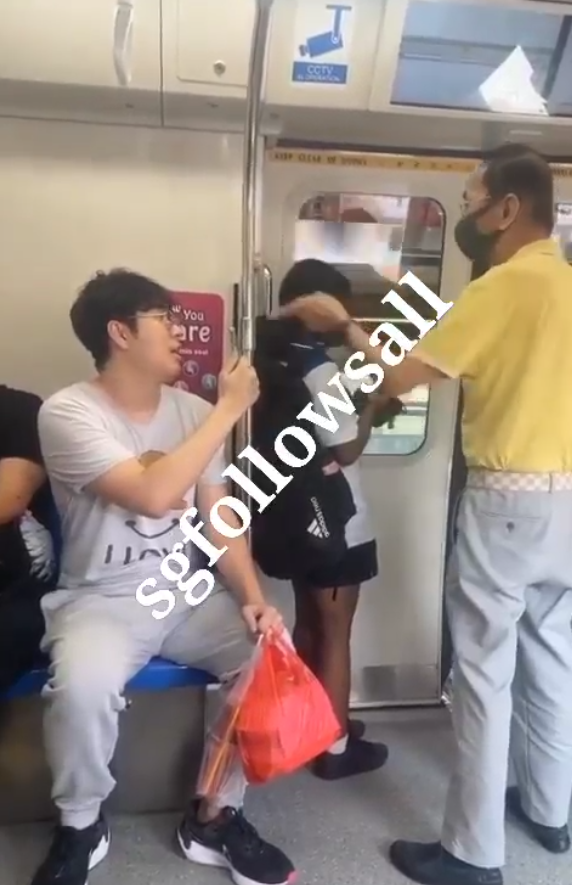 The video lacks context but the squabble presumably arose due to a disagreement over the priority seat in the train.
Were the two locked in a death match to plant their butts on the priority seat, only for the younger guy to prevail?
Or did the older man exercise his rights as someone who ate more rice and salt to chastise his younger counterpart on the morality of occupying a seat reserved for pregnant women, the elderly, and those less-abled?
There's no way to know for sure.
"Is this compulsory?"
What we did get was a confrontation, succinctly captured in a 30-second video and laced with some choice swear words.
Here we go:
The scene opens with Young Man brandishing his phone camera at Older Man and going, "I'm a clown?? Who are you??"
"Is this compulsory? Let me ask you one more time," Young Man said. "Is this compulsory?"
Older Man mumbled something inaudible while jabbing his finger at Young Man.
"This is not compulsory at all," Young Man cut in. "It's not in the Constitution, it's not a law."
More jabbing from Older Man.
"Who do you think you are, you f*cking idiot," Young Man said, prompting the first and only aggressive response from Older Man.
"You mind your word ah!" Older Man raised his voice while jabbing his finger closer to the younger guy.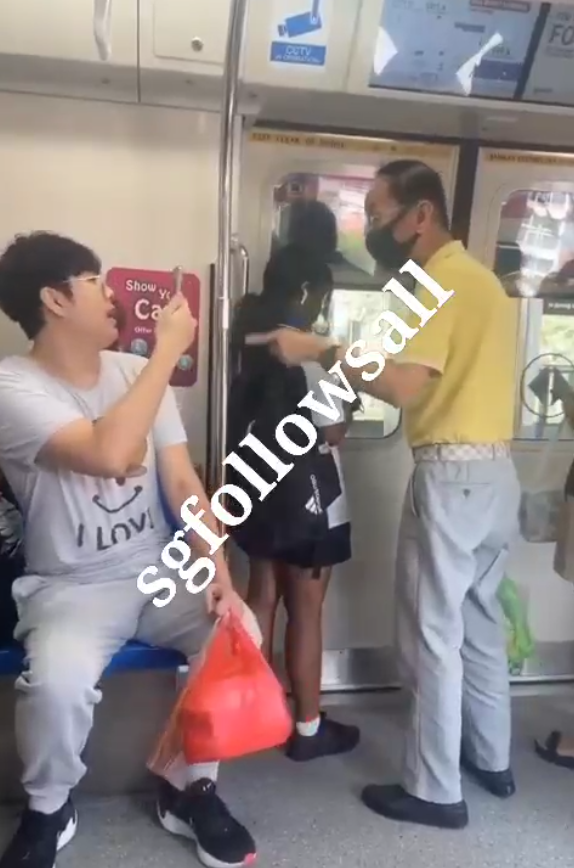 "Want to hit me ah? Come lah, come lah," Young Man taunted. "I make sure I sue you!"
By then the train had reached Bukit Gombak and Older Man alighted, as Younger Man threw out another "Idiot!" behind him.
All that happening within the time the train took to enter Bukit Gombak station and open its doors.
What are priority seats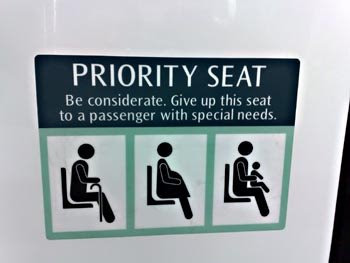 Typically located near the train doors, priority seats are reserved for vulnerable commuters, namely those who are pregnant, elderly, with infants, or the differently-abled.
While it is true that there is no legal obligation for commuters to give up the priority seat (or any other seat) to those in need, it is encouraged, as well as a social expectation.
Those who choose not to do so won't suffer a fine or penalty, but will probably end up on the receiving end of some dirty stares. Or in a viral video.
More priority seat drama
All images via SGFOLLOWSALL.
If you like what you read, follow us on Facebook, Instagram, Twitter and Telegram to get the latest updates.