Follow us on Telegram for the latest updates: https://t.me/mothershipsg
The highly-anticipated Mister Donut outlet at Junction 8 is officially opening this Sunday (May 21).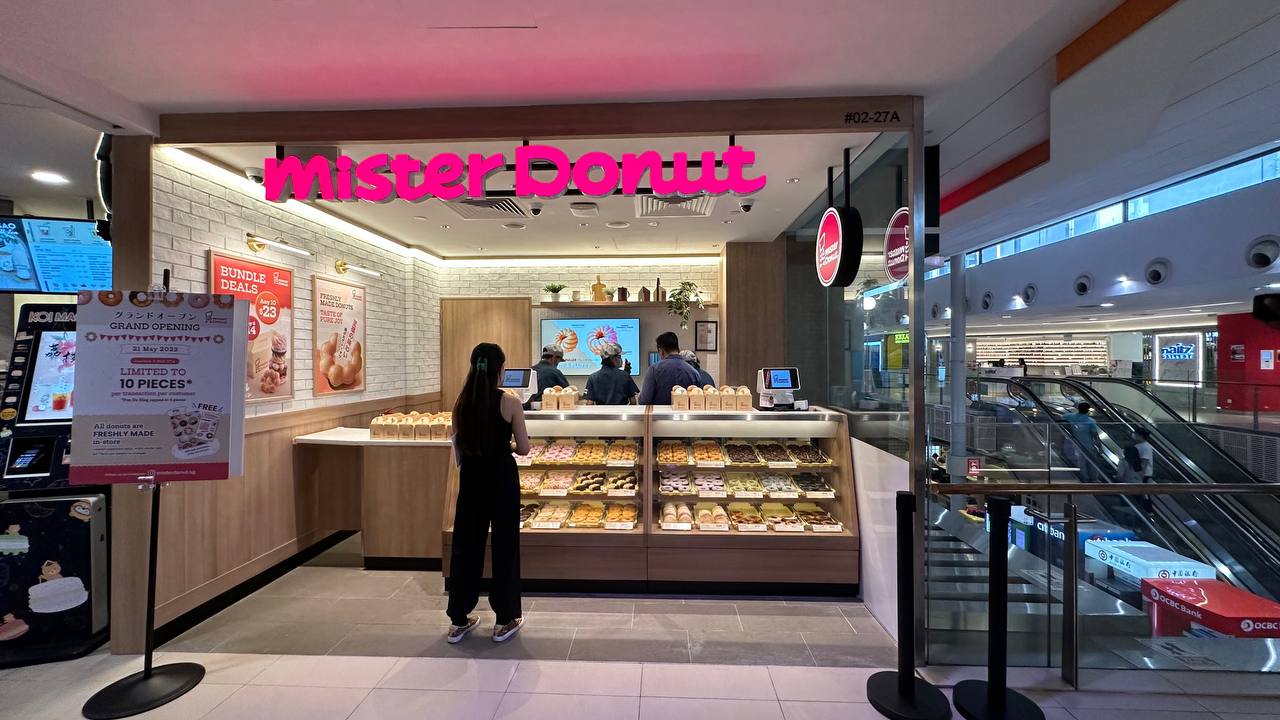 If you didn't know just how popular this Japanese doughnut chain is, just let these photos of the pop-up they had at Jurong Point a year ago speak for itself: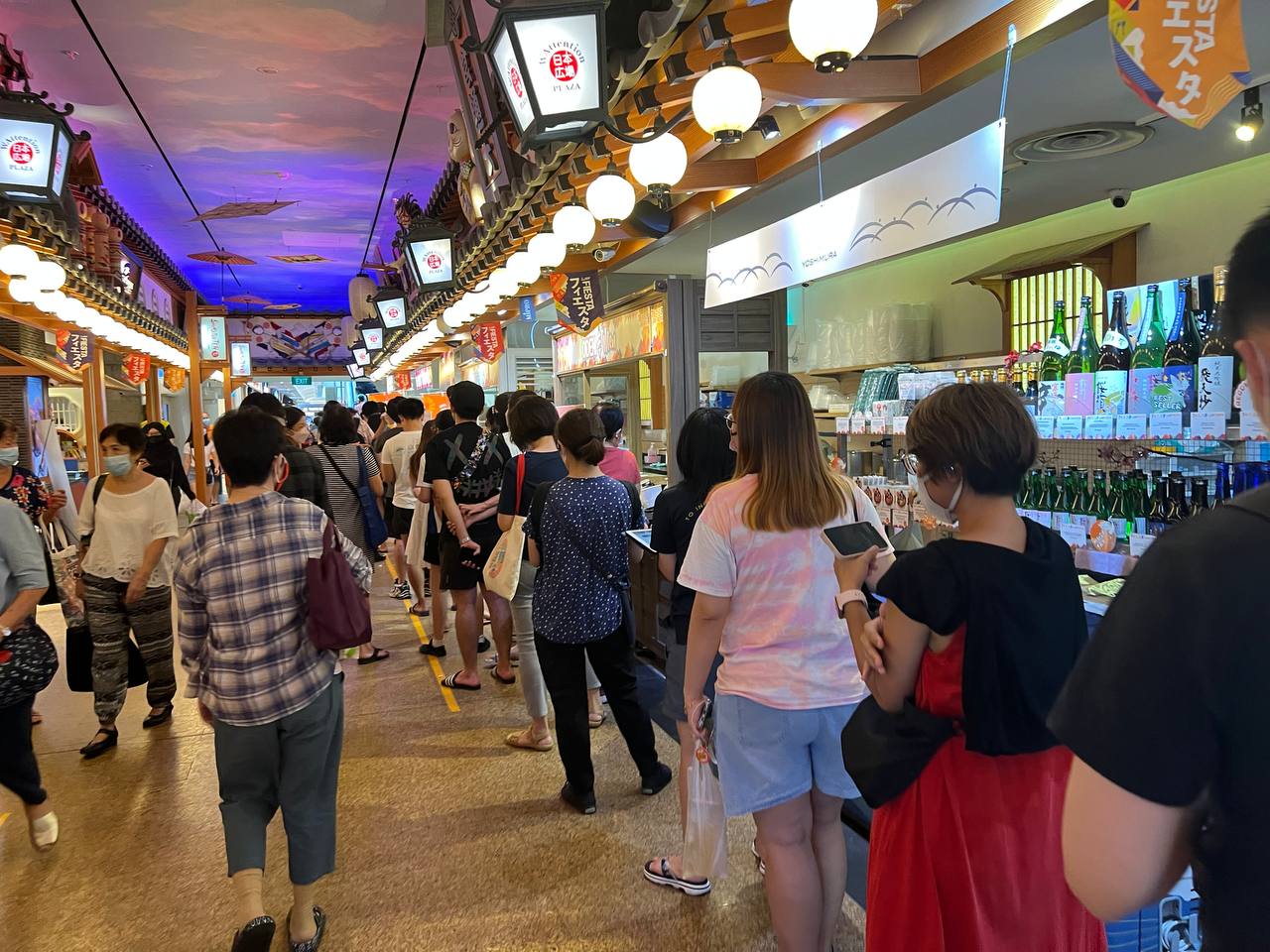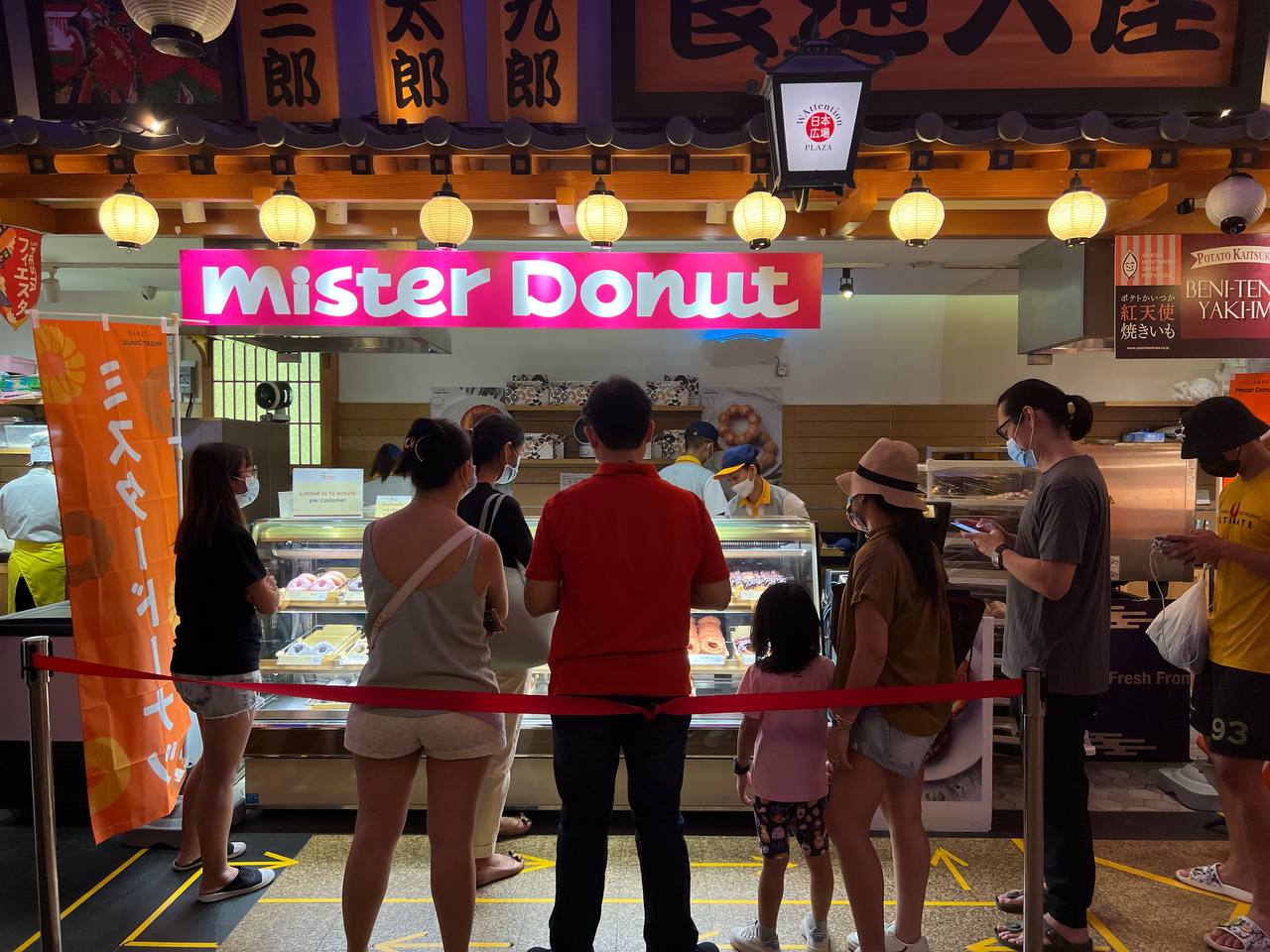 Mothership was invited for a media preview on May 19 so we can tell you if it's worth the hype.
We don't have super nice individual pictures of the doughnuts because we were given serving samples (thank god for our waistline) but here's a look at the menu.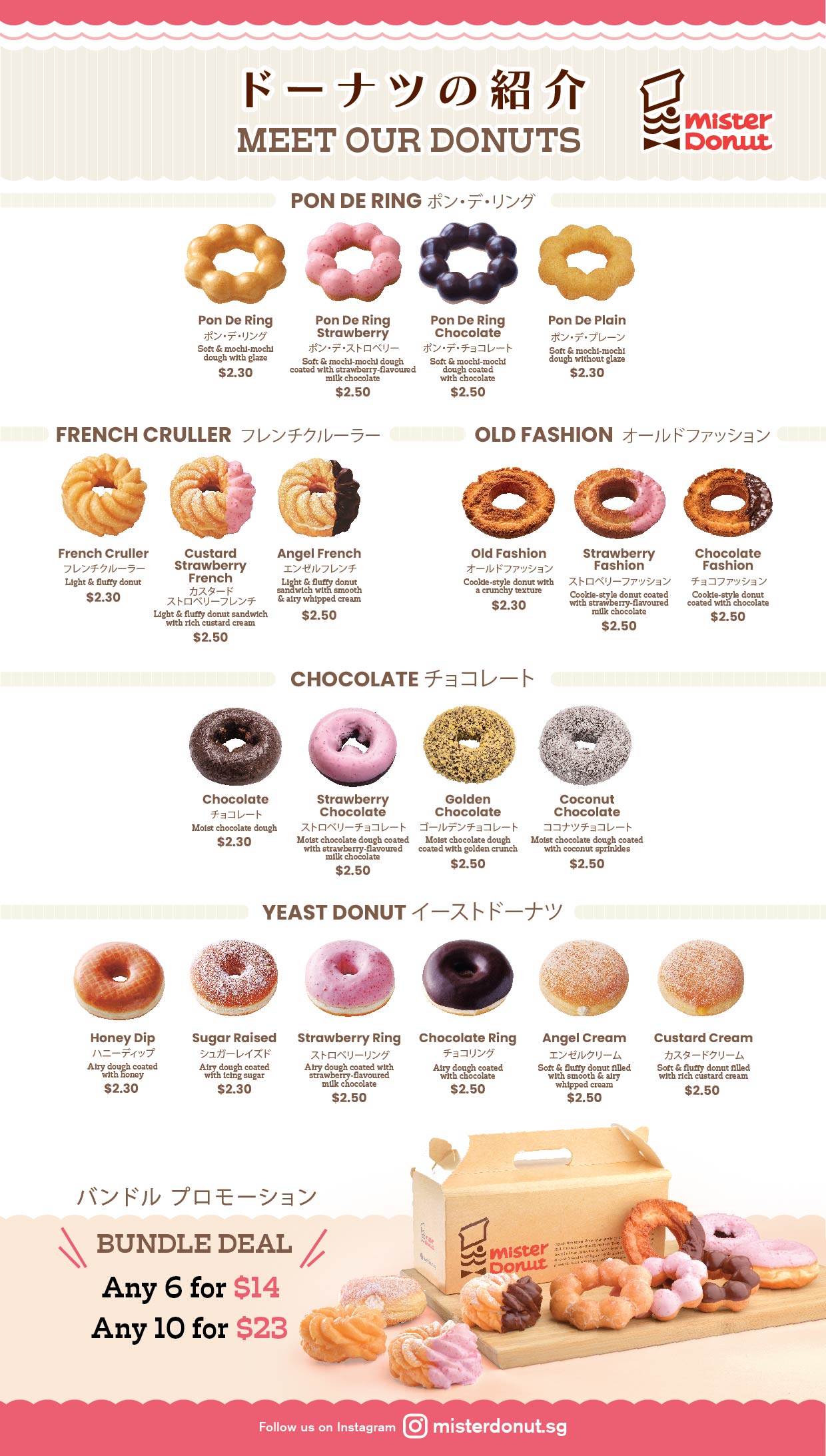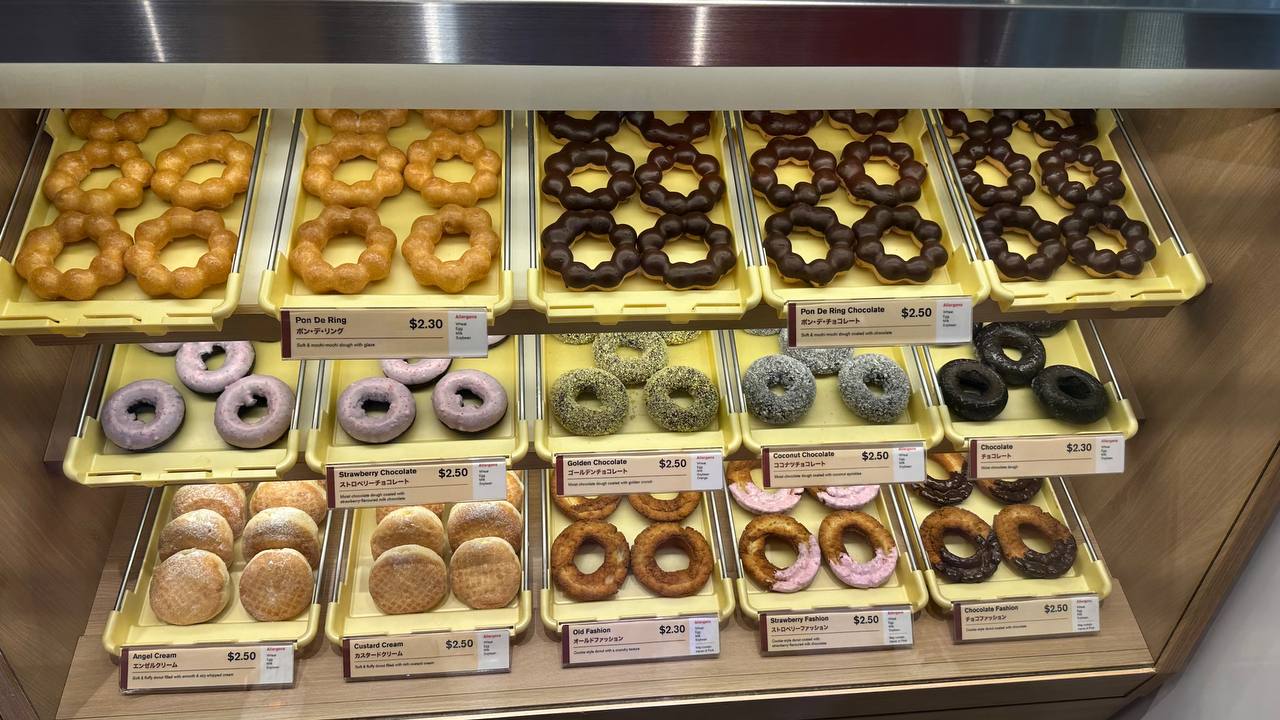 And without further ado, here's a quick review:
Signature Pon De Ring (S$2.30)
Very crispy on the outside and mochi-like chewy texture on the inside.
Oh my god, it's perfect.
Verdict: 5 out of 5. Very nice, our favourite.
Chocolate Fashion (S$2.50)
How do they make their doughnuts pleasantly crunchy?
Good thing it's half chocolate-coated and half plain because the chocolate part can get a little too heavy.
Verdict: 4 out of 5. Will be a favourite among chocolate lovers, confirm.
Strawberry Chocolate (S$2.50)
This is a Singapore-exclusive doughnut but honestly, it pales in comparison with the other doughnuts.
Unlike other doughnuts, this has a cake-like texture and can be messy to eat.
Verdict: 3/5. If you like strawberry Pocky, you'll probably like this.
Custard Strawberry French (S$2.50)
Imagine if a creampuff and a doughnut made love. Nine months later, poof: Congrats, it's a Custard Strawberry French.
The strawberry coating goes really well with the custard cream.
Verdict: 4.5/5. So beautiful.
Angel Cream (S$2.50)
Fluffy bread filled with atas whipped cream that you can find in Japanese pastries.
You should probably share this doughnut though, cos we find it a bit too gao after a few bites and Mister Donut is very, very generous with the filling.
Verdict: 4/5. We can hear the angels calling. Probably because of all the sugar we ate.
Is it worth the hype?
Ok, we understand it now. The doughnuts are of above-average quality.
At S$2.30 to S$2.50 it's actually the market rate or — we dare say — slightly cheaper than the usual doughnut chains we're used to in Singapore.
We don't eat doughnuts often but Mister Donut has set the standard for us, for sure.
Would we travel all the way to Bishan and queue for hours though? Definitely not. Maybe 30 minutes, max.
Mister Donut
9 Bishan Place, #02-27A, Junction 8, Singapore 579837
Opening hours: 11am to 8pm daily, while stocks last.
Mister Donut officially opens from May 21.
Congratulations! You have made it to the end of the article (whether by speed-scrolling or otherwise). This alone qualifies you to apply for the role of an Editorial Intern (Nova) at Mothership. Click here to find out more.
Top photos from
Top image and additional reporting by Livia Soh
If you like what you read, follow us on Facebook, Instagram, Twitter and Telegram to get the latest updates.