Follow us on Telegram for the latest updates: https://t.me/mothershipsg
Carousell is a place where anyone can sell and buy almost anything.
In this case, food delivery rider accounts for Deliveroo and foodpanda have been found on the online market platform.
These delivery rider accounts are available for sale or rent, and the prices are wide-ranging.
The price to rent a Deliveroo rider account ranges from as low as S$90 a month to S$400 a month.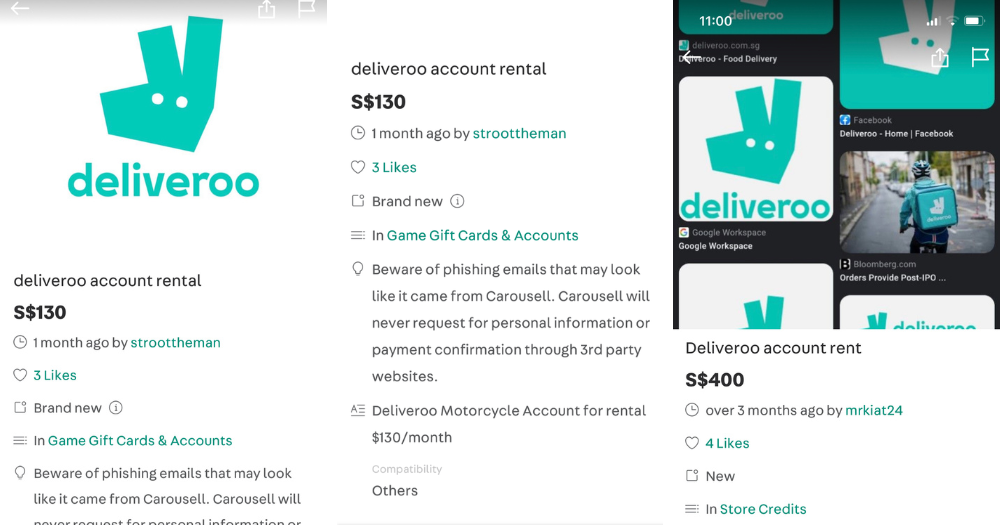 One seller even has different monthly plans and deals where buyers can pay S$920 to rent the account for 12 months and get an extra three months free.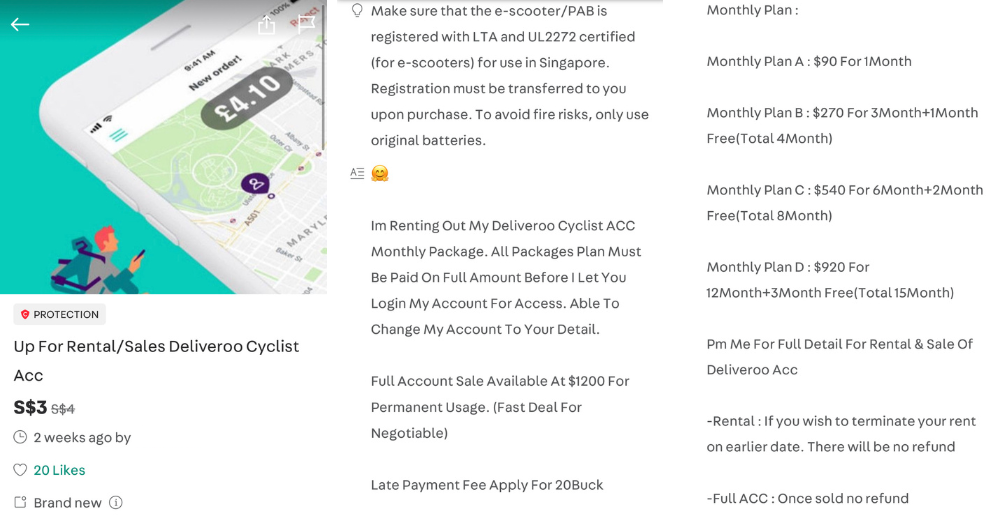 Buying over a Deliveroo account on Carousell can cost up to S$1,200.
When Mothership last checked the online market platform, we found a foodpanda rider account retailing for S$500.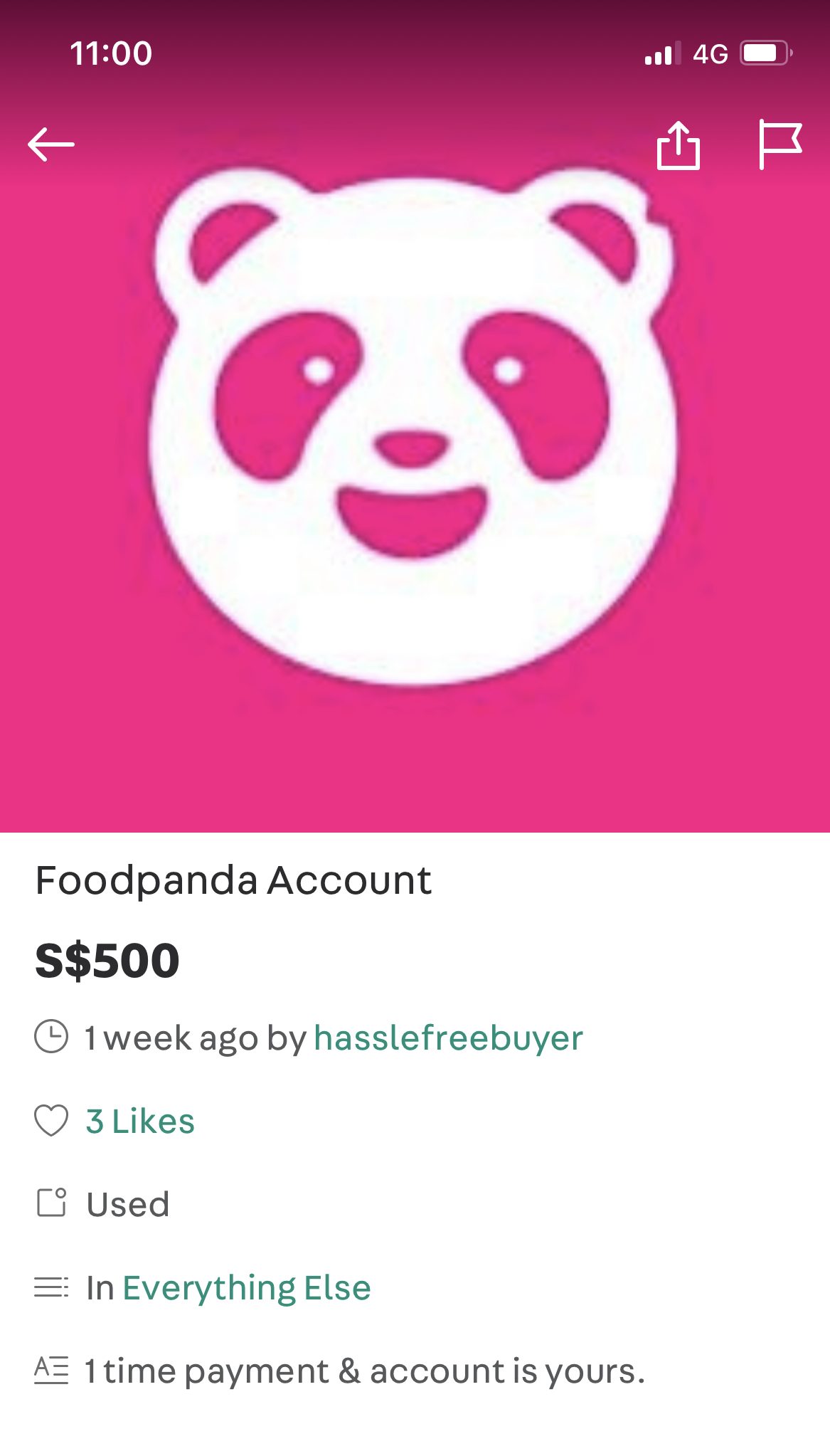 There appeared to be no Grab food delivery rider accounts on Carousell for sale or rent.
Why are people selling and buying delivery rider accounts online?
For starters, even though the barriers to entry are quite low, not everyone meets the requirements to be a delivery rider in Singapore.
For instance, you need to be a Singapore citizen or permanent resident in order to work in Singapore, and all the major delivery platforms request proof of citzenship or permanent residency before they approve a rider account.

Someone who is not a citizen nor permanent resident would be able to exploit the sale or rental of rider accounts on Carousell to find work here (illegally).
Some riders are banned or suspended by the delivery platforms for whatever reasons. Buying or renting a rider account on Carousell allows them to circumvent the restriction.
Requirements in place
foodpanda
A foodpanda spokesperson said to Mothership that the company does not condone the illegal use of rider accounts in any manner.
foodpanda also shared that they regularly update their measures to detect and prevent improper usage of rider accounts.
"All delivery partners must complete a selfie verification before the start of every session to prevent identity fraud. Attempts made to exploit these checks, such as uploading multiple different photos, are promptly flagged and the account will be blocked and investigated.

We are aware of attempts to circumvent these measures, and regularly review and enhance our processes to mitigate different attempts to deceive the system. Any illegal use of accounts will result in account suspension and potential blacklist.

Individuals caught breaching these measures will also be subject to regulatory action by the authorities."
"We urge anyone who suspects any unauthorised use of a rider account to report the matter to foodpanda immediately by email, so that we can investigate and take appropriate action," said the foodpanda spokesperson.
Deliveroo
According to a Deliveroo spokesperson, riders who engage in substitutes are also contractually responsible for ensuring their replacements have the right to work in Singapore.
They also shared that they have numerous measures in place to identify fraudulent behaviour, which are regularly reviewed. One such measure is through facial verification checks across their international markets, which the company intends to bring it to Singapore soon.
Deliveroo has also been working closely with the Ministry of Manpower on this topic.
"Deliveroo regularly reminds riders about their obligations with regard to their usage of the app, and we encourage all riders to report anyone they believe to be in violation of these rules in a respectable manner.

Deliveroo has a zero-tolerance approach on unauthorised substitution and takes this extremely seriously, including working with authorities where needed, and fully investigating any concerns that may arise and taking appropriate action where necessary."
Carousell
Responding to Mothership's queries, a Carousell spokesperson clarified that the sale and/or rental of food delivery rider accounts depends on the Terms and Conditions entered into directly between the food delivery platform and the rider.
"If Carousell receives any report or comes across any listing that has potentially illegal transactions, we will investigate further and take action where necessary," said the Carousell spokesperson.
Top photos via screenshots of Carousell
If you like what you read, follow us on Facebook, Instagram, Twitter and Telegram to get the latest updates.