Follow us on Telegram for the latest updates: https://t.me/mothershipsg
A 48-year-old Singaporean commando officer has set a new national record by completing a staggering 650 chin-ups in one hour.
Lieutenant Colonel (LTC) Robin Lee accomplished this gruelling feat at a fitness corner in Bishan East Park on May 5, 2023.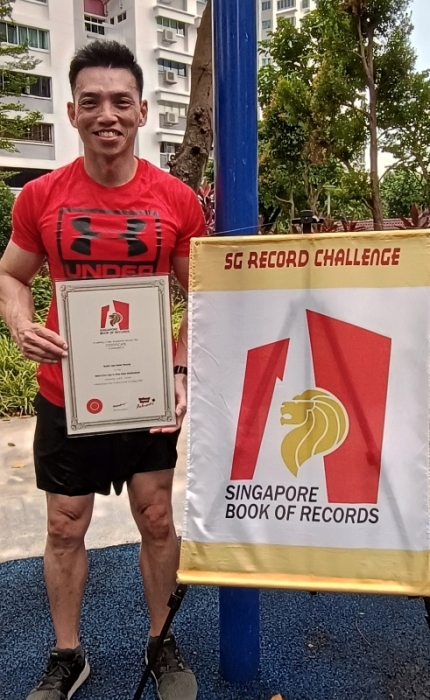 Lee had to adhere to strict standards for every single chin-up.
This meant that his chin had to be raised clearly above the bar, and his arms had to be fully straightened as he lowered himself.
In fact, a number of chin ups were given the dreaded "no count", as they were not regulation standard.
The challenge
Speaking to Pioneer, Lee said that he visualised the challenge as 60 one-minute sets, and aimed to complete 12 chin-ups per set.
For the first 30 minutes, it was business as usual.
As fatigue set in, Lee maintained the same pace of 12 chin-ups per minute, but resorted to taking longer breaks during his sets.
However, from the 50th minute, Lee admitted that his blisters had worsened to the point that he could only complete five chin-ups per minute.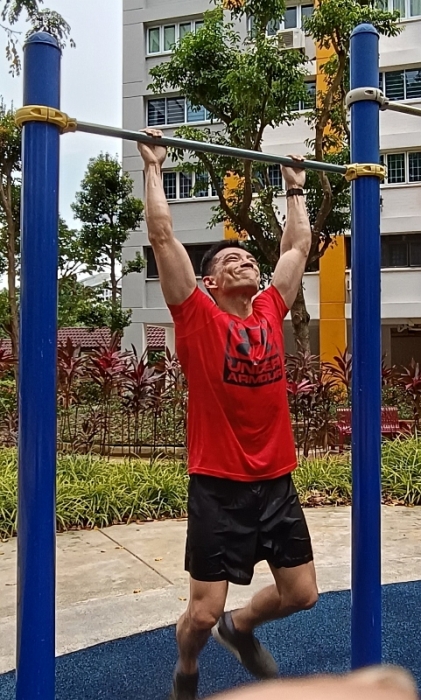 Lee persevered through the pain, and his achievement was officially recognised in the Singapore Book of Records, under the category "Most Chin-Ups In One Hour (Individual)".
Only started chin-up training at the start of 2023
Lee is no stranger to such arduous feats of endurance.
He explained to Pioneer that he wanted to emulate the fitness training that he had done during his deployment to Afghanistan from 2010 to 2011.
Curiously, he only started focusing on chin-up training at the start of the year.
And it was only in late April that he thought about setting the national record.
In order to build up his endurance in chin-ups, Lee performed 100 chin-ups per hour, over a period of 10 hours.
Works out regularly
As you would expect, Lee is a huge fitness advocate.
The father of two also works out almost every day.
According to Pioneer, after setting his chin-up record, Lee returned to exercising after only a day's rest.
""Fitness is an enabler to healthier living," he explained.
"I try to keep myself active at this age because it cuts down lethargy and keeps me healthy. And, of course, when durian season comes, I have more leeway!"
Top image from Singapore Book of Records.
If you like what you read, follow us on Facebook, Instagram, Twitter and Telegram to get the latest updates.