This week marks the 50 year anniversary of formal diplomatic relations between the United States and Singapore.
Despite the strong relationship both countries share today, it was not always rainbows and butterflies, but compromise that moved them along (Thank you Maroon 5, another great U.S. product).
So to honour this special occasion, let's take a look back over the 50 year relationship, warts and all.
Relationship status: Single - Just started Paktor-ing
1966-1967: Our very first ambassador
America had already acknowledged Singapore's independence in 1965, and had even set up a consulate way back in 1836, but they made the diplomatic relationship official by appointing their first full time ambassador, Francis Joseph Galbraith, to Singapore in 1966.
The late Lee Kuan Yew also made his very first official visit to America in 1967, where he was greeted with a red carpet welcome and entered discussions with U.S. personnel on a wide variety of subjects, including Vietnam, economic growth and the stability of Southeast Asia.
Lyndon B Johnson, then president of the United States, had some kind words for the newly independent nation.
"So Singapore is a very bright example of what can be accomplished not only in Asia, but in Africa and Latin America-- wherever men work for a life of freedom and dignity."
Relationship Status: Engaged - Honeymoon period 
1969-73: The Kissinger and Nixon era
Singapore was slowly shifting away from hypothetical country drawn out in blueprints to a burgeoning power in Southeast Asia.
Singapore's relationship with the U.S. was picking up as well. Texas Instruments, one of the world's largest manufacturers of semiconductors set up shop in Singapore, committing more than S$6 million to the venture.
The president at the time, Richard Nixon also had a good opinion of Lee Kuan Yew, famously commenting that had Lee been in a more favorable geographic position, he could have "attained the world stature of a Churchill, a Disraeli, or a Gladstone".
The respect was mutual, with Lee picking Nixon as one of his favourite American presidents.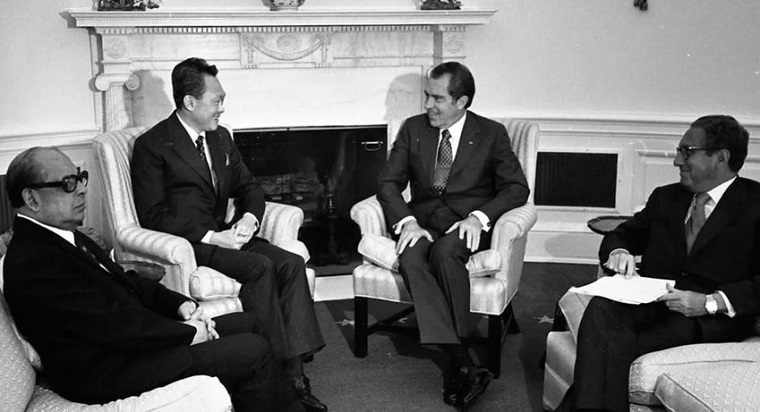 The highlight for both Singapore and America though, was former secretary of state Henry Kissinger and Lee's friendship.
Both men held each other in the highest of regards, with Kissinger describing their friendship as not one "of doing things for each other" but rather of "learning from each other".
The friendship would ultimately span across multiple decades, culminating in a touching tribute by the former Secretary of State after the passing of Lee last year.
Relationship Status: It's complicated - Sleeping in different beds
1988: Hendrickson Affair
From incredible highs to regrettable lows, the Hendrickson affair was a big deal for both countries, and not in a good way.
The whole fiasco revolved around first secretary of the US embassy, E. Mason Hendrickson. Hendrickson had arranged for the late Francis Seow and Patrick Seong, who is currently a consultant at the law firm Belinda Ang Tang & Partners, to travel to Washington D.C to meet with US officials.
The People's Action Party (PAP) felt this was an attempt by the U.S. to undermine the Singapore government by propping up the opposition.
Hendrickson was promptly expelled.
The outcry from the ministers was on a scale rarely experienced in modern day Singapore politics.
Then PM Lee gave this defiant statement
"My experience of life since World War 2 has convinced me that American power is benevolent. It is benign. But, some of their best intentioned schemes turn out to be naive and unwise and end up disastrously."
And it wasn't just the fiery Lee who was incensed, famously mild mannered personalities such as the late Ong Teng Cheong and then deputy prime minister, Goh Chok Tong were irate as well.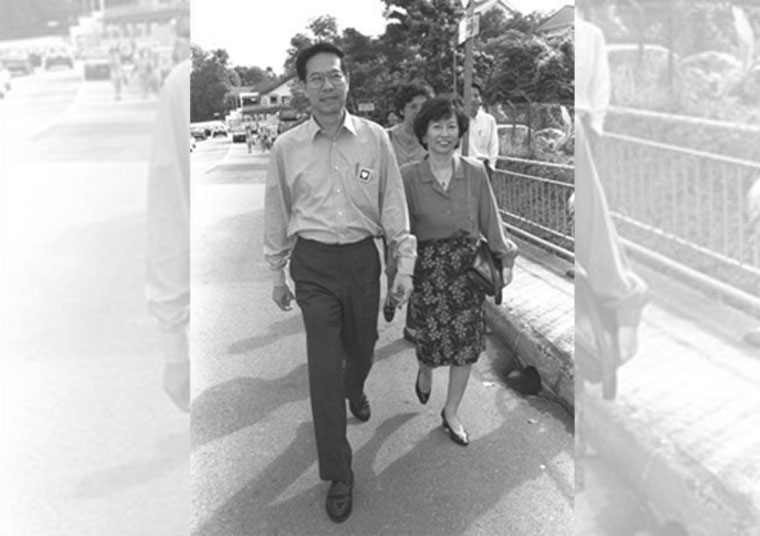 Ong was especially biting in his condemnation
"We are not anti-American, but we do not welcome anti-Singapore foreign elements to meddle in our domestic policies. Singapore politics is for Singaporeans only. Similarly American politics is for Americans only."
Goh even brought up the prospect of changing from a pro American stance to a nonaligned stance.
America and the Reagan administration retaliated by expelling a Singaporean diplomat of equivalent status, first secretary of the Singapore embassy in the States, Robert Chua Hian Kong.
Yeah, things were real tense back then.
Relationship Status: Separated - The "We should take a break" talk 
1994: Michael Fay incident
Just six years after the Hendrickson affair, Singapore-U.S. ties faced perhaps its greatest challenge yet, in the form of an 18-year-old American boy.
Following a spike in cases of cars being vandalised, the police arrested an American teenager, Michael Fay, pinning him with charges of vandalism and eventually sentencing him to eight months in prison and twelve strokes of the cane.
The inevitable American backlash came, though even Singapore's leaders might not have been prepared for the magnitude of the blowback.
The US embassy quickly stepped in, claiming that the graffiti damage, unlike the caning, was not permanent.
Two dozen senators followed suit, signing a letter appealing for clemency. Even the President Bill Clinton weighed in, denouncing the sentence as "extreme and mistaken" as well as writing an appeal of clemency.
While both the sentence and number of strokes were ultimately reduced, with Fay serving four months in jail and suffering four strokes of the can, the refusal to issue clemency left a bad taste in America's mouth.
Relationship Status: In a relationship - Passionate make up sex
1999: Goh Plays Golf with Bill
The remnants of the Fay ruling permeated most of Clinton's and Goh's time in office.
Clinton and his team allegedly tried to prevent Goh Chok Tong, who was prime minister at that point, from visiting the White House.
The relationship wasn't exactly ideal at that moment, and the smart money was on the bilateral ties being healed only after the next president took over office.
Goh though, had other plans in mind. In the golfing version of Ping Pong diplomacy, Goh devised a way to heal any remaining tensions as well as secure an important trade deal.
At a state banquet in Brunei during the Asia Pacific Economic Cooperation (APEC) leaders meeting, Goh convinced the former President to play a few rounds of golf after the banquet, despite Clinton being initially put off by the rain.
Goh revealed in a speech at S Rajaratnam lecture in 2014, that he had basically done the 90's equivalent of Facebook stalking Clinton, sourcing out his likes and dislikes, one of which being golf, to get closer to him.
18 holes of golf later, Goh had pitched the idea of a U.S. Singapore free trade agreement, USSFTA, Clinton accepted, and the terms were being drafted up the next day.
In fact, Goh's relationship with Clinton was so close, the late Lee revealed that Goh was U.S.'s first choice to succeed former UN Secretary General Kofi Annan.
This was what Lee told journalist Tom Plate in Conversations with Lee Kuan Yew (2010),
"So I am in Korea and South Korea foreign minister Ban Ki-moon knew that the Americans were supporting Goh Chok Tong for the job. So, when Goh retired, they wanted him to take this job on".
Lee explained to Ban that Goh was not going to do it, especially since he "can do much in Singapore and for Singapore".
Relationship Status: In a domestic partnership - Going through the motions
2001-2008: War and the Bush years
No single event of the noughties was more monumental than the Iraq war.
A war, some claim, that was built on selective intelligence and rash decisions. The implications of which are still being felt today.
Singapore was a staunch supporter of America at that time, and was one of the countries that backed a disarmament of Iraq, although they never officially joined the "coalition of the willing".
One of the reasons Singapore supported the Iraq war, according to former diplomat, Mushahid Ali, was the underlying policy of pragmatism.
America was still the preeminent force in the world, and there were plenty of agreements, including the USSFTA that depended on the state of bilateral ties between the two countries. Musahid placed the public support in context by floating the question.
"Can you imagine asking for support for the USSFTA in the US Congress if you are not seen as standing up for your friend?"
Goh also spoke candidly about the crux of the Iraq war.
"The central issue is America's credibility and will to prevail. If that is destroyed, Islamic extremists everywhere will be emboldened. We will all be at greater risk."
More obligation than passion it seems.
Relationship Status: In an open relationship - sleeping with other people.
2010- Present: China comes into the picture
The Sino-Singapore relationship was not frosty by any means prior to the noughties, with Lee being credited as having "spotted China before anyone else" in large part due to his belief that Deng Xiaoping was a "great leader who changed the destiny of China and the world."
But things really started to get serious when China began flexing its economic muscle.
As of 2016, China has taken over as the undisputed number one country for exports both to and from Singapore.
So, where does that leave the U.S.? Well, they're still up there, the U.S. accounts for 5% of Singapore's total exports as well as being Singapore's second largest net importer.
So make no mistake, the relationship is far from stale, in fact the two countries just recently signed a 12 country free trade agreement, the Trans-Pacific Partnership (TPP).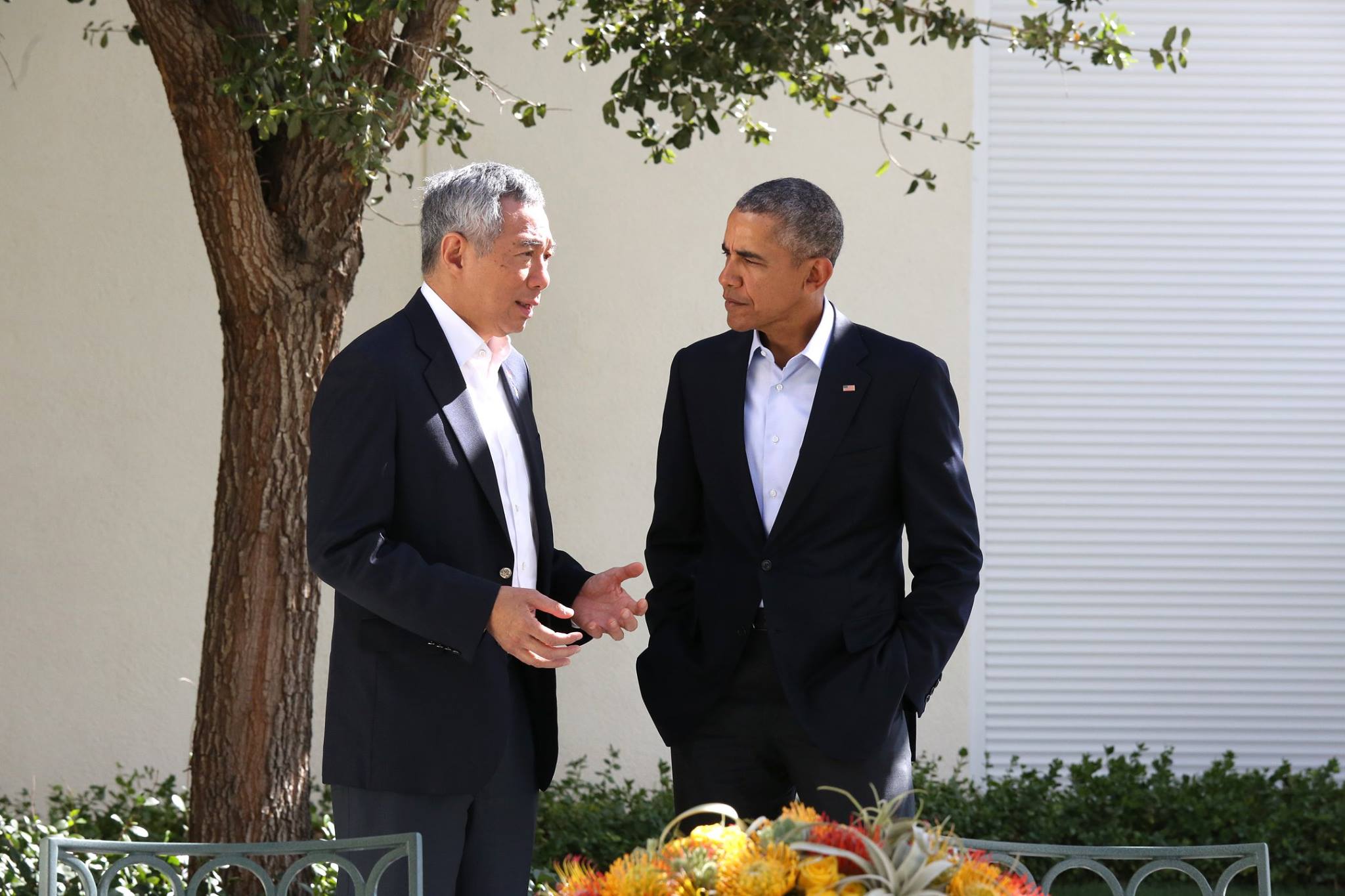 The leadership front paints a rosy picture as well, PM Lee recently ended a working trip to the United States for a nuclear summit, while President Barack Obama himself reiterated his belief that the Singapore-US relationship is "very strong".
And looking back at the ebb and flow of the US SG timeline, you would have to agree. There are currently no accusations of misdemeanor, no threats of non alignment and no caning of each others teenagers, both countries are on rather solid ground.
It's just both parties have also come to the conclusion that a monogamous relationship might not be the best course of option in a globalised world.
If you like what you read, follow us on Facebook and Twitter to get the latest updates.
If you like what you read, follow us on Facebook, Instagram, Twitter and Telegram to get the latest updates.