It's been said that walking 10,000 steps a day can improve one's health.
However, those of us who are stuck in work-from-home jobs that are mostly sedentary may find this task to be quite an insurmountable one.
If you've been wracking your brain on how best to clock this many steps a day while keeping to a sustainable routine, here are five fun and creative ways to do so.
1) Go on a Coast-to-Coast linked walk
Instead of using private hire vehicles or public transport to commute, consider visiting the Coast-to-Coast (C2C) Trail for a curated walking experience across the island.
A 36km trail that spans across Singapore, the Coast-to-Coast Trail links up nature areas, parks and park connectors all the way from Jurong Lake Gardens in the west to Coney Island Park in the northeast.
You can choose to explore the Trail on your own using the C2C online Trail Guide or the C2C Mobile App.
Click here to find out more.
2) DIY your own walking route at the Rail Corridor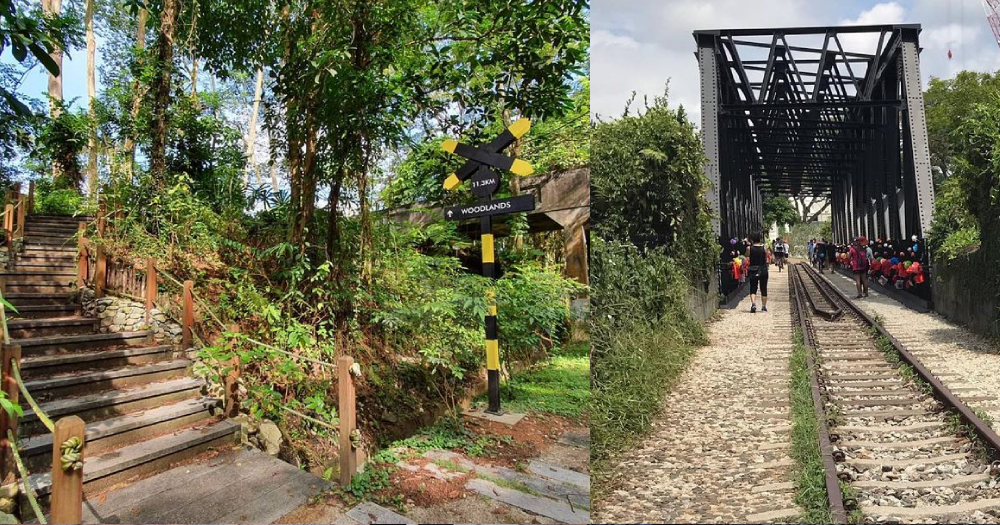 By now, most Singaporeans would've heard of (or visited) the newly refurbished rail corridor at Bukit Timah.
Basically, it is a 4km section stretching from The Rail Mall to the conserved Bukit Timah Railway Station near King Albert Park MRT station.
The trail along the renewed Rail Corridor (Central) now has eight different access points, of which you can DIY your own route to take.
You can also click here to read about the things that you can see along the trail as you clock in your steps.
3) Climb up or down the stairs at your HDB block
This probably seems like a rhetorical question but how many of us have tried using the stairs instead of the lift at our HDB blocks?
If you'd like a convenient way to clock your steps on a daily basis, try climbing the stairs up your HDB flat every weekday and see how much it adds up to your total step count.
If you stay on a higher floor, it'll be good to try climbing down instead of up so that this activity is more sustainable in the long run.
4) Embark on a mural walk at Ang Mo Kio Ave 4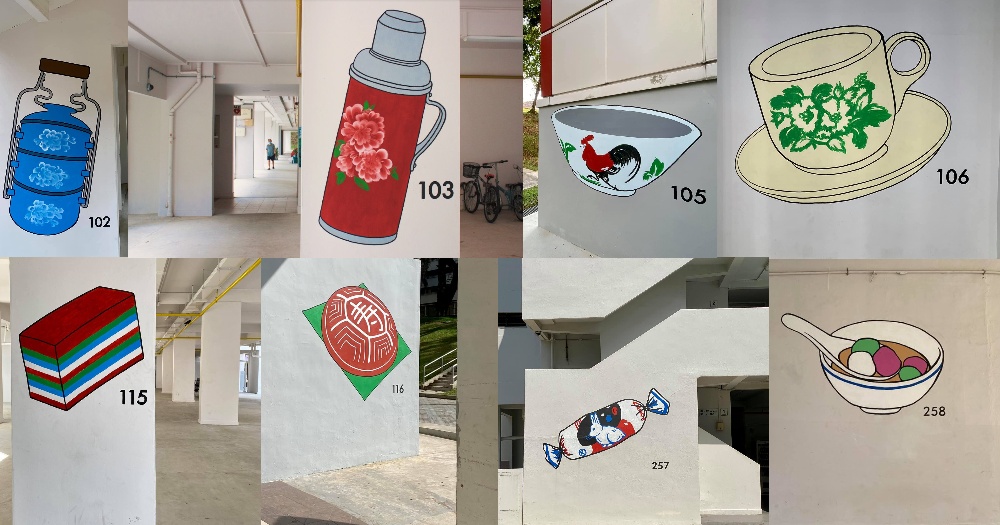 Murals of White Rabbit candy, a kopi cup, ang ku kueh, and more have been painted on the HDB void deck walls at Ang Mo Kio Ave 4.
Besides serving as unique pieces of art in a mature neighbourhood, this initiative by the Alzheimer's Disease Association (ADA) helps guide the elderly back home by giving them easy to remember visual markers.
Head down to the following blocks by following this walking route and snap some photos with these adorable heritage murals:
Blk 102 (tiffin carrier)

Blk 103 (water flask)

Blk 105 (traditional bowl)

Blk 106 (kopi cup)

Blk 113 (satay)

Blk 115 (kueh lapis)

Blk 116 (ang ku kueh)

Blk 257 (white rabbit)

Blk 258 (tang yuan)
5) Take part in the Skechers Friendship Walk
Last but not least, consider taking part in the Skechers Friendship Walk 2021 Online Edition which will be held between August 2 to 29.
This is the fourth year Skechers is organising this event, which aims to encourage participants to keep active and spend precious time with their loved ones.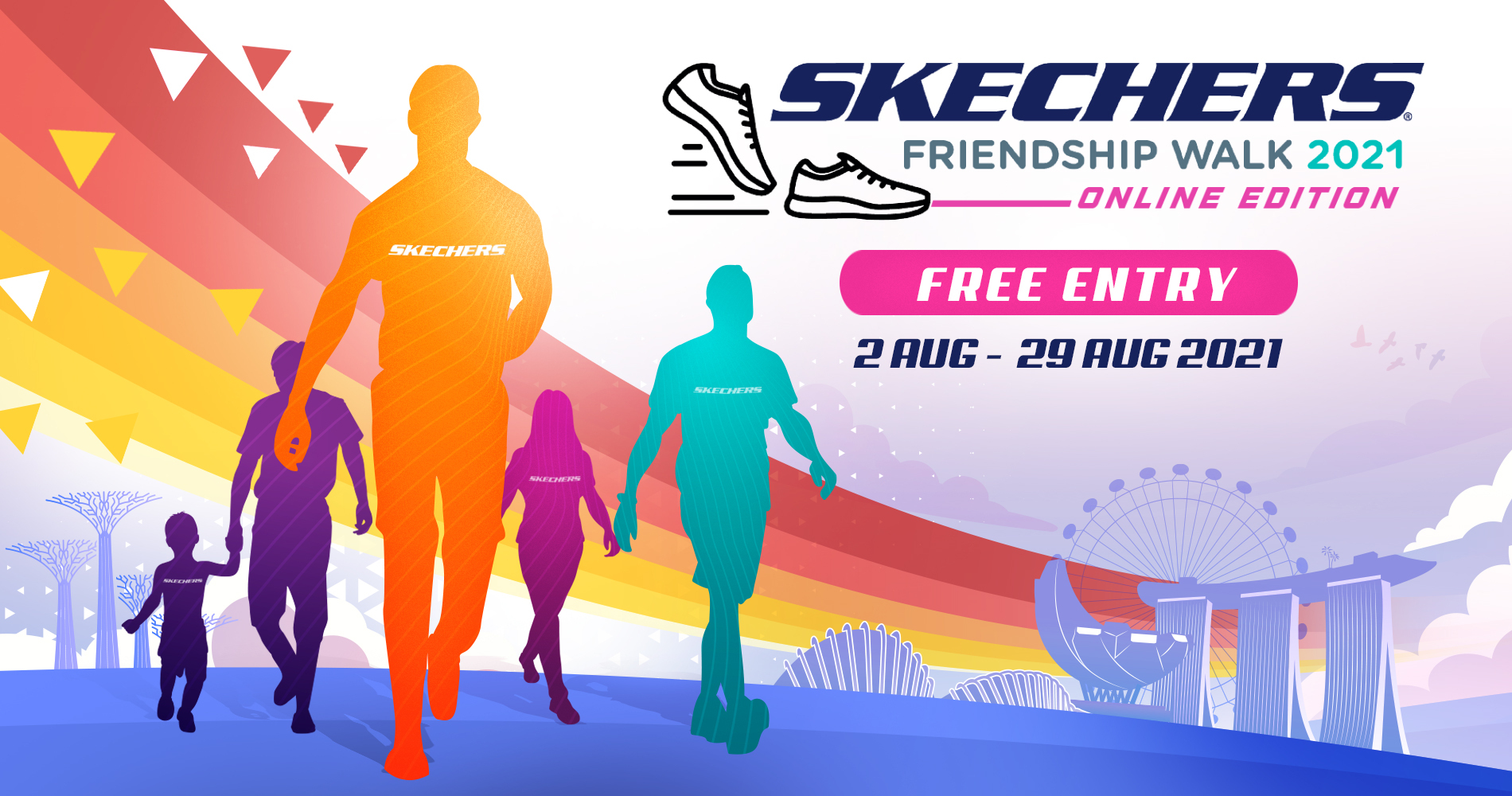 Not only are sign ups completely free, you'll also get to:
Clock in steps

Earn exciting Skechers rewards

Take part in a lucky draw to win one year's supply of Skechers footwear
Altogether, there will be three step categories during the event:
50,000 steps (average 2,380 steps/day)

75,000 steps (average 3,571 steps/day)

100,000 steps (est. 4,761 steps/day)
By attaining the step count in at least one category, there will be a 'Buy 1 Get 1 Free' voucher when you complete the walk.
And when you share your favourite moments from your walks on Instagram, three inspiring or interesting posts will be chosen to win a pair of the new Skechers GOwalk 6 shoes.
Skechers GOwalk 6 shoes

Skechers' new GOwalk 6 series is an update in the brand's signature GOwalk series, featuring the best in walking shoe technology.
Upon sign-up, all participants will receive a personalised E-Bib and an exclusive voucher for 30 per cent off GOwalk footwear.
Skechers will also donate S$1 to APSN for every participant registration.
Click here to register for the Skechers Friendship Walk 2021 Online Edition from now till August 21.
The Skechers GOwalk 6 series is currently available online and at selected Skechers concept stores.
To find out more, click here.
This sponsored article by Skechers made this writer want to take part in the Skechers Friendship Walk.
Top image via @prettypotpourri on Instagram, taken before the latest Phase 2 (HA) restrictions.
If you like what you read, follow us on Facebook, Instagram, Twitter and Telegram to get the latest updates.