According to a survey by the National Youth Council in September 2022, the top concern among Singaporean youths when purchasing a HDB flat was how accessible the flat was to public transport.
This was followed by affordability of the flat and the types of amenities near the flat.
The poll, which surveyed 1,000 youths in Singapore between Sep. 26 and 28, 2022, aimed to garner youth sentiments on housing in Singapore.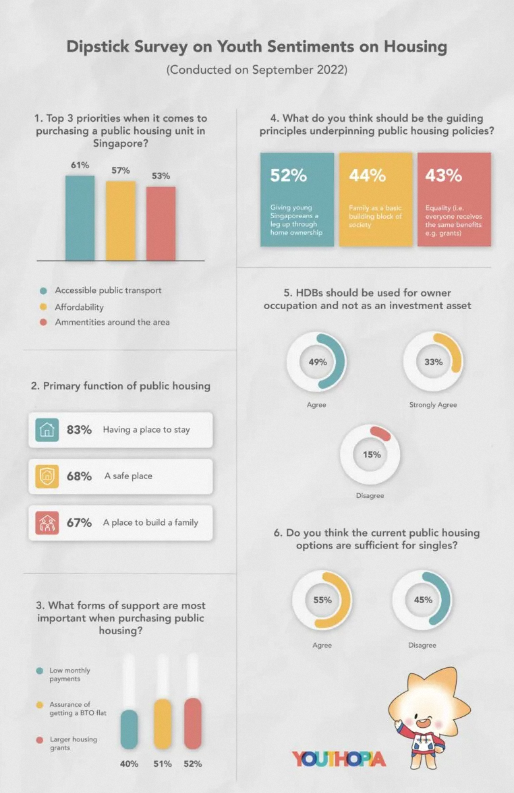 Affordability, accessible housing for singles, 99-year flat leases among topics discussed at housing dialogue
To further engage youths and hear their thoughts towards housing policies in Singapore, the National Youth Council and Global Shapers Community (Singapore Hub) organised a dialogue session on Oct. 8, 2022.
The dialogue, titled "Home for Every Stage of Life", saw 144 participants sharing their frank thoughts and concerns about public housing in Singapore.
They also posed questions to a panel consisting of Minister for National Development Desmond Lee, Deputy Director (Research) and Senior Research Fellow at the Institute of Policy Studies (IPS) Gillian Koh, and co-founder of The Woke Salaryman He Ruiming.
What does having a home mean to youths?
Youths at the dialogue were polled on what having a home meant to them.
94 per cent of youths responded by saying it was about having a place to stay.
40 per cent said it meant having a stake in the country, and 39 per cent saw a home as an investment asset to protect their savings.
Koh said that the Institute of Policy Studies (IPS) conducted surveys to understand how young adults transition from school to work and found that the life stages youths were at would shape their sentiments on housing.
Ruiming of The Woke Salaryman said that for him, having a home functioned as a place to stay before being a form of investment to protect his savings.
He said having a home was akin to having a stake in the country as he hoped Singapore would continue to prosper.
Affordability of HDB flats
Lee acknowledged that rising resale prices had caused anxiety among Singaporeans in the last two years.
He highlighted the government's efforts in moderating demand and how it had intervened to ensure stability in the property market.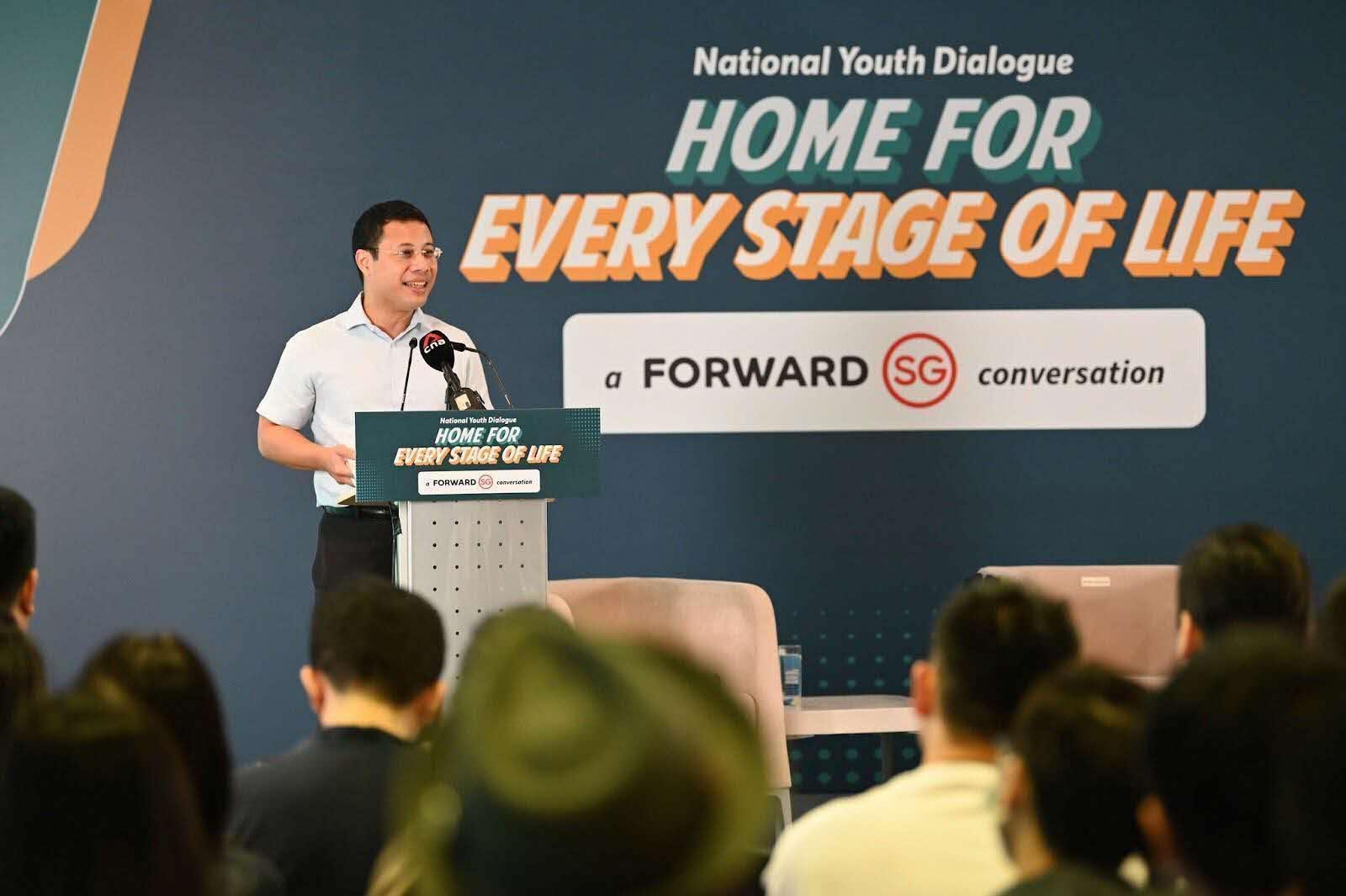 Lee added that the government would make "decisive yet careful decisions" while considering the present global economy and higher interest rates.
Some youths wanted to know what policies were in place that ensured Singaporeans had access to affordable housing.
Lee said that Built-To-Order (BTO) flats served the needs and budgets of a diverse group of flat buyers by providing different attributes, price points, locations, and grants.
He added that BTO flats were also highly subsidised and priced below market value compared to the resale and private markets.
Should HDB flats' 99-year leases be extended?
Some youths questioned if the 99-year lease on HDB flats should be extended.
One cited the desire for parents to pass on their wealth to their children, rising life expectancies and later retirement ages as reasons for why leases should be extended.
In response, Lee said that leasehold ownership was common in land-tight cities.
He added that for Singapore to continue to be a vibrant place, land rejuvenation had to occur to prevent "static-ness" and to prevent the same people from being landowners across generations.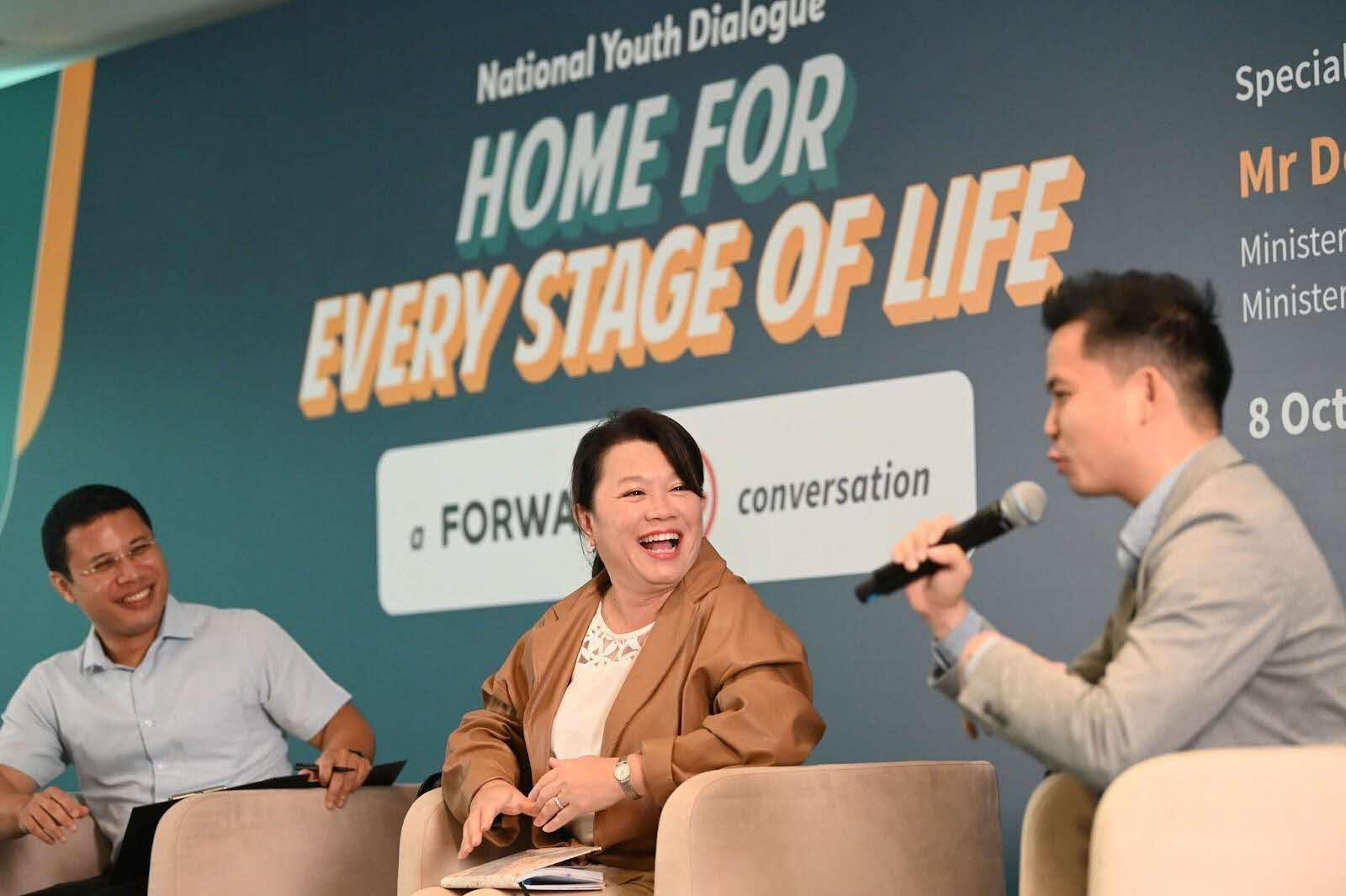 Ruiming said the 99-year leases would help with social mobility as it prevents individuals from buying land and staying there for generations.
Ruiming also recognised that Singapore was a country with limited space and having 99-year leases might be "what it takes" to build within the country.
Lee cited government policies such as the lease buyback scheme, the Selective En bloc Redevelopment Scheme (SERS) and the Voluntary Early Redevelopment Scheme (VERS) as strategies to rejuvenate public housing estates and that the government would continue to engage Singaporeans on the matter.
Accessible housing for singles, options for non-traditional families
Youths also asked if public housing could better provide for the needs of singles, such as possibly allowing singles to buy larger flats.
Ruiming pointed out that if more flats were made more accessible to singles, it could result in increased demand for flats and higher prices for HDB buyers.
Koh said accessibility of flats for singles had improved over time compared to when the Government had previously limited HDBs as homes for families.
Lee said the government would continue to monitor demographic trends and people's aspirations as Singapore continues to evolve.
He stressed the importance of getting participants' input so the government could get a better sense of the younger generations' needs and aspirations.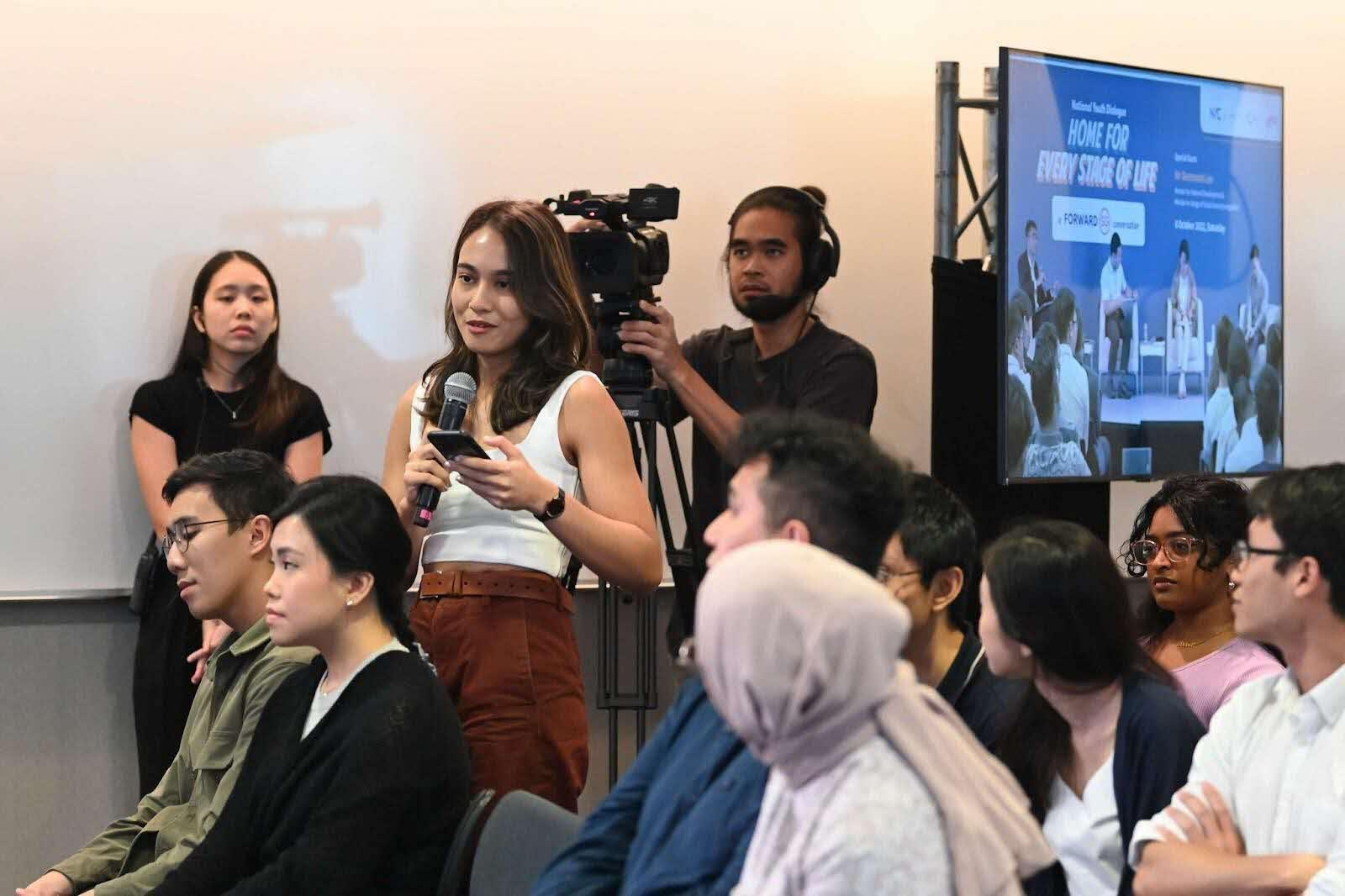 Another participant said that HDB and BTO flats were designed for more traditional nuclear families and asked if the government would consider providing more dynamic living and housing options for younger Singaporeans, such as cohabitation.
Lee said the private sector had developed new co-living solutions, and that the government would carefully monitor Singaporeans' changing aspirations towards marriage, parenthood, singlehood and work-travel patterns and would adjust housing policies accordingly.
Youths recognise need to strike balance between individual wants and societal needs in housing policies
Though youths at the dialogue wanted to have a say in the housing policies that affect them, they also understood the importance of considering the needs of the larger community.
A poll among participants at the dialogue revealed that the top guiding principle for housing policies in Singapore should be the constant renewal and rejuvenation to meet the needs of future generations.
In his welcome address, Lee said public housing in Singapore also served as social policy that aimed to achieve social cohesion, such as by keeping neighbourhoods ethnically diverse and building public housing in prime areas that might otherwise be too costly for most people.
He also said housing policy in Singapore should also aim to empower the ageing population, promote preventive health among residents, enable social mobility for lower-income households, encourage independent living for people with disabilities, and promote sustainability.
Need for green and recreational spaces in Singapore
Youths were also mindful of the trade-offs that had to be made in prioritising housing and the need for green and recreational spaces.
Lee said green spaces needed to be protected as they were "essential to the soul of the nation" to ensure that dense housing was more liveable and less stressful.
He added that the government remained committed to protecting green spaces through ecological profiling.
Ruiming said green spaces ensured that Singapore would remain a competitive and attractive city as recreational spaces for individuals to unwind are essential to make Singapore a viable city for people to live.
Find what else was discussed at the National Youth Dialogue
This dialogue on housing was the third of seven National Youth Dialogues under the Forward Singapore exercise.
To find out what else was discussed at the National Youth Dialogues, visit this link here. 
This sponsored article by the National Youth Council made this writer think more about what housing policies she would like to see.
Top images via National Youth Council's Facebook and Steven HWG on Unsplash
If you like what you read, follow us on Facebook, Instagram, Twitter and Telegram to get the latest updates.