It was in April 2021 — when the world was in the midst of the Covid-19 pandemic — that married couple Lim Kean Keat, 32, and Teh Phey Ling, 35, decided it was time for a dramatic decision.
"We were both working full-time as software engineers, but we were determined to pursue our dream of creating a successful business that would allow us to share our passion for creativity and design," Lim said to Mothership.
The resolve to do something for themselves led to the Limteh Project, an online store for personalised gifts — like mugs, tumblers, and totes — with an aim to provide unique and meaningful presents at an affordable price.
"We wanted to create a business that would allow customers to create bespoke gifts that were tailored to the recipient's interests, preferences, and personality," Lim said.
The early days of the Limteh Project saw the couple working out of their home after they'd completed their day jobs, utilising a plotting machine and heat press in the evenings to fulfil orders.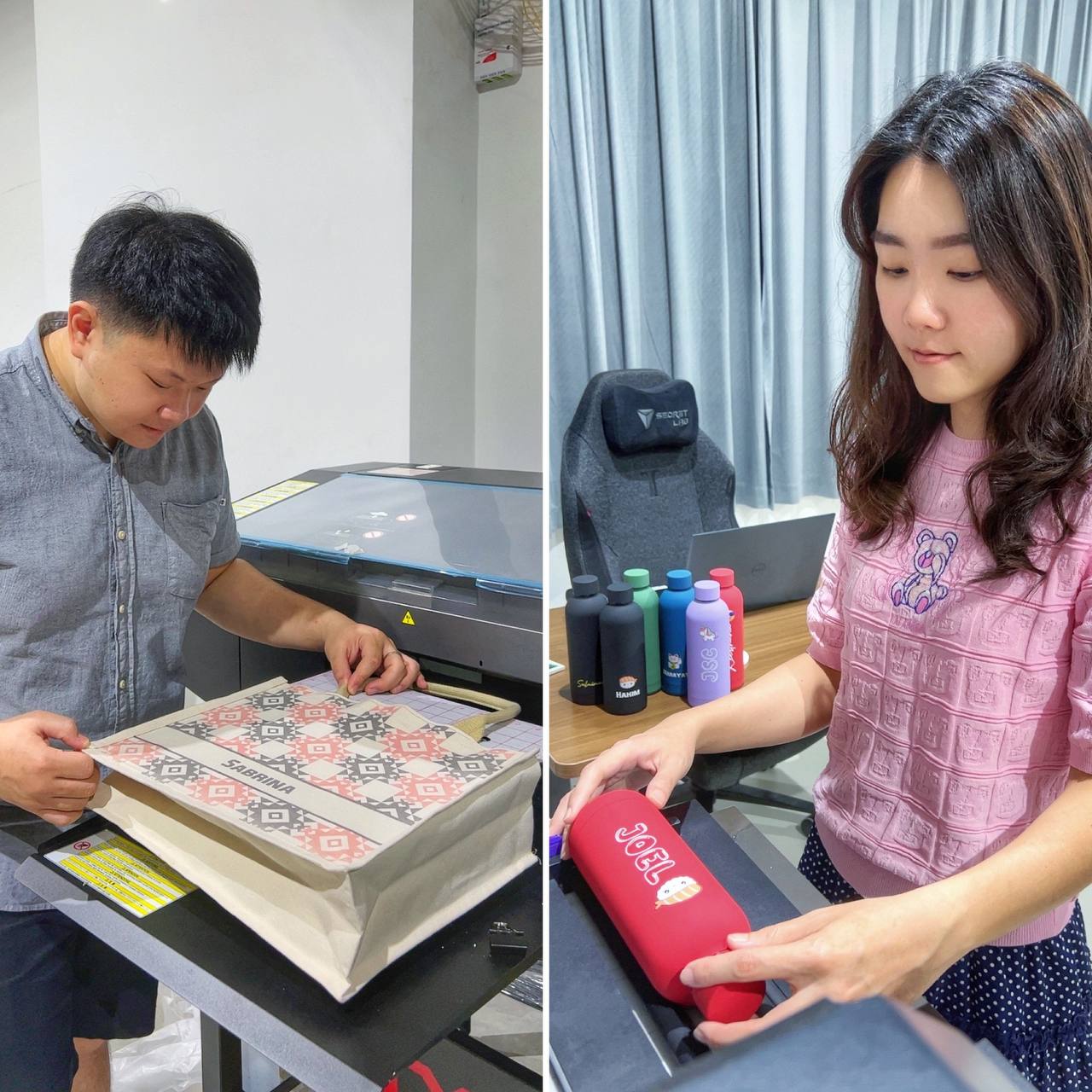 "We learned quickly that running a successful business requires a lot of hard work, dedication, and commitment."
Apart from working on weeknights, Lim and Teh would spend weekends nailing down various aspects of the business such as marketing, product research, customer service, and packing orders.
To ensure that customers received their products promptly, the couple would personally carry loads of parcels in large IKEA bags to the post office before heading to work in the morning.
Given the Limteh Project was an online merchant, selling their products on Shopee was a no-brainer for the couple especially given their positive experiences with the platform as consumers.
"The platform has proven to be reliable, user-friendly, and supportive of our business goals," Lim said.
Elaborating on the positive experience they'd had so far, Lim cited the various tools and resources available on Shopee like business insights, order management system, and customer service support.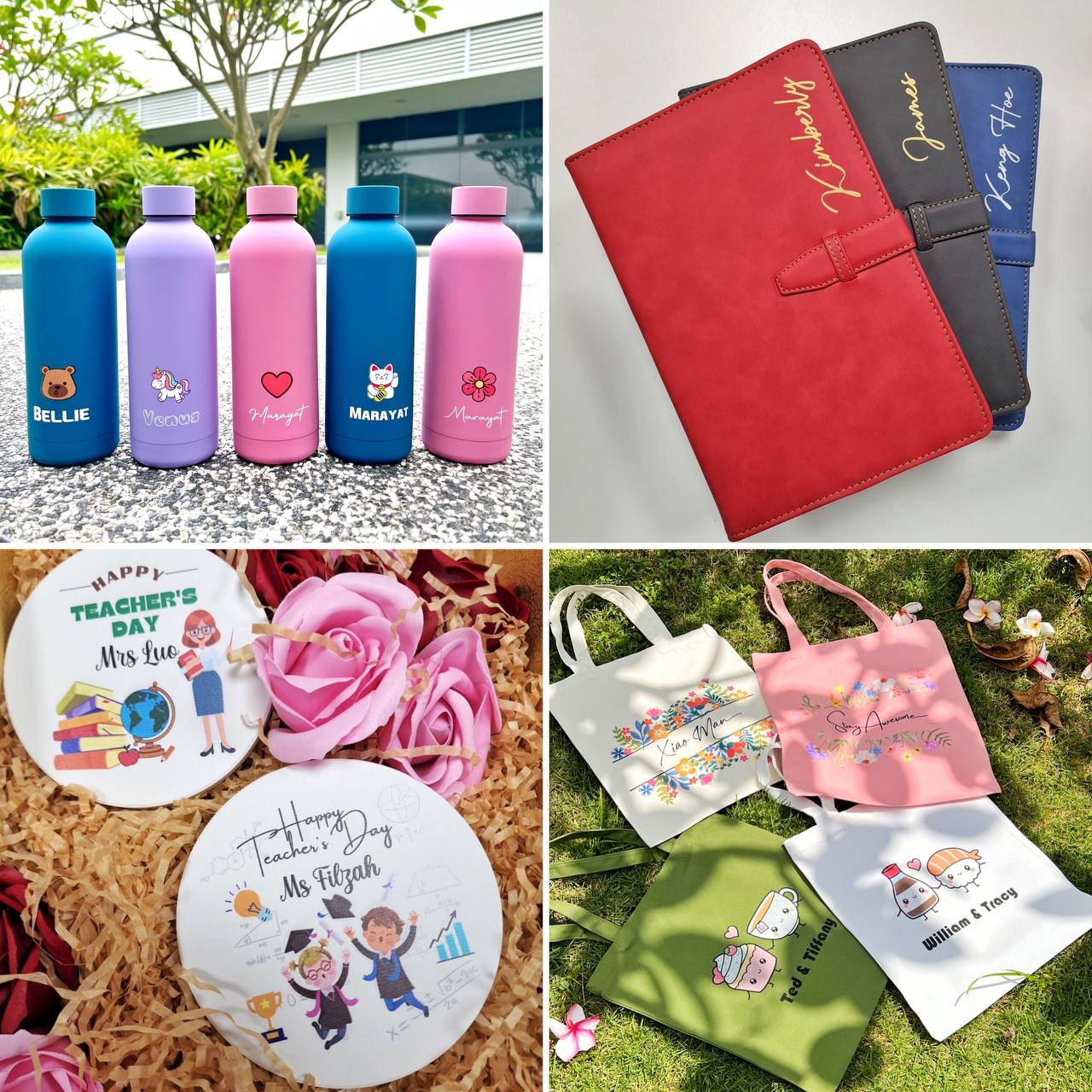 "We have found Shopee to be an effective platform for reaching a new customer base and expanding our business. The platform's wide user base and growing community have helped us increase our sales and build a loyal customer following," he continued.
"We also appreciate the promotional opportunities provided by Shopee, such as the ability to participate in sales campaigns and offer discounts to customers."
Today, the Limteh Project has garnered over 18,500 transactions, earning 8,300 five-star ratings in the process.
Mitigating what's missed from physical shopping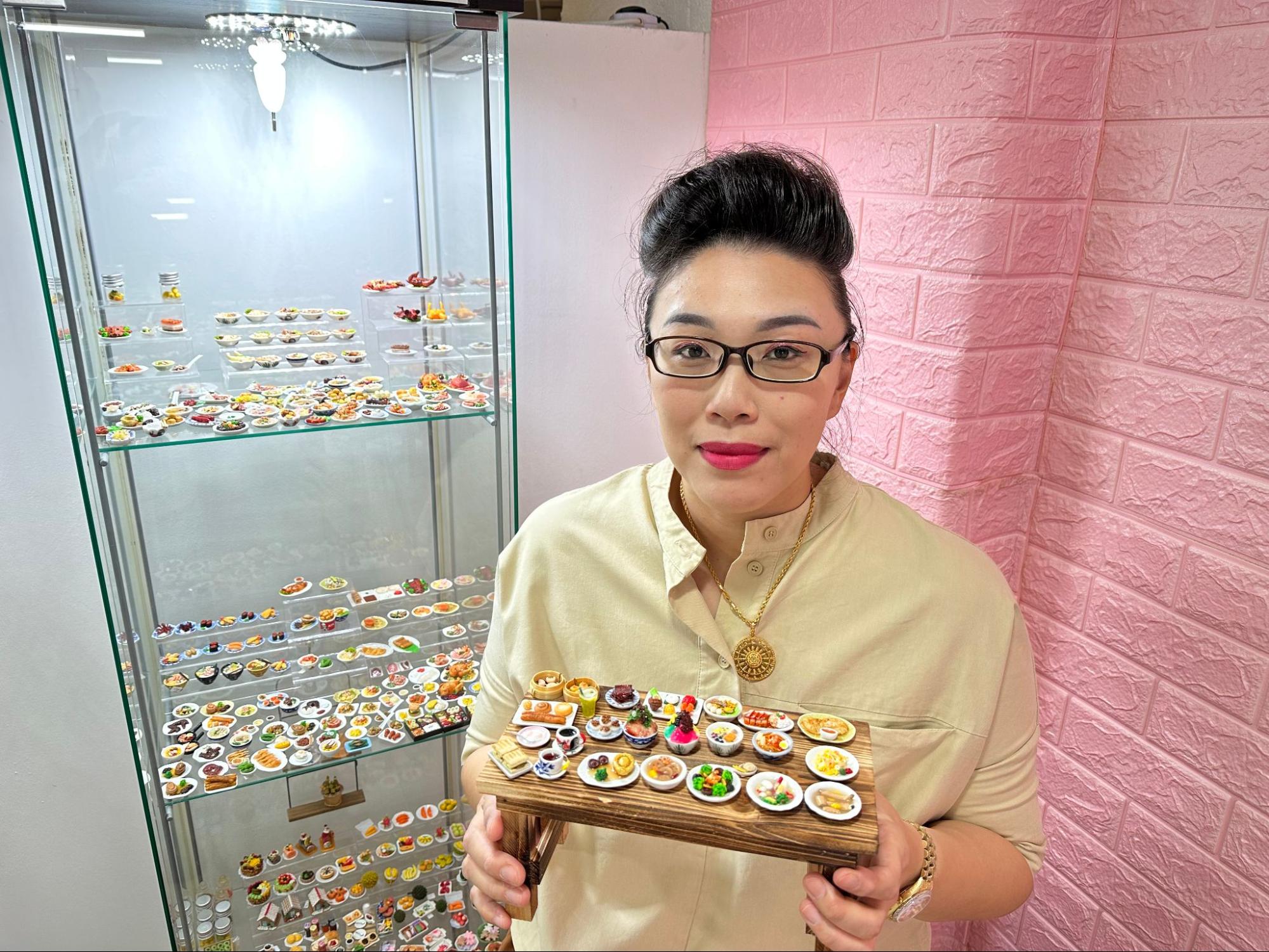 Despite the ubiquity of online shopping these days, not every vendor naturally gravitates towards e-commerce.
Victoria Peh's foray into the retail business started when she considered taking over a Hello Kitty store at the tail end of the Japanese character's halcyon days in the pop culture spotlight.
However, while researching the viability of such a business, Peh stumbled upon a growing trend of hobbyists exchanging and bartering miniature clay crafts and making YouTube videos about these toys.
She soon caught the bug herself and started trying her hand at making the clay miniatures.
"Slowly, I noticed that I was spending more time and material on this hobby," Peh said.
"I was thinking that I would like to bring it to the next level, to let other people appreciate and enjoy my work."
Having maintained her interest in having a retail business, Peh started The Mini Collectables in 2009.
"I was looking to create something that most people can relate to easily. Something that people see every day, something that people cannot go without and eventually food came into my mind."
"With food, there are just plenty of choices, ideas to choose from," she added.
According to Peh, people buy her handcrafted models of food as gifts, decorations for events or shops, or to add to a collection of curios.
However, the miniatures have proven the most popular as tiny trinkets to be left at graves or niches at a columbarium to represent the deceased's favourite dishes.
While The Mini Collectables has always had an online presence, Peh's favoured mode of transaction is in person.
She welcomes customers to visit her showroom so they can physically see the product before purchasing.
At the same time, she recognised that not everyone had the time to make their way to a physical location, and therefore decided to start selling her wares on Shopee in 2019.
The decision, which seemed unexceptional at the time, proved to be something of a watershed moment for The Mini Collectibles.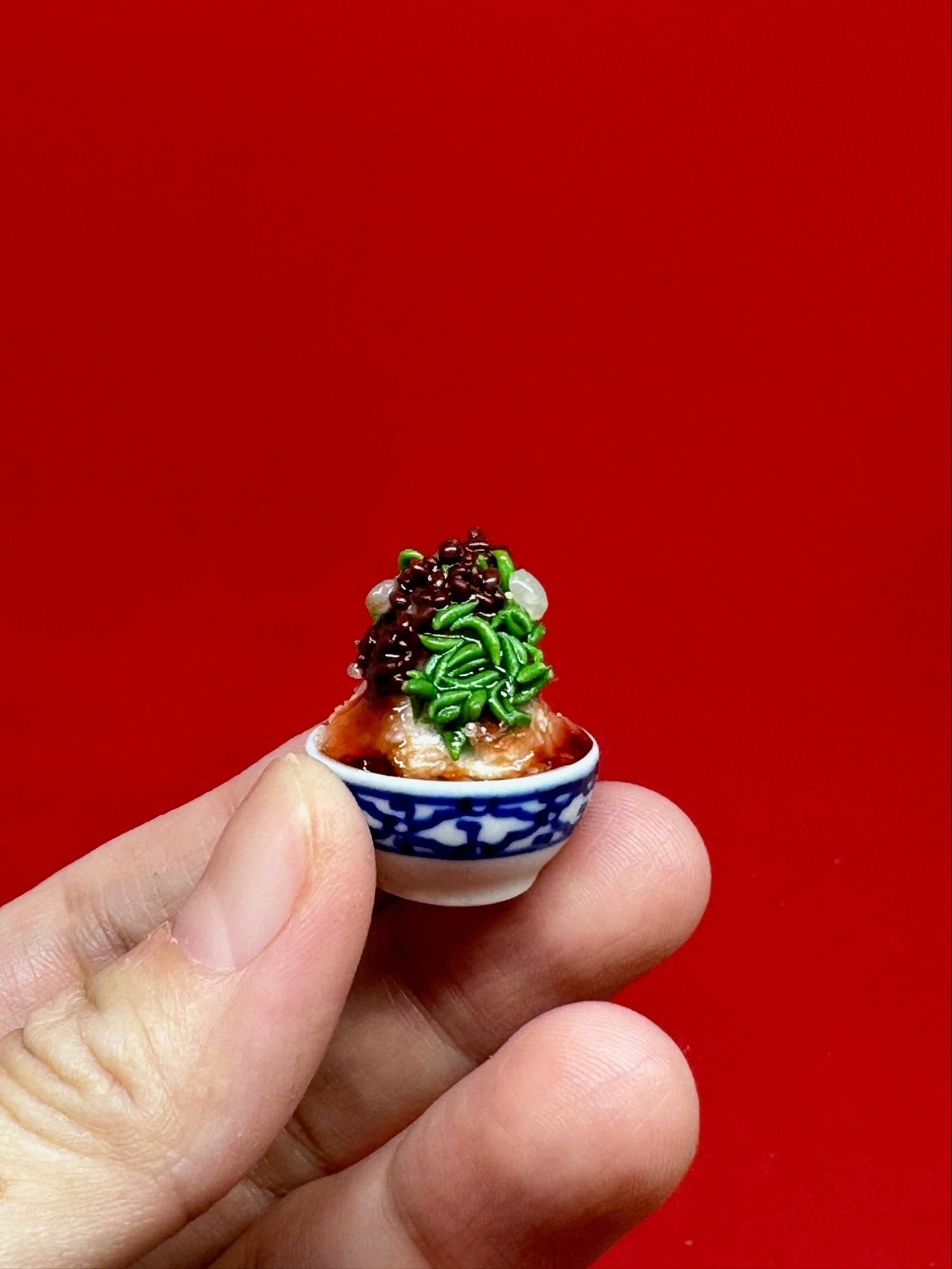 "It is convenient and with the help of their marketing tools and seller programs, I was able to increase my exposure, allowing Singaporeans to recognise my artworks," said Peh.
Till date, Peh has garnered more than 2,300 reviews with 5-star ratings and has become a Preferred Seller on Shopee — a programme that affords sellers recognised for their excellent performance with, amongst other things, a badge assuring prospective buyers of the store's quality.
In fact, during the platform's 2021 12.12 Birthday Sale, Peh was voted the Top Local Seller.
And while nothing is quite the same as a physical, in-person interaction, Shopee's tools help to mitigate the digital distance in a world where having a presence across multiple channels and mediums is increasingly important.
"Shopee allows buyers and sellers to interact easily while providing customers with an easy, secure, and fast online shopping experience," Peh reflected.
Making life easier for time-pressed entrepreneurs
Both Peh and Lim emphasised the importance of perseverance and consistency when starting and running your own business.
Alongside concerns to do with the product itself is everything else that comes with a small business — marketing, logistics, and customer service just to name a few.
As Lim highlighted in his journey with Limteh Project, trial and error — a process that played out over several months — came before the business gained any momentum.
In the meantime, while working hard to get sales off the ground, wouldn't it make sense to grasp opportunities to make life easier?
That was the rationale behind Yenn Lau's decision to sell on Shopee.
Lau is the founder of Glow Flow, an online retailer selling yoga-related equipment and accessories.
When the business first started in 2019, their products were sold through word of mouth and a local buy-sell platform, which Lau said made operations "slow and manual".
"The channels were primitive and didn't have the right ecosystem for commerce to take off," she said.
While evaluating options, Glow Flow eventually settled on moving their shop to Shopee as it met most of their needs, including ease of use.
"The platform's automation made operations easier and more seamless giving us time to focus on other aspects of the business.

Having analytics, marketing and logistics easily linked and accessible on one platform made it smooth for business operations."
It's no surprise that Shopee has proved to be the platform of choice for many small local businesses as the e-commerce giant reaffirmed its commitment to helping brands and entrepreneurs succeed in the long term.
"As the digital economy continues to grow, it is important to equip businesses with the right tools to make the best decisions, while also exploring growth opportunities outside of their home markets," said a Shopee spokesperson.
"In Singapore, we have strong 'Support Local' initiatives that boost visibility and sales for homegrown entrepreneurs and businesses."
Writing this sponsored article for Shopee made the writer wonder if he should start his own e-commerce business.
Top image courtesy of Limteh Project
If you like what you read, follow us on Facebook, Instagram, Twitter and Telegram to get the latest updates.