These days, I have been feeling like there's not much to do around town.
Going to the cinemas do not feel the same, and sometimes the movie selection is sparse and unappealing.
The crowds at the usual malls are often dizzying on weekends. Trying to get around can be headache-inducing.
There's only so much stomach space for café food or desserts.
If you are like me, and are wondering what to do with your free time, perhaps it is time to take heart by trying something new.
From March till June, Youth Corps Singapore will have a suite of volunteering opportunities that will help you form connections with people from all walks of life.
Here are seven programmes that you can participate in:
Seniors
Back In My Time @ Goodlife! Makan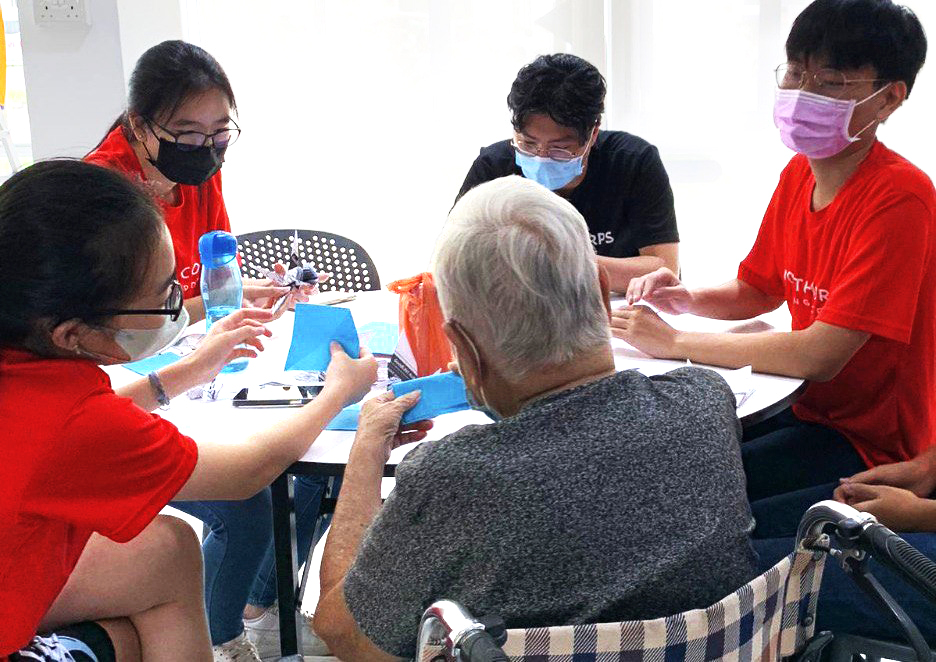 If you are the kind that is energised by mealtime conversations, you will enjoy spending time at Goodlife! Makan.
For the unacquainted, Goodlife! Makan is a community kitchen located at Marine Terrace that offers more than food.
As a space for conversations, learnings and companionship, the centre reaches out to stay alone seniors in the estate.
It offers a space for the seniors to prepare, cook, and share their meals with one another.
Back In My Time @ Goodlife! Makan is a collaboration between the centre and Youth Corps Singapore to promote intergenerational bonding between youth volunteers and seniors at the centre.
Over a few hours on a Friday afternoon, volunteers can engage and befriend the seniors through interactive activities and conversations.
Apart from companionship, the programme also provides volunteers with the opportunity to gain a wider perspective on the prevalent challenges of social isolation.
Date of Programme: Second and fourth Friday of every month
Time: 12:30pm to 4:30pm
Address: 15 Marine Terrace #01-18, Singapore 440015
Persons with Special Needs
SpecialHearts
Through SpecialHearts, youth volunteers will be able to spend time with residents with special needs who are staying at the Thye Hua Kwan Home for the Disabled @ Sembawang.
To break the ice and facilitate the interaction, volunteers and residents will come together and engage in activities like arts and crafts as well as music.
Through these activities and other games, volunteers will be able to form friendships with the residents, gaining an understanding of their strengths and the challenges they face.
Date of Programme: Every second Saturday of the month
Time: 9am to 12:30pm
Address: 7 Sembawang Walk, THK Home For Disabled @ Sembawang, Singapore 756977
Play for All @ APSN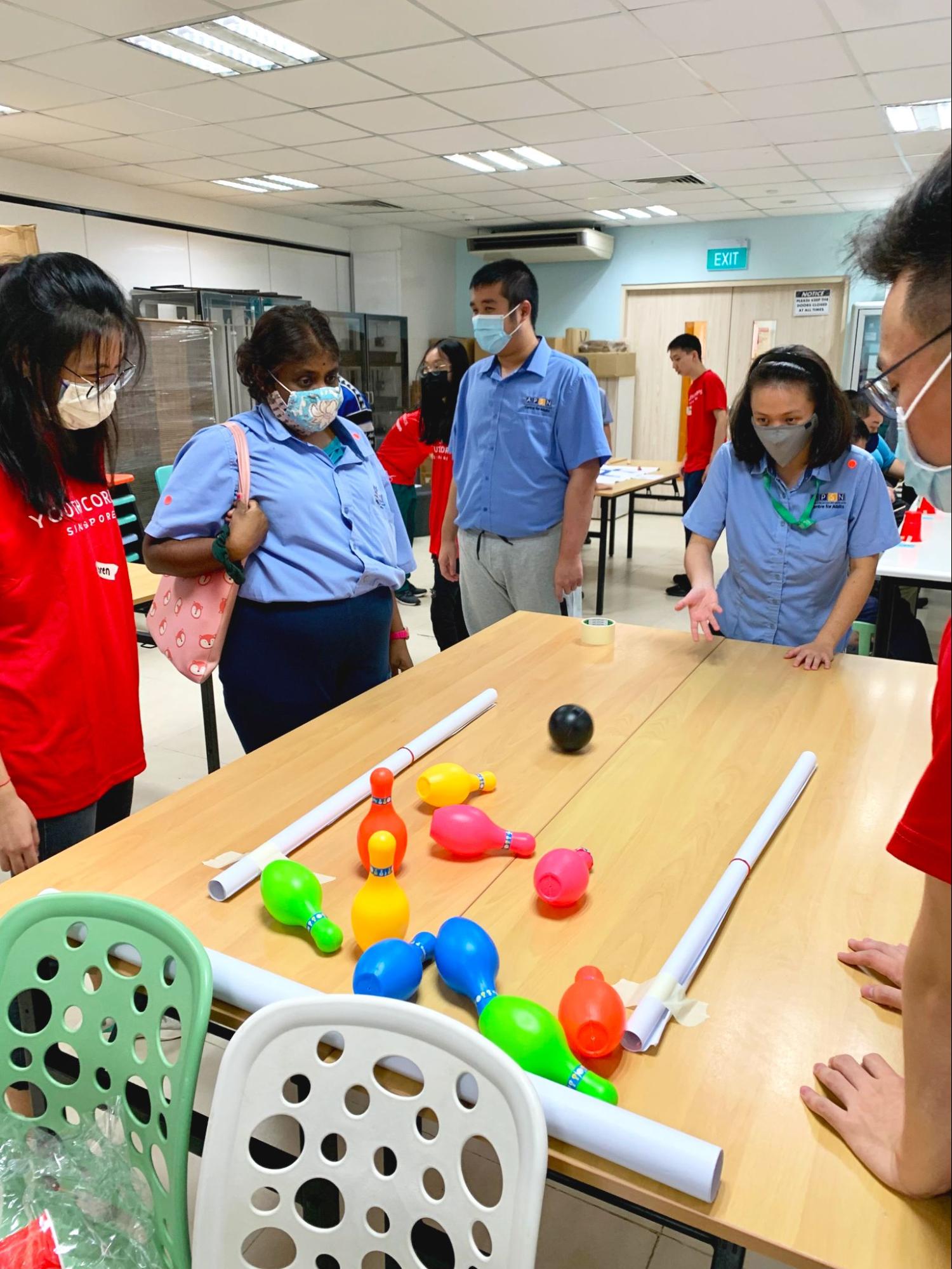 Play for All @ APSN is a collaboration between Youth Corps Singapore and Association for Persons with Special Needs (APSN) to bring together youth volunteers and adults with mild intellectual disabilities.
Through mini sport activities such as mini bowling, volunteers will be able to have fun and interact with youths with special needs.
Date of Programme: Every second Friday of the month
Time: 2:30pm to 5pm
Address: 11 Jalan Ubi, #01-31, Kembangan-Chai Chee Community Hub, Singapore 409074, APSN Centre For Adults
Environment
Greenies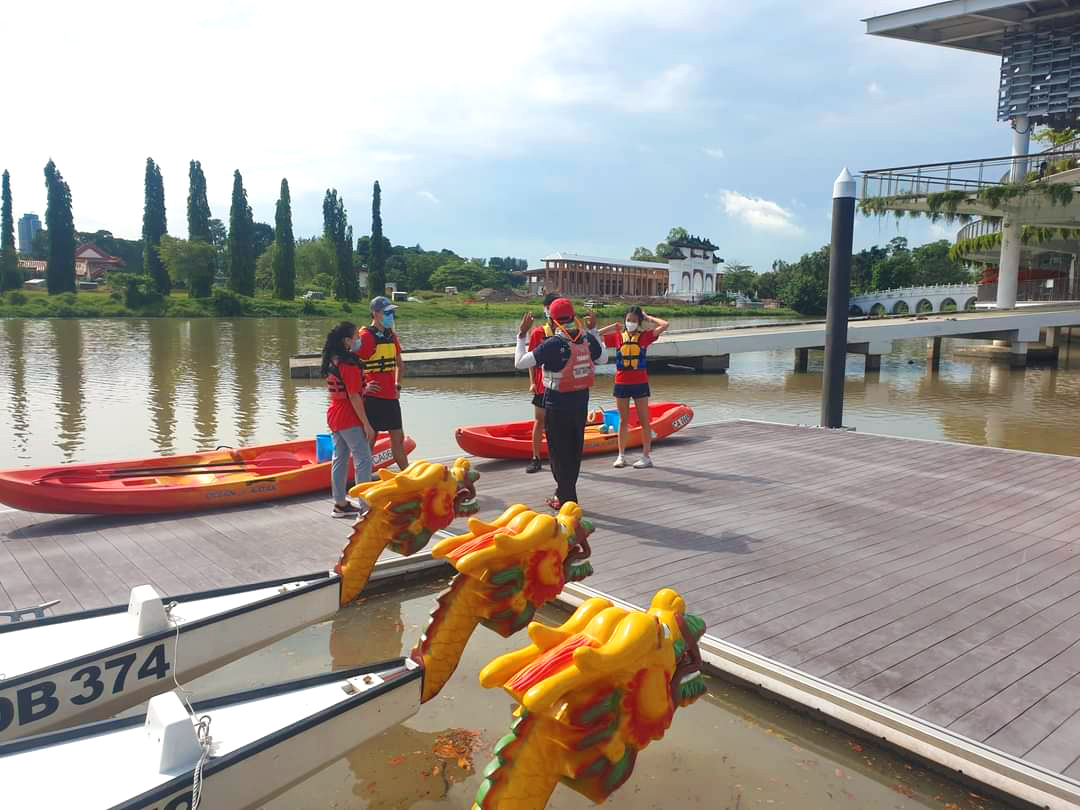 If you prefer to spend your time outdoors, the Greenies programme will be a good fit.
In this programme, Youth Corps partners with PAssionWaVe to enable youths to gain perspectives on the environment.
Youths will get to kayak along Jurong Lake Gardens while picking up litter in the lake.
Along the way, they will learn about how litter can end up in the waterways, and the impact this can have on the environment.
Date of Programme: Apr. 14, 2023 and Apr. 15, 2023
Time: April 14 (AM), April 15 (PM)
Address: 100 Yuan Ching Road, PAssion WaVe @ Jurong Lake Gardens, Singapore 618662
Migrant Workers
"Exercise Programme with Migrant Brothers"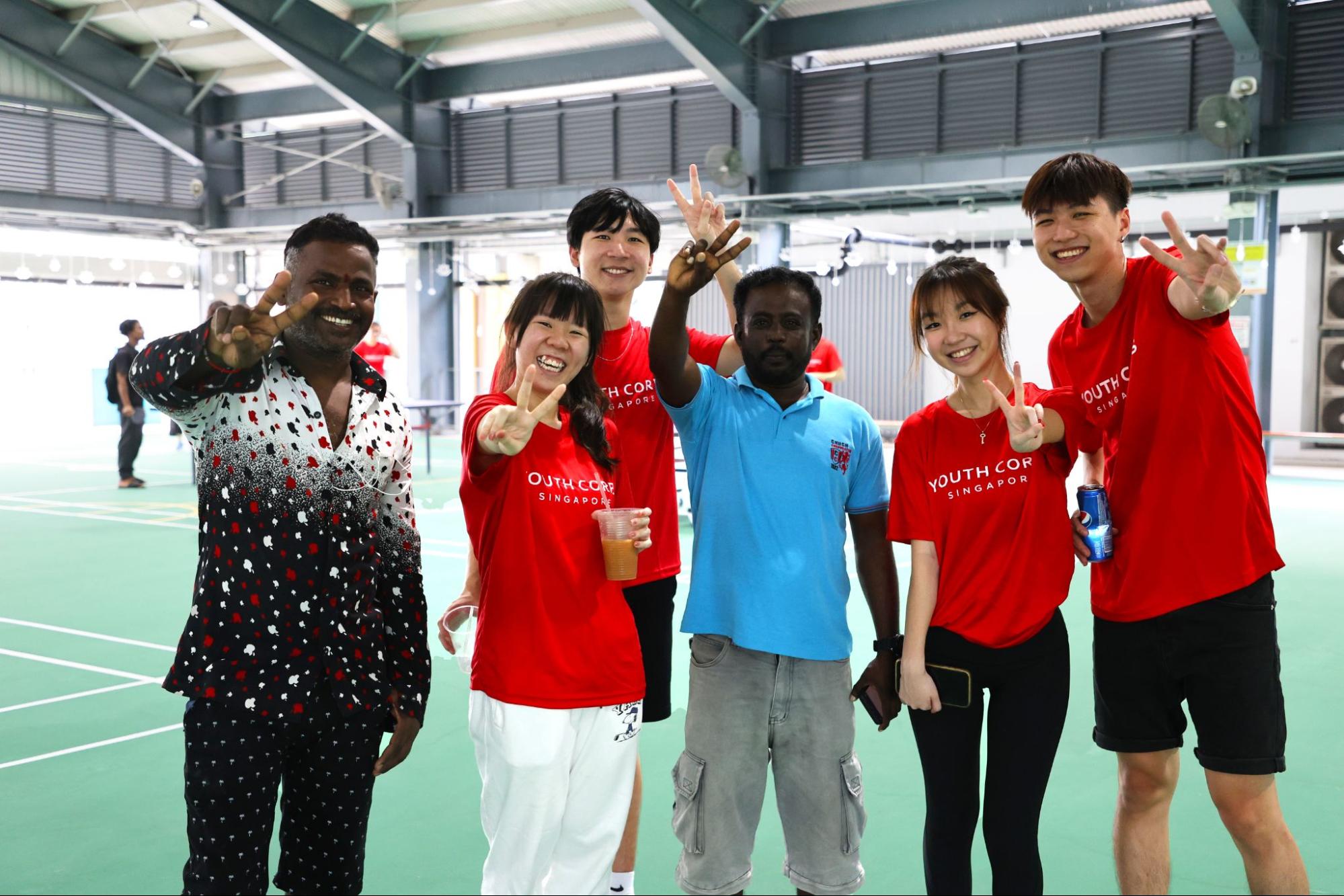 The volunteering programme at Terusan and Cochrane Recreational Centre provides the chance for youths to meet and make friends with migrant workers while playing sports such as badminton and table tennis together .
Youths can engage and get to know more about the migrant workers while encouraging an active lifestyle.
Date of Programme: Every second and third Sunday of the month
Time: 3:30pm to 6:30pm
Address:
Second Sunday: 1 Jalan Papan, Terusan Recreational Centre, Singapore 619392, MPH 1

Third Sunday: 100 Sembawang Drive, Cochrane Recreation Centre, Singapore 756998, MPH 1
Children
Youth Corps has prepared a KidsFun School Holiday series for primary school children:
Coding Games For Kids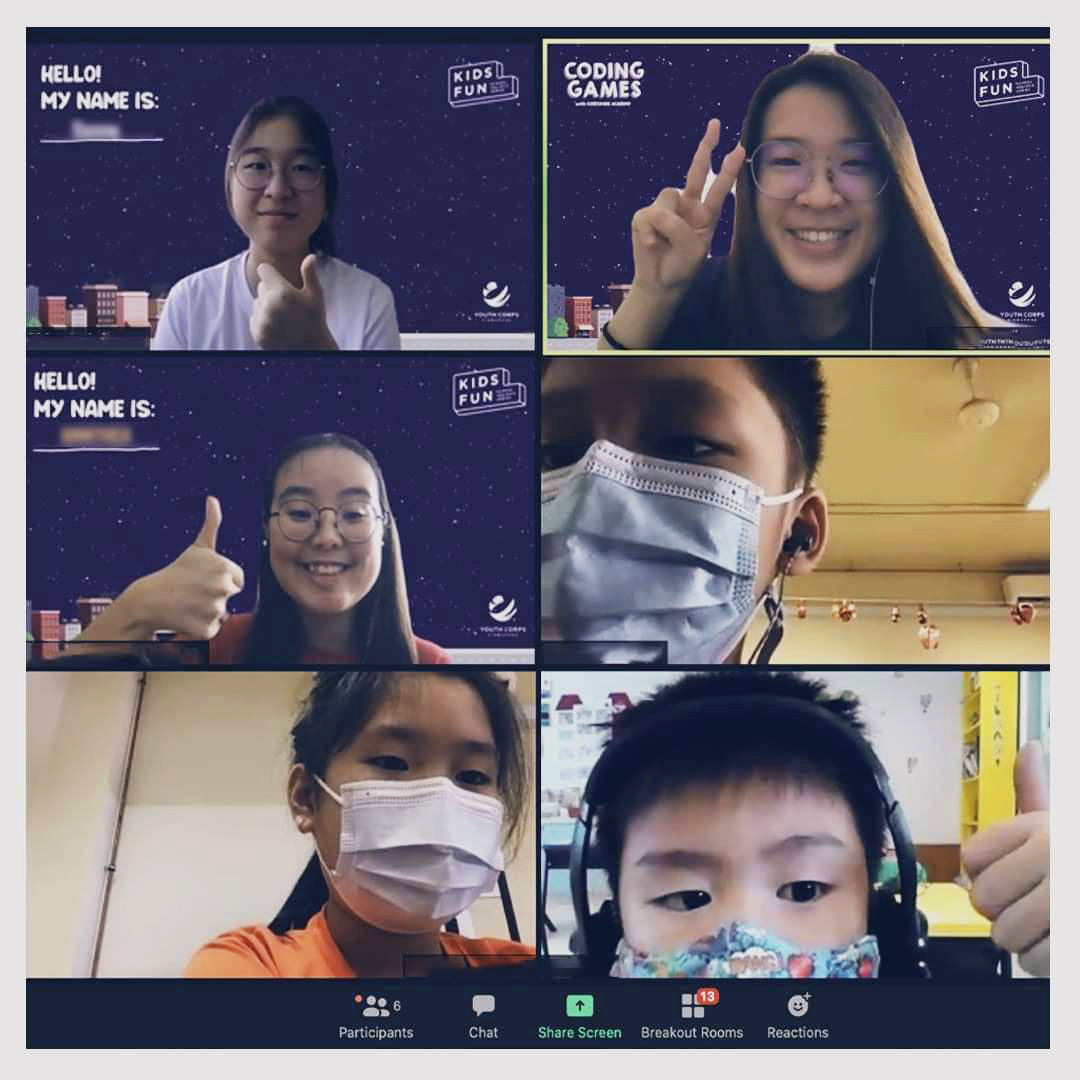 Coding Games For Kids aims to promote fun and learning for Primary 1 to 3 children from diverse family backgrounds.
Youth volunteers will guide children as they pick up tangible coding skills such as sequencing, as well as intangible ones like problem-solving, perseverance and teamwork through fun online games.
While the programme is a month long, youths will be able to pick which sessions they are able to attend.
In May and June 2023, the programme will also be having four physical sessions for volunteers to engage the children in-person.
Date of Programme: Every Tuesday, Wednesday and Thursday from May 30 to June 22*
Time: 9:30am to 12pm
Address: Zoom (in-person venue to be confirmed)
*There will be a mandatory Orientation and Training session on the Saturday before the session.
A Walk to Remember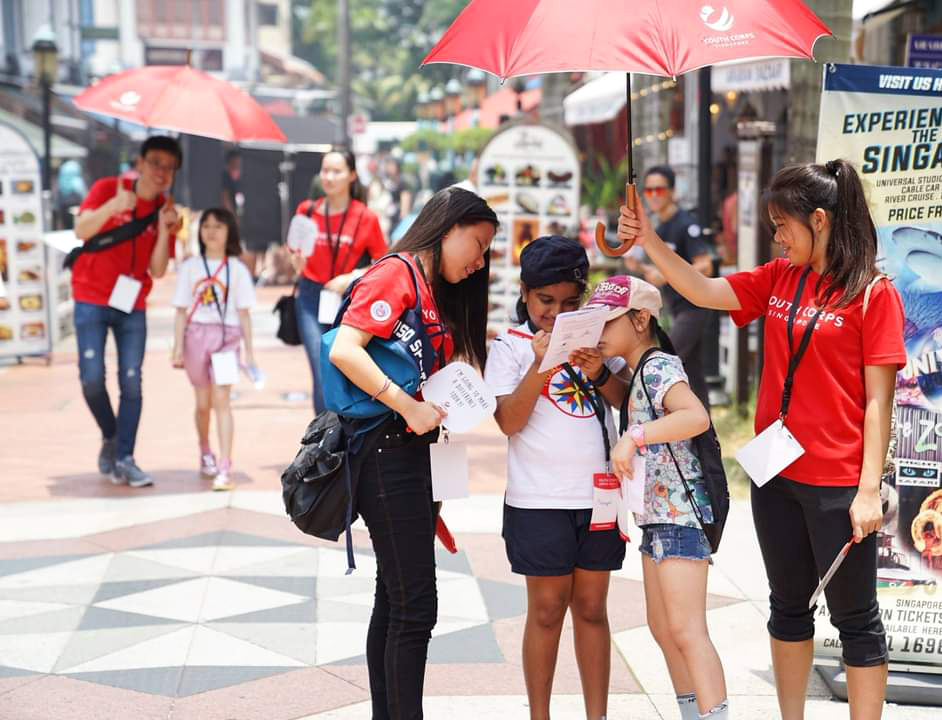 If you are a history geek, this programme may really turn out to be a walk to remember.
Along a heritage trail, youth volunteers get the chance to serve as guides to younger children.
You will also engage them in activities, role plays and stories.
For the more nature inclined, there will also be the option to go on nature trails via the "A Walk In Nature" programme.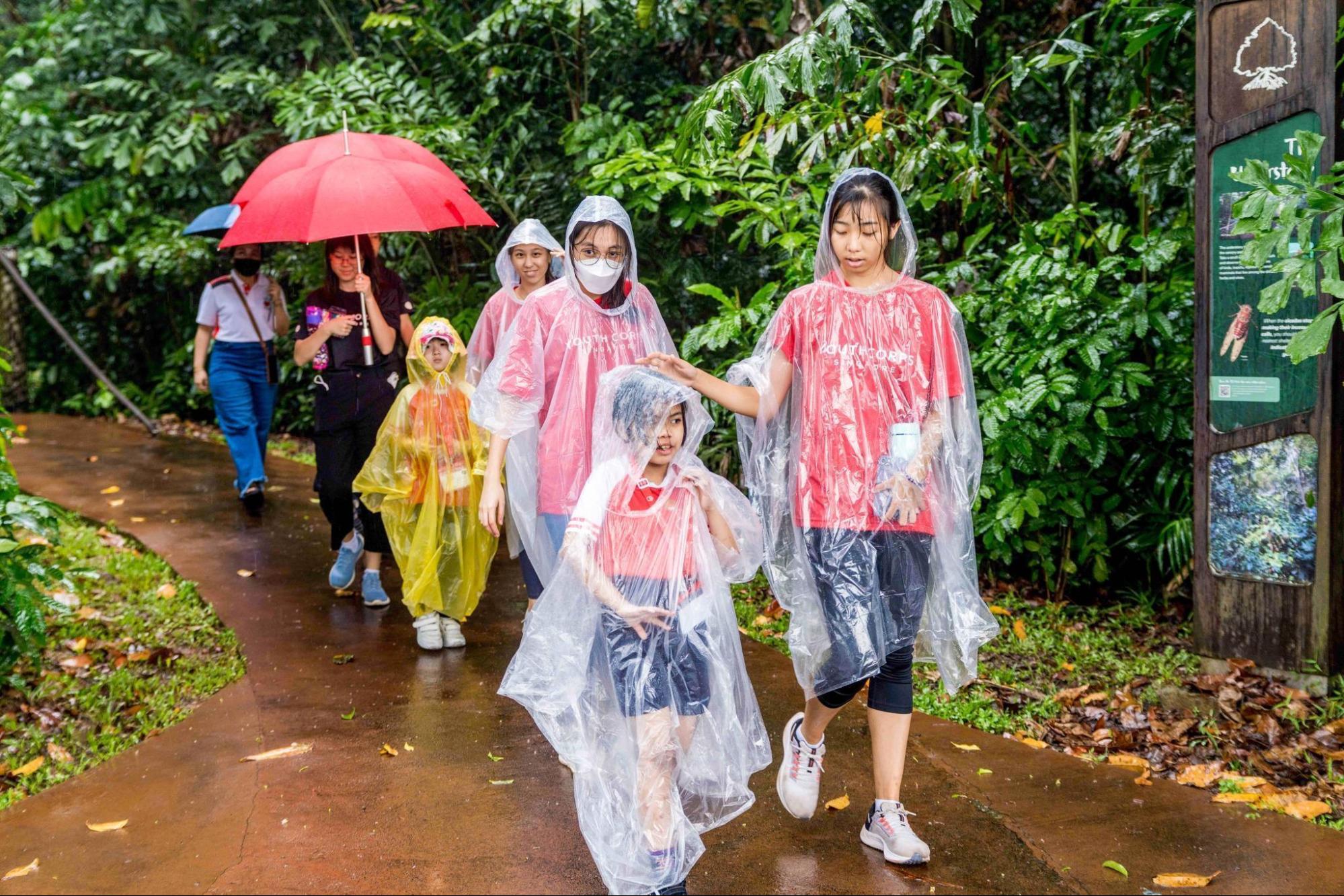 Date of Programme: March 16 (A Walk In Nature)
Time: 7:30am-1pm
Address: 60 Kranji Way, Sungei Buloh Wetland Reserve (Visitor Centre), Singapore 739453
Time well spent
So, instead of wrecking your brains about what to do in the coming weeks or during your upcoming school holidays and summer breaks, you now have seven events to try something new or fill your time.
Who knows, you might even make a new friend or two.
Youth Corps Singapore champions for youth volunteerism by providing a range of meaningful volunteering opportunities for youth to serve the Seniors, Persons with Special Needs, Children, Youth and Family communities and the Environment.
For sign up details and the latest updates on the programmes, you can join the Youth Corps Telegram channel to find out more.
This sponsored article made the writer reflect on how he has been spending his time.
All images via Youth Corps Singapore
If you like what you read, follow us on Facebook, Instagram, Twitter and Telegram to get the latest updates.