Follow us on Telegram for the latest updates: https://t.me/mothershipsg
It's 2013. Disney's latest animated film, 'Frozen', has entered theatres to immediate blockbuster success: "Let It Go" playing on repeat, Elsa and Anna dolls flooding toy stores by the carton, emo kids denouncing it as yet another soulless, overrated, unforgivably mass-market cog in Disney's capitalist machine.
At 17, I lacked the condescension that my edgier peers possessed. I watched the movie with my siblings. I gasped at the plot twist with Hans, the devastatingly handsome villain. And I sang along enthusiastically to "Love Is An Open Door".
Months passed, and the spell that "Frozen" cast on audiences seemed as permanent as Elsa's magical powers. But more heroes emerged — "Moana", "Coco", "Baymax", the "Madrigals" — and while none quite eclipsed the peak fanfare of "Frozen", the movie eventually faded into cinematic history.
I hadn't thought of the movie in years, save for the odd cover that appears on my TikTok feed. But when I learnt that "Disney's Frozen: The Hit Broadway Musical" was making its Singapore debut, it was like a chance to relive a magical memory from my teenage years.
And I most definitely did not want to let it go.
==
Getting the show on the road
The entire musical was over two hours long and chock-full of action.
So without turning this into a full-on theatrical analysis, here's a short, sweet, and (mostly) spoiler-free review.
Favourite song: It's a tie between fan favourite "For the First Time In Forever" — with added lyrics by the original movie songwriters — and "Hygge", a new song added to the musical. Both are light-hearted, insanely catchy, and just fill you with happy vibes. Also, the choreography for "Hygge" is hilarious (Mini spoiler alert: butts, heh. Who knew I had the emotional maturity of a six-year-old?).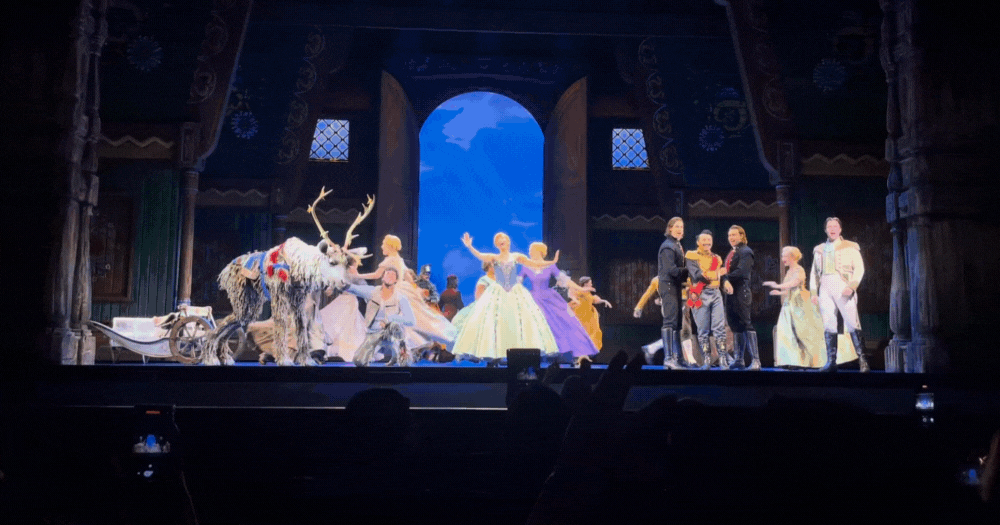 Favourite character: Olaf the snowman. He's such a scene stealer, and his song, "In Summer", absolutely brought the house down. Honestly,  how can a puppet be so frickin' funny???
Runner-up: Young Anna. Played by Singapore actor Jewel Kwek, she was just a ball of adorable, hyperactive energy that made just about every frozen heart in the audience melt.
Coolest scene: Elsa's ice castle + transformation. It's not "Frozen" without "Let it Go". It was performed by powerhouse Jemma Rix, who dazzled the stage with her vocals in her equally dazzling ice palace: a truly breathtaking set dripping with Swarovski crystals and that special Disney sparkle.
But the really cool part was Elsa's dress transformation. Remember in the movie, when she uses her powers to magically change from her royal garb into that exquisite ice dress she's known for?
Yeah, that. How she does it is a mystery only Disney knows, but see a video for yourself (although it's a million times as cool IRL) below. The transformation starts at about 3:30.
Three-sentence summary: A delight to children and adults alike. I'm a simple person, and so Disney — with all its musical, magical magnetism— tends to scratch that happily-ever-after itch so innate to the human imagination. This show was no exception.
Behind the scenes
Because #mediaprivileges, we also received a private backstage tour — with the actors playing Hans and Sven as our guides.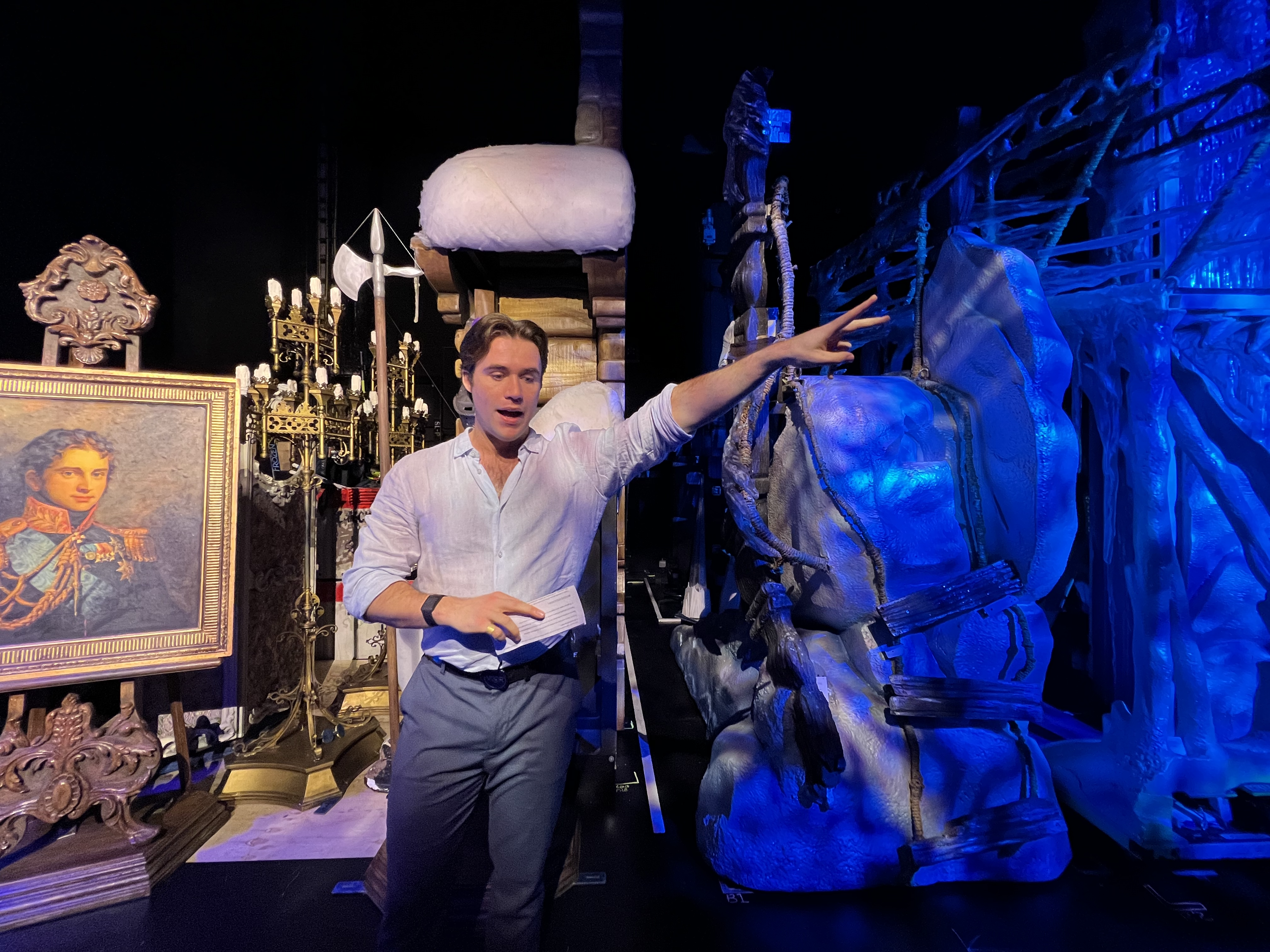 I know.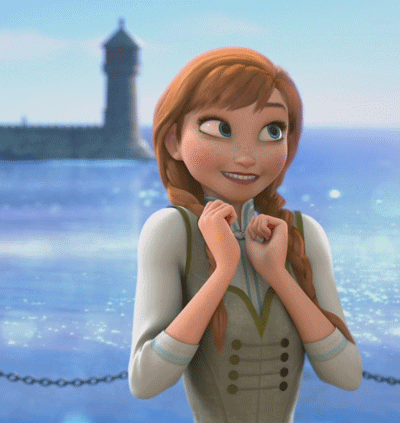 Turns out, a lot of work goes into creating those glittering sets.
As he pointed out the various props and machinery, Thomas McGuane (who plays Hans) rattled off a number of mind-blowing statistics, including:
26 shipping containers of stuff

440 costumes

145 wigs

120 pairs of shoes

90 handmade hats
The show also features over a hundred actors and actresses over its two-hour course, with 350 litres of carbon dioxide used per week to create the thick mist of Arendelle's enchanted snowscape.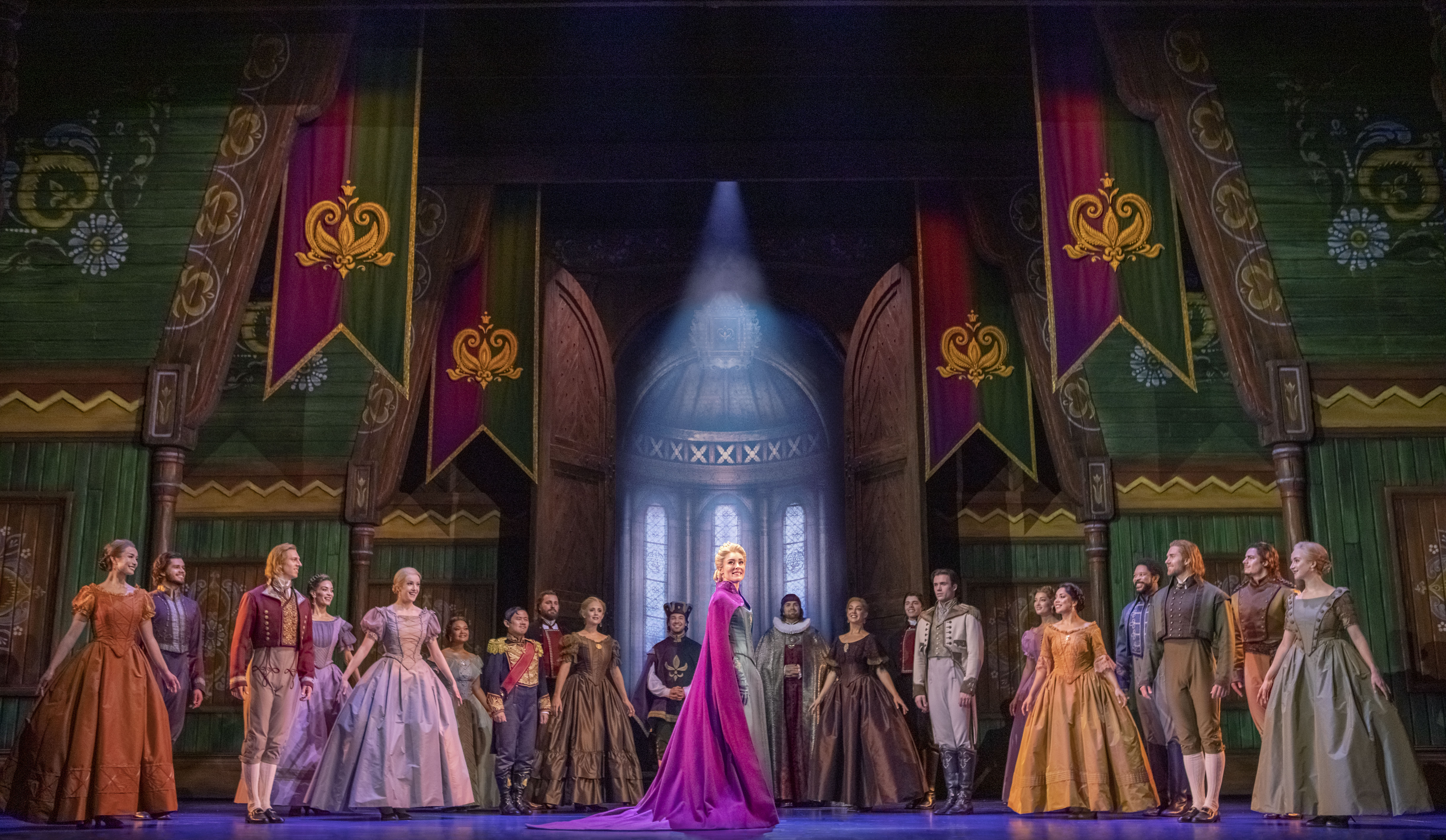 Evan Strand, the puppeteer behind Sven the reindeer, fed us even more numbers as we visited the costume and wig rooms.
Elsa's iconic ice-queen dress is studded with 14,000 Swarovski beads and, despite its sleek appearance, weighs over 15kg.
It's a labour of love that takes about three months to create.
And his own Sven costume — which allows him to manipulate everything from Sven's ear-twitches to his gallop — is 2.7m tall, and weighs about 45kg at its heaviest.
"Does it hurt your back?" I asked.
"It hurts my shoulders," he quipped in response.
But, he added, that's why there are always two actors dedicated to playing Sven: so they can take turns between shows.
"It's so physically demanding that it's difficult for any one person to carry that on continuously, for a month [or even] a year," Strand said.
"And the other reason is because it's such a challenging character, and there's more facets to it than just dancing or singing, specifically because of the puppet…you can't just have anybody walk into it," he added.
"So we're our only backups."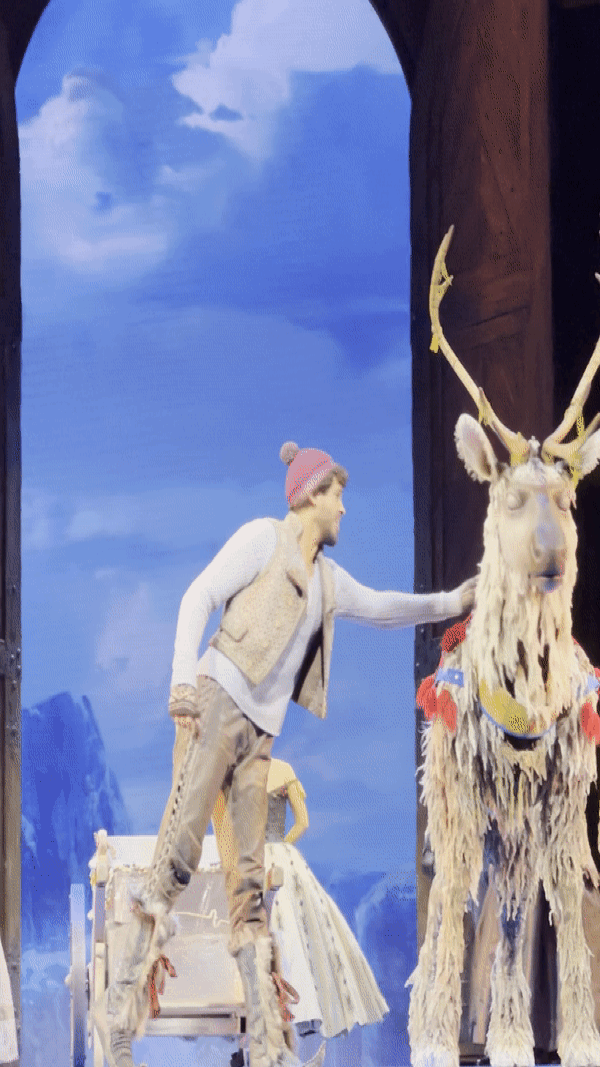 Here are some behind-the-scenes pics: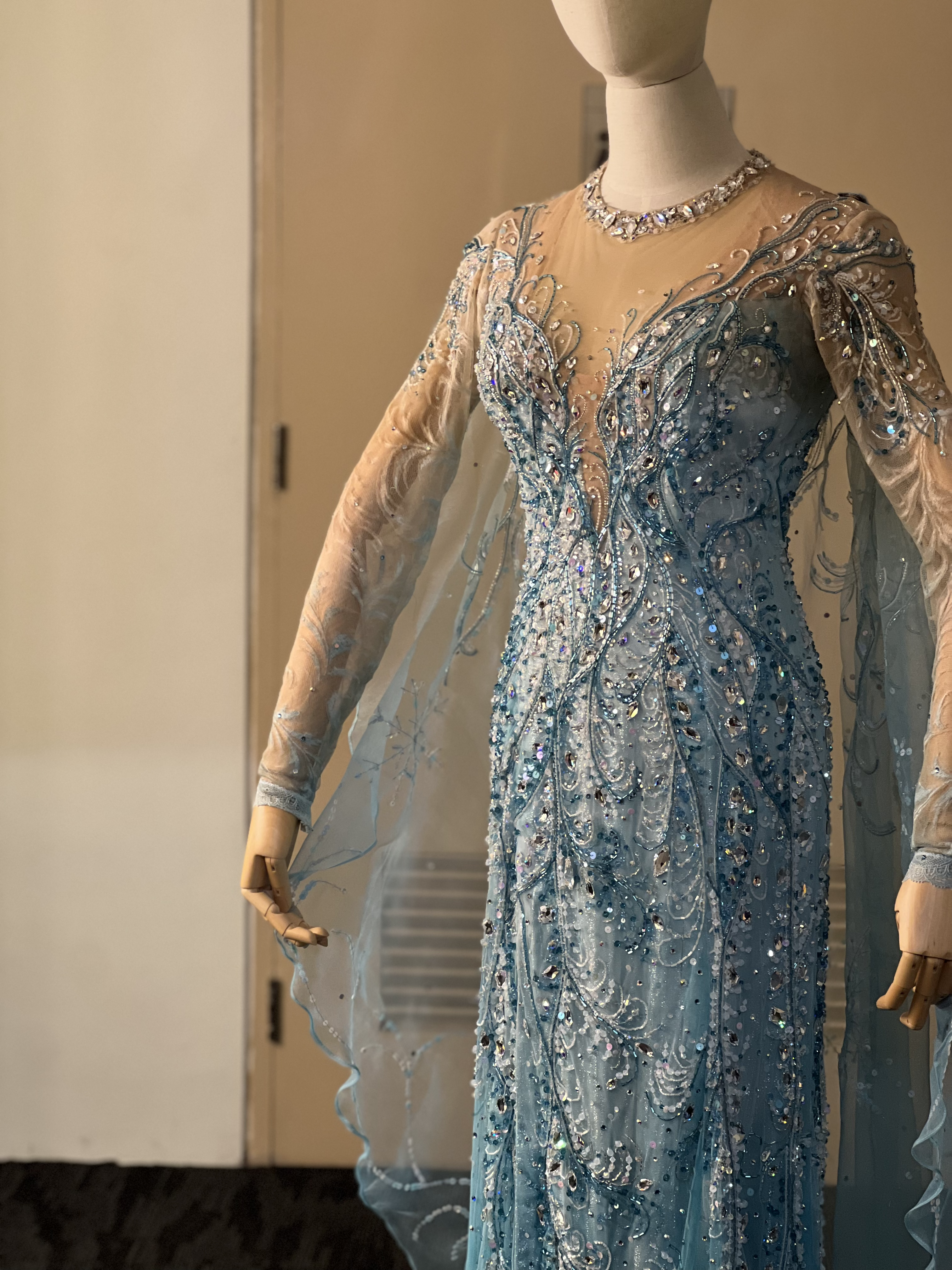 The 'Let it Go' Dress.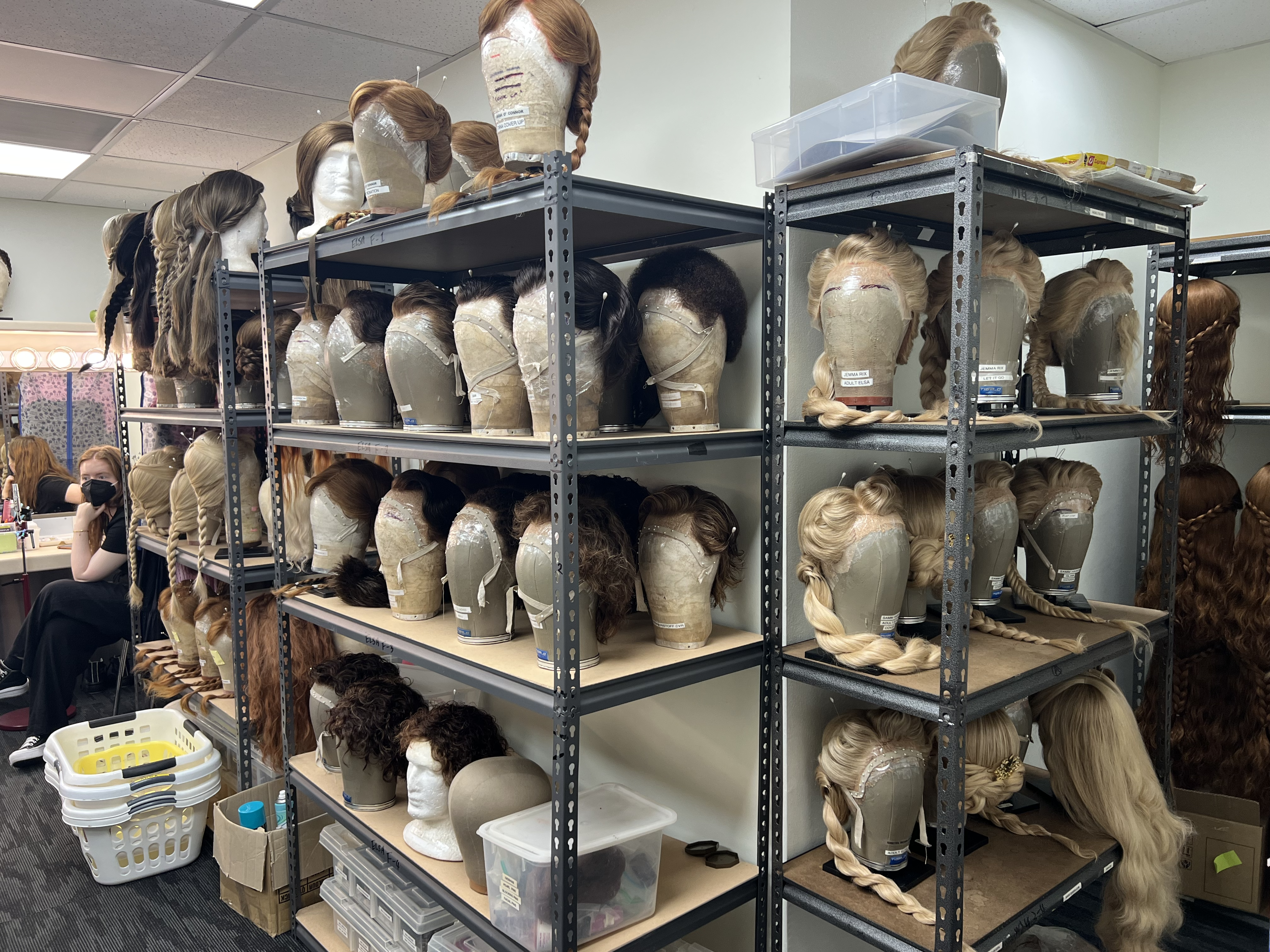 So many wigs. Mostly made of human hair.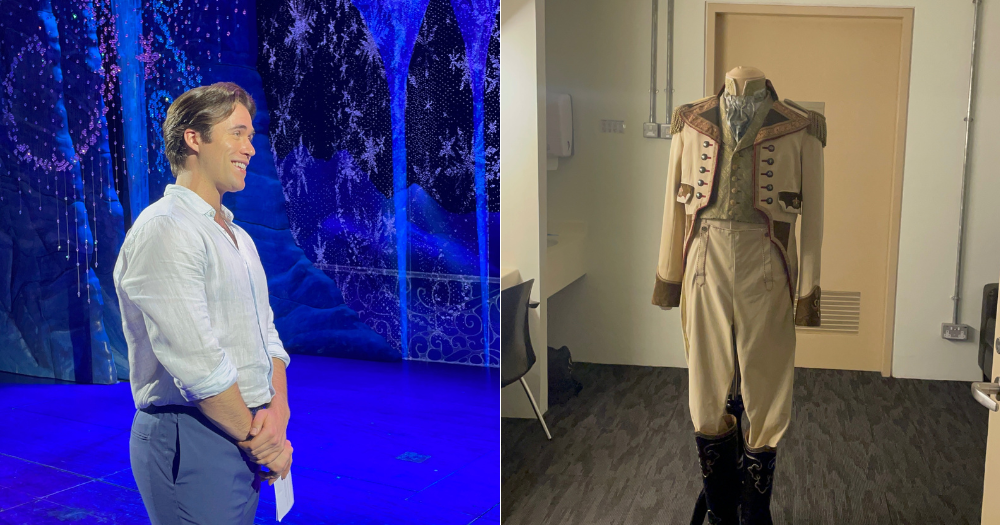 Our overly attractive tour guide. Honestly, can't blame Anna.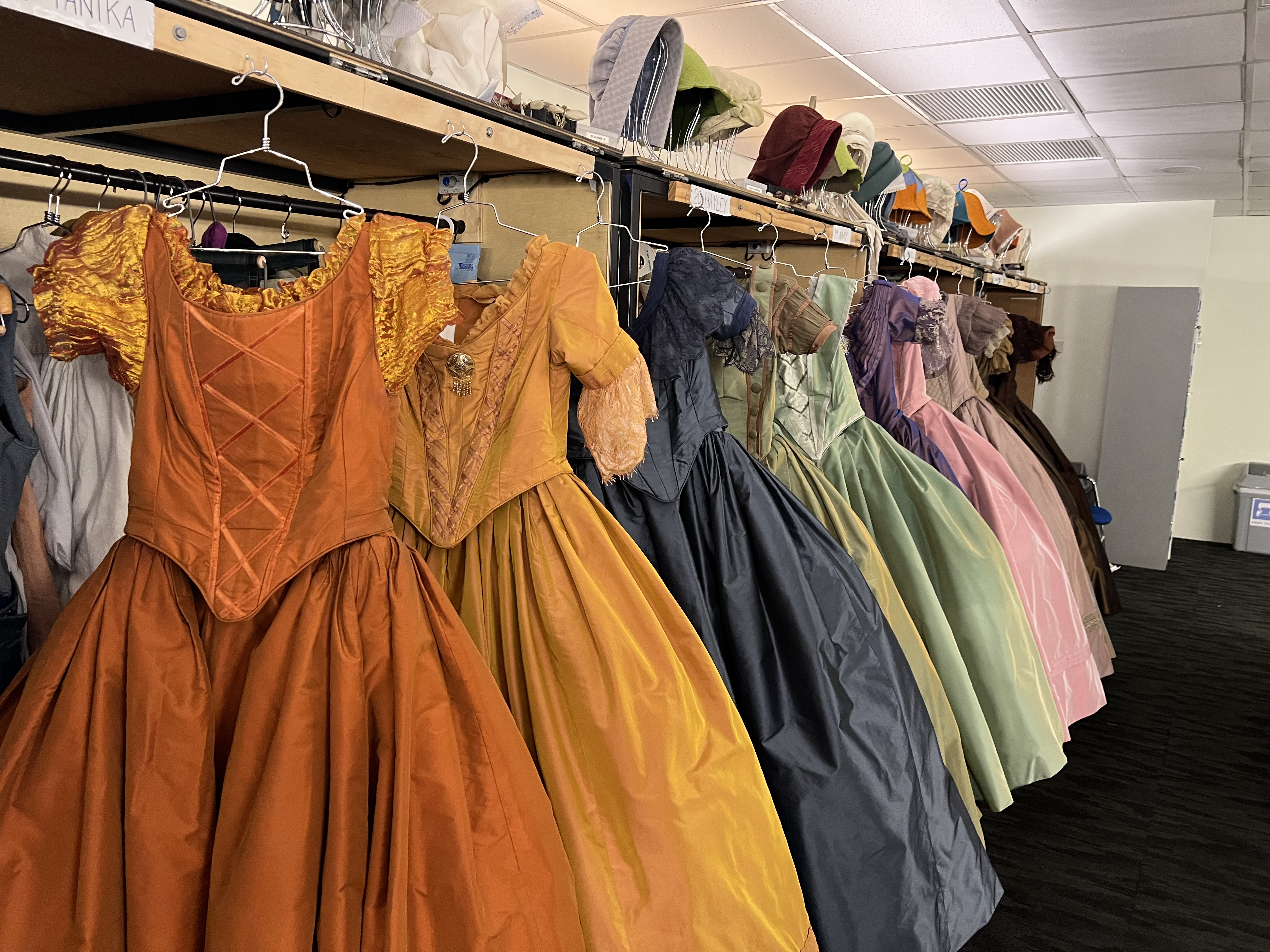 Some dresses weigh as much as 20kg. They're mostly made of upholstery fabric, which makes them hard to imitate.
Conversation with the cast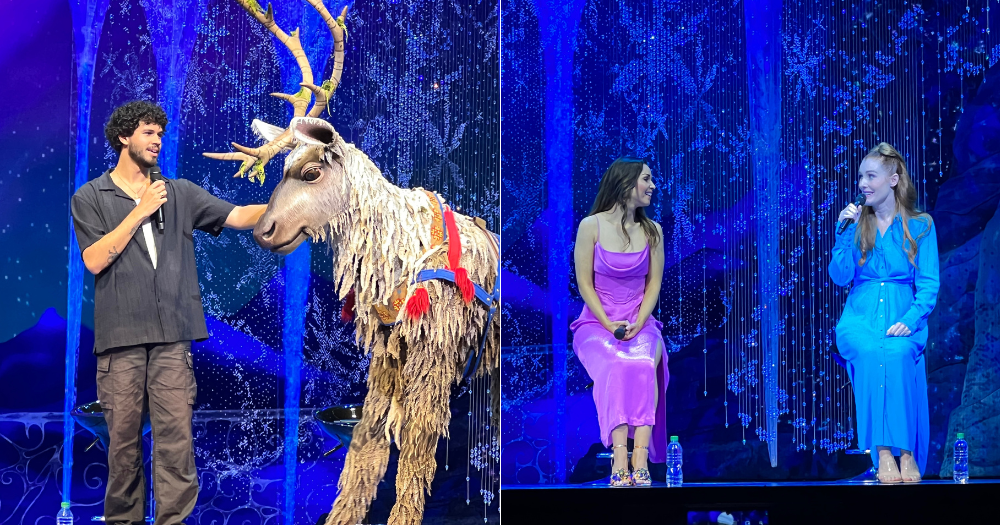 We also received the opportunity to ask the cast our burning questions.
Being Mothership, we asked perhaps the most important question that could make or break it for the cast: "What is the one food you are looking forward to trying in Singapore?"
McGuane quickly jumped in to say,  chilli crab.
He shared how he went to eat chilli crab and wore a white shirt, making a mess out of it.
Rix agreed that chilli crab was an amazing meal that "you got to work hard for".
Brendan Xavier said he was a bit of a "simple man" — not unlike his mountain man character, Kristoff — and the meal he enjoyed was chicken rice. (We also found him wandering around in the kopitiam before the performance.)
Rix also added that she loved the satay at Lau Par Sat.
Sarah O'Connor, who plays Princess Anna, cheekily commented: "The problem is that all the food is so good, but then when you are in a corset… it doesn't feel so good then."
Kiap kiap fun
After all that theatre fun, we dropped by the "Frozen" Experiential Pop-Up along the Shoppes at MBS for some fresh air (and goodies).
Especially for the kids (and kids at heart), thePop-Up has two kiap kiap machines where you can try your luck at winning a "Frozen" plushie (worth S$50-75 each). Each try costs S$1.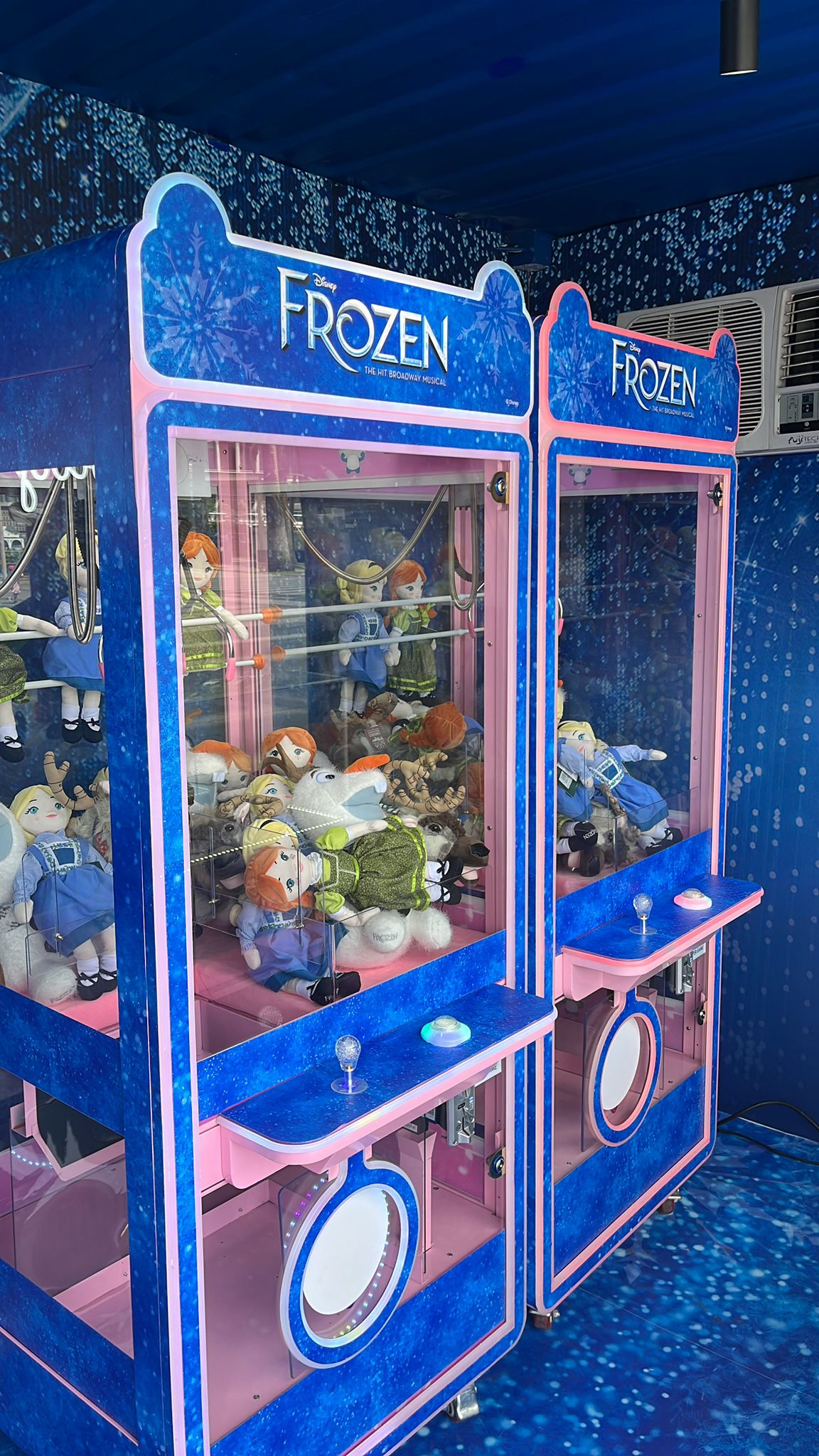 After a few failed attempts, Hannah managed to win an Elsa plushie. Here's a pic of her looking as triumphant as a queen with her prize: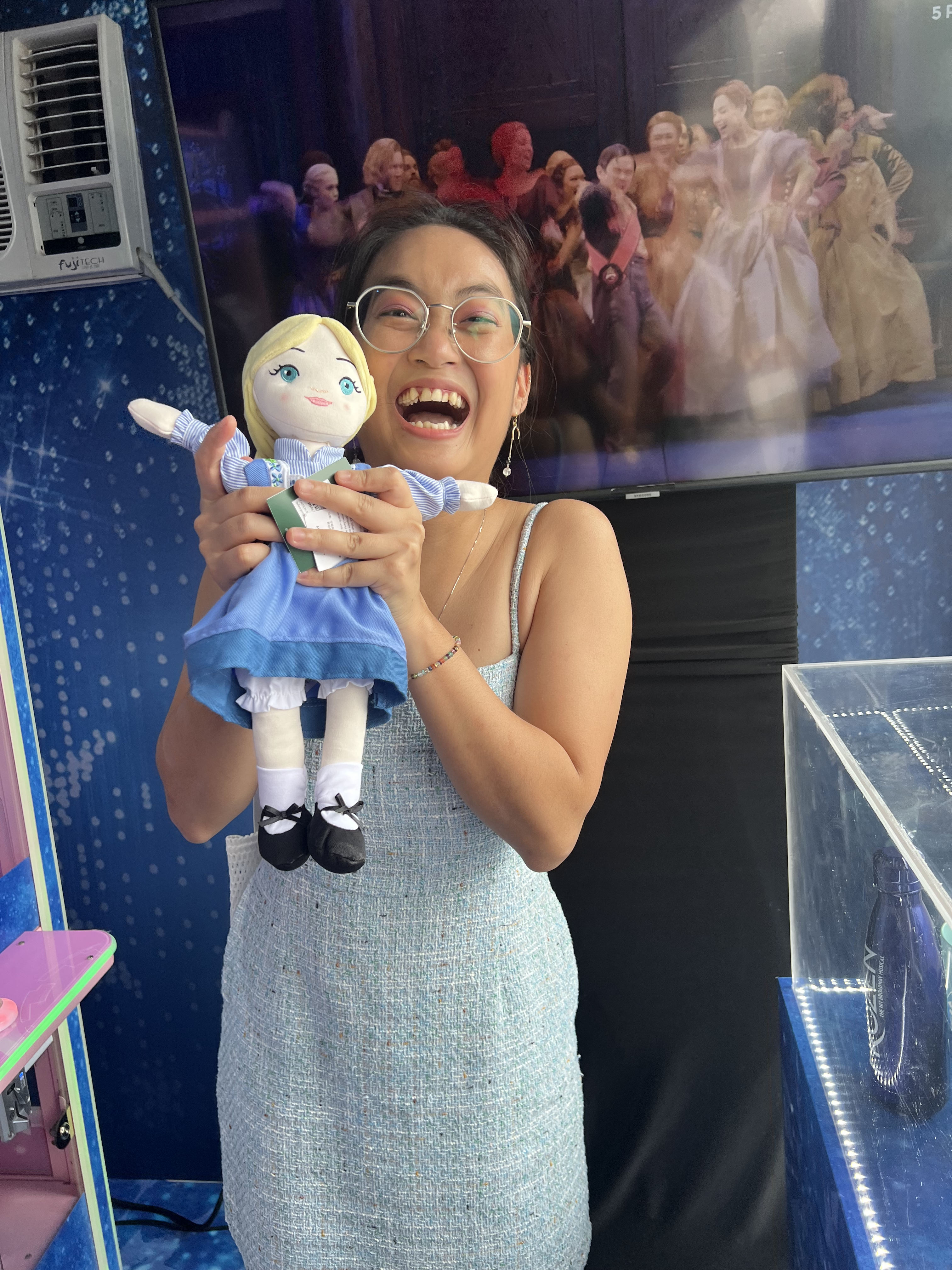 But if (like Ilyda) you have neither luck nor strategy, you can still get some cute pics at their 'gram-worthy backdrops: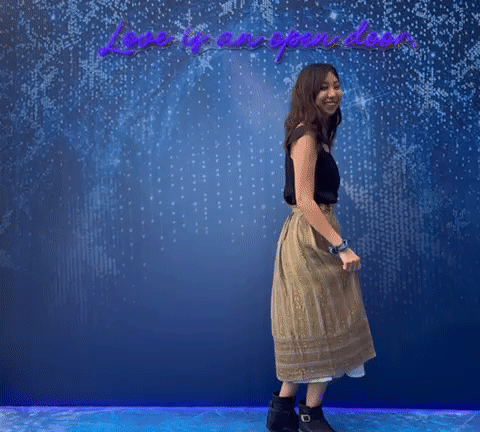 There's also a bunch of merch on display, which you can get as a souvenir if you're so inclined.
Or if you just have no kiap talent.
"Frozen" Experiential Pop-Up opening hours: 12pm - 9pm
Curtain call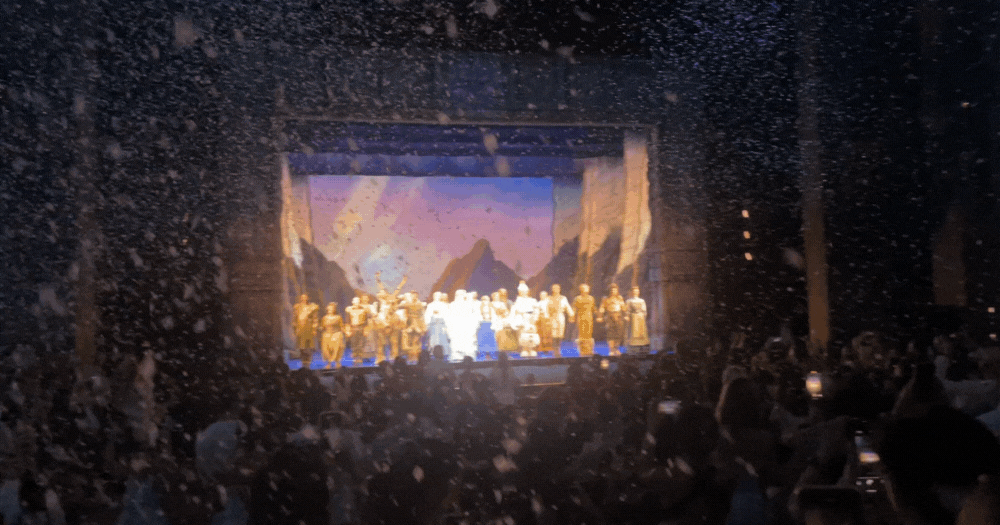 This was a special show for me. It was my first musical since Covid-19 shut down the entire industry, and I could not have been more excited to be back in the theatre.
When the orchestra started, and the house lights dimmed, I could feel tears welling up as I was overwhelmed by the feeling of immense joy.
Spoiler alert: I cried.
Many may come in with the preconceived notion that the musical is exactly like the film, but it is not. The stage production of "Frozen" added layers to the existing story and brought it to a whole different level.
Elsa is given more depth as we see her more anxious, trying to grapple with her growing powers and distancing herself from Anna. Rix plays her reserve when Elsa is forced to hide her powers, but the moment she is free, Rix's vocals are stronger, which is evident in "Let it Go".
P.S: I was stunned by Elsa's quick change in "Let it Go". No matter how many times I watched it online, nothing beats seeing it live. This was the part where I just bawled like a baby.
Elsa was also given an amazing new power ballad, "Monster", which conveyed the conflict within Elsa that Rix portrayed beautifully in a stunning new jumpsuit.
Special shoutout to the ensemble with their big dance numbers that filled the stage. The choreography was eye-catching, and it showed off the ensemble's talent. They are truly the unsung heroes of the industry.
It would not be a Disney show without magic beyond Elsa's dress transformation. The harmony between the scenery and the technology to show Elsa's magic or the snowstorm during the big climax is truly out of the world. The audience gasped whenever Elsa used her magic, and the stage reacted along with it.
Essentially, this show was entertaining, fun and beautifully staged that will make anyone fall back in love with the story. This Disney-loving, musical-obsessed writer rates "Frozen: The Musical": 15/10.
Run, don't walk, to see this show
With 12 new songs, there is so much more to the musical that you would not be able to get in the film. Elsa and Anna's story gets explored more, and there is more depth to what the stage production captures.
Catch "Frozen: The Musical", at the Marina Bay Sands Theatre for a limited run from Feb. 5 to Mar. 19 2023. This is the musical's only stop in South East Asia, so run and get your tickets now from Sistic.com.
Tickets go from S$88 to S$268.
Photos by Hannah Martens, Ilyda Chua, Disney Theatrical Productions and Base Entertainment Asia
This sponsored article by Base Entertainment Asia made the writers wanna build a snowman. Okay, bye.
If you like what you read, follow us on Facebook, Instagram, Twitter and Telegram to get the latest updates.