If you've run out of ideas on what to do to entertain the kids during the looooooong year-end school holidays, an intriguing and educational day out at the ArtScience Museum is one possibility you can entertain.
The "Patricia Piccinini: We Are Connected" exhibition at the ArtScience Museum features more than 40 artworks by renowned contemporary artist Patricia Piccinini, inviting visitors into a strange reality where human-animal hybrids exist.
Through her hyperrealistic sculptures, Piccinini explores the evolving relationship between humans and nature in the face of biotechnology advancements, such as genetic engineering.
Her bizarre creations are meant to evoke empathy and encourage visitors to imagine a diverse, multi-species world of the future where differences are embraced.
With this exhibition, the artist issues a call to humankind for greater introspection, kindness, human responsibility and acceptance.
Here are some of the works you can look forward to seeing at the exhibition:
1. Kindred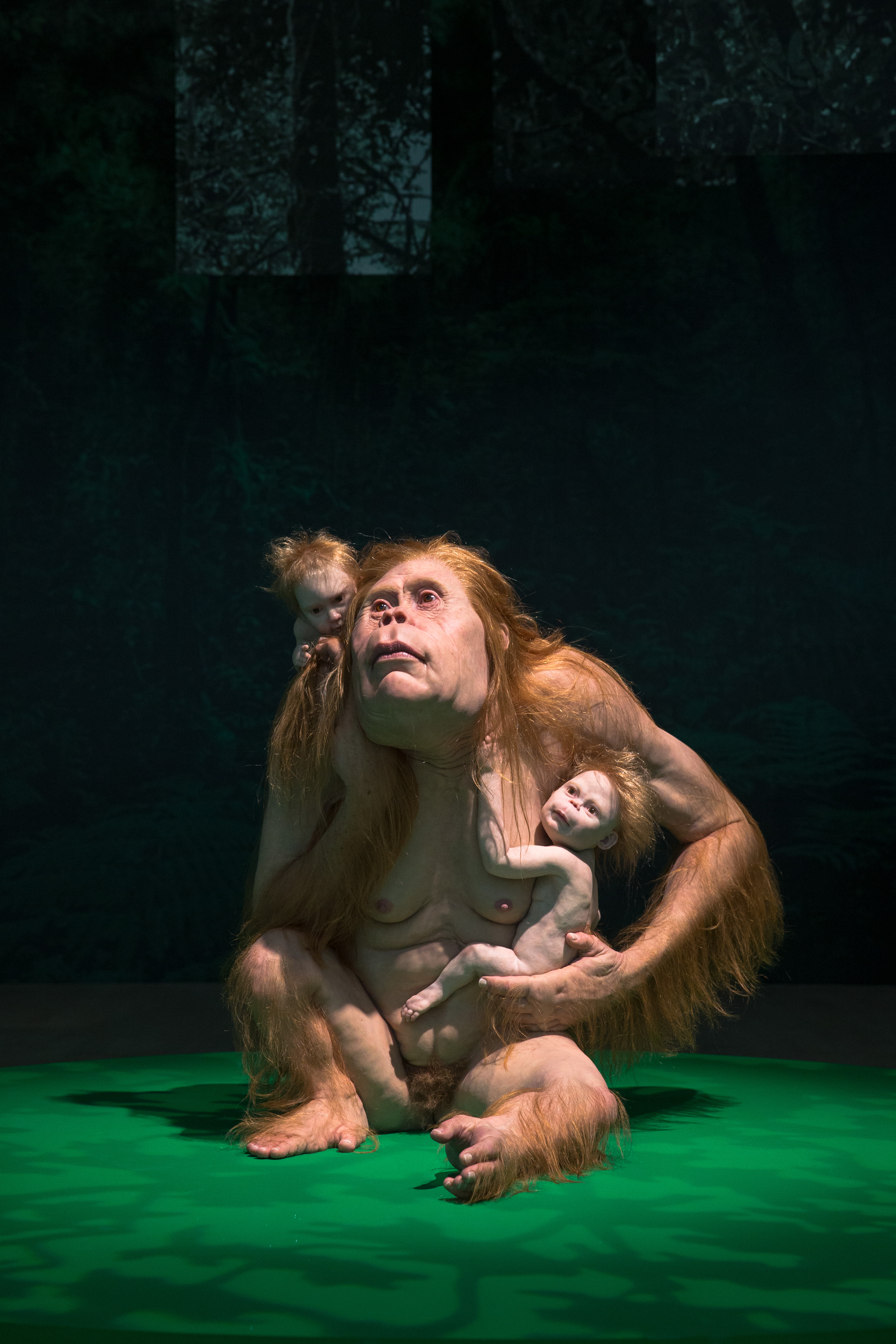 The sculpture Kindred depicts a humanoid orangutan mother holding her young, with one child appearing more human and the other having more hybrid features.
The artwork encourages visitors to contemplate our similarities with other living creatures, instead of viewing ourselves as unique and superior.
2. The Welcome Guest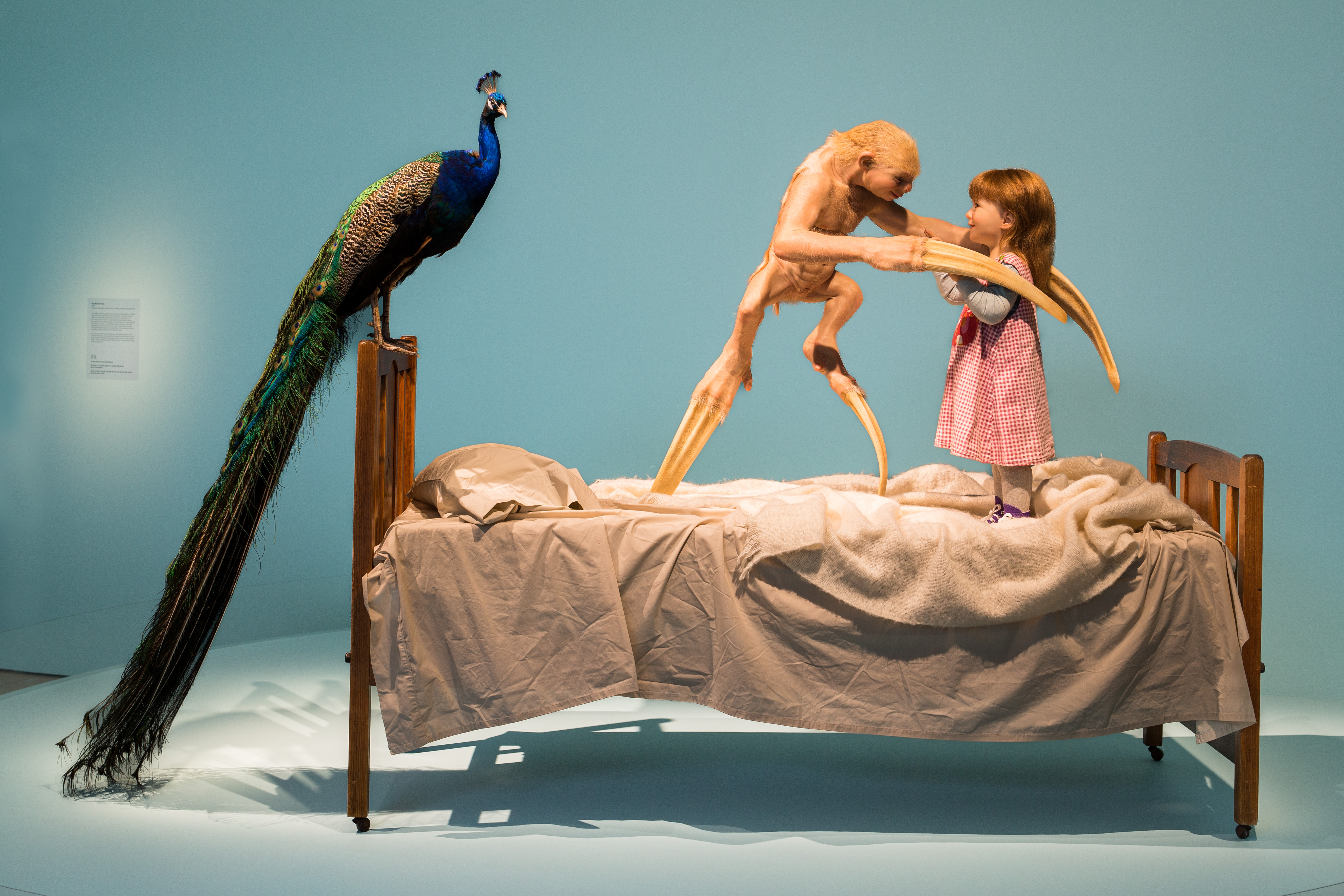 The Welcome Guest depicts a sloth-like figure embracing a girl, with a peacock perched near them.
Piccinini has said that she is often struck by how bizarre and extraordinary real creatures can be.
For example, to her, the peacock's tail exists simply for the sake of being beautiful.
In this sculpture, the sloth-like figure has impractical claws and decorative hair that seem just as unnecessary as the peacock's tail.
Yet, Piccinini points out that if it is good enough for nature to create useless yet beautiful things, then perhaps it should be good enough for humans too.
3. Sanctuary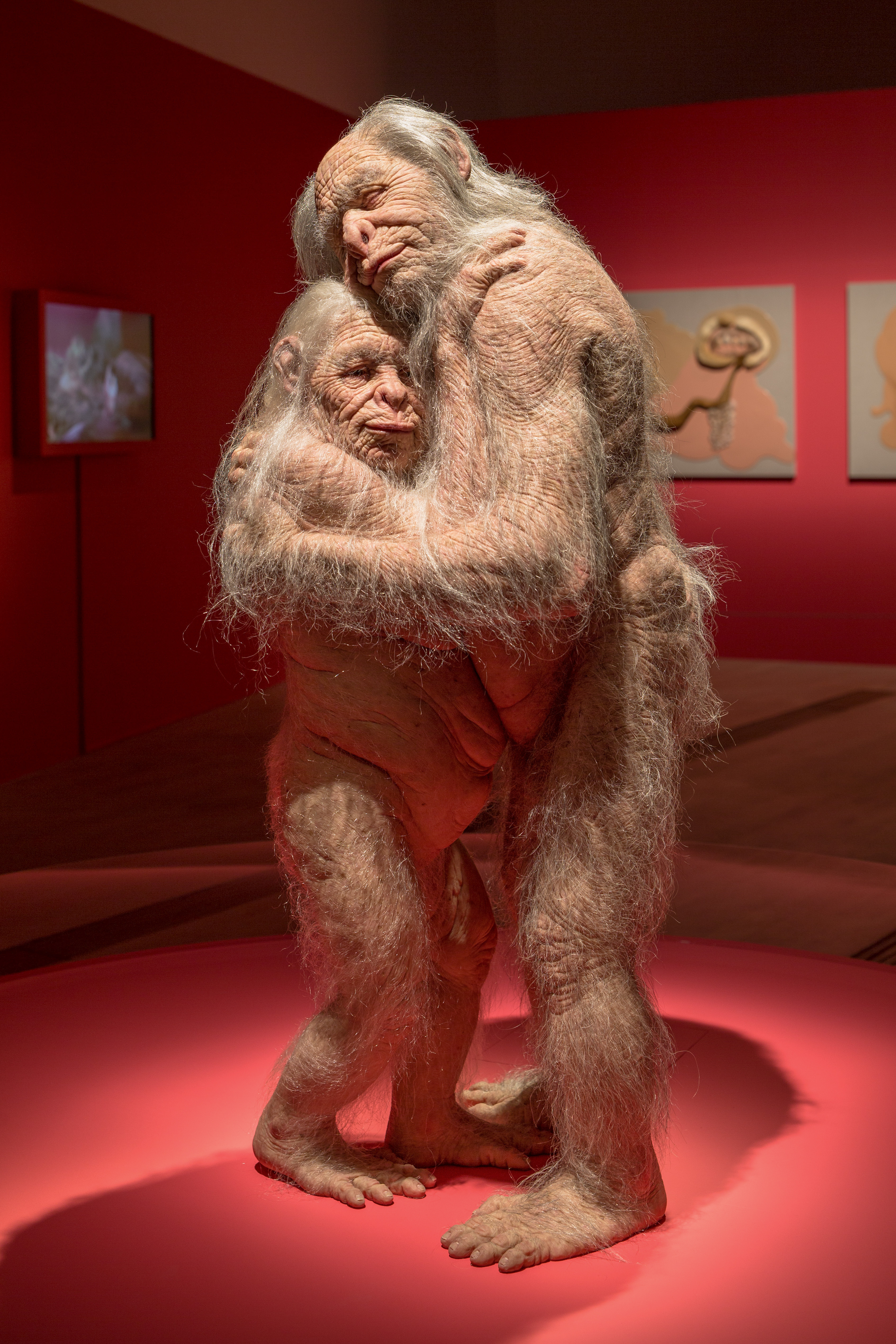 Inspired by the African Bonobos Ape, a highly social species genetically similar to humans, Sanctuary depicts two elderly Bonobo-like creatures embracing.
With this piece, Piccinini questions why intimacy tends to be exclusively synonymous with youth in many cultures, when intimacy can also grow in depth and meaning with age.
4. The Young Family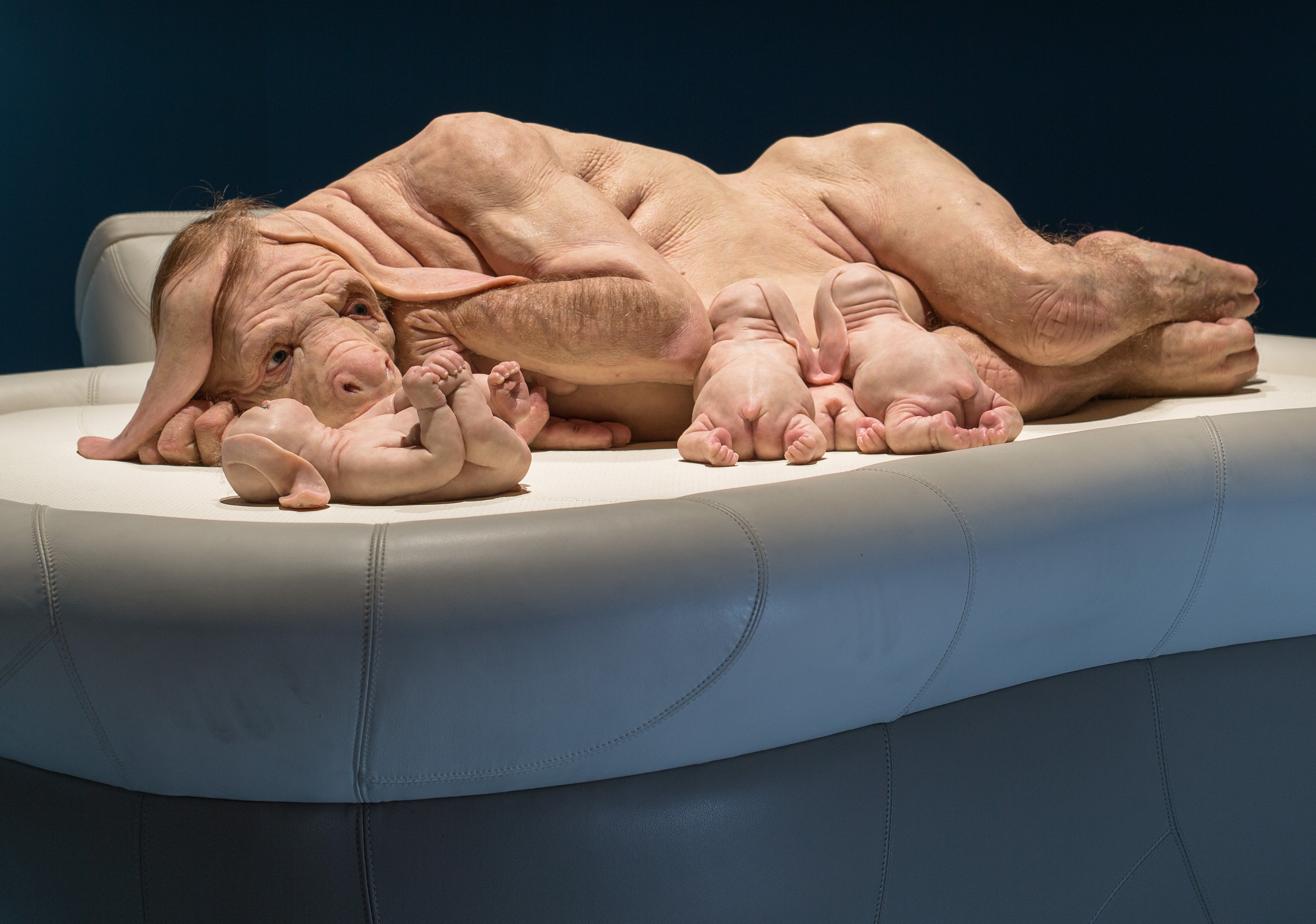 Inspired by developments in biotechnology, The Young Family depicts a half-pig, half-human mother with her children.
The hybrid is imagined to be bred for organ transplants, highlighting the potential conflict between the purpose humanity has chosen for her and her identity as a nurturing, loving mother.
This piece encourages visitors to contemplate some of the challenging ethical issues behind gene-editing, as well as mankind's responsibility towards these creatures.
5. The Eagle Egg Men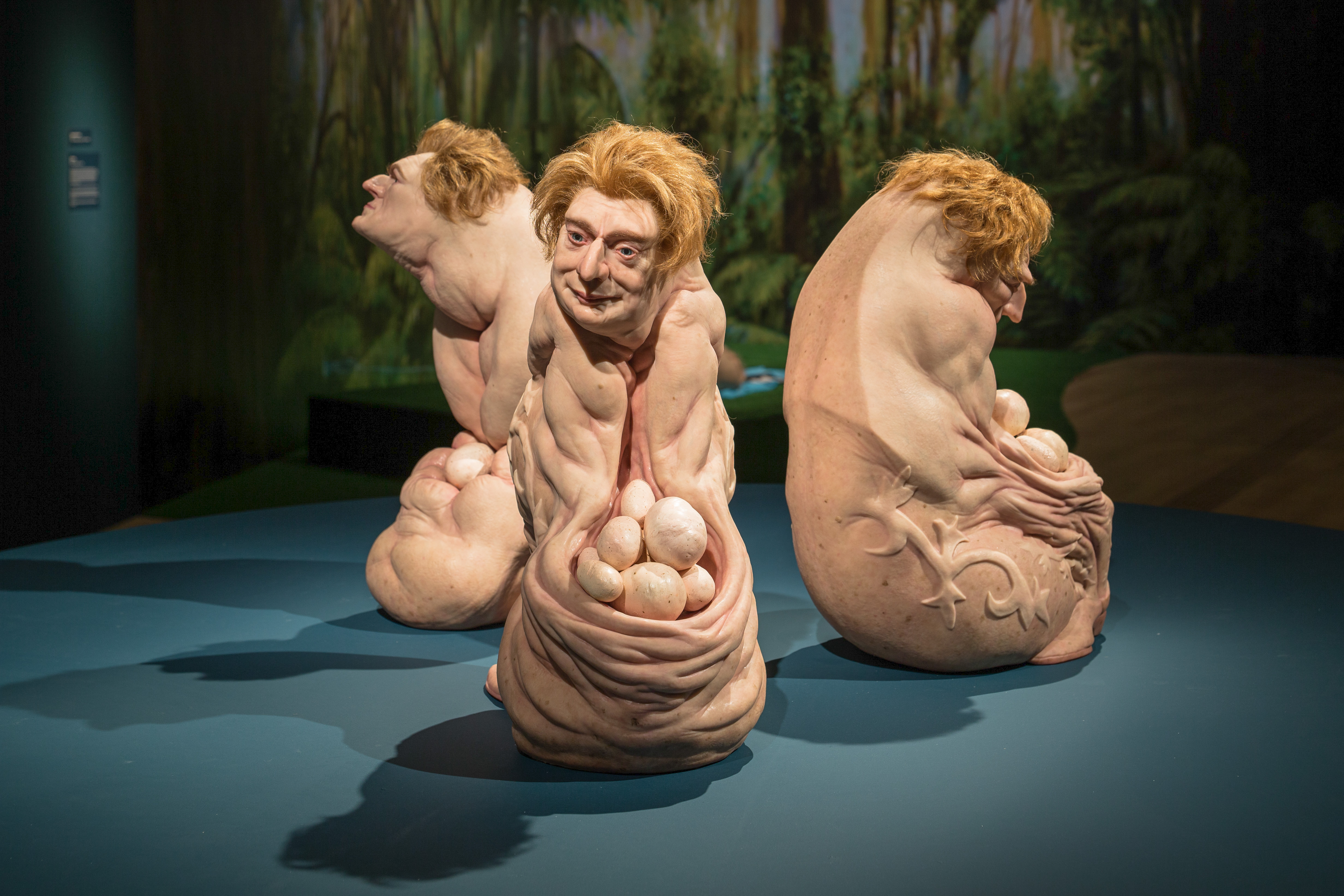 With Eagle Egg Men, visitors can encounter motherly "eagle-men" who have turned their bodies into nests to protect their fragile eggs.
The sculpture celebrates nature's many extraordinary forms of reproduction, and its caring and life-giving systems.
Visitors are invited to imagine different types of future families, and ponder the unique connections and communities that might occur as a result of new biotechnologies.
Other activities
Guided tours of the exhibition are available in English at S$5 per participant and can be booked here. Mandarin tours are complimentary.
Children (and the young at heart!) can also make their own hybrid friend at drop-in sessions every last Friday of the month, from 11am to 1pm and 3pm to 5pm. The sessions can be booked here at S$5 per ticket.
Adults and older children aged 15 and above can learn basic sculpting and painting techniques at the Imagining Chimeras – Sculpting Masterclass led by Singaporean sculptor, Daniel Yu.
In this workshop, participants will use small toy figurines as a platform to build their own anthropomorphic or chimeric creatures.
The class may be booked here at S$88 per participant, which includes all materials and entry to the exhibition with early bird tickets available at S$68 per participant.
The exhibition includes a workshop area for the public to make their own hybrid puppet friends and a reading space where visitors can explore a range of publications that relate to the theme of the exhibition.
Piccinni's first children's book, Every Heart Sings, is also available for reading.
You can also check out virtual tours of the exhibition for adults and children online.
Patricia Piccinini: We Are Connected
Where: ArtScience Museum 6 Bayfront Ave, Singapore 018974
When: Now till Jan. 29, 2023
Opening hours: 10am to 7pm daily (last admission at 6pm)
Ticket prices:
Singapore Residents: Adult: S$18, Child: S$14
Others: Adult: S$21, Child: S$16
Book your tickets here.
This sponsored article by ArtScience Museum made the author want her very own hybrid friend.
Top images courtesy of Marina Bay Sands
Left: The Bond in Meadow; right: Unfurled displayed in The Grotto
If you like what you read, follow us on Facebook, Instagram, Twitter and Telegram to get the latest updates.