If you hear about the holiday season at the end of the year, you'll likely think of:
Bright, shiny decorations

Scrumptious feasts

Wondrous presents (whether they are the ones you buy for yourself, or gifted by others)
But amid the merrymaking, much waste is produced.
Like all other festive seasons, lots of redundant packaging is disposed of, not to mention all the leftover food from celebratory meals where we tend to order more than we can eat.
If you're conscious of your eco-habits and would like to practise greater sustainability this holiday season, here are four easy ways you can do so.
1. Gift an experience
Instead of physical gifts, you can gift your loved ones an experience.
Depending on what they like, you can buy them a ticket to a concert or invite them to a DIY workshop where you can craft something from recycled materials.
You can also treat them to a meal at a restaurant, or give them a gift card for their favourite cafe.
If you want to save on money, homemade gift vouchers where you offer kind gestures to your loved ones, like offering to do all the household chores for the day, are also an option.
2. Gift preloved/thrifted items
If you're still determined to give a present, however, there are less wasteful ways to do so.
Try to make sure that the gift you buy is a practical one that your giftee will use, or get something that you're sure they will like (so they don't simply let it collect dust in one corner, or worse, throw it away).
Gifting second-hand items like vintage clothes and bags is also a good way to save on resources.
Most vintage clothes, unlike fast fashion (which also goes out of season fast), are made to last, and make for excellent sustainable options that can reduce waste.
If you're inclined towards traditional methods, you can also use the Japanese wrapping technique of furoshiki that simply makes use of fabric to wrap up gifts.
Your giftee can reuse the cloth also.
3. Reduce your food waste by giving leftovers away
During festive seasons, we tend to buy a lot more than usual to celebrate the occasion.
The problem is that not everything might be finished by your family or your guests.
If you have leftovers and can't finish them up the next day for some reason, you can always share them with others.
You can turn to food sharing apps like Olio and let someone else come pick the food up as well.
Such apps, which connect neighbours to each other, allow you to share leftover food with others for free.
After all, one man's loss is another man's gain - a much better option than throwing it all into the bin.
4. Cultivate our sustainable habits
Ultimately, while the holidays are when we get to let our hair down and indulge in fabulous feasts and drinks without obsessively counting the calories, it's still good to ask ourselves what's truly important during this season of giving and sharing.
After all, the sparkly decorations will be taken down, and the endless feasts of food will come to an end.
As for those with a young family, perhaps instead of showering your kids with extravagant gifts this year, teaching them about the value of social good is a good alternative idea too.
This festive season, Geneco has co-created an e-book - The Little Green Heroes - with 3Pumpkins, a socially engaged non-profit arts organisation in Singapore, as part of its #HappilyEverAfter fundraising initiative.
The complimentary e-book is co-illustrated by three children, Cindy, Ruda and Sulaiman, who are part of 3Pumpkins' Tak Takut Kids Club.
This programme differs from other programmes in its firm belief in the use of the arts as a means to provide socio-emotional support for children to express themselves and build a positive self-image.
They currently provide the following activities for around 200 underprivileged children aged seven to 18 to take part in:
Drawing

Photography

Puppet-making

Gardening
This children's story revolves around a group of three friends with special powers who have always taken good care of their friend, Planet "Erf".
But when a giant Trash Monster suddenly appears out of nowhere and wreaks havoc on their planet, they have to rise to the challenge and protect what they love.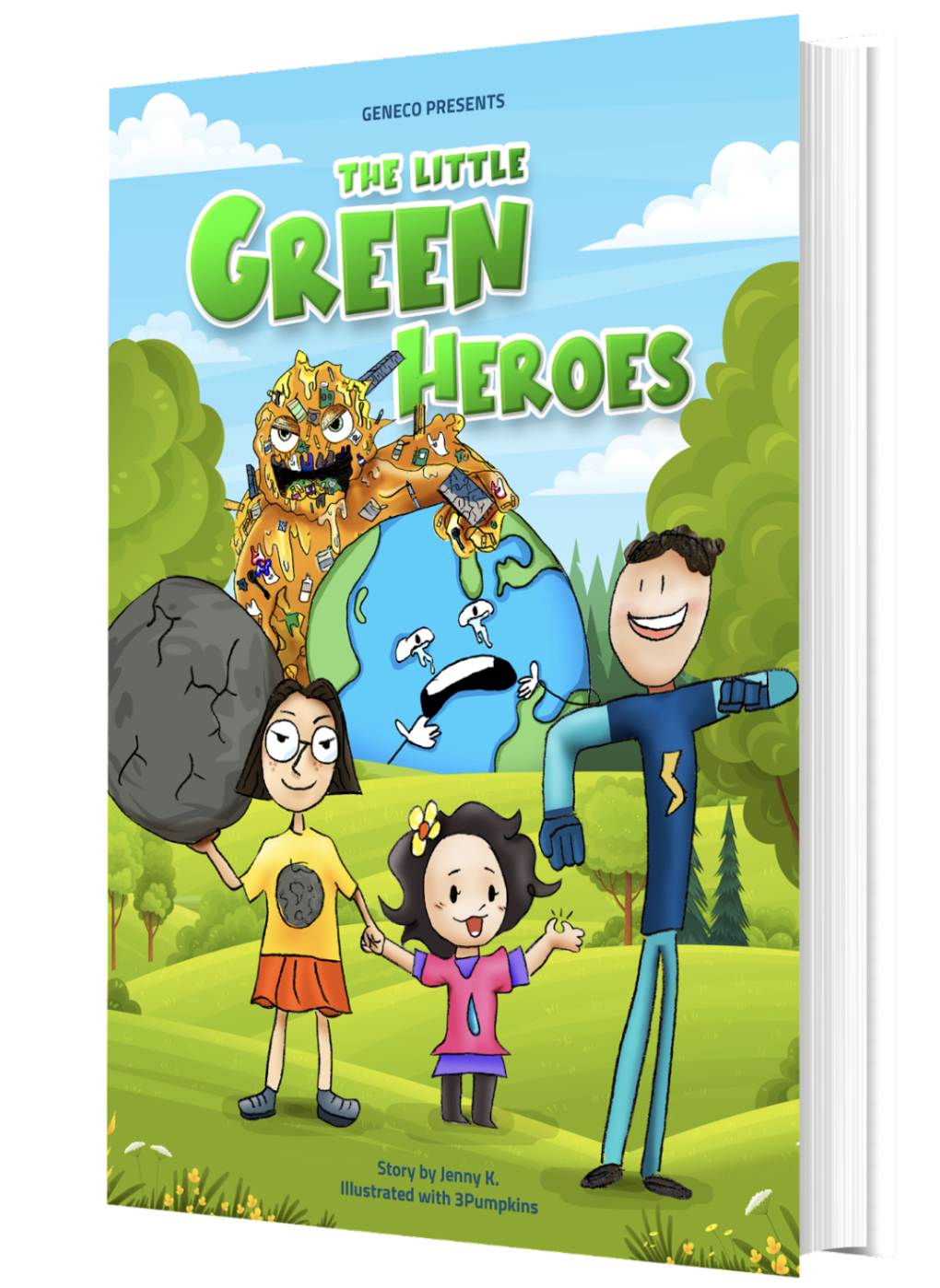 If you prefer a more hands-on approach, ride to your festive activities via a Strides Mobility electric taxi.
In addition to reducing your carbon footprint, you may also receive a #HappilyEverAfter Festive Card from your driver.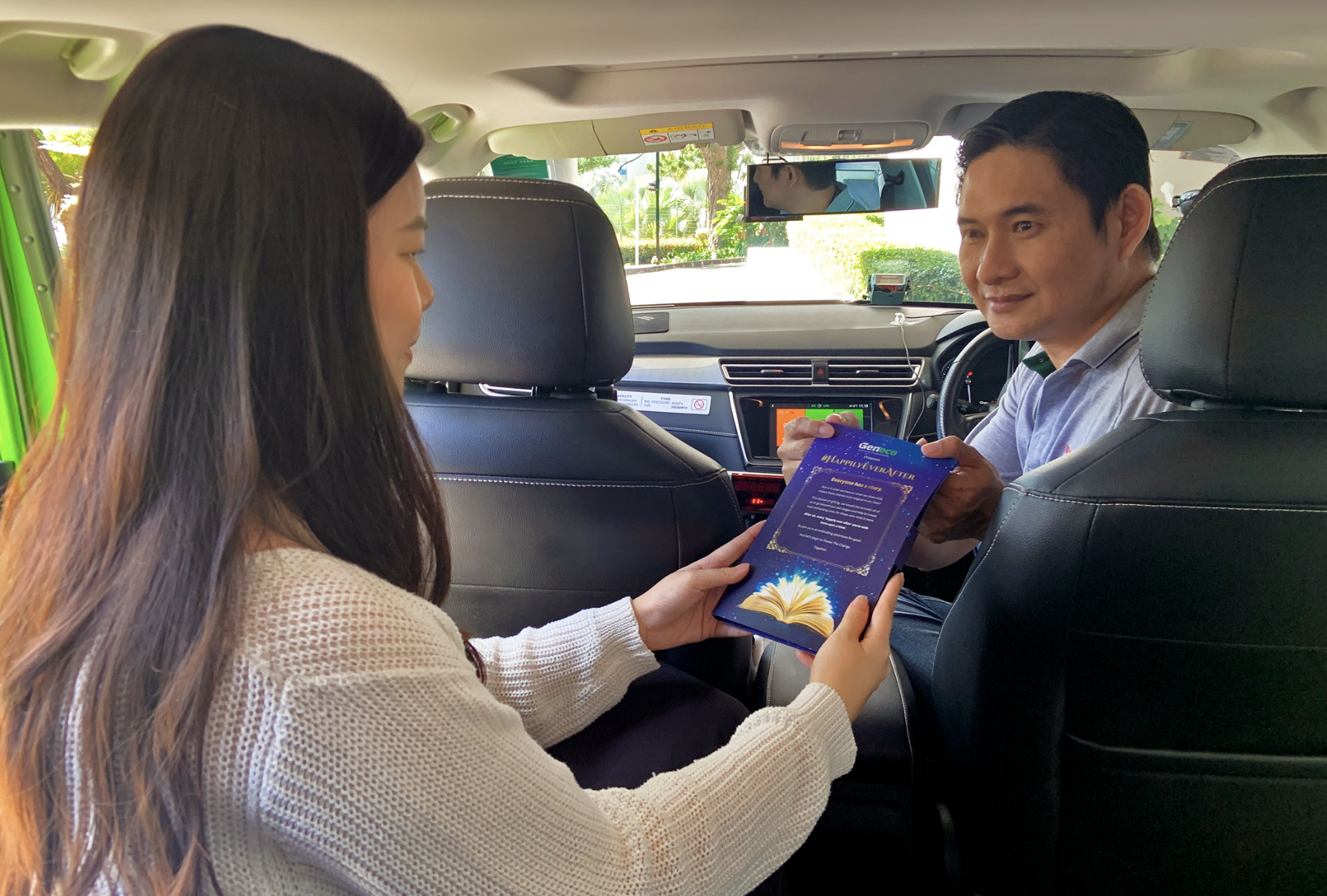 These cards are put together by Bizlink, a non-profit organisation dedicated to serving disadvantaged individuals, in particular persons with disabilities, through training and employment in Singapore.
Inside the card, you will find a Sprout plantable pencil and an invitation to donate to the #HappilyEverAfter fund, raised jointly by 3Pumpkins and Geneco, who are contributing to a sustainable nation for future generations through their initiatives.
Once you've nearly used up all the lead for the sprout plantable pencil, you can plant it in a pot of soil and wait for it to sprout into a seedling - talk about returning resources back to the earth!
Each card also contains a QR code to download the free e-book.
All in all, if you find it more rewarding to give back to the community, you can also donate to the #HappilyEverAfter Fund, which helps to create a safe haven for less privileged children and youths.
Free ice cream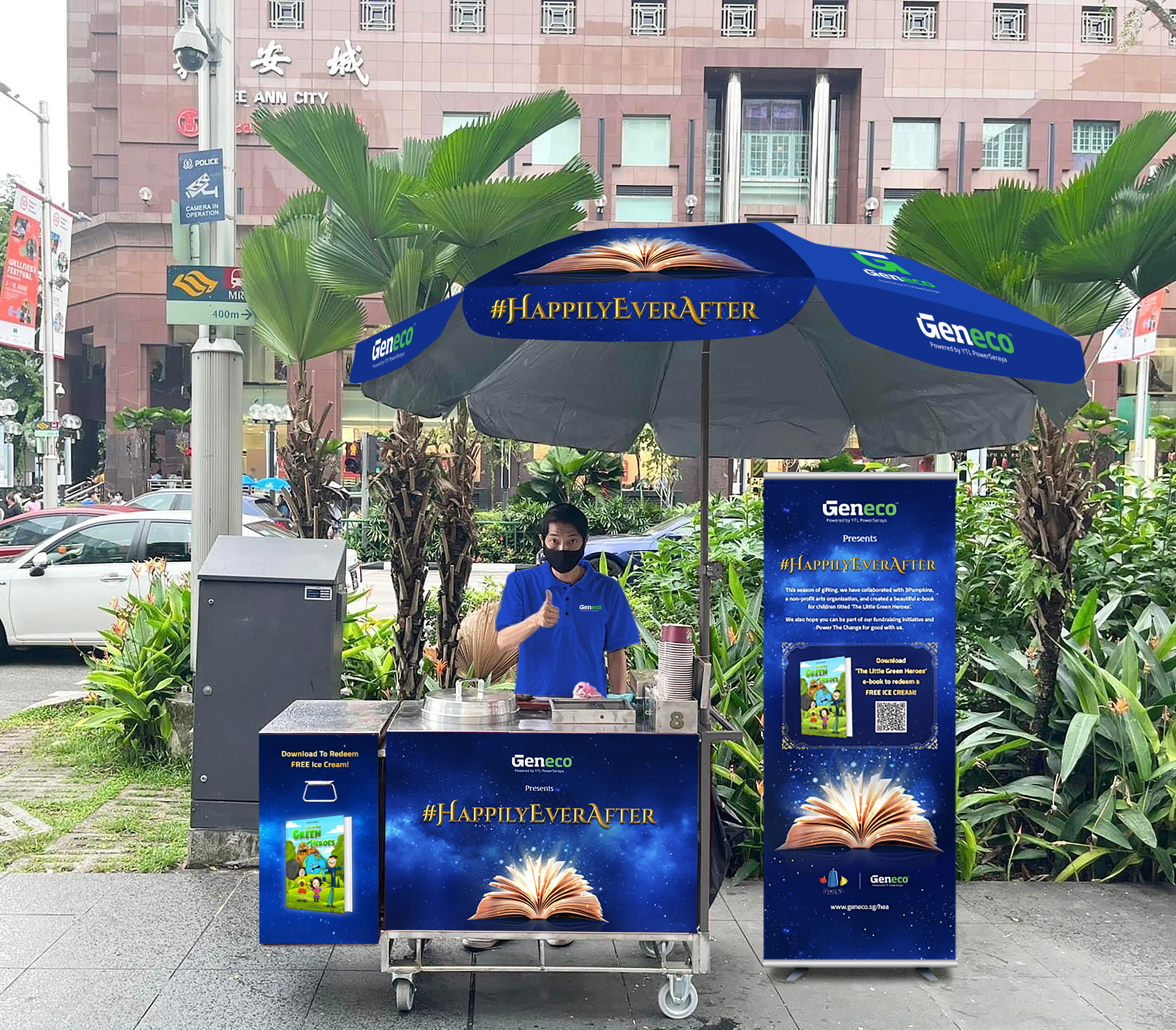 As part of Geneco's on-site activation for its #HappilyEverAfter campaign, the electricity retailer brand will be giving away 2,000 ice creams over the weekend.
To redeem the free ice cream, all you have to do is scan the QR code available on the banners present, download the e-book, and present the page.
Free Geneco's Sprout plantable pencils will also be up for grabs.
All you have to do is post a picture with the free ice cream, share about the e-book, and tag Geneco with the hashtag #HEA.
Here are more details:
Location: Outside Paragon
Dates: Dec. 9, 10, 11
Time: 4pm to 8 pm on Fridays, 1pm to 8pm on Saturdays and Sundays
Top image adapted via Line Blog & Pinterest
This sponsored piece brought to you by Geneco makes the writer think of being more sustainable.
If you like what you read, follow us on Facebook, Instagram, Twitter and Telegram to get the latest updates.