Ho Teck Seng was just 16 when an accident at work severed three of his fingers, but that didn't stop him from building a decades-long career in woodworking.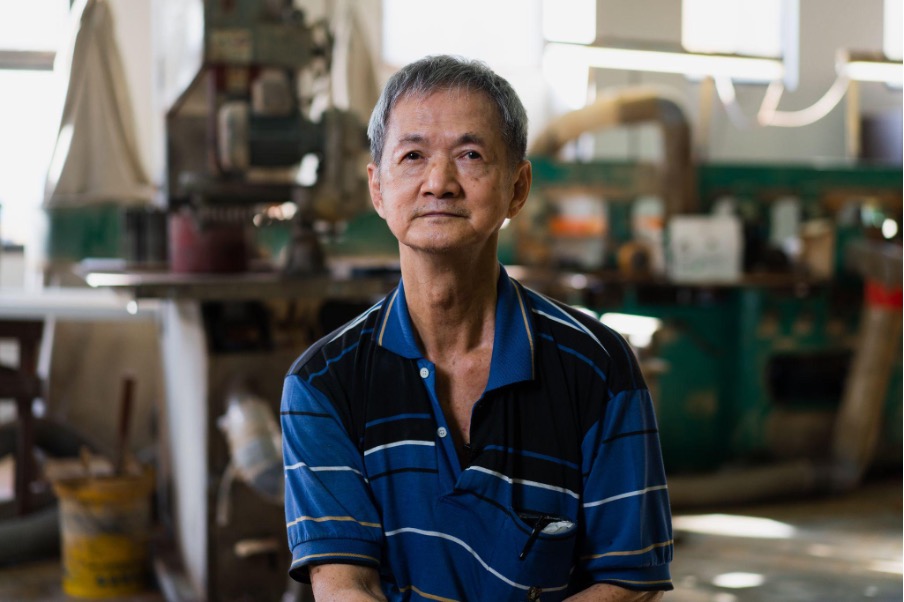 Ho, or Uncle Ho, as he's affectionately known at Calvary Carpentry, followed his dad into the business from a young age, moving to Singapore from Malaysia before completing his secondary school education.
But being a relatively inexperienced apprentice meant he was not fully aware of the dangers of woodworking.
Uncle Ho, now 76, vividly remembers trying to push a piece of timber through a band saw that rainy day when the accident occurred.
"The worker couldn't get hold of the wood so I pushed hard. It was slippery and the wood slid forward so my hand hit the slicer, cutting my fingers off," described Uncle Ho with an air of nonchalance acquired over the 60 years that have passed since that day.
Despite losing three fingers on his left hand, he bounced back quickly after just one to two months of rest, and continued to ply the trade with his father.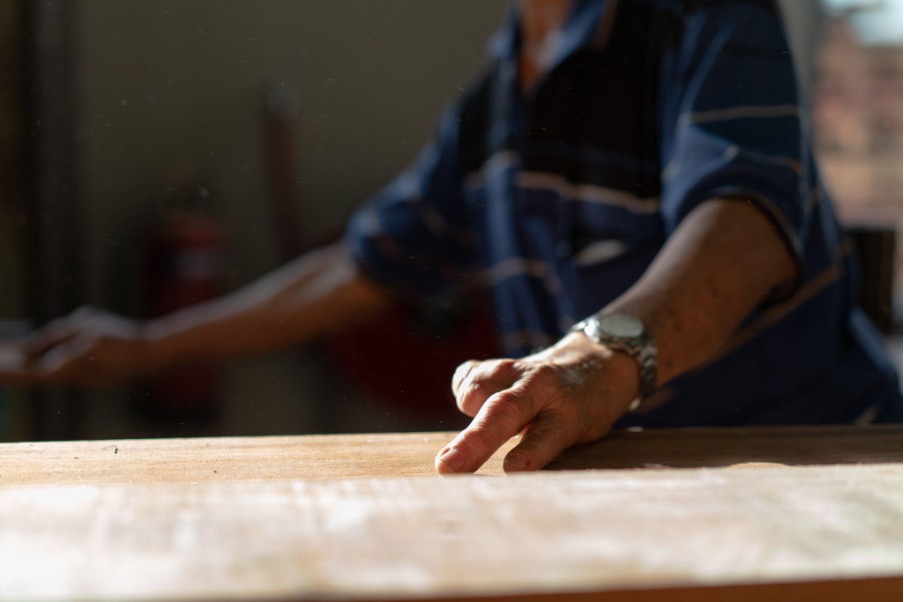 "Not having work means there's no food to eat"
Like many others of his generation, Uncle Ho's perspective on work is as a means to survival — "not having work means there's no food to eat".
And traditional woodworking is all he's ever known.
From wood cutting, Uncle Ho expanded his knowledge to wood moulding, another aspect of the industry which he has specialised in for the past 20 years.
Previously self-employed, the usually solemn but sprightly 76-year-old worked six days a week, rain or shine.
He doesn't remember ever taking leave to go on vacation.
The two month-long Covid-19 circuit breaker in 2020 was the longest enforced break that he had taken from work.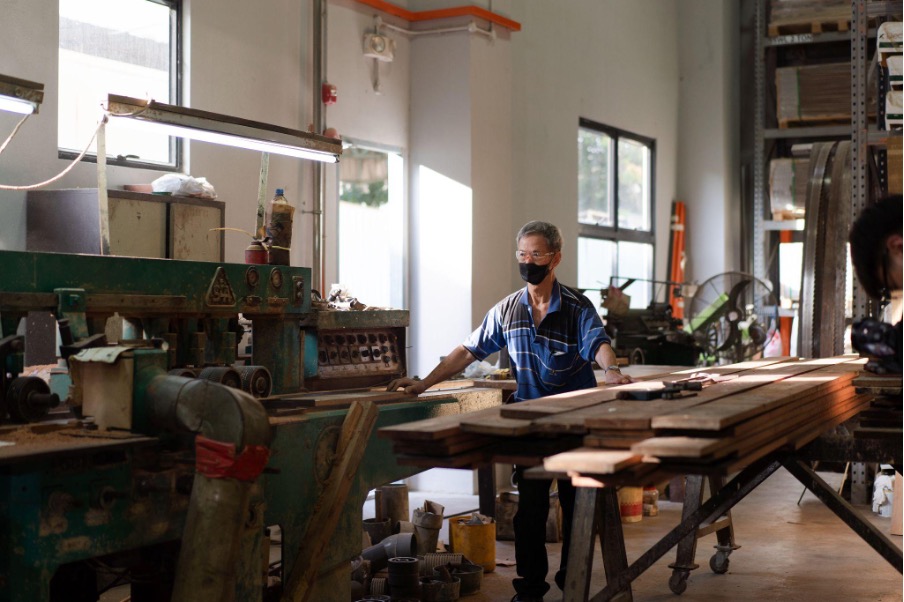 But with age catching up on him, Uncle Ho made the decision to sell all his equipment to Calvary Carpentry in late 2020 and joined the timber and woodworking company as a carpenter.
Before that, Uncle Ho had been an independent contractor engaged by Calvary on a per project basis.
There's nary a hint of regret about making the transition from boss to employee, in fact, he sees it as a well-measured step towards retirement.
Uncle Ho shared that it was difficult to run a business as a boss because he had to manage employees' salaries and there were rental fees to consider.
"I also thought about my age — don't think I have many years left. I will work until I can't anymore, then it's time for me to retire," he said matter-of-factly.
Uncle Ho's day now runs like clockwork, from waking up at 6am and getting his coffee while listening to his favourite Chinese classic songs before starting work at the factory at 8am and knocking off at 5pm.
He may downplay much of his experience and expertise, but they have not gone unnoticed by his co-workers at Calvary Carpentry, one of them being Chua Seng Chuan, a senior operations manager at the company.
"Uncle Ho is dedicated to his work. Honestly none of us here can do his job as well as he can," said Chua, who has been with Calvary for the past five years and has risen through the ranks.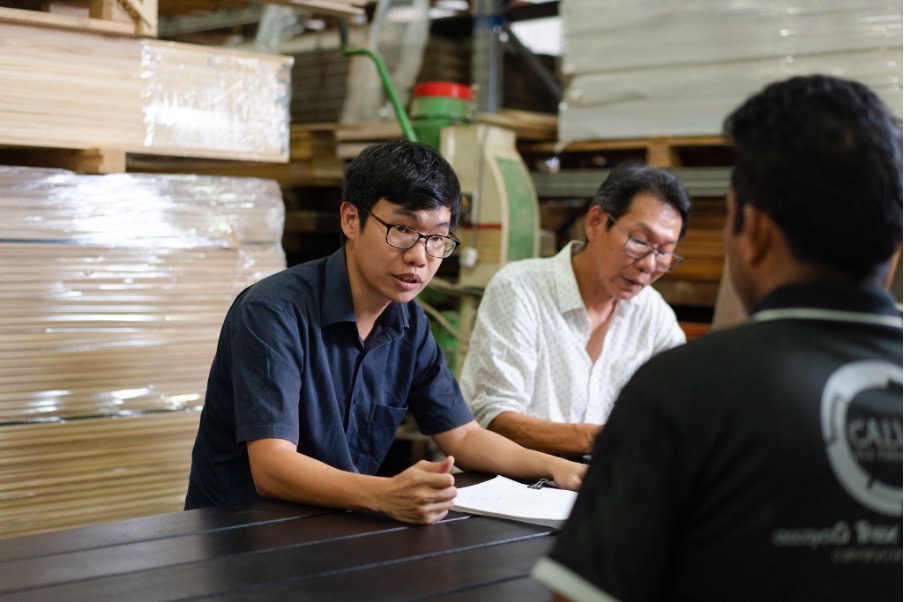 Chua had collaborated with Uncle Ho on the company's EZ Rail system, a patented design which was co-created by Chua and a colleague at the company.
The clip-on, clip-off solution allows outdoor decks to be removed individually without having to redo the entire deck.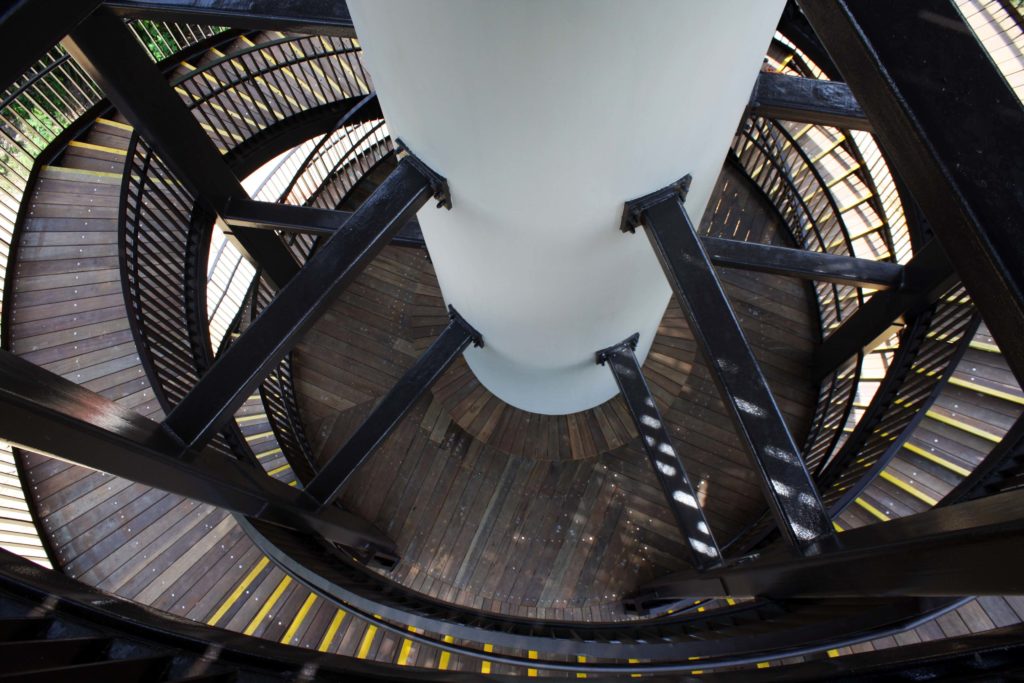 That system turns out to be one of the highlights in Chua's career at Calvary.
The advanced iterations of the design have been sold not just in Singapore but internationally.
For a look at its implementation, one simply has to take a hike to Chestnut Nature Park's observation tower where the decks are installed.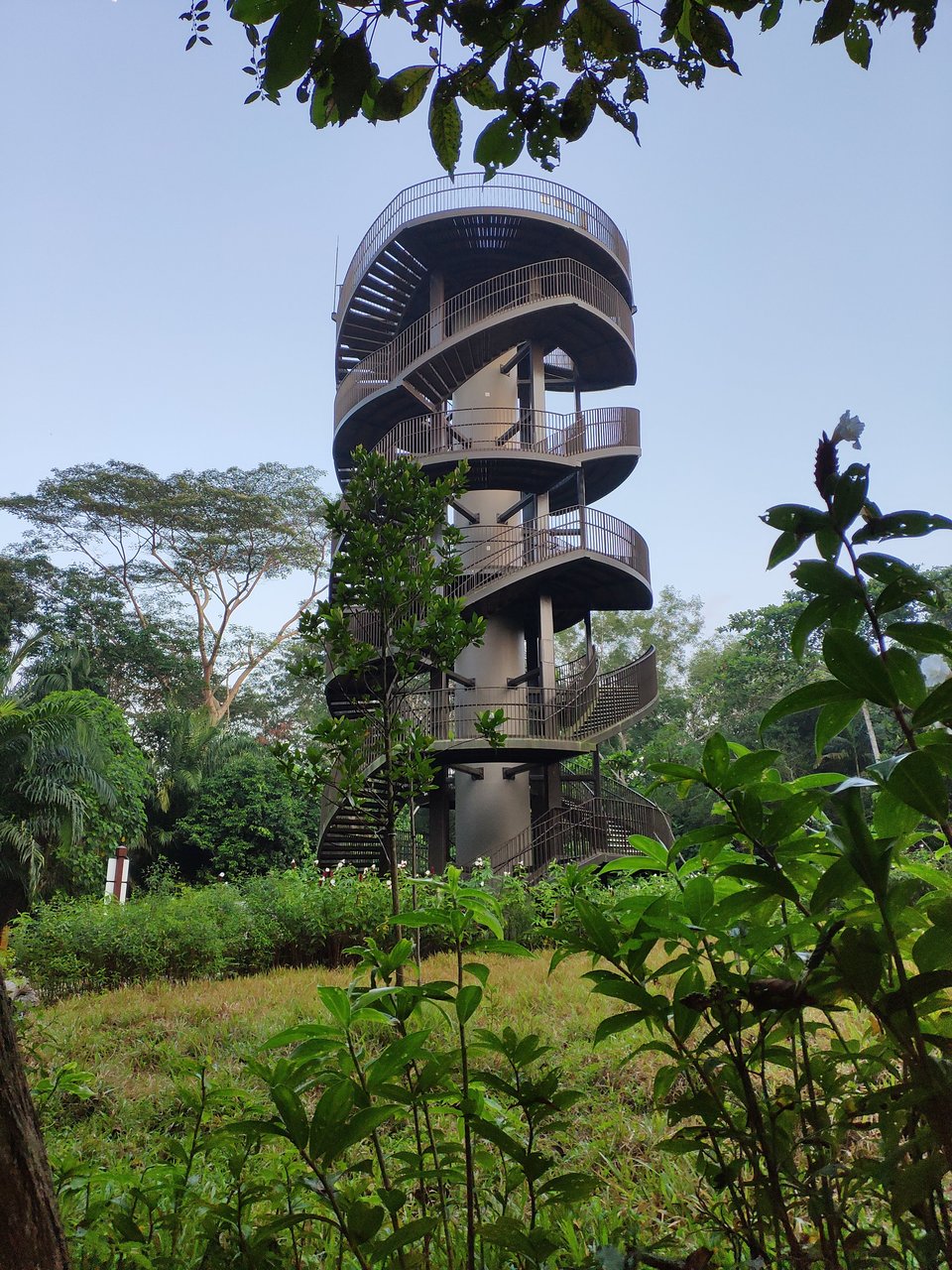 "It's quite something, to know that you made something and left a mark on the world. So that drives me," shared Chua of his journey.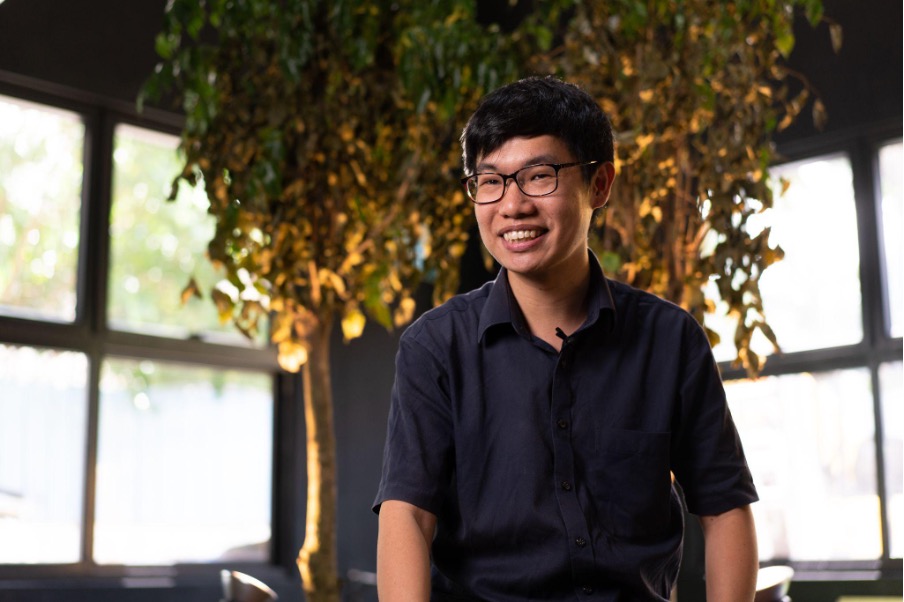 A young person in the carpentry industry
The 31-year-old is admittedly one of the rare few among his university cohort who has gone into the contractor end of the industry, after having graduated with a degree in architecture in 2017.
The perception is that as a contractor, one is simply following a set of specifications "so that it can get signed off", rather than being able to hold the creative reins.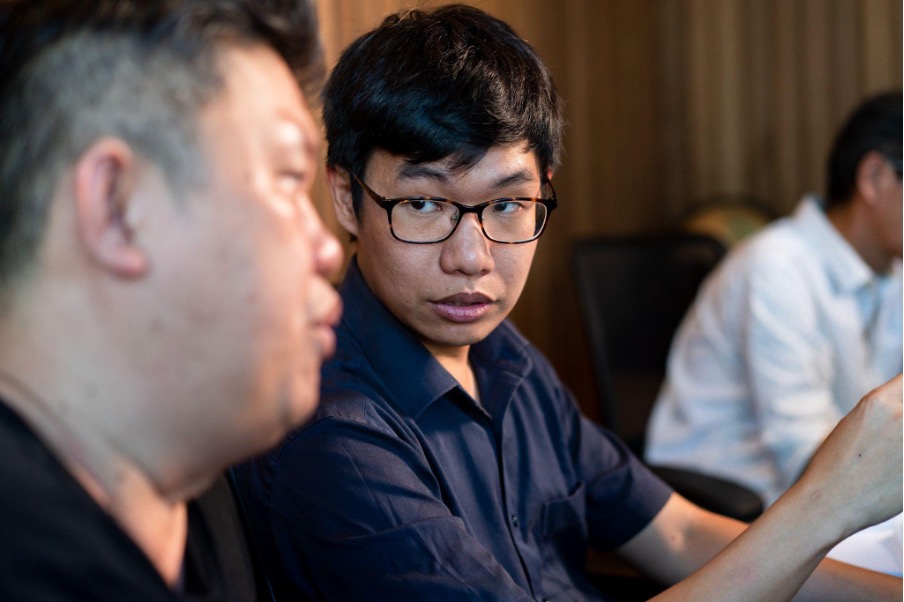 However, Chua's role at Calvary — as chief problem-solver, one might call it — checks all of his boxes when it comes to a job.
It fulfils not just his creative side but also his engineering curiosity in a field that "marries both science and art", according to Chua.
&t=3s
The greatest joy that he derives in his job by far, is in the human aspect — leading a team of dedicated co-workers to accomplish a shared goal.
"[The workplace] is not a toxic environment and though there may be conflicts, everyone knows what's important and work together to solve it," shared Chua.
Giving an analogy of how the word 'architect' (建筑师) in Chinese translates to 'teacher of design', he shared: "An architect's job is to educate and communicate on how best to build an idea to allow it to become reality.
"So to do that, he communicates with his drawings, educates them with his words and leads by example."
Working with colleagues such as Uncle Ho, whom he calls a "master of his craft", has been an eye-opening experience as well for Chua.
"He educated me, showed me [how his machinery works] and he was very patient with me," shared Chua of their interactions, which also resulted in improvements being made to the hardware in order to achieve the desired outcome.
Collaboration between the 76 & 31-year old
Despite having the most experience out of almost everyone in the company, Uncle Ho believes in collaborative effort rather than one-upmanship, especially when it comes to working with younger albeit more senior colleagues like Chua, whom he addresses formally as "Mr Chua".
"My decision might not necessarily be the right one," he demurred, stating that there is always room for discussion "in order to achieve the best result".
So what happens if Uncle Ho should hang up his tools for good one day?
"Then we're screwed," joked Chua, before going on to share that while the company could always bring in new computer-controlled machinery, "it won't be the same".
"The older machines and his way of doing things are very reliable, and very efficient," said Chua of the practised way in which Uncle Ho works his equipment "like a piano".
"I don't think we can ever replace them. He's a pretty unique individual."
"Which job is not tough?" said Uncle Ho of how he looks upon his trade. But he believes it's a job shunned by younger and more educated Singaporeans due to perceptions that it's physically laborious and low-paying.
But through the years, Uncle Ho's dedication to the job has not wavered, and his skills have made him a vital part of Calvary's growth.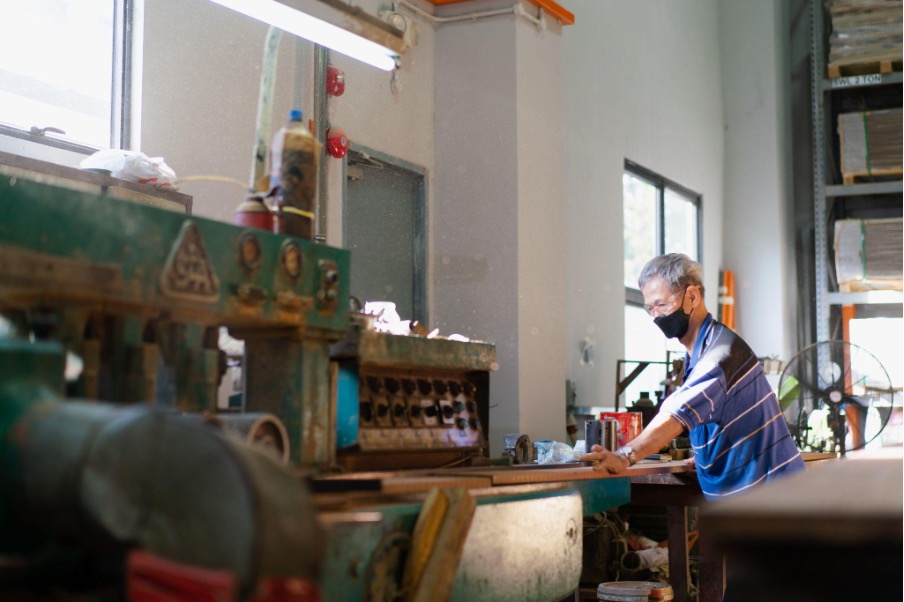 "As long as I have the right tool, there's nothing that cannot be done," said Uncle Ho of the timbre-moulding work that he's in charge of these days.
Ever the workhorse, he doesn't choose to enjoy his sunset years by kicking back and relaxing at home.
"I'm taking each day as it comes. Even if I retire, I have nowhere to go and nothing to do," he said simply.
This article is sponsored by Calvary Carpentry.
All images by Calvary Carpentry.
If you like what you read, follow us on Facebook, Instagram, Twitter and Telegram to get the latest updates.