When Balasubramaniam "Bala" V. met Danielle Pang in the early '90s, race didn't play any role in him deciding whether or not to pursue a relationship with the then-23-year-old Chinese woman.
"Race was never an issue for us," said Bala, adding "we don't see any difference".
He expressed amazement at the recent public incidents over race in Singapore, "I think people are too free lah, they don't know what to do."
It's surprising to know that the couple were former primary school classmates and secondary schoolmates, but only got together romantically when they were colleagues at Sheraton Towers hotel.
"I was working as a banquet waiter, she was working in the Chinese restaurant," shared Bala, who's the more vocal one of the pair.
There were some naysayers however, who doubted Bala and Pang's relationship when they got together, such as Bala's friend who told him point blank that "I don't think (this relationship) will last very long".
Bala explained that it was because it was very uncommon to be in an interracial relationship at the time.
His friends also knew that Bala's mother was a very strict and religious woman, and they couldn't fathom how he would have anything in common with a Chinese woman.
Bala's mother -- and family -- turned out to be very supportive of the relationship. But more on that later.
Close to three decades later, Bala and Pang, both 52, are still going strong.
The couple shared that there were no sparks when they first met.
Instead, if you believe Bala, he was simply focused on settling down and starting a family, with his mind set on buying a $80,000 three-room HDB flat in Marsiling that he had been eyeing.
The most romantic thing Bala recalls doing for his wife was travelling to Bukit Timah Food Centre on a hot day just to get her a cup of her favourite sugar cane drink.
"I'm not so romantic, actually I was more focused on the house," said Bala, to laughs from the rest of his family listening in.
He added: "When money (or property) is there, love will automatically come, that's what I thought".
With his deadpan sense of humour which he flexes indiscriminately, it is often hard to tell if Bala is being serious.
But while he and Pang are not outwardly expressive towards each other, there is a sense that their love is deeply rooted through shared experience and a quiet acceptance of each other's quirks through the years.
Secret sauce to their marriage
So what's the secret sauce to their long-lasting marriage? Trust is definitely one of them.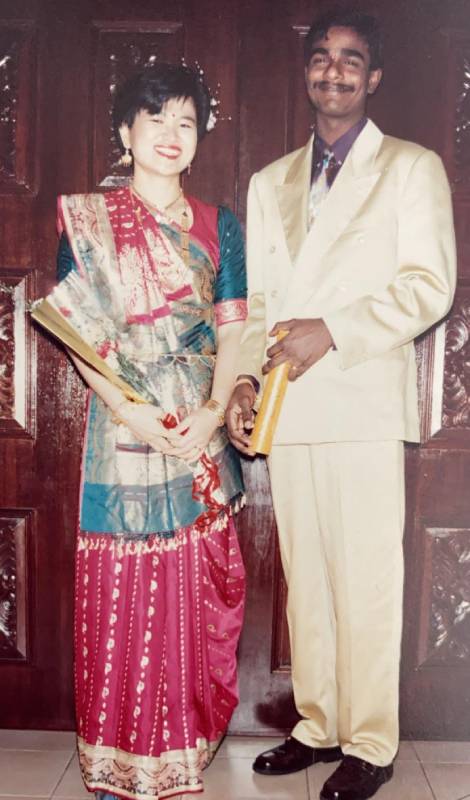 "Anything that I do she won't object, even if it's risky," said Bala, who together with Pang, have been running Kedai Bala, a mom-and-pop grocery store, for over 20 years.
Even when there were incidents where business deals fell through or when Bala was cheated by "conmen", they didn't place any blame on each other.
"It's been decades and we don't have any problems," added Bala, noting of course that as with any marriage, there are the occasional hiccups that every couple goes through.
Shared Pang: "We have this unwritten clause that we can agree to disagree. Even when we disagree on something, when we go to sleep at the end of the day, we iron it out. We don't carry it over and then it becomes toxic."
While they couldn't agree on who wears the pants in the relationship, their son Movin, who joined us during the interview, gave his own take based on observation: "The secret to a successful marriage is to just let the wife take charge; the guy should put away the ego."
Speaking fluent Tamil
Despite their different cultural backgrounds, both of them managed to assimilate quickly into each other's families early on.
Pang even picked up Tamil, in part to connect with her mother-in-law on a deeper level.
She's gotten so good at the language that she's now able to hold a conversation over the phone with their suppliers in India.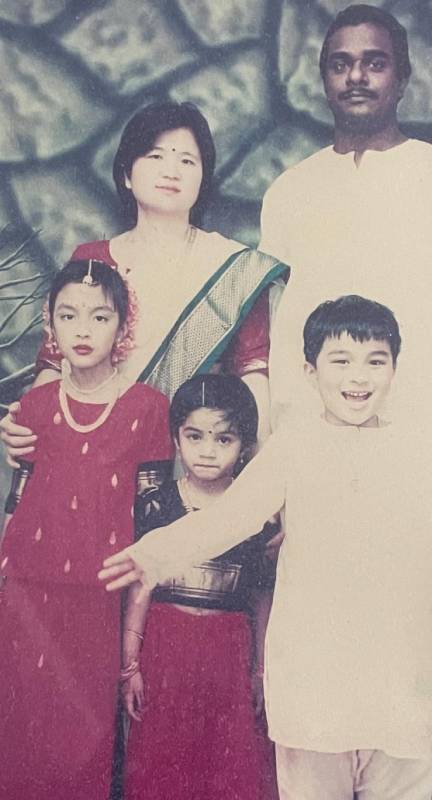 It is obvious that Pang has tremendous respect for Bala's mum, as she was the one who helped to take care of the couple's three children when Bala and Pang were busy with the business.
But her love for her in-laws runs deeper.
She shared that she was overwhelmed by the warm welcome she received from Bala's entire family, which basically sealed the deal for Pang in her decision to marry him.
She said rather matter-of-factly: "Actually his family members attracted me more than him. His mother, brothers and sisters were all very supportive and I saw the goodness in them".
She added that the "pillar to our relationship" is the encouragement that they received from both their mums.
Coming from a large family (Bala has six siblings while she has eight) with both their dads not being around, Pang deduced that their similar background was another reason why they were drawn to each other.
The pair settled down within six months of dating and got their flat within two weeks of registering their marriage in 1992, when they both were 23.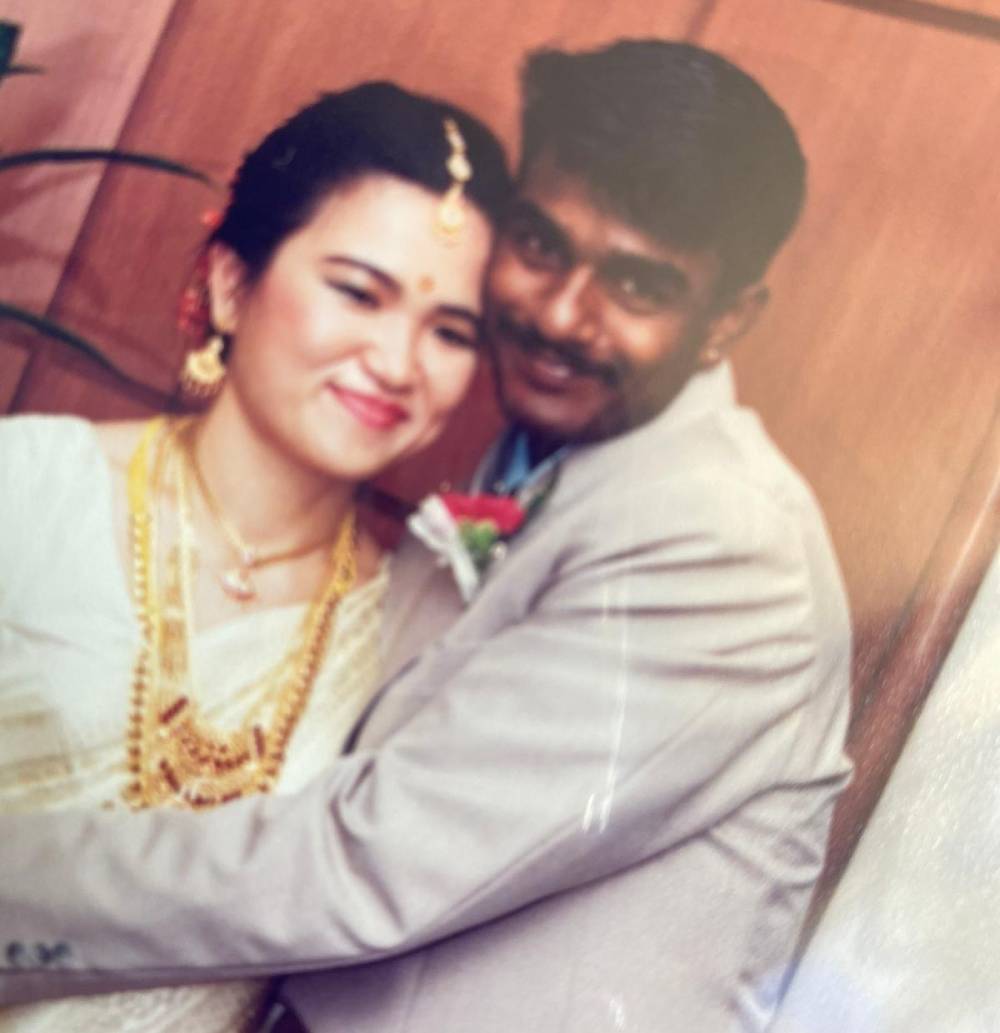 Their wedding was held in two parts — an Indian temple ceremony in the day and a Chinese banquet at night — and Pang remembered being touched that many guests actually turned up for both ceremonies.
Raising an interracial family
But with the different shifts that they were working then, Bala's mother became worried that it would negatively impact their marriage.
"We both were not seeing each other even though we stayed together," said Bala, which eventually prompted him to start his own grocery business in 1994.
When it came to their three children, Bala, who's Hindu and Pang, a free-thinker, didn't place any restrictions on them on following a particular culture or religion.
In fact, Movin said that he and his sisters — Jamunarani, 27, and Yuvaarani, 24 — were frequently dropped off at church every Sunday for classes.
They were exposed to different religions and places of worship from a young age as well.
Of his inter-racial background, the 26-year-old didn't have any bad experiences to share, but reflected that "it's a good conversation starter, and it makes it easy to make friends."
Movin himself is married to a Chinese, and the couple are expecting their first child soon.
From his parents' experience, he has learnt that give and take is important in every marriage, just as it is important to support your partner no matter what.
"Kids nowadays have this misguided notion that you have to find 'the one' then only you can marry, but I don't think it's always true," he added.
And when it comes to being in a relationship with someone of a different race or ethnicity, Movin believes that "nothing that anyone says should deter you".
"If you've already made a conscious decision to be together, then go with it. No one can say anything for you to rethink your relationship."
When it comes to the conversations about race that have sparked off recently from viral incidents, Movin rationalised that they were triggered due to the recent pressures and stress of the pandemic.
"If you were to put everyone in a crowded room, somebody is going to say something out of discomfort."
However, the family hopes Singaporeans can move on from these recent triggering incidents.
"We should identify ourselves as Singaporeans and work together as a community to get through this tough time, anything else is just noise," said Movin.
Bala couldn't help but joke: "Bring back the courtesy campaign, remember (the tagline), 'courtesy is a way of life'."
Surviving through the crises
The family have had to weather several storms in their entrepreneurial journey, such as during the Asian Financial Crisis in 1997 and during the SARS period.
But instead of giving up, the couple doubled down and took out a bank loan in order to open a bigger space at Vista Point in Woodlands where their shop currently stands.
Reasoned Pang of their strategy: "Sometimes you have to move a few steps backwards so you have the leeway to jump a bit farther."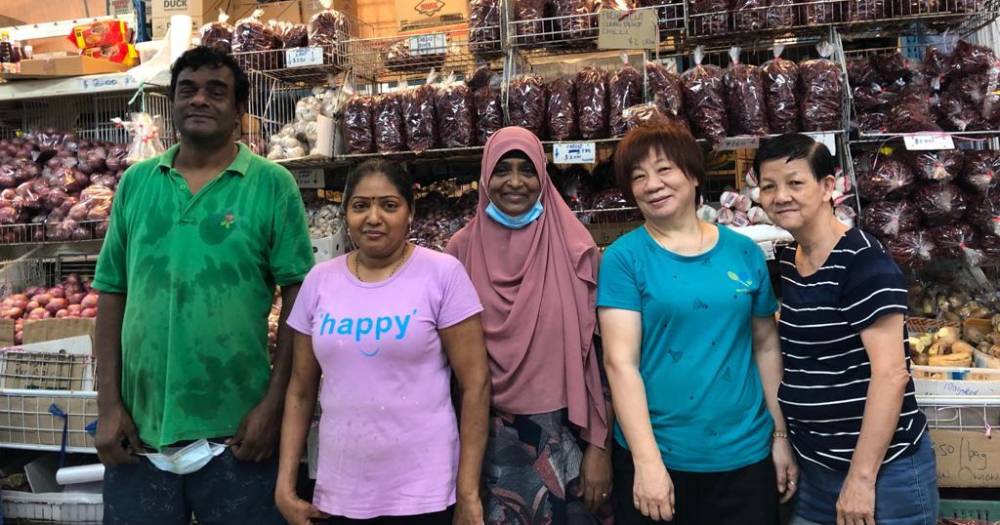 "In times of crisis, I do see opportunities," shared Pang, one of them being that their son Movin, who was working in the aviation industry before the pandemic, has been roped in to help in the family business.
Pang has a more philosophical take to the challenges: "This could be life's way of making us change, because we were stagnant for a while. Life just has its way of making things change for you if you don't change."
Giving away 100 packets of briyani
Both recognise that it's due to their loyal customers — some of whom they've seen grow up — that they are still surviving, which gives them the motivation to continue working.
"Those whom we saw as kids are now coming to us as parents, it really gladdens our hearts," shared Pang. Added Bala: "Sometimes I do think of retiring, but when I see these types of customers I just say 'aiyah, let's go lah'."
To express their gratitude to the community, the couple have an annual tradition where they'll hand out 100 packets of biryani in one day during Hari Raya.
Due to the pandemic, they've had to scale back on the event this year and last, with fewer packets of food given out over several days.
But Bala gets uncomfortable when we mention the term "charity" — which to him, gives the impression of "the rich giving to the poor".
He sees it more as his contribution to the "kampung spirit" and as a form of gratitude to their customers.
"During joyous occasions or when we have a surplus we don't mind sharing them with our loyal customers," Pang explained.
Speaking on behalf of his parents, Movin added: "Where they're coming from is that we must be thankful. If everyone gives, it will certainly come back to you."
This article is in support of #SGTogether and is brought to you by the Ministry of Culture, Community and Youth (MCCY).
If you like what you read, follow us on Facebook, Instagram, Twitter and Telegram to get the latest updates.