Those who bring their work laptops home on a regular basis would know the joy of travelling without the added encumbrance every once in a while.
It's a bit of a throwback to the liberating feeling of not needing to lug your laptop everywhere once the holidays roll around, back in your student days.
There's just one problem, which is that the undercurrent of anxiety that comes from knowing a work-related crisis situation will probably crop up when you are least prepared.
Thus, having your laptop with you at all times is probably the only way to keep this cosmic conspiracy at bay.
Here's why the Dynabook* Portégé X30L-G deserves some serious consideration, whether you're someone who's had to draft a long email (or worse - edit a spreadsheet) on your phone, or if you just happen to carry your laptop around a lot.
(*Dynabook is a brand that is both new and established, because it was formerly known as Toshiba, up till a rebranding exercise was done in 2019.)
837 grams
For starters, Dynabook says that the laptop weighs 870 grams.
The unit we received, however, weighed just 837 grams.
Its featherweight quality is the first thing that strikes you when you get your hands on it, which is why this is something you need to experience for yourself in order to believe it.
Taking it out of the box, my immediate reaction was to ask the colleagues around me to have a feel of it as well, just to make sure that it wasn't my imagination.
Then, I almost had to put aside some degree of disbelief to hit the power button - there was, after all, good reason to suspect that a laptop this light might not have its battery installed.
The first reaction from most people who picked it up for the first time was surprise, because of how lightweight it was, considering the fact that it packs a 13.3" display.
It's not actually lighter than a physical notebook of around the same size, but it really does come close.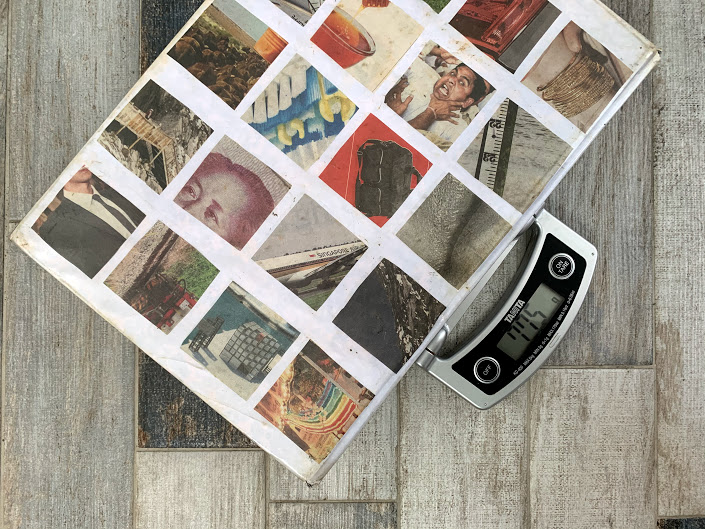 How is it so impossibly light?
In short, magnesium alloy.
This is the same material used in car seats, luggage, and cameras, as it's both light and strong.
Compared to the aluminium alloy usually found on laptops, magnesium alloy is up to one-third lighter, according to A*STAR researchers.
It also doesn't dent as easily, which perhaps explains why the Portégé X30L-G has been tested with an equipment testing standard used by the US military, known as MIL-STD-810G.
Appearance
The Portégé X30L-G comes in an attractive dark blue colour which Dynabook calls Onyx Blue. It's got a smooth matte finish, instead of the slick metal exterior one will find on many laptops these days.
While it's been designed as a compact business laptop, its design certainly isn't austere.
Key measurements:
Weight: 0.837kg

Height: 17.9mm

Width: 308.8mm

Depth: 211.6mm
All the right ports in all the right places
It's probably fair to say that ever since phones stopped coming with headphone jacks, ports have become an oft-overlooked feature in electronic devices.
You might be surprised to see that the entire contents of the box consisted of the laptop, its charger, and the necessary protective cardboard, nothing more.
Which is perhaps a sign that the laptop is truly all-in-one, in a tidy package.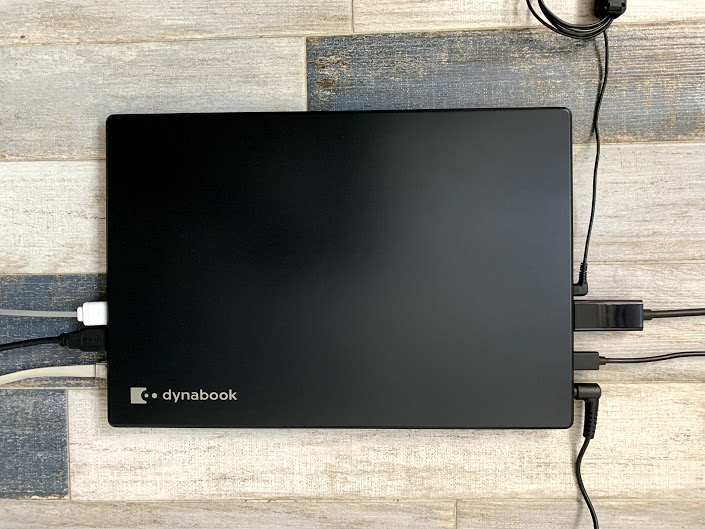 With all the ports provided, you can finally say goodbye (and good riddance) to dongles.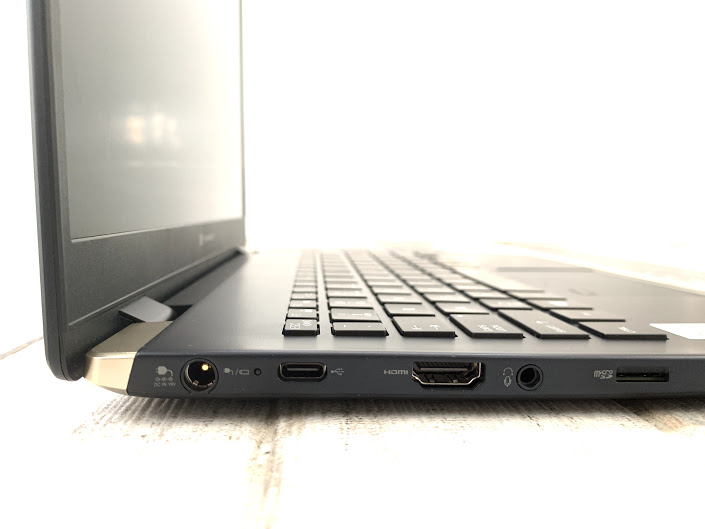 On the left side of the laptop is where you'd plug in the charger, a USB-C cable, a HDMI cable, earphones, and a micro-SD card.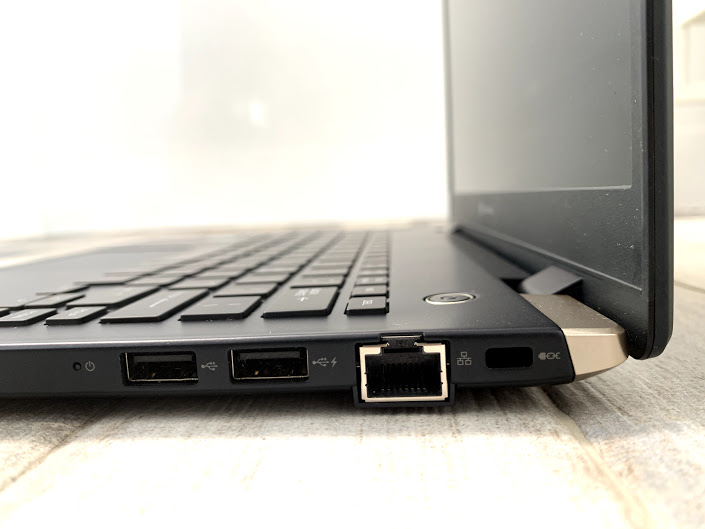 On the right side, there's a slot for a laptop lock, an ethernet cable, two USB-3.0 ports, and an LED indicating whether the device is switched on or off.
Besides no longer needing dongles, you can confidently leave the charger behind as well for shorter outings, as the battery life of the Portégé X30L-G is certainly respectable, with an estimated maximum of 14.5 hours of usage on a single charge.
There's also a fast-charging feature which allows you to get four hours of use out of a 30-minute charge.
Glare-free, energy-efficient display
If you spend a lot of time looking at screens every day, you'll definitely appreciate the matte finish on the Portégé X30L-G 13.3-inch screen, which cuts glare and reflection.
There's also the fact that Dynabook uses a new type of display technology called IGZO (which stands for "indium gallium zinc oxide"), instead of the previous tech, which uses amorphous silicon (aSi) instead.
IGZO is said to be 80%-90% more energy efficient, which in turn makes for better battery life.
This explains why the laptop's battery is only rated at 2700mAh, which is close to what some larger tablets pack these days, which of course, helps to bring down the weight.
Technology aside, the Portégé X30L-G's 1920x1080 Full High-Definition display is capable of pumping out 470 nits of brightness, which means that the screen is still able to produce crisp images, even under bright light.
This means that you could -- in theory -- use it at the beach or by the pool, if you'd like.
Performance
The Portégé X30L-G is certainly not a lightweight when it comes to performance.
It's not been designed for video editing or gaming, but will do perfectly fine for office applications, multi-tasking, and browsing with multiple tabs open, thanks to the 8GB of onboard RAM.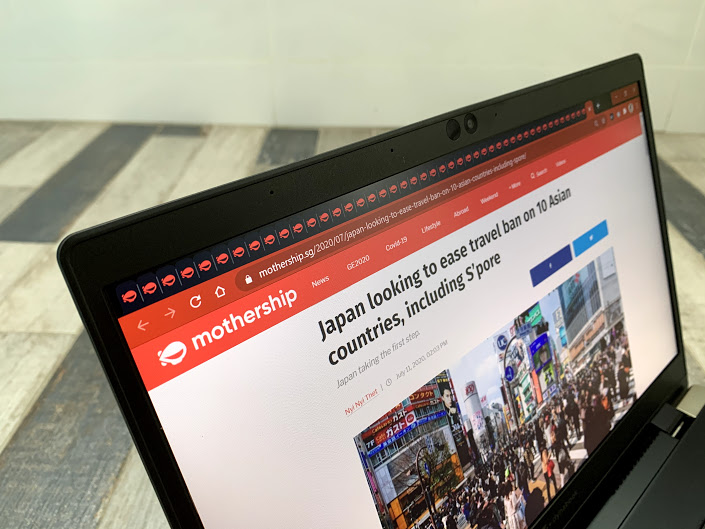 You'll also be able to decide how much power you need, with the following customisable specifications available:
Processor: Intel Core i5 / Intel Core i7 (different variants available)

RAM: 8GB onboard RAM, expandable up to a whopping 24GB

Storage: 256GB/ 512GB and 1TB+Optane 32GB PCIe NVMe Solid State Drives (SSD)
Buying it
The Dynabook X30L is available in the Singapore market now. Find out more on Dynabook's website (asia.dynabook.com), or contact sales staff via email at [email protected]
This sponsored article by Dynabook allowed the writer to find out the weight of many everyday items.
If you like what you read, follow us on Facebook, Instagram, Twitter and Telegram to get the latest updates.