Trying to make a career out of being an artist always raises a sceptical brow. 
I studied art for six years, but good old practical me never thought it was something that could provide financial stability.
It's rare to hear of young people in Singapore making a living through art, especially when it could be said that most walk down the well-trodden path of office jobs, believed to be more lucrative and stable.
Which was why my interest was piqued when I heard of the opportunity to interview someone who was not only a young artist, but using his art to do some good in the community as a social entrepreneur.
Young man accumulating a list of achievements
Heading down to the location of the interview, the Enabling Village at Lengkok Bahru, I was surprised to find a sprawling, modern-looking compound five minutes away from Redhill MRT station.
Ramps and railings were aplenty inside the compound, and passing by several rooms gave us a glimpse of several people in wheelchairs and personal mobility aids using the computers.
Inside a cozy room furnished in warm wood and soft lights, we meet Aminur Rasyid Mohammad Anwar—or Amin for short—the man behind Junior Art Lab.
As the director, Amin teaches digital literacy skills and art to disadvantaged children from over 30 organisations and non profits such as autism-focused Club Rainbow and Thye Hua Kwan Moral Charities, mainly using the Microsoft Powerpoint software. 
Young beneficiaries typically aged between six and nine get to learn about basic ICT (information and communications technology) skills with laptops provided.
For some, this could even be their first time using a computer.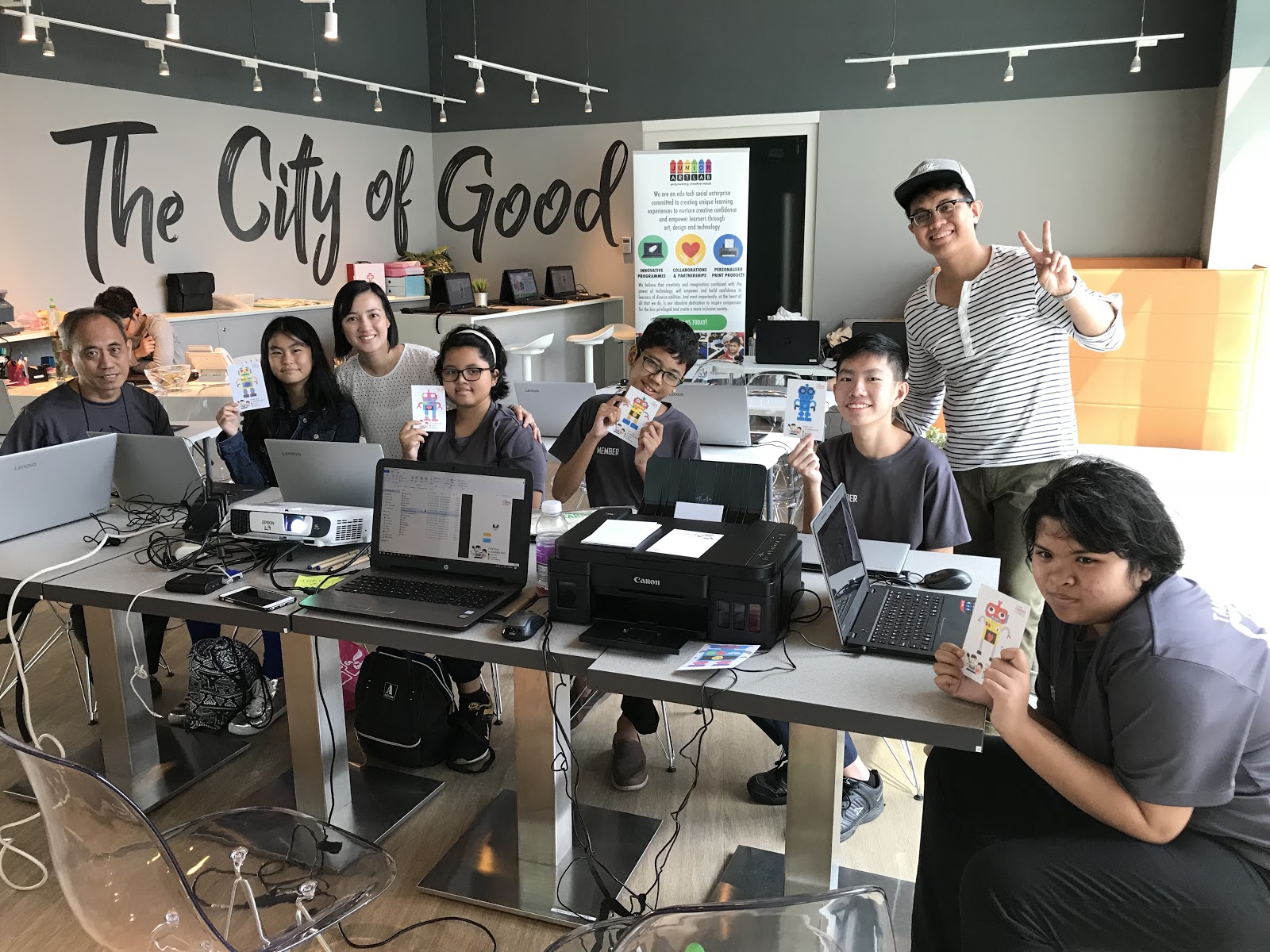 To do all this though, Amin had to acquire the necessary business and entrepreneurial skills through Singapore International Foundation (SIF)'s Young Social Entrepreneurs (YSE) programme, which he managed to do so with much gusto.
From this, Junior Art Lab was one of seven teams which made it through the programme to win a grant of up to S$20,000 to properly scale up his idea and kickstart social change.
style="font-weight: 400;">one of five winners
of the annual
"Silent Heroes" award
given out by the Civilians Association of Singapore, which aims to recognise ordinary, everyday Singaporeans for their silent contributions to society.
This list of achievements are made even more impressive considering that Amin is only 30.
I was surprised to see that Amin was a jovial and smiling man in owlish glasses—perhaps I had been expecting someone older and more world-weary. 
Persevered despite lack of resources
Amin had grown up with an intense love for art, he bashfully told us, so much so that he had wanted to attend art school.
"I didn't do well academically, I didn't have much interest in studies. But one of the subjects back then which I did enjoy was definitely art. It was something that I felt I could be comfortable in."
He recalled how his teachers spotted the doodles in his textbooks and observed how he liked to help other students during art classes. 
Recognising his budding interest in the subject, they would go on to assign him duties such as decorating the class noticeboard, something which would boost his confidence and make him realise, "Eh, I can actually be good at something."
However, his family was unable to afford sending him to an art school. Additionally, Amin candidly shared that his O-level results weren't enough to get him to said school.
Instead, Amin went on to study engineering at the Institute of Technical Education (ITE).
His interest in the arts did not wither though, and he shared that in the years following National Service, fumbling around and unsure of what he wanted to do in life, he had even applied to the Nanyang Academy of Fine Arts.
Unfortunately, (or fortunately as you might see it), Powerpoint "was the only resource" available to him, as he was unable to afford fancier software like the Adobe suite.
He then started experimenting with Powerpoint in his own free time, honing his proficiency in the application over seven to eight years.
All that practice paid off, he said: "It built my confidence, and I was hoping to share it with as many people as possible, hoping that it could spark a lil' something in them."
Learning how to develop a sustainable business
Well aware of where his interest and direction in life lay, Amin finally got the push he needed to embark on this "unconventional route" from his art teacher sister, whom he referred to as an "inspiration".

She had been the one who sparked the idea of setting up a school to teach children art.

And after months of saving up, he finally quit his job as a Delta Airlines ground staff for a quarter-life mid-career switch. 

And thus in 2016, Junior Art Lab was born.

Amin revealed he had originally started off as a small start-up tucked away in secluded Jalan Pelikat, Kovan, with only about three or four students from low-income families.

Amin admitted that he was a greenhorn back then, and had no idea how to go about running a business. 

"I kind of had a sense of what I wanted to do, but I didn't know anyone who ran a business of their own, so I was quite lost at that point in time," he said. 

Which was how the SIF came into the picture. 

Joining SIF's YSE programme in 2018, Amin was matched up with mentors, industry professionals to learn how to manage and run a social enterprise. The programme also includes networking and study visits, all in an

style="font-weight: 400;">intensive eight months