Trying to make a career out of being an artist always raises a sceptical brow. 
I studied art for six years, but good old practical me never thought it was something that could provide financial stability.
It's rare to hear of young people in Singapore making a living through art, especially when it could be said that most walk down the well-trodden path of office jobs, believed to be more lucrative and stable.
Which was why my interest was piqued when I heard of the opportunity to interview someone who was not only a young artist, but using his art to do some good in the community as a social entrepreneur.
Young man accumulating a list of achievements
Heading down to the location of the interview, the Enabling Village at Lengkok Bahru, I was surprised to find a sprawling, modern-looking compound five minutes away from Redhill MRT station.
Ramps and railings were aplenty inside the compound, and passing by several rooms gave us a glimpse of several people in wheelchairs and personal mobility aids using the computers.
Inside a cozy room furnished in warm wood and soft lights, we meet Aminur Rasyid Mohammad Anwar—or Amin for short—the man behind Junior Art Lab.
As the director, Amin teaches digital literacy skills and art to disadvantaged children from over 30 organisations and non profits such as autism-focused Club Rainbow and Thye Hua Kwan Moral Charities, mainly using the Microsoft Powerpoint software. 
Young beneficiaries typically aged between six and nine get to learn about basic ICT (information and communications technology) skills with laptops provided.
For some, this could even be their first time using a computer.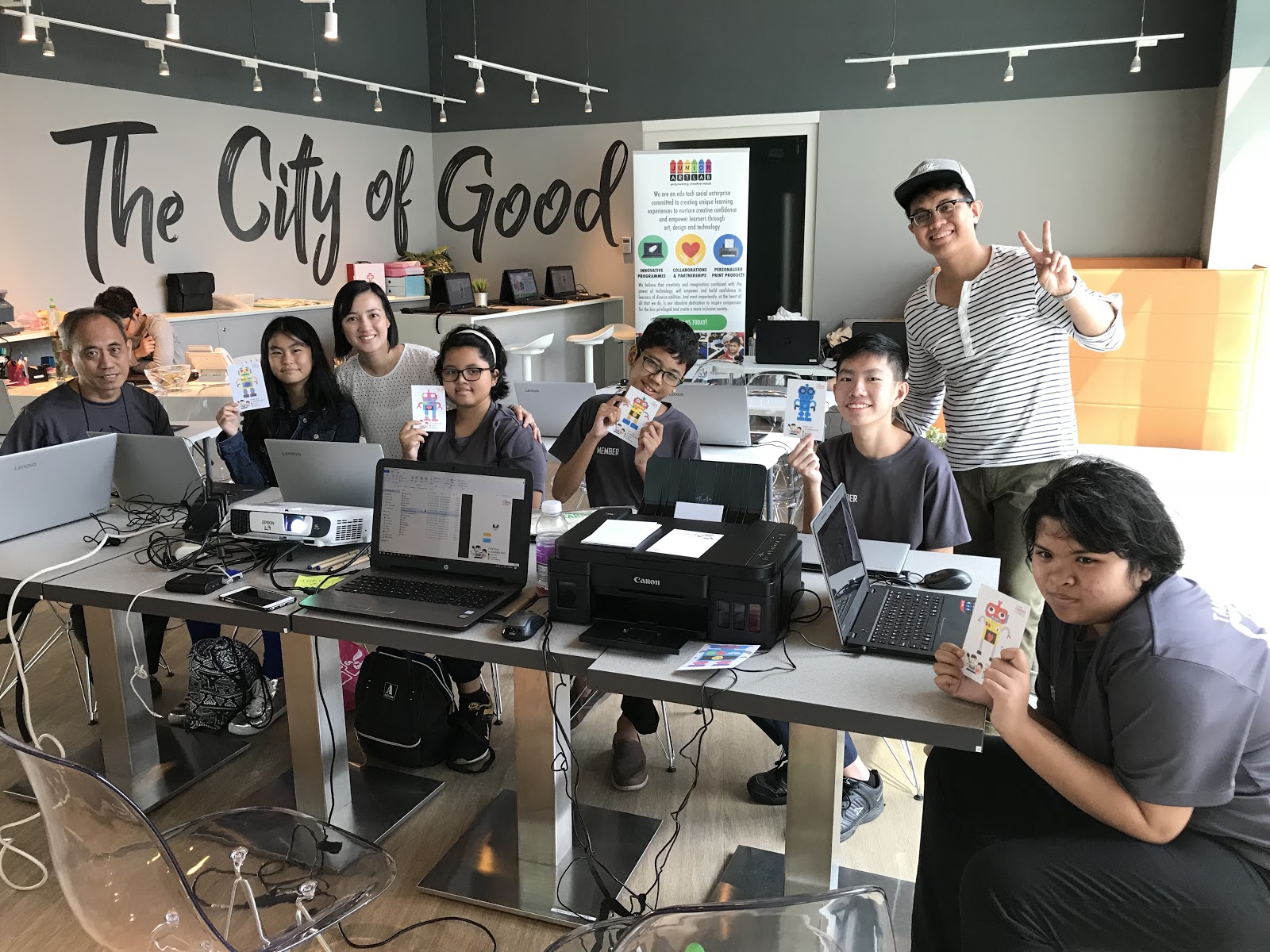 To do all this though, Amin had to acquire the necessary business and entrepreneurial skills through Singapore International Foundation (SIF)'s Young Social Entrepreneurs (YSE) programme, which he managed to do so with much gusto.
From this, Junior Art Lab was one of seven teams which made it through the programme to win a grant of up to S$20,000 to properly scale up his idea and kickstart social change.
Recently, he was also one of five winners of the annual "Silent Heroes" award given out by the Civilians Association of Singapore, which aims to recognise ordinary, everyday Singaporeans for their silent contributions to society.
This list of achievements are made even more impressive considering that Amin is only 30.
I was surprised to see that Amin was a jovial and smiling man in owlish glasses—perhaps I had been expecting someone older and more world-weary. 
Persevered despite lack of resources
Amin had grown up with an intense love for art, he bashfully told us, so much so that he had wanted to attend art school.
"I didn't do well academically, I didn't have much interest in studies. But one of the subjects back then which I did enjoy was definitely art. It was something that I felt I could be comfortable in."
He recalled how his teachers spotted the doodles in his textbooks and observed how he liked to help other students during art classes. 
Recognising his budding interest in the subject, they would go on to assign him duties such as decorating the class noticeboard, something which would boost his confidence and make him realise, "Eh, I can actually be good at something."
However, his family was unable to afford sending him to an art school. Additionally, Amin candidly shared that his O-level results weren't enough to get him to said school.
Instead, Amin went on to study engineering at the Institute of Technical Education (ITE).
His interest in the arts did not wither though, and he shared that in the years following National Service, fumbling around and unsure of what he wanted to do in life, he had even applied to the Nanyang Academy of Fine Arts.
Unfortunately, (or fortunately as you might see it), Powerpoint "was the only resource" available to him, as he was unable to afford fancier software like the Adobe suite.
He then started experimenting with Powerpoint in his own free time, honing his proficiency in the application over seven to eight years.
All that practice paid off, he said: "It built my confidence, and I was hoping to share it with as many people as possible, hoping that it could spark a lil' something in them."
Learning how to develop a sustainable business
Well aware of where his interest and direction in life lay, Amin finally got the push he needed to embark on this "unconventional route" from his art teacher sister, whom he referred to as an "inspiration".
She had been the one who sparked the idea of setting up a school to teach children art.
And after months of saving up, he finally quit his job as a Delta Airlines ground staff for a quarter-life mid-career switch. 
And thus in 2016, Junior Art Lab was born.
Amin revealed he had originally started off as a small start-up tucked away in secluded Jalan Pelikat, Kovan, with only about three or four students from low-income families.
Amin admitted that he was a greenhorn back then, and had no idea how to go about running a business. 
"I kind of had a sense of what I wanted to do, but I didn't know anyone who ran a business of their own, so I was quite lost at that point in time," he said. 
Which was how the SIF came into the picture. 
Joining SIF's YSE programme in 2018, Amin was matched up with mentors, industry professionals to learn how to manage and run a social enterprise. The programme also includes networking and study visits, all in an intensive eight months.
"Running a social enterprise is pretty tough. You have to look at the social side of things, but at the same time you still have to remain sustainable."
The programme also equipped Amin with the proper skills for business management, introducing him to various business models to teach him how to keep a social enterprise afloat financially.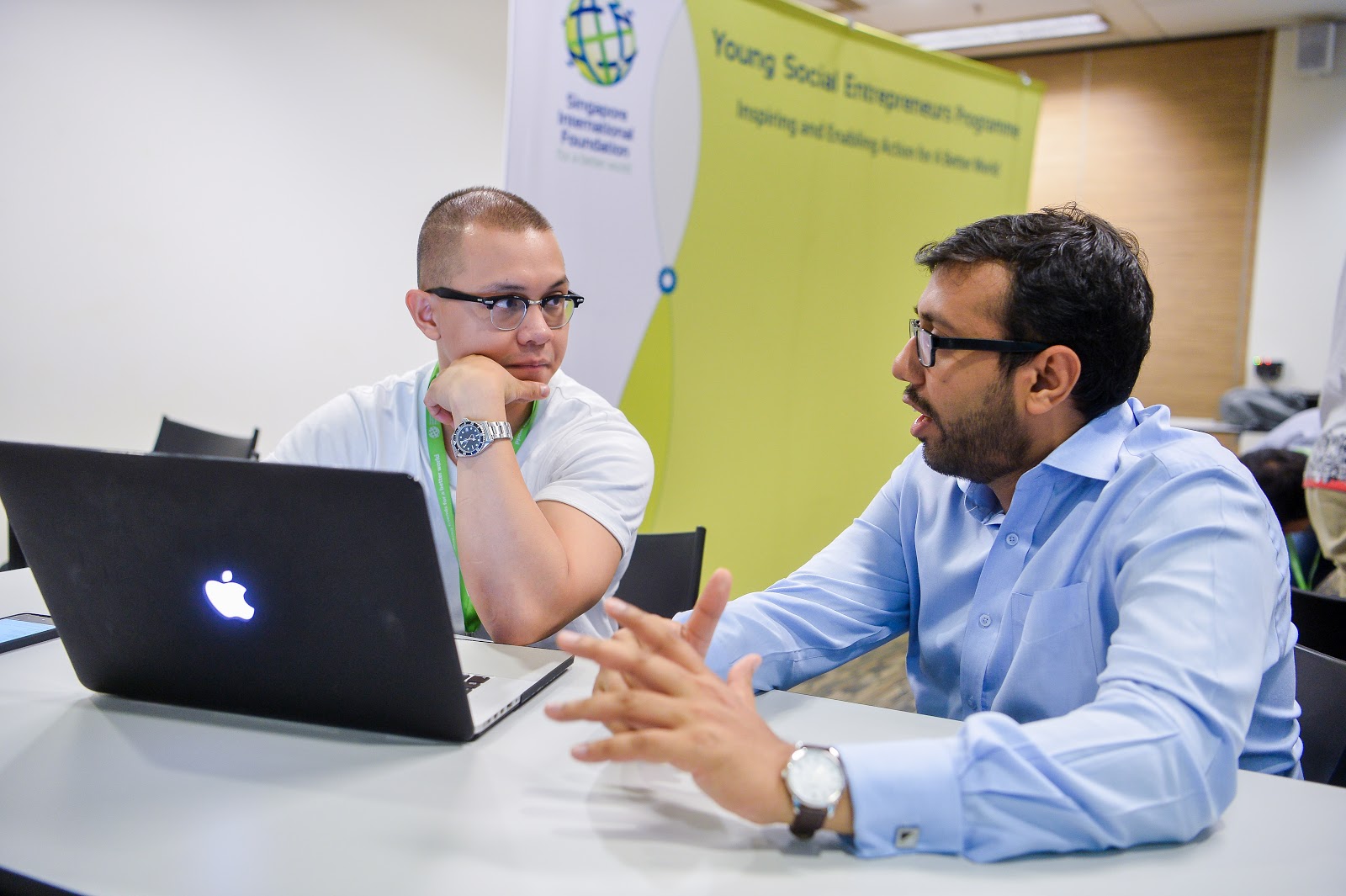 Powerpoint, not Photoshop
Now I'm sure the one question on your mind would be: What is this superpower Amin has that enables him to make art using Powerpoint?
Just to give you an idea, here's a greeting card created by Junior Art Lab.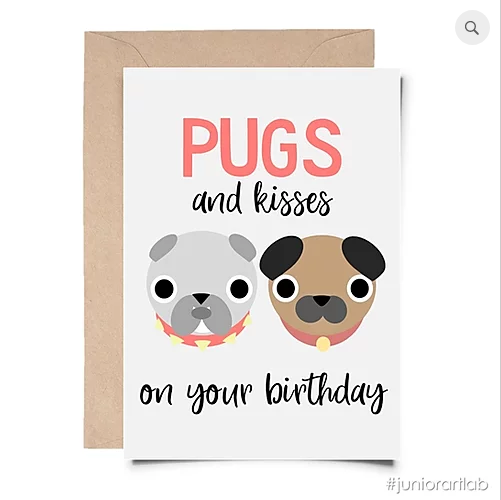 As Amin enthusiastically gave us a brief crash course of the software ("No no, it doesn't take much time at all, I can show you now!"), we're afforded a glimpse into what one of his classes could look like.
Students start off with a simple template, and then layer simple shapes and vectors to create intricate designs.
Yes, it sounds that easy.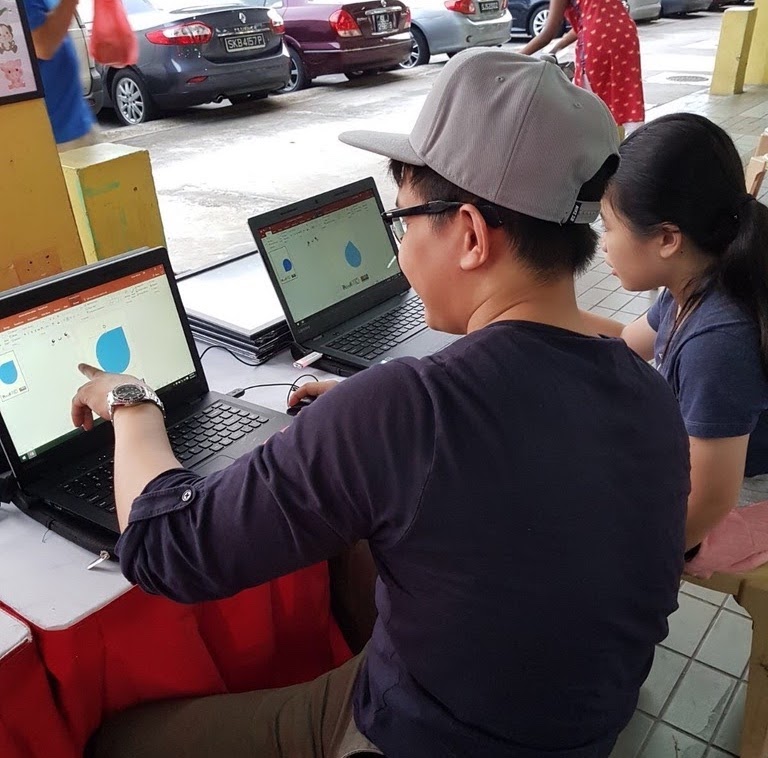 With this method, Amin and his students in Junior Art Lab are able to create a whole range of items, which they sell at various events and bazaars.
Displayed on numerous shelves and tables crowding the walls of the art lab are pins, tote bags, and stickers, neatly arranged -- all sporting cute, colourful designs.
Some even have a local spin to it, featuring snacks and other items all Singaporeans are familiar with, like durians, nine-layer kueh, and otters. These designs are accompanied with witty captions like "You're in-kueh-dible".
The puns, Amin says, are all his. "It's one of the best parts of my job," he jokes, "Coming up with the puns."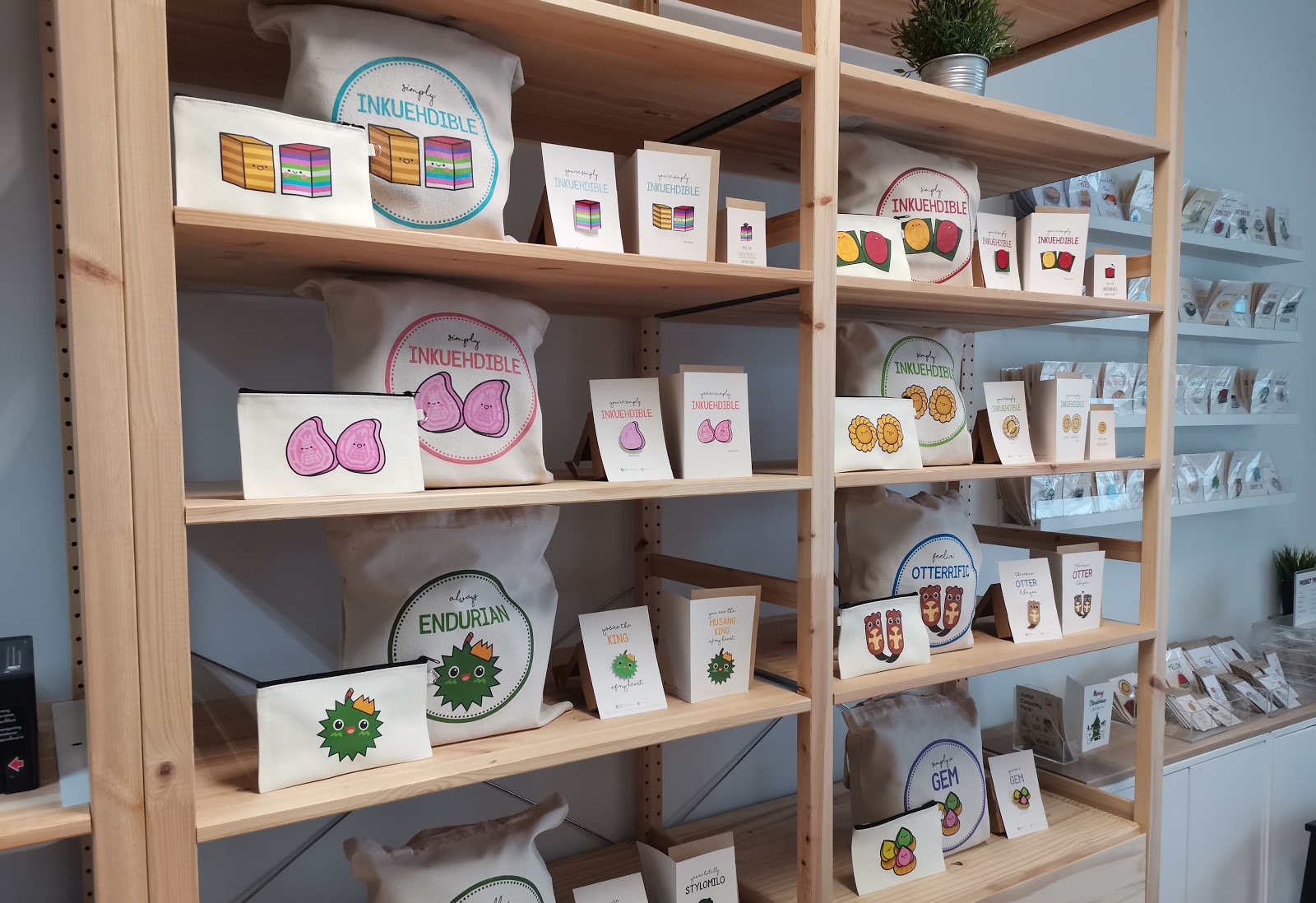 Judging from the sleek designs, who knew Powerpoint, the staple tool we've all used for presentations and perhaps taken for granted, was that versatile and capable of creating such professional-looking art?
As he explained to me the merits of the Microsoft application, Amin emphasised again the importance of equipping disadvantaged kids with such skills.
"No matter where you go (in your career), you're bound to use Powerpoint," he said.
An eye-opener
Amin originally started Junior Art Lab with the intention of teaching underprivileged children. He observed how students, who usually seemed "bochup" during normal lessons, would appear more focused and curious during his art lessons, as it was not something they had experienced before.
But all that changed when he met 16-year-old Sayfullah, who has cerebral palsy. 
Amin first met the teen at a project by Club Rainbow, a school for children with disabilities. 
There, he struck up a conversation with Sayfullah's mother and sole caregiver, who pondered on how her child with limited mobility could become financially independent. 
Additionally, digital art and computer literacy was not something taught at Sayfullah's school. 
Interacting more with Sayfullah and his family was an eye-opener, as Amin came to learn of the daily struggles disabled people go through in situations which the able-bodied take for granted.
One example was how difficult it was for Sayfullah and others in wheelchairs to take public transport and squeeze on crowded trains. Amin thus had to schedule his lessons at a later timing after rush hour, to accommodate Sayfullah.
That was the moment, Amin shared, when he realised "there's still a lot of work to be done".
This thought eventually sparked a slow transition and expansion of Junior Art Lab's business model, from low-income families, to include those with disabilities as well.
Citing how disabled people can fall through the cracks, Amin said that most of them don't have many employment opportunities either.
"One fine day, maybe we'll see more employers hire people with disabilities. This is a goal we've set for ourselves and something we're striving towards -- to make the workplace as inclusive as possible and give disabled people an opportunity to learn a skill and become independent."
Catering to those with disabilities
Now, Amin meets Sayfullah once a week at the latter's house to conduct workshops. 
Aside from Club Rainbow, he also teaches students from Northlight School, and is currently running a training programme with four adults with disabilities to help them become artists and designers.
To cater more to disabled students, part of the funding which Amin won from the YSE programme went into mini portable laptops equipped with touch screen features.
This benefits the kids greatly, especially those whose motor skills are limited. 
Amin also modifies his lessons to suit his students, such as teaching them various keyboard controls, an alternative to using a mouse or touch screen.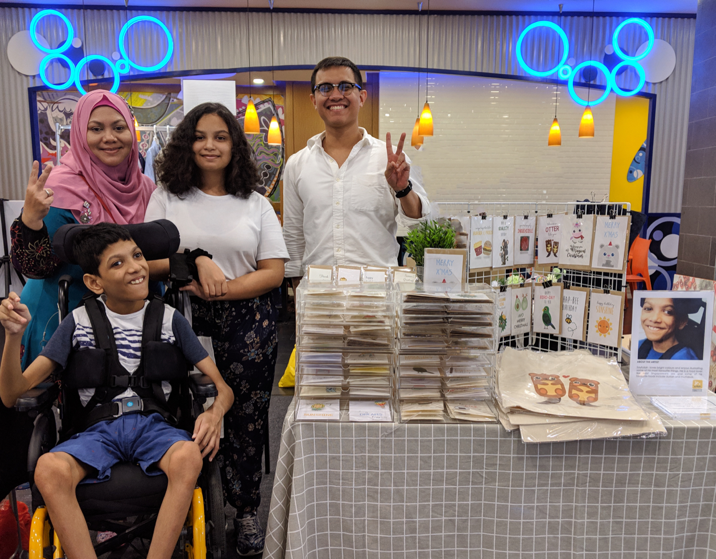 "One of the things I always tell [my students] is, 'I want you to be able to tell your own story'. Me teaching them this, when they tell me that they get to share their story through the drawings that they create, it motivates me to continue this further," he said.
It makes more sense to me now, the entire philosophy Junior Art Lab revolves around — accessibility and inclusivity. 
"For kids, even if they're not doing well academically, it's just a matter of finding the right exposure and opportunity to be good at something," he said, almost in a callback to his own life experience. "To know, 'Hey, this is something I can do'."
Still more to give
Despite having gone through the intense YSE programme, which involves plenty of presentations and pitching for funding, Amin confessed he still struggles with public speaking and freezes in front of the camera, something I find hard to believe considering how fluent and candid he was during our short chat at the Junior Art Lab.
"Naturally, I'll have to do a lot of this, because I'll get invited to this kind of stuff to talk. I try my best and it's a challenge that I tell myself the more I do it, hopefully I'll get better at it," he said.
Amin admitted that weirdly enough, this fear doesn't affect him when he teaches — when he's running a class or a workshop, he feels like he's in his most natural habitat.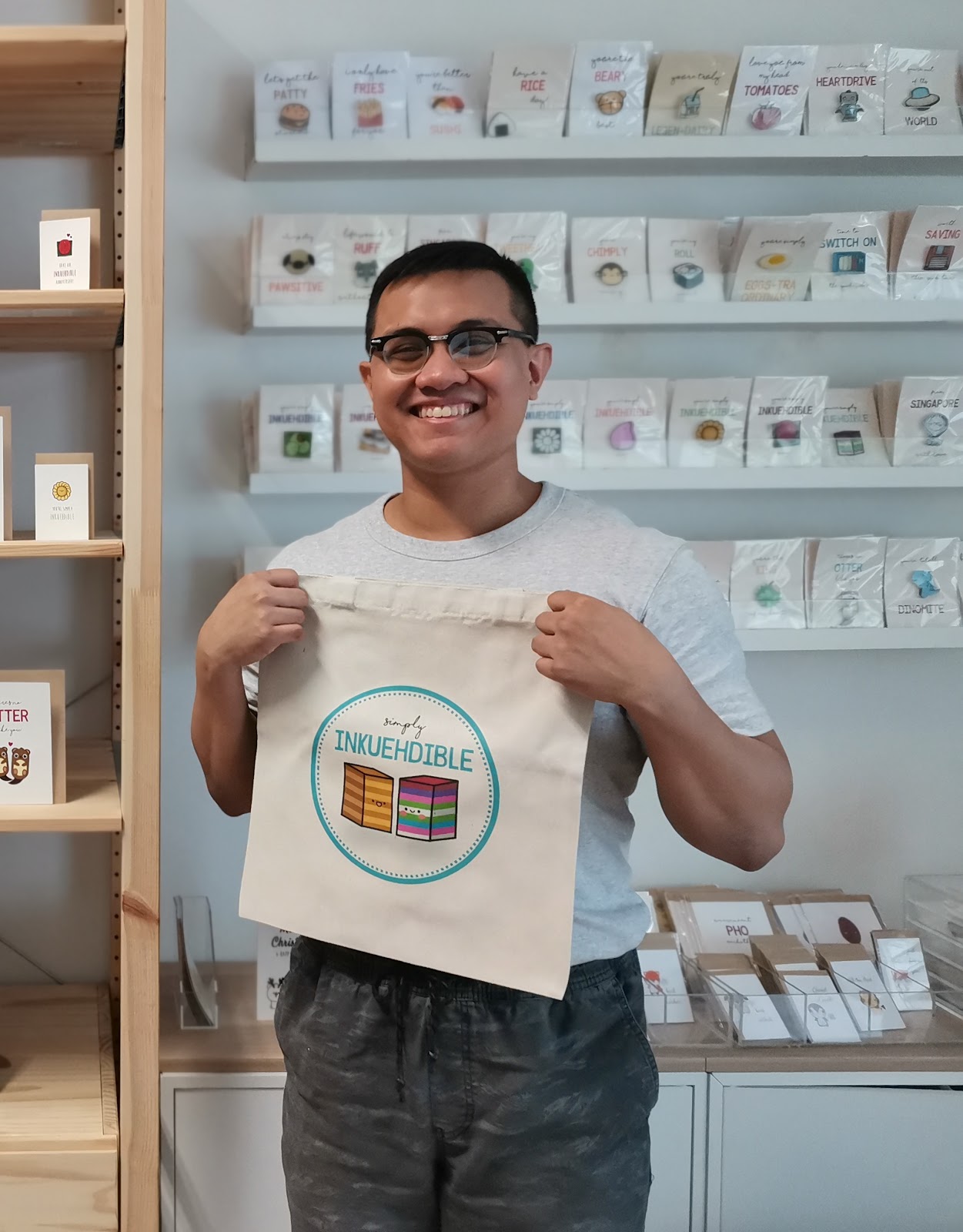 And it seems with this passion in "building self-esteem", as Amin described it, the young entrepreneur isn't going to stop anytime soon.
When asked if he ever imagined he would have something quite like this now, he exclaimed, "No way!"
Citing his initial thoughts before this risky venture, Amin said: "We were prepared to ditch it if it didn't work out. And if it didn't work out, at least I know I've given back in my own way."
Now, though, Amin's mindset has switched to how he can give even more.
"There's so much to do and I really want to continue this work. I enjoy what I do, and at the same time seeing the kids' smiles and faces, it's a good feeling," he said bashfully.
"I'm a bit of a perfectionist. Something I've learnt especially when it comes to doing your own thing, you just gotta try it, put it out there and see how it goes. Before that I was always like, must plan until swee swee. So one of the things I've learnt through this entire journey is that it doesn't have to be perfect.

I just feel like I want to be more successful so I can continue doing more for people with disabilities."
If you want to support Amin and the students from Junior Art Lab, you can check out their website and merchandise here.
Since 2010, the Singapore International Foundation's
Young Social Entrepreneurs programme
has inspired, equipped, and enabled over 1,000 youth of 30 nationalities to start or scale up their social enterprises in Singapore and beyond. If you have a passion for making a difference through your business just like Aminur, find out more.
This sponsored piece made our writer want to buy all of their cute tote bags. 
Top image courtesy of Amin and Ashley Tan.
If you like what you read, follow us on Facebook, Instagram, Twitter and Telegram to get the latest updates.