Just like a lot of Singaporeans who didn't manage to get their hands on the National Day Parade (NDP) tickets, I would spend every Aug. 9 watching the live broadcast of the parade from the comfort of my sofa.
Except for one year, however.
Performed for NDP
In 2010, I, along with the rest of my school cohort, volunteered to be part of the parade's show choir and human LCD contingent.
Nine years ago, this was apparently the coolest thing ever because this was the first parade that featured a human LCD performance.
And if you still don't know what that means, here's a look at what we did in 2010:
But I digress.
Instead of sleeping in studying my Saturdays away, most of them were spent on rehearsals leading up to the parade.
For three months straight.
And like most bratty 13-year-olds, I would complain at every opportunity I got because why should I waste my precious weekends for this?
But that perception changed after I met some older volunteers who, now I realise, are part of the Merdeka Generation.
Work harder than everyone
For one, they show what "age doesn't matter" means.
While volunteering, I would grumble about anything and everything under the sun -- let me rephrase: everything including the sun.
The weather was way too sunny, the food seemed to always come too late and the uniform never felt comfortable.
Just look at how grumpy I was: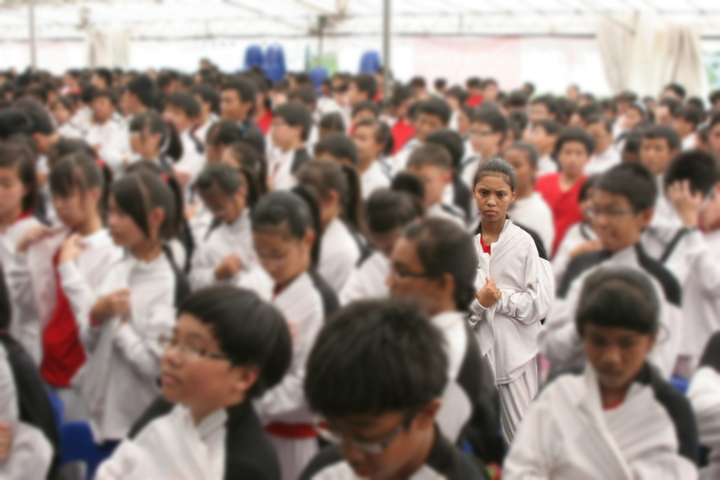 While I sat on my blue plastic chair (that always felt uncomfortable to me), there was another contingent on the other side of the waiting area who were more sprightly and motivated than I was.
And they weren't people my age.
Surprisingly, they were a group of volunteers who were in their middle-age.
Instead of taking their rest after a round of rehearsals, they took a short water break before having their own practice in a bid to perfect their dance routine.
And this didn't just happen on that one particular Saturday, they would practice diligently on their own every single week.
This group of people worked harder than everyone else, putting the youngins like me to shame.
A fruitful session
And despite having just met, it was as if they had been friends for life.
Even though our meals were very well taken care of with two meals and snacks in between, this group of older volunteers would indulge in a small potluck of their own.
From cut fruits to mints, they would share their own snacks with one another.
Ever so often, they would also remind each other to hydrate themselves and, like most kiasu aunties and uncles, they would stock up on the free bottled water that was provided.
While that might be a bid to save up on day-to-day expenses or simply them getting a thrill from freebies, I like to believe that this was their own way of taking care of one another.
"You still growing, you take it"
But the selflessness wasn't just contained among them, it extended to everyone else, including me.
You see, one of the perks of volunteering for the parade is the wide array of free snacks and drinks that we can queue for.
I was queuing for a curry puff when I was told that I had to wait for another 10 minutes before the next batch of curry puffs arrived.
While I was ok to wait, the auntie in front of me immediately shoved her curry puff my way.
"Girl, you take this."
When I refused her offer because she already queued for it, she insisted and said:
"Never mind, never mind. You still growing, you take it."
Not only did I gain a curry puff from this experience, I also realised how it was almost second nature for her to put others before her, exemplifying the true meaning of community spirit.
Learnt more than primary 5 kids did
I dare say that I learnt more values as an NDP performer than I did when attending the NE Show as a primary five pupil.
Not because I subconsciously memorised all the parade commands and the rousing National Day songs, but because these older people, the generation that helped shape independent Singapore, were wise, generous and truly encompassed the Singapore spirit.
While I have never lived in a kampung, the short time I've spent with the older generation was more than enough for me to experience the kampung spirit that they displayed.
If your parents or grandparents have inspired you just like how this group of older people have inspired me, you can share these heartwarming lessons on Instagram and stand to win some of Grab's #Delivering1965 merchandise. Find out more here.
Happy National Day, everyone.
This sponsored post by Grab makes the writer inspired to bring back the kampung spirit to those around her.
If you like what you read, follow us on Facebook, Instagram, Twitter and Telegram to get the latest updates.