Beer, in this writer's humble opinion, is simply liquid gold.
So it irks him to no end if he's being greeted by this atrocity: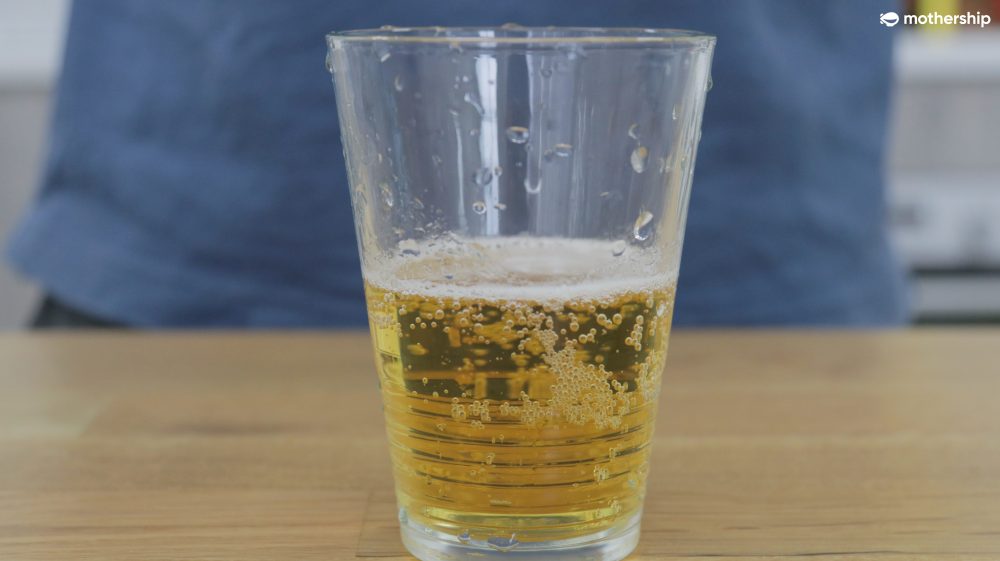 No beer head, no beer mug. See the bubbles on the side of the glass? That means the glass is not clean.
Tsk.
So, dear beer-chugging friends, here's a step by step guide to pouring beer.
But first things first, here's a glossary of terms.
Beer head: It's that frothy foam at the top of the beer, thus head.
Carbonation: Essentially the carbon dioxide in the beer, which makes the beer tastes "fresh".
Beer glass: The vessel which holds the beer.
With that out of the way, let's pour some liquid gold.
Step 1: Choose a clean beer glass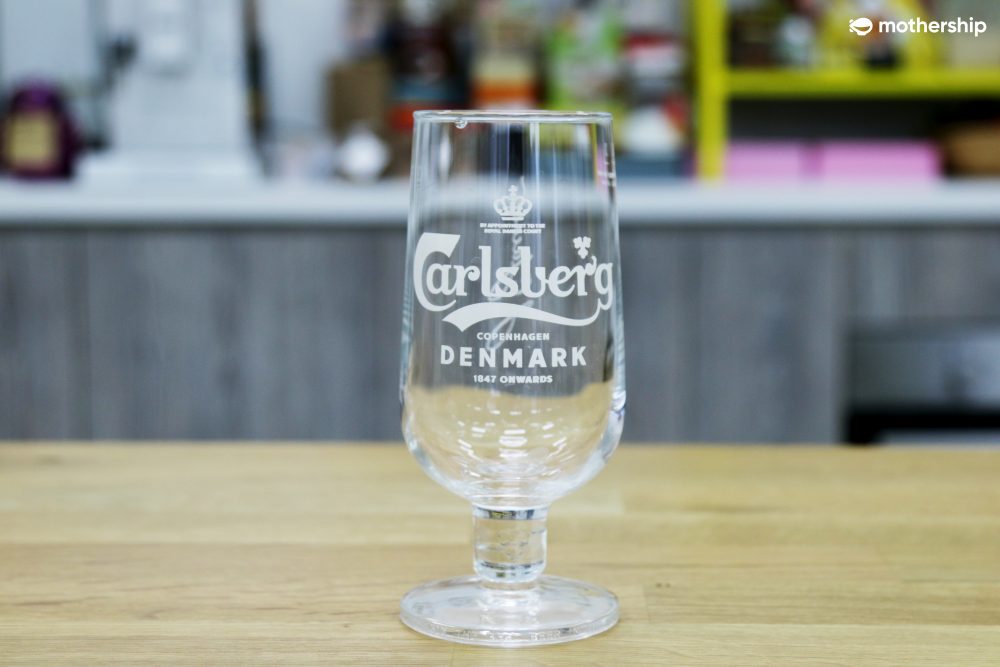 Some take cleanliness for granted, but a clean beer glass makes a whole lot of difference to the quality of the beer and the overall experience.
This new Carlsberg stemmed glass has a tapered mouth and a nucleation stamp at the bottom, which helps release a steady stream of bubbles to the head of the glass and ultimately, better foam retention; its bowl-shaped design also encourages a smoother pour.
But what is a dirty beer glass? It's not as visible as, say stains. For instance, grease is the numero uno enemy as it will ruin the beer head and will result in a flat beer.
To ensure a grease-free glass, do not wash it with other dishes in the dishwasher (if you have one) or with a common dishwashing sponge.
Use a dedicated sponge, wash with warm water and use a dishwashing detergent that dissolves grease.
Signs that your glass is dirty? A thin or non-existent head, foam that doesn't stick to the inside of the glass and bubbles accumulating inside the glass.
For the purists, the perfect beer glass is clean and ice cold.
Step 2: Hold the beer glass at a 45-degree tilt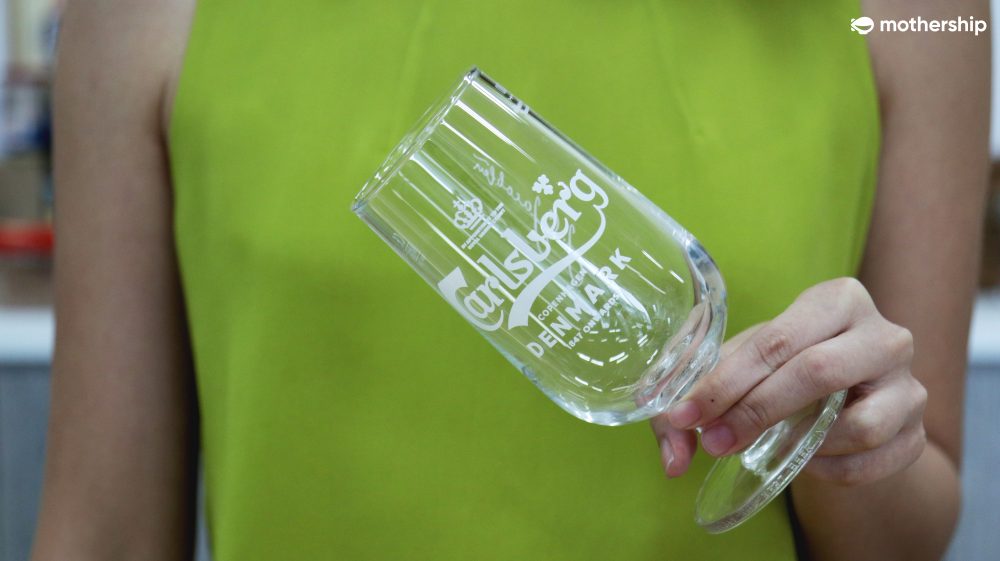 It's okay if you are not great with geometry as this starting position will only hold for a few seconds. But it's still good to start off at the correct angle as this affects the head.
Step 3: Pour the beer
Now, do not pour it like you are afraid of it; beer pouring is an art, and artists have a more fluid mind.
So pour it like you mean it.
Here's how you pour a bottle. Oh and by the way, the bottle cap has an oxygen scavenger liner that actively absorbs oxygen from the head-space, allowing the beer to stay fresher for 15% longer. That's real science, ladies and gentlemen.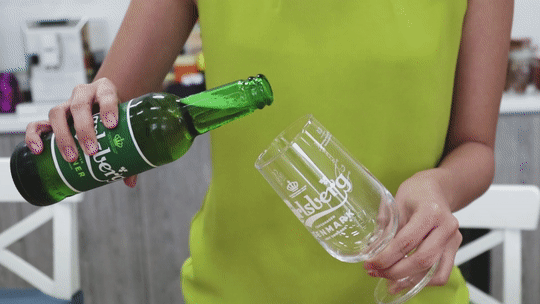 And a can.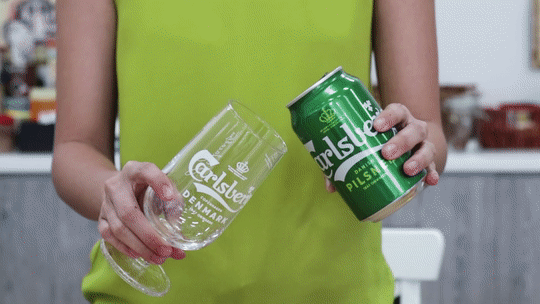 Pour the beer into a glass tilted at 45 degrees and straighten up the glass when it's 50 per cent filled to control the amount of head. Rule of thumb: the size of the head is about as thick as your thumb (geddit?).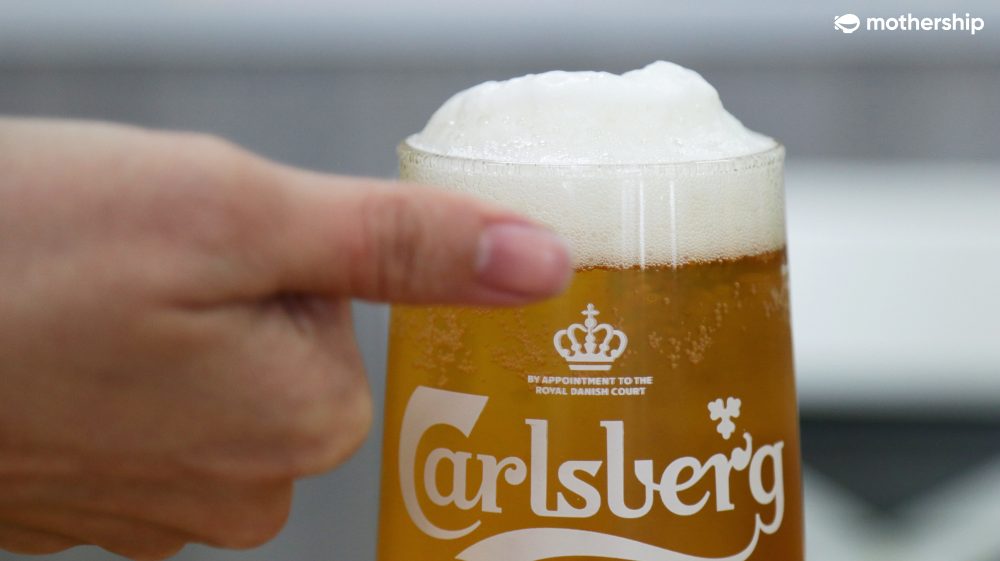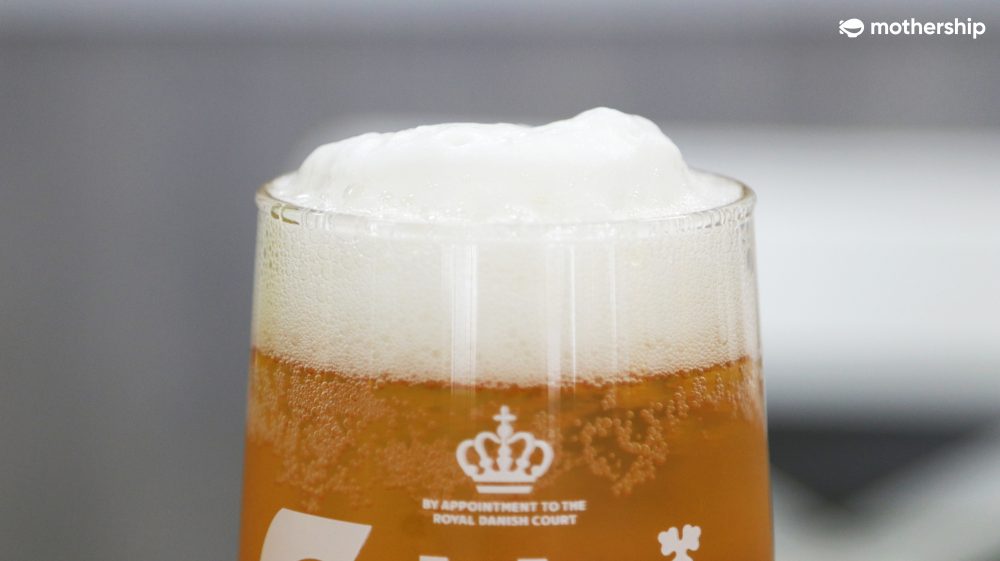 Now, some of us pour beer very carefully and slowly and that results in a beer with no head. That's bad on two fronts.
Firstly, a beer without beer head is not a beer.
Secondly, this brings us to carbonation. Beer, if you didn't notice the bubbles, is carbonated. We want to release the carbonation because CO2 can leave us bloated, you certainly can't release CO2 by pouring it out slowly.
You know what's worse? Add food into the equation -- the CO2 will release in your stomach, giving you all sorts of discomfort and making you regret that pint tremendously.
Check out this vid:
It is this writer's duty to inform wannabe beer purists that it is vital that the top of the beer glass and the bottle don't touch: that's just poor service and unhygienic.
A live tutorial
The aforementioned method of pouring beer is created by Carlsberg and is called the "perfect serve".
If you prefer a live and more hands-on experience, do check out the Carlsberg Pursuit of Better Beer Experience pop-up at Plaza Singapura Outdoor Atrium that is styled like Carlsberg brewery in Denmark happening till 25 Aug (12pm to 930pm), where you can try tapping your own beer with the Perfect Serve technique.
Beer enthusiasts can also experience four different zones that will transport guests through the evolution of Carlsberg.
There will also be a promotion where consumers can get a free personalised stemmed glass with every two pints purchased at the bar this weekend (24 - 25 Aug) from 1pm - 9pm. Limited to first 400 consumers daily, while stocks last.
And of course, try Probably The Best Beer In The World for free.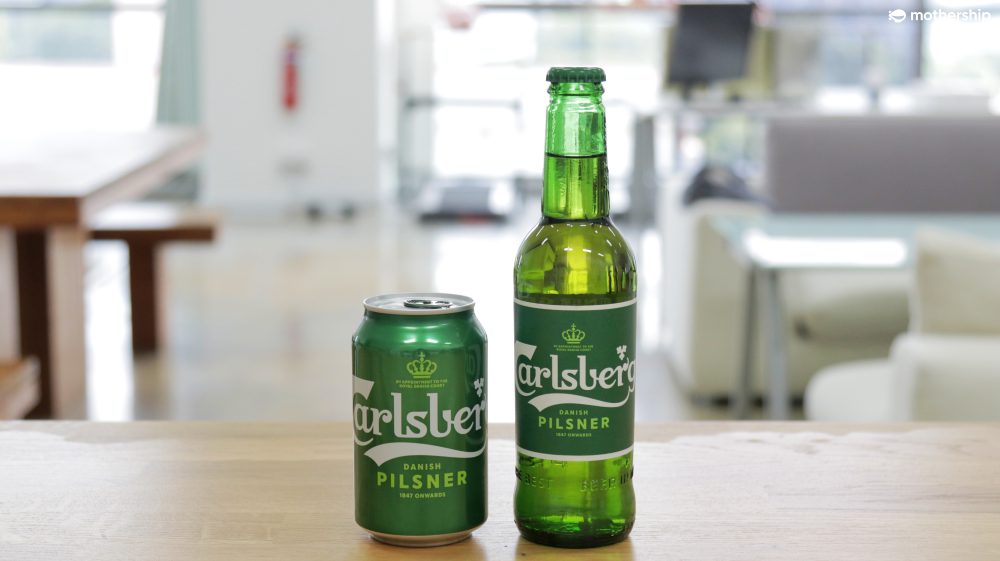 What's not to like?
This sponsored post by Carlsberg is making this writer thirsty.
If you like what you read, follow us on Facebook, Instagram, Twitter and Telegram to get the latest updates.