Students from the National University of Singapore (NUS) allegedly stripped naked in the waters at Siloso Beach Sentosa on June 4 as part of an unofficial orientation game they were playing.
Their nakedness has since led to the school investigating matters because not wearing clothes in public is inappropriate and unbecoming, never mind that all of them are adults.
How many students involved?
According to The Straits Times (premium article, please don't click) and The New Paper, between 40 and 50 students were present.
They were from NUS' Kent Ridge Hall, which had just completed Camp Blue Blood, an orientation camp, on June 2 and 3.
The Sentosa outing was apparently not part of official games NUS knew about or sanctioned.
The students wore clothing that did not identify them as being from NUS.
What the game entailed
The objective of the game was for teams to lay out the longest line of clothes on the beach.
To do this, the participants, both male and female, waded into the water to take off their clothes.
How many students got naked?
According to ST, half the male students were naked in the water.
A handful of female students also took off their shirts and were only wearing beachwear or underwear.
TNP said a female senior from the group tossed her top and bra to the beach while shielding her chest with a hand.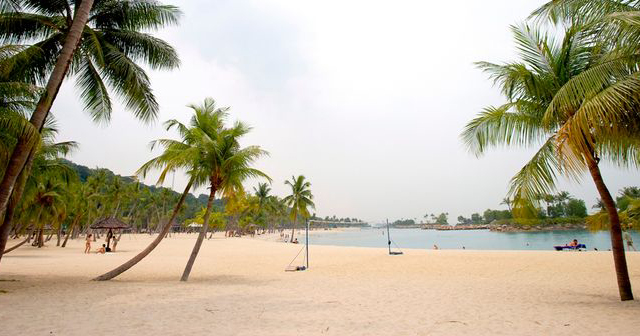 Were the students okay with the game?
Yes and no.
The woman who went topless in the water laughed off her actions even as it shocked some male students.
Students present felt there was no pressure to take off more articles of clothing than one was comfortable with taking off.
But they felt pressured to do so after some seniors and freshmen called for more pieces of clothing in their attempts to win the game.
"At the start, some didn't seem comfortable to take off their clothes, especially the girls. We were told that if we didn't want to take off anything, we don't need to," one female participant reportedly said.
"But because it's a game, people started getting competitive, and when your team is losing, you'll feel a bit of peer pressure to help the team win. The whole concept of the game didn't make sense to me."
Several women subsequently took off their tops while in the water.
At least one person who joined the game said the event was held on a day that was supposed to be an unofficial gathering for the students, and as such no one was forced to do anything they didn't want to.
The game stopped when a group facilitator "had the sense" to step in.
Is it illegal?
For any action to be taken, someone has to first make a police report.
Because being naked in public, even in the waters, is illegal, as it is a public place.
The police will assess the situation and take action on a case-by-case basis.
[related_story]
What is NUS doing about it?
An NUS spokesman said in a statement to the press on June 20 that the university took a "serious view of offensive and inappropriate behaviour" by any of its students.
It added: "The University does not condone any behaviour or activity that denigrates the dignity of individuals. We are carrying out a thorough investigation into the matter and strong disciplinary action will be taken against those found responsible."
Absolutely horrifying:
Top photo of nipples not from actual event. Used for illustrative purposes only.
If you like what you read, follow us on Facebook, Instagram, Twitter and Telegram to get the latest updates.