So we have an example of a classic NSF Corporal. He spends most of his days in an army camp but manages to somehow burn through his S$630 allowance.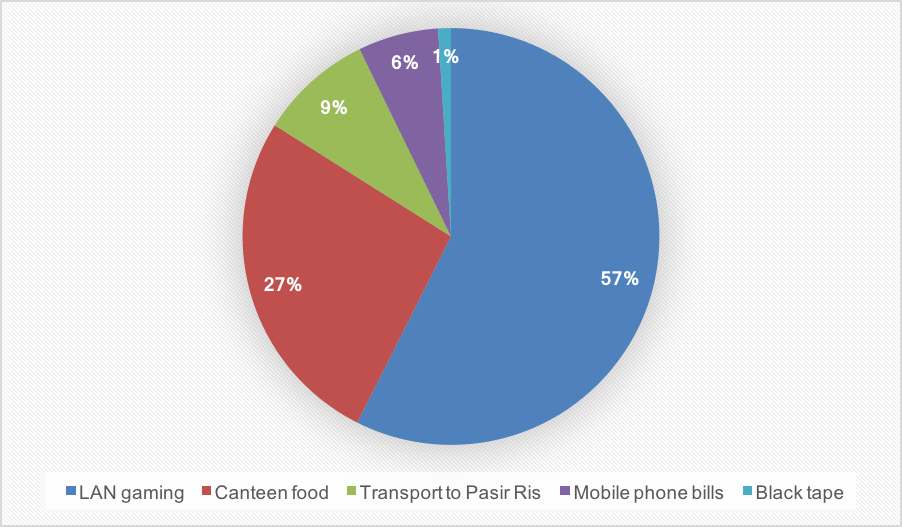 Said NSF is full of energy, and with some effort he can save a little more money.
Let's do the math.
1. LAN gaming with the bros: S$100 per month
We know the feeling of not gaming for a week. It feels like cold turkey and your wrists feels funny (read: not in a state of pain from all those clicks).
But since you are off it already, perhaps it's a good time to kick the habit. After all, what good will come out of it even if you win? That's right -- nothing. Life goes on and while people are applying themselves, you are stuck with painful wrists.
Recommendation: Try The Resistance. It's a one-off investment that allows you to actually bond with fellow humans. Let's cut it down to S$50 (Savings: S$50)
2. Blowing money at the canteen instead of eating at the cookhouse: S$100
Sure, a canteen break is a treat for many NSFs.
But surely S$100 is a little too much to spend at the canteen? Well, maybe just a little bit. Sure, there's free food at the cookhouse, but who can deny the allure of teh tariks, roti johns, burgers, maggi mee goreng and economical bee hoon?
However, that additional S$2 - S$5 you spend at the canteen daily is going to add up.
Recommendation: Go easy with the canteen food. Don't let your new found pecs go to waste. Let's cut it down to S$50 (Savings: S$50)
3. Watching movies with the girlfriend / best friend / family every week: S$100
This is hard to eliminate since every weekend is precious, but surely there are better ways to spend time with loved ones than hanging out in silence in a dark place for two hours. And the price of popcorn is sheer daylight robbery.
Hit the great outdoors, go to the beach (great place to show off said new found pecs) or just chillax at home.
Recommendation: Be different, do something unique. Your girlfriend / best friend / family will love you for it. Let's cut this down to S$50 (Savings: S$50)
4. Taking cabs, private hire cars on Sundays: S$80
It's Sunday again and it means booking in. So it's perfectly understandable that NSFs take cabs or private hire cars to book in.
But hey, hitching or sharing services are at least 20% cheaper. And since your campmates will be booking in as well, there's no harm splitting the cab fare.
Or you can just take good ol' public transport.
Recommendation: Be green (you are in green anyway), share rides. Let's cut this down to S$40 (Savings: S$40)
--
All those savings could be better channelled through POSB Save As You Serve (or SAYS), a savings programme created specifically for all you NSFs out there.
Enjoy 2% p.a. interest on your monthly savings with the POSB Save As You Earn (SAYE) account, 2% cash rebate on local contactless MasterCard transactions and other privileges under this programme! On top of this, enjoy special monthly deals in celebration of POSB's 140th anniversary and NS50 from now till November!
For a limited time only, sign up for POSB SAYS to enjoy a pair of Shaw Theatres IMAX movie vouchers to catch the next blockbuster with your loved one, and up to S$30 cashback (promo T&Cs apply).
Join the POSB SAYS programme online today! Sign up here.
This post is brought to you by POSB.
Top image adapted from Getty.
If you like what you read, follow us on Facebook, Instagram, Twitter and Telegram to get the latest updates.