The Internet is a funny place. Despite, or maybe because of, the wealth of information, misinformation and falsehoods sometimes explode in popularity and gain undeserved credence.
This is the latest example from East Asia Tribune.

More than 100,000 views.
While the article was doing pretty well on its own, their popularity was probably given a boost when Malaysian site, World of Buzz, which covers viral news from Malaysia and around the world, re-reported it as a factual article.
It has gone on to garner over a 1000 shares on their Facebook page, and over 5000 shares on their actual website, all in less than a day.
Now that's where the real problem starts, because when people start believing these things are real, they get emotionally invested, leading to an outburst like this.

or an undeserved sense of moral superiority, like this.

So we feel it's important to nip this falsehood in the bud.
How we know it's a false article
We'll keep this part real short.
Try to ignore the couple "having sex", and focus on the man in the checkered shirt.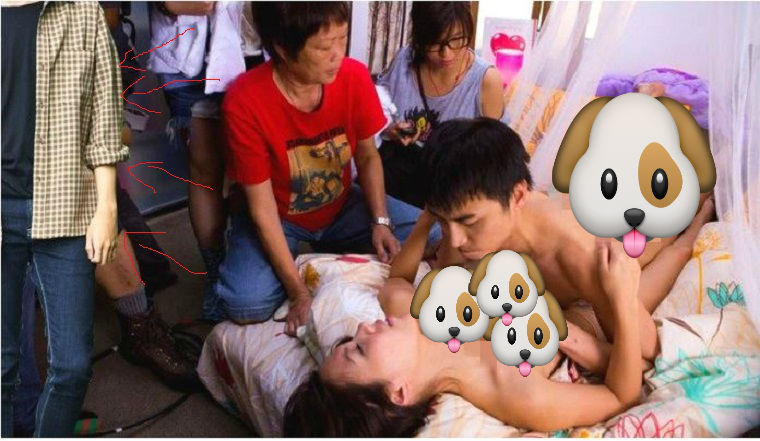 Yeah, that dude is definitely photoshopped. As for the "son" in this scenario? He's a Hong Kong actor, and the "daughter-in-law" is most probably Daniella Wong, an actress of Mongolian ethnicity.
And the image was most likely taken from a behind-the-scenes shot from Due West: Our Sex Journey, a 2012 category 3 (soft porn) movie.
Why East Asia Tribune is probably bullshit as well
While we're on the subject, East Asia Tribune (EAT) is probably not a great source of news.
Don't get us wrong, EAT is an incredibly entertaining website.
They did a three-part series on North Korea, where they claimed to have snuck into a North Korean brothel, and it was absolutely hilarious.
But that's exactly what it is, entertainment.
So, in case any person or viral Malaysian website gets duped into thinking any of EAT's future articles are real, here are some reasons why they are probably not, all from just a single paragraph in their about page.
1. According to its web page, the East Asia Tribune was set up in 1972 and has 1,300 staff members.
With a history stretching back to 1972, East Asia Tribune (EAT) has grown into Asia's largest and most trusted media organization with offices in 23 countries across the region and around the world.

Headquartered in Shanghai, the EAT Group has media investments throughout Greater China and East Asia, and is a founding member of the Asia News Union Service.
There is no other corroborating article on the Internet supporting that impressive portfolio, save an article by Battypost. And we will leave you to decide whether a publication called Battypost is credible enough.
2. They claim they are a founding member of an organisation known as Asia News Union Service. Googling Asia News Union Service only gets you the East Asia Tribune about page.
Also, Asia News Union Service. Get it? A-N-U-S.
3. Just in case you think that's us reading too much into it, the editor in chief is called Alec N. Ustinov. Google once again yielded nothing else except the EAT link.
Also, Alec N. Ustinov. Another name which yields a probable acronym of A-N-Us.
Hopefully the lack of Internet footprint as well as potentially crude humor proves that EAT isn't to be taken seriously.
Or you know, just read their articles, it will probably be clear to anyone who doesn't operate a viral news website in Malaysia.
Top image from East Asia Tribune
If you like what you read, follow us on Facebook, Instagram, Twitter and Telegram to get the latest updates.