August 9 is just a few days away.
With National Day promotions and decorations peppering malls and housing estates all over the country, patriotism is very much abound.
TikTok has recently launched a National Day campaign to promote pride and unity for the nation.
But while it's easy to feel proud of Singapore, what makes Singaporeans uniquely Singaporean?
Relating and laughing at things that are unique to Singapore
Here are two videos from local TikTok creators that remind us of the unique (and at times, humorous) way of life in Singapore.
1) Ultimate hawker dish?
In this video, TikTok creator @eshtonc uses an effect he created to determine his ultimate hawker dish through a tournament.
The video features a variety of hawker dishes like laksa, roti prata, mee goreng and oyster omelette (orh jian), showing our unique foodie culture.
@eshtonc's hard time choosing between the dishes aptly showcases the dilemma many Singaporeans face when it comes to buying hawker food.
2) People in Singapore don't speak, they "sing"
Back in March this year, TikTok creator @shaunniboy made a stitch with a video that interviewed two Australian ladies on what language they think people in Singapore speak.
One of the ladies said that instead of speaking, she thinks people in Singapore sing, as a reference to the "sing" in Singapore.
In response, @shaunniboy stitched a clip of himself in front of a hawker stall, singing an order to the drinks stall uncle for kopi siu dai and iced milo.
The video's cheeky jab at both the Australian interviewee and local hawker culture came across as humorous and relatable to many viewers, garnering over 1.6 million views and close to 177,000 'likes'.
NDP Heartlands Festivals
Beyond celebrating our unique Singaporean identity online, you'll be able to watch these local TikTok creators performing live at the GetActive! SG Heartland Festivals on Aug. 5 and 6.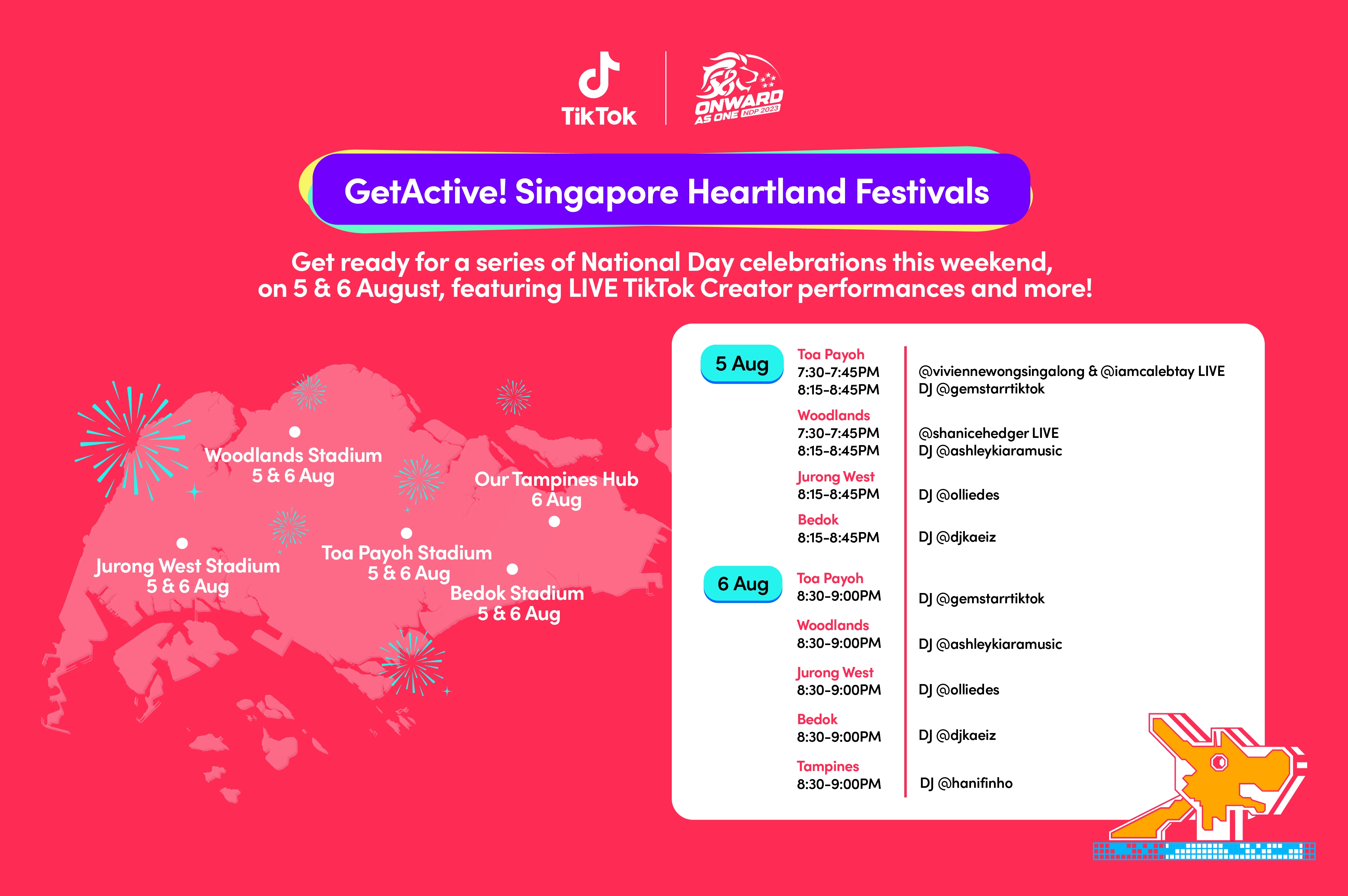 Here's what you need to know about them:
Vivienne Wong (@viviennewongsingalong)
Vivienne is a vocalist from Singapore who has a voice that ranges from the upbeat and powerful to the soulful and heartfelt.
Her repertoire includes a blend of English Top 40s and classic pop rock and funk.
Shanice Hedger (@shanicehedger)
Shanice Hedger is a Class 95FM radio DJ and entertainer on TikTok whose engaging personality makes every video an unforgettable experience for viewers.
From heartwarming covers to her daily vlogs, she effortlessly brings joy and inspiration to her followers.
GemStarr (@gemstarrtiktok)
A familiar figure in the entertainment industry, GemStarr (Jeremy Leong)'s passion for music propelled him to take on his very first residency as a junior DJ at DBL 0 Singapore in 2007.
Wherever he is, there is always high levels of energy from the crowd, as he is well known for his ability to engage audiences and keep them entertained.
Ollie Des (@olliedes)
Over the years of spinning in the local circuit, Ollie-Des has established himself as one of the pioneers in Singapore's Hip Hop scene.
He has also secured several accolades to his name, including a residency at nightclub DBL 0 for seven years and clinching a finalist position in the 2002 and 2005 DMC Singapore competition.
Hanif (@hanifinho)
Hanif started out as an aspiring musician back in his school days before evolving into a household name in the industry.
He often incorporates different genres together with different styles, which landed him a spot in the first ever Singapore RedBull3Style Final, Singapore's biggest DJ competition.
Celebrate National Day with TikTok
On Aug. 9, you will be able to explore exclusive content on TikTok and catch featured live streams, including the National Day Parade.
From now to Aug. 14, you can also try out special effects on TikTok and create your own video with friends and family about what makes you uniquely Singaporean, using the hashtag #NDP2023.
Search "NDP2023" on TikTok or click here to find out more.
This sponsored article by TikTok made this writer proud to be uniquely Singaporean.
Top images via @eshtonc and @shaunniboy on TikTok
If you like what you read, follow us on Facebook, Instagram, Twitter and Telegram to get the latest updates.