I am a self-professed shopaholic and am not ashamed to admit it.
My shopaholic tendencies probably started when I was in secondary school, where I would save up a portion of my weekly allowance every month to buy an item I desired.
My habit of saving up to shop at malls carried on later in life, most notably in university when I started working part time as a tuition teacher, and after I graduated and started working full time.
While some might call me a spendthrift and wag a disapproving finger at my shopping habits, I'd like to believe that many other Singaporeans can relate to my joy and love for shopping.
After all, a 2019 survey reported that 49 per cent of Singaporeans consider shopping as a hobby while 45 per cent of respondents said that they shop because it makes them feel happy.
Here are three of my top reasons why shopping at malls is the national pastime of Singaporeans.
1) There's not much to do in hot and rainy Singapore
Unlike larger countries where people can travel domestically, Singapore is a small country that doesn't have the luxury of space.
We don't have many natural wonders or entertainment options to explore in our free time or traverse the country for.
Singapore also only has two major weather seasons: hot or rainy.
While some might prefer spending their weekends sweating it out in the heat, there are plenty of others who prefer more air-con friendly activities such as mall hopping.
Shopping at malls kills two birds with one stone by being a good escape from both the heat (or rain) and a comfortable place to spend time at.
Shopping = cardio, anyone?
2) Singaporeans prefer physical shopping to online shopping
North, south, east or west, there are malls at every corner of the island, making it convenient for Singaporeans all over the country to go shopping.
Most malls in Singapore also have not just retail stores but a wide array of food options and exciting activities, making the idea of physical shopping very attractive.
A 2022 survey by Sensormatic Solutions found that 75 per cent of Singapore consumers enjoy shopping or browsing in a physical store.
Additionally, about 61 per cent indicated that online shopping can never replace in-store experiences.
This was an increase from 2021's numbers, where 59 per cent of respondents felt that in-store shopping was irreplaceable.
3) Singaporeans love a good bargain
While the overall spending power of Singaporeans has increased over the years, there has likewise been a greater penchant for sales over time.
In fact, an illustration on VisitSingapore's website claims that 80 per cent of Singaporeans cannot resist a good bargain: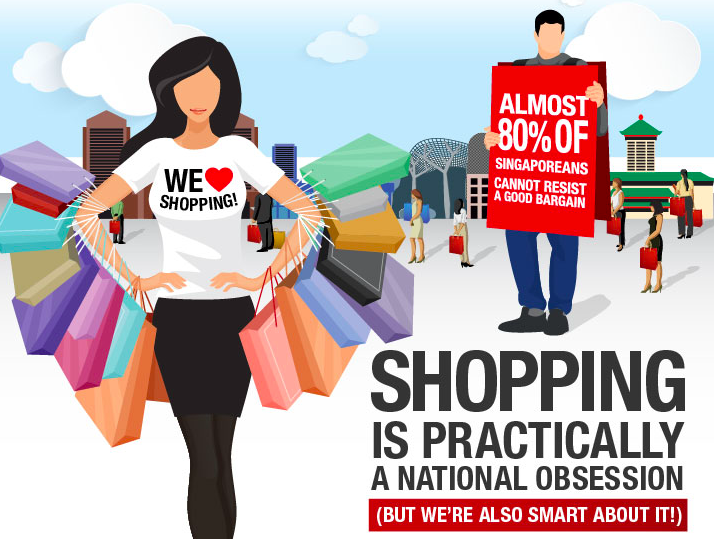 If you're a bargain-loving shopper, you'll be pleased to know that IMM and Westgate will be joining forces for an event with exclusive deals, rewards and experiences from Aug. 19 to Sep. 10.
IMM
IMM is Singapore's largest outlet mall with more than 100 outlet stores, offering up to 80 per cent worth of discounts all year round.
These outlet stores cover a wide variety of merchandise, including designer fashion, sportswear, footwear, luggage, children's apparel and fashion accessories.
Here are some stores you can check out during the sale:
Michael Kors by BuyBye Valiram Fashion Outlet (#01-105/125)
Michael David Kors established his namesake brand "Michael Kors" in 1981.
The luxury powerhouse is world-renowned for their opulent bags, accessories and ready-to-wear clothes.
During the event period, shoppers will be able to enjoy up to an additional 25 per cent discount on top of existing deals.
Kate Spade New York Outlet (#01-109)
Crisp colours, graphic prints and playful sophistication are the hallmarks of Kate Spade New York.
Enjoy storewide sales of up to 60 per cent on bags, clothing, jewellery, fashion accessories, shoes, and gifts during this event period.
GEOX Outlet (#01-110)
GEOX is an Italian brand that specialises in selling waterproof and breathable footwear.
Their revolutionary technology provides comfort and wellbeing by eliminating moisture and preventing odours that typically develop when shoes don't ventilate, recreating an ideal microclimate to keep feet cool and dry.
PUMA Outlet (#02-06)
PUMA is a sports brand that sells performance and sport-inspired lifestyle products.
These products range from men, women and kids' apparel, sports and activewear, sports equipment and gear to soccer boots and more.
Westgate
Meanwhile, Westgate is a premier family and lifestyle mall that offers a bustling city lifestyle shopping experience, featuring a diverse mix of beauty brands as well as fashion collections.
Here are some stores you can check out during the event:
Clarins (#01-26)
Clarins is a prestigious French beauty brand known for their plant-powered innovations and unique skincare application techniques.
They use over 250 natural plant extracts in their formulas, with each ingredient carefully delivered in an optimal formula to reveal every woman's beauty.
HYSSES (#02-15)
Founded by Cheryl Gan and manufactured in Singapore, HYSESS is an aromatherapy company known for their premium organic oils and scents.
They began with a simple wish of sharing nature's gifts with the world through essential oils and natural aromatherapy products.
Dyson (#01-K4)
The Dyson Demo Zone at Westgate offers a full range of its products, and allows you to explore, test and experience their newest technology while you're at it.
Sephora (#01-23/24)
A trailblazer in the beauty industry, Sephora is a one-stop solution for all your makeup and skincare needs.
Take a trip to the Sephora outlet at Westgate and be immersed in an interactive shopping experience like no other.
Food and Rewards
Besides shopping, Westgate customers can enjoy alfresco dining options at The Courtyard or head over to the Gourmet Paradise at Basement 2 for a variety of food selections.
There will also be exclusive rewards for every trade category at both malls:
Spend S$60 in a single receipt per trade category (Shop, Eat, Glow) to receive S$5 eCapitaVoucher

Top spender per trade category will receive a S$100 eCapitaVoucher

Top spender for all trade categories will receive a S$500 eCapitaVoucher
Click here to find out more.
This sponsored article by IMM and Westgate allowed this writer to justify her love for shopping malls.
Top images via CapitaLand
If you like what you read, follow us on Facebook, Instagram, Twitter and Telegram to get the latest updates.