At least two groups of patrons were able to redeem a free 1.5-litre pineapple soju tower from Soi 44, a bistro located in Bencoolen, as part of a promotion running on Sep. 2 and Sep. 3, 2023.
Photos of them in their pineapple attires on the first day of the promotion were posted by the bistro on its Instagram page.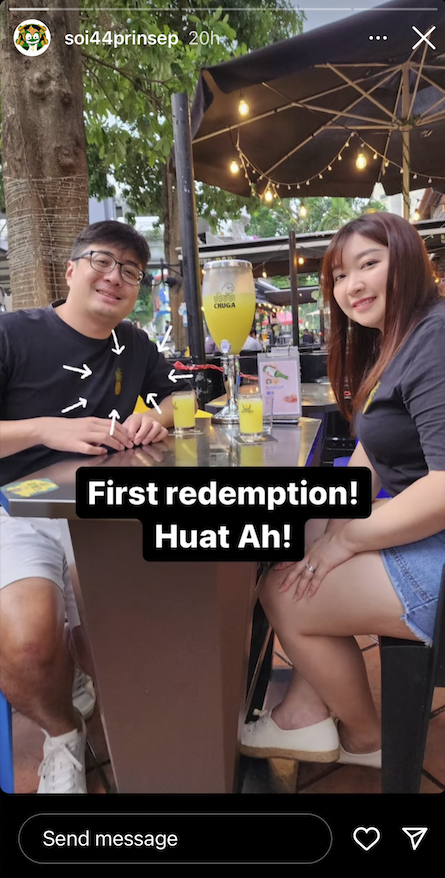 The patrons who happened to be the first group to redeem the soju tower came in wearing dark grey T-shirts featuring a small pineapple logo.
Bert & Lulu, an influencer couple with over 167,000 followers on Instagram, also managed to redeem their free soju tower.
Bert was wearing an apron featuring a smiling pineapple, and Lulu was wearing a hat resembling the crown of the fruit.
View this post on Instagram
The special promotion was launched to celebrate Tharman Shanmugaratnam's recent landslide victory in the Presidential Election 2023, said the Bistro in an Instagram post.
All patrons need to do to redeem their free soju tower, which would usually cost S$48, is to visit the bistro dressed in an attire that features a pineapple.
During his presidential campaign, Tharman selected pineapple as his symbol.
At a doorstop interview on Nomination Day, he explained that the fruit was chosen because it is "a propitious and welcome symbol for many people" and is used on occasions like moving into a new home, starting a new business, and "when we want good luck and good things to happen."
On Sep. 2, the former senior minister became the most popular elected president in Singapore's history thus far after scoring a whopping 70.4 per cent of the total number of votes cast.
To put it in numbers, that is 1,746,427 votes.
Promotion T&Cs
If you happen to have an attire featuring a pineapple, note that today is the last day for the promotion.
All you need to do to redeem your free soju tower is to flash this Instagram post to the staff before placing your order.
However, do note that every table can only redeem one tower, and splitting of tables is not allowed.
Upon participating in the promotion, the bistro staff might also take pictures of you and post them on its social media platforms.
Details of bistro
Address: 44 Prinsep St, Singapore 188673
Opening hours: 3pm to 12am
Top images via Soi 44 - Prinsep Street/Instagram
If you like what you read, follow us on Facebook, Instagram, Twitter and Telegram to get the latest updates.