The September holidays are just around the corner.
If you're racking your brains over what to do with your young ones during the week-long break, here's an idea.
From Aug. 26 to Sep. 16, Singapore Art Museum (SAM) will be holding an exhibition featuring artworks by preschool children at the level one atrium of HarbourFront Centre.
SAM's Think! Contemporary programme was first developed in 2011 as a multi-visit, museum-based primary school programme that advocates learning through contemporary art at the museum.
Following the success of the programme, SAM expanded it to include preschools in 2019.
Titled "Hello Future: Let's Go Hand in Hand", SAM worked with close to 300 preschool children from six preschools to create 15 artworks for this year's exhibition.
As someone who took H2 level art at the GCE 'A' Levels back in 2012, I was stoked to check out art made by kids, and see just how creative they could get with their creations.
I also took this chance to be an "art critic" for the afternoon and share my thoughts on some of the art pieces that were on view.
Thank You! Little Safety Boots, 2023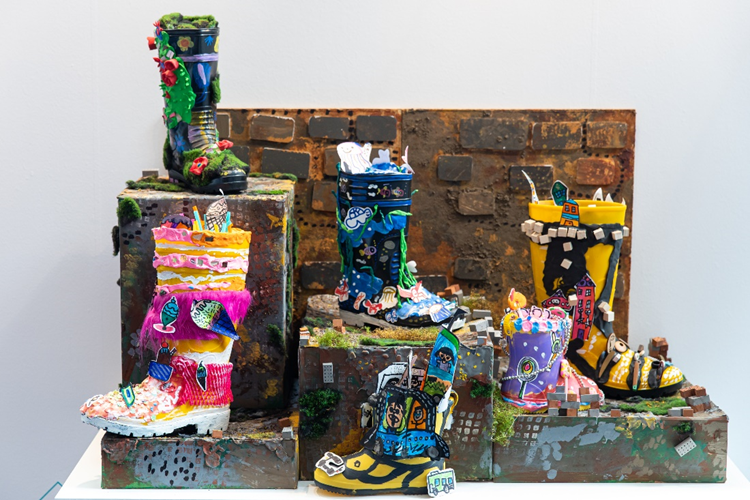 "Thank You! Little Safety Boots" is an installation artwork done by K1 children from Nobleland Arts N Learning Place @ Clementi.
The children decorated boots with different materials and colours to express their love and gratitude to the unsung heroes in our society.
These heroes include the construction uncles who built the homes we live in and the cleaners who keep the environment clean.
I loved to watch the local TV series "Phua Chu Kang'' back in kindergarten and primary school, and these safety boots reminded me of a zhng-ed up (modified) version of PCK's iconic yellow boots.
It was heartwarming to see Singapore's hard workers being appreciated by kids as young as these, and a joy to see how their creativity manifested itself in splashes of paint and colour.
Utama's Mosaic, 2023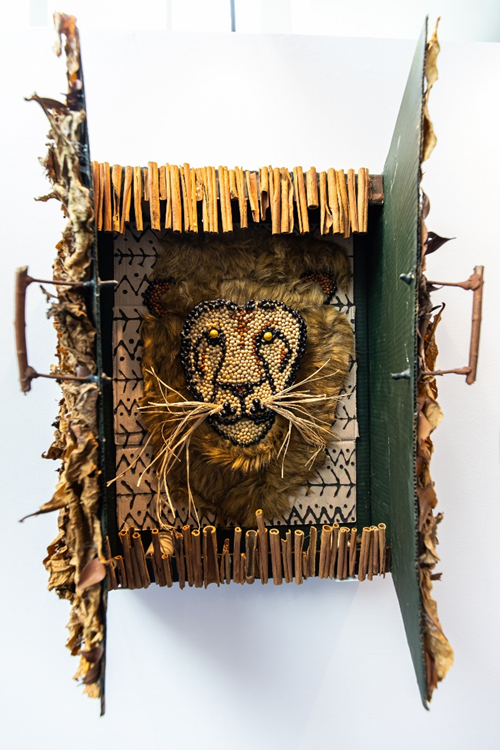 "Utama's Mosaic" is a mosaic lion made from everyday objects such as beans, paint, recycled box and sand, made by students from MOE Kindergarten @ Temasek.
The children who created the artwork were inspired by the work of David Chan's "Utama's Kitty" and Ezzam Rahman's "just a tiny part of you is all I need" from SAM's Touch Collection.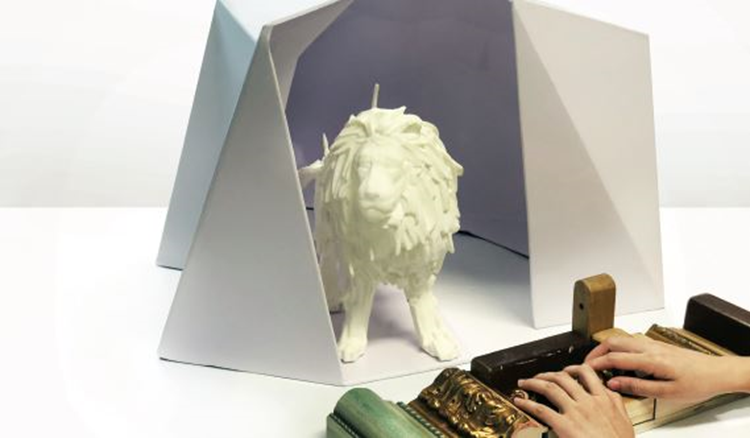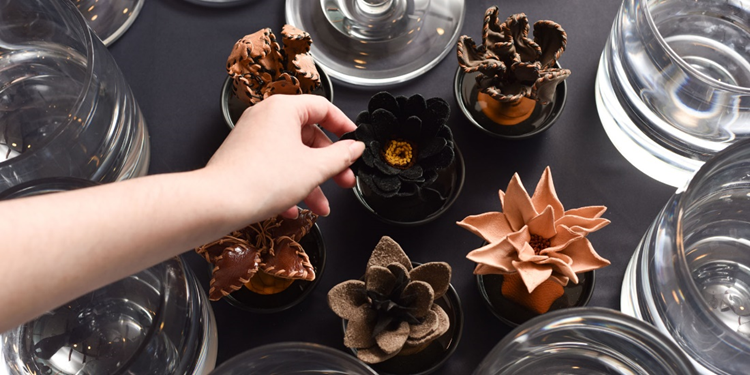 They were intrigued by how Chan and Ezzam used different materials in their adaptations to create a sensory experience that communicates the ideas behind their artworks.
As constructors of knowledge, the children decided to segregate the facial features of the lion to create various dimensions.
Apart from its ~lion king~ vibes, I liked how beans, sand and faux fur were used to create visual contrast and a sense of physicality.
More importantly, the artwork seemed like something I would buy and display in my living room.
Musical Boxes, 2023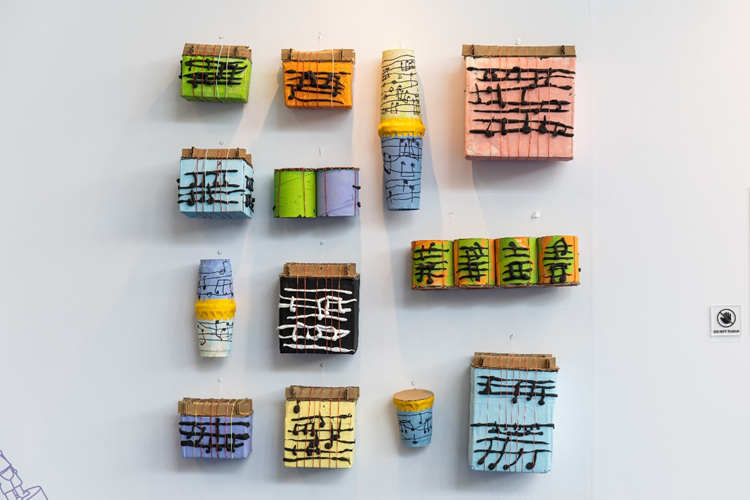 Question: How do you open a music box?
Answer: With a key.
"Musical Boxes" is an artwork made from recycled cardboard boxes, rubber bands and air-dry clay.
After children from Nobleland Arts N Learning Place @ Punggol closed their eyes to experience how things can be very different when they do not use their sense of sight, they realised that the visually impaired are able to use their sense of hearing and touch in their daily life.
They decided to use recycled cardboard boxes and rubber bands to make music boxes so that even the visually impaired could listen to the sounds and experience the splendour of the exhibition.
Apart from the fact that the kids learnt something about the visually impaired community in Singapore, I liked the civic consciousness behind the concept.
Funny Faces, 2023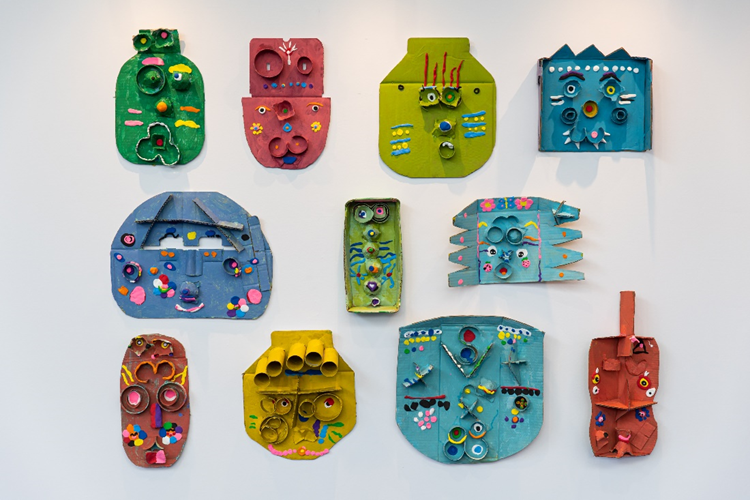 "Funny Faces" is a set of mixed media artwork done by kids from Nobleland Arts N Learning Place @ Waterway.
The children were inspired by Justin Lee's "East & West", an artwork adaptation from the SAM Touch Collection's interactive artwork adaptation when they made this piece.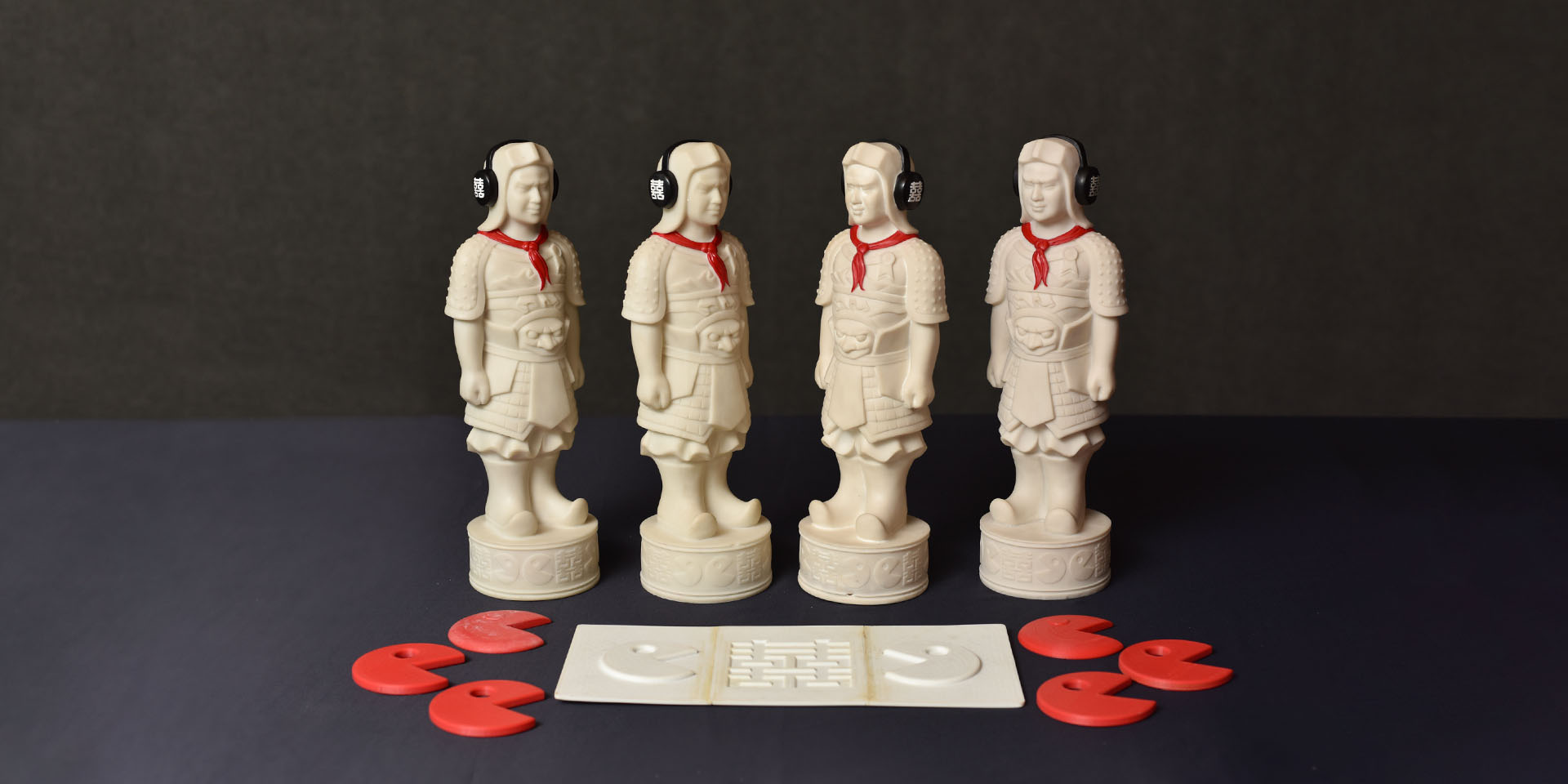 While Lee's version reminds me of fierce warriors, the funny faces reminded me of some plush toys I had seen sold by local store Cat Socrates: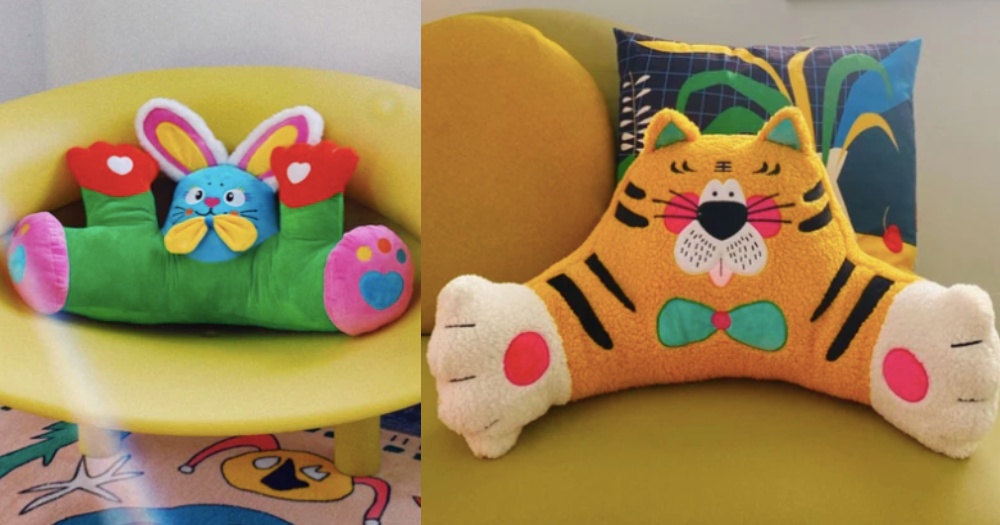 I was impressed by the tactile nature of the artworks, and liked how the children added their own flavour in response to Lee's work.
Chairs, 2023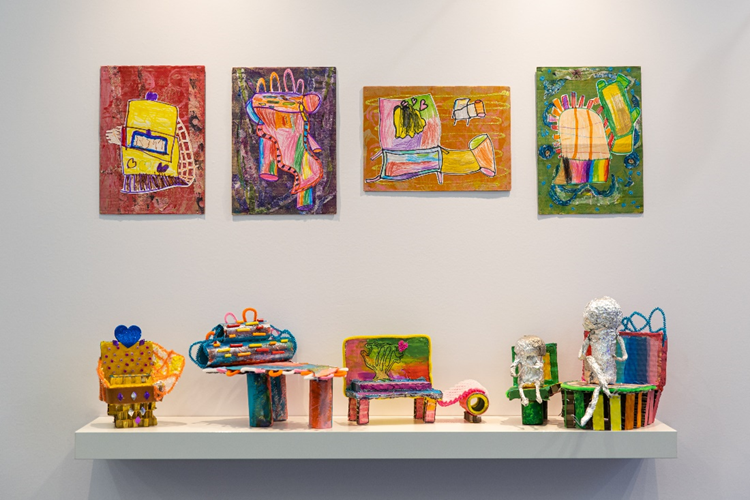 "Chairs" is a mixed media art installation done by kids MOE Kindergarten @ Temasek.
Inspired by Tang Ling Nah's adaptation of "An Other Space Within the House II Scenes I II", the children were intrigued by the idea that the 2D drawings they envisioned could turn into 3D sculptures.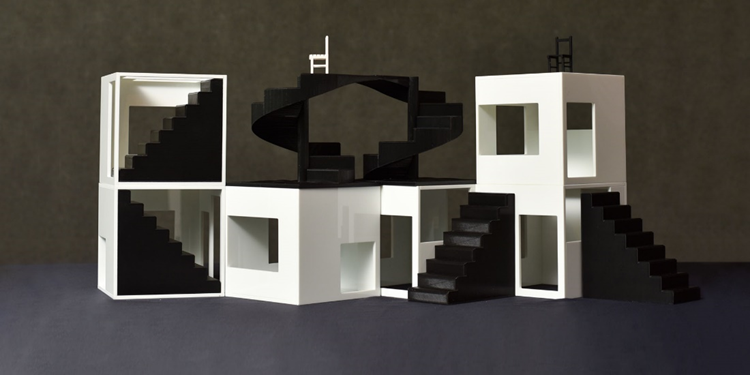 In small groups, the children drew and coloured their new creations.
They wanted to reimagine their chairs, build and place them at various parts of the school for everyone to enjoy.
I liked how simple, everyday materials like toilet rolls and cardboard were used in the construction of the chairs, because it shows how you don't need to spend much to create art.
The chairs also seemed quite architectural to me, and I liked the contrast between the children's colourful adaptations and the original artist's monochromatic creation.
Unsinkable, 2023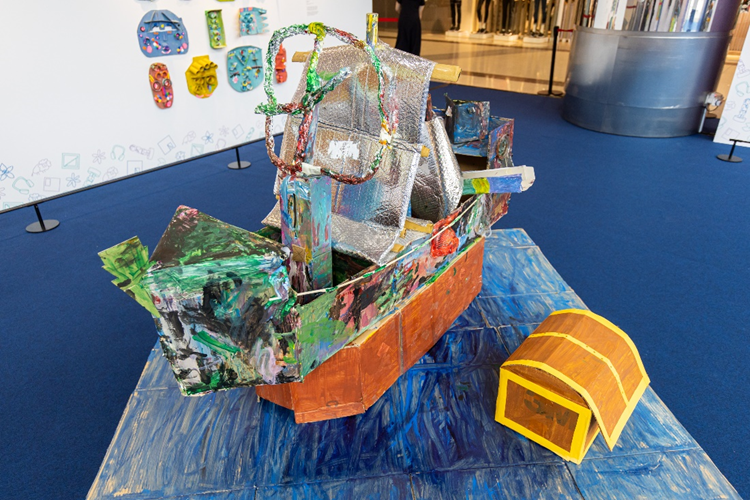 An artwork that would give Greta Thunberg a run for her money, "Unsinkable" is the effort of K1 and K2 children from Arts Kidz International to promote sustainability and protect the environment.
After reading Gail Gibbon's book "Sunken Treasure", the children learnt that treasures nested deep in the ocean came from sunken ships.
Following their introduction to David Chan's "Utama's Kitty", they were further intrigued by how Sang Nila Utama sacrificed his crown and discovered Singapore.
Inspired, the children decided to use recycled materials to build an unsinkable ship to search for sunken treasures.
I liked how the use of recycled materials mimicked the reduction of growing, harvesting or extracting of new raw materials from the Earth, lessening the harmful disruption and damage being done to the natural world.
It was very mature and forward thinking of these kids to have come up with something like this as sustainability is not a topic everyone cares about.
Caring Wheels, 2023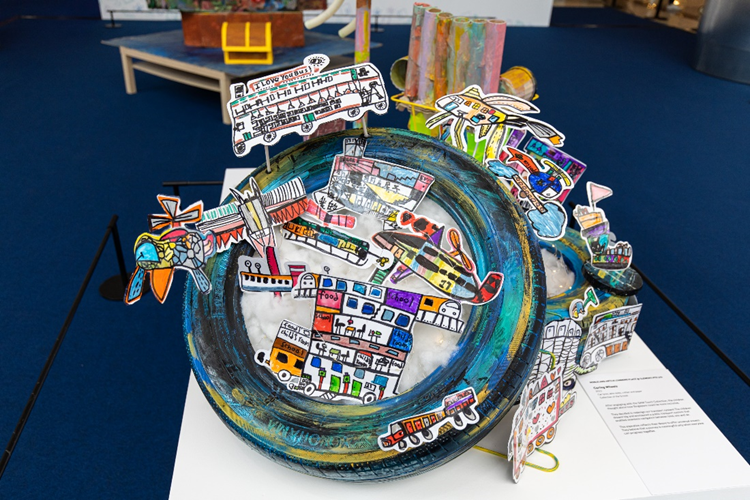 Move aside SMRT.
After experiencing the SAM Touch Collection, K2 children from Nobleland Arts N Learning Place @ Clementi thought long and hard about how to be more inclusive.
Their "Caring Wheels" artwork envisioned a future where public transport covers land, sea and air.
Using their imagination, the children drafted designs for persons with disabilities and young children so they would not need help getting on and off public transport.
They also reimagined the transport system for busy people by allowing passengers to take a nap or grab a bite before arriving at their destination.
As someone who loves colour and is a frequent user of public transport, these flamboyant, out-of-this-world drawings gave me a glimpse into how children perceived the future of transportation to be like.
I especially liked how no effort was skimped on imagination, as the children went all out to envision and execute their ideal transportation system, practical considerations and restrictions aside.
Colouring wall featuring illustration by Isaac Liang
Alongside the presenting artworks, the exhibition space will also periodically feature works from SAM's Touch Collection and a colouring wall featuring illustration by deaf illustrator Isaac Liang.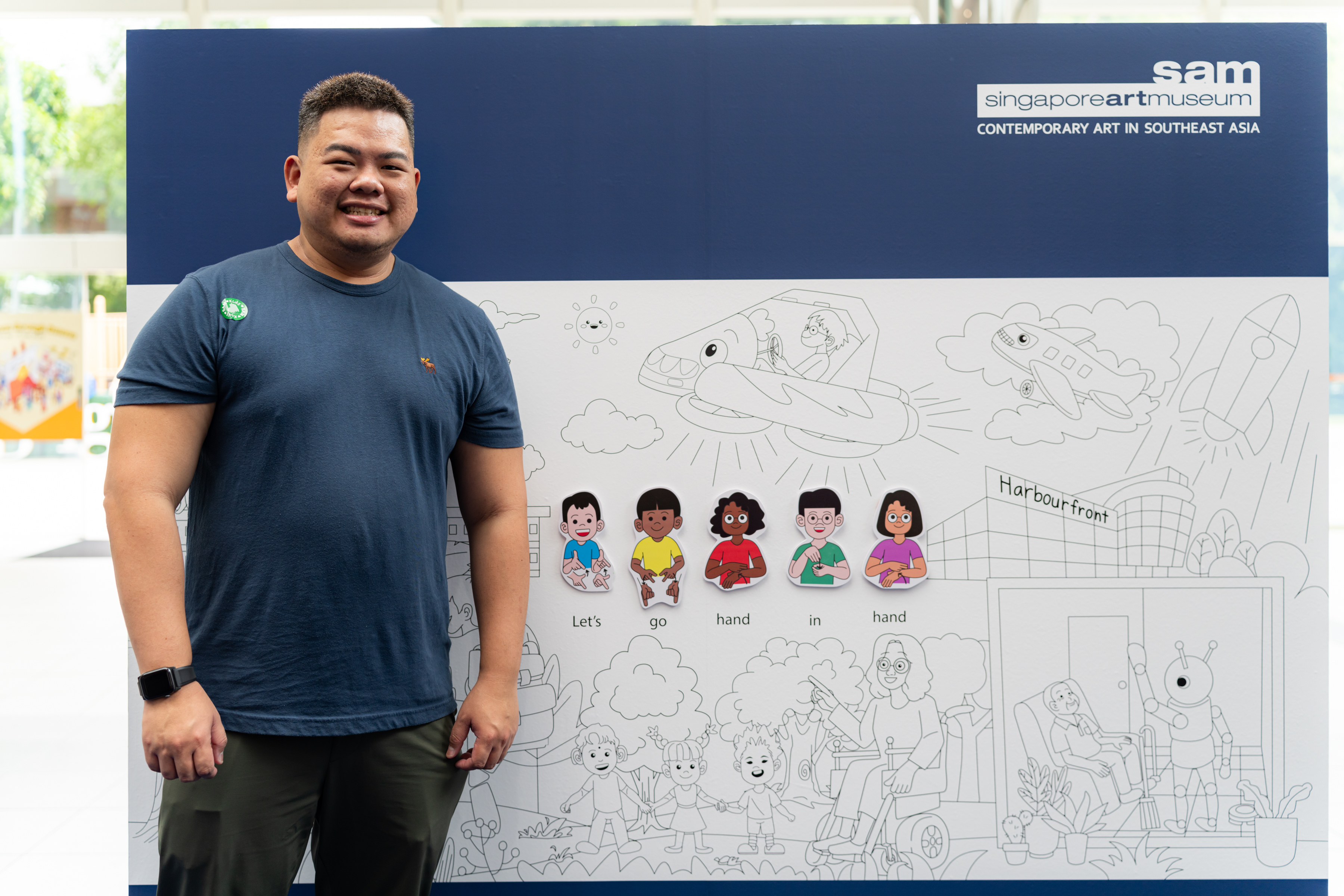 The public can contribute to its design and partake in colouring activities on weekends.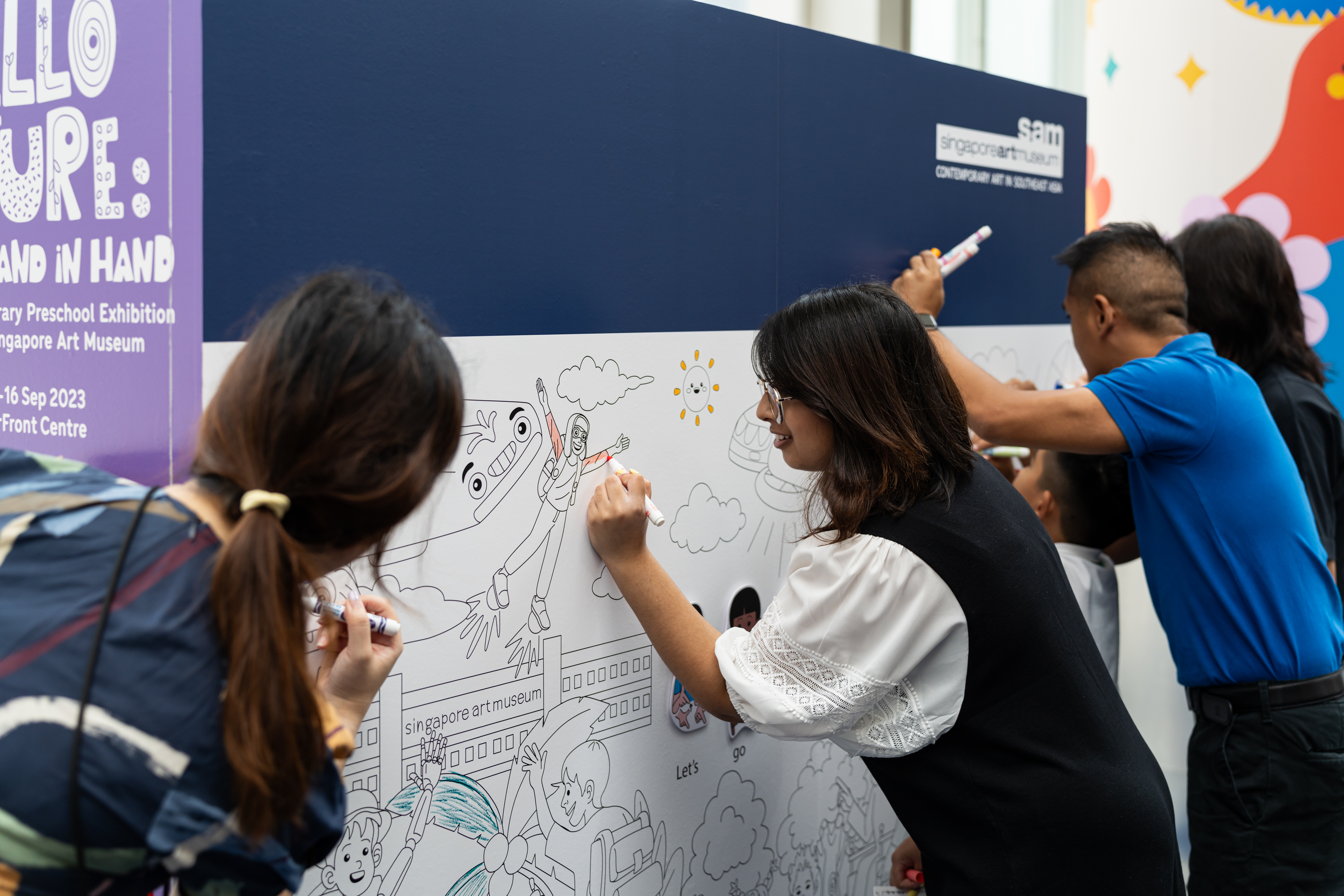 "Hello Future: Let's Go Hand in Hand" will run from Aug. 26 to Sep. 16 at HarbourFront Centre.
Admission is free for all visitors throughout the exhibition period.
Fringe activities and workshops
Besides the "Hello Future: Let's Go Hand in Hand" exhibition, there will be several fringe activities and workshops for kids and adults to take part at HarbourFront Centre.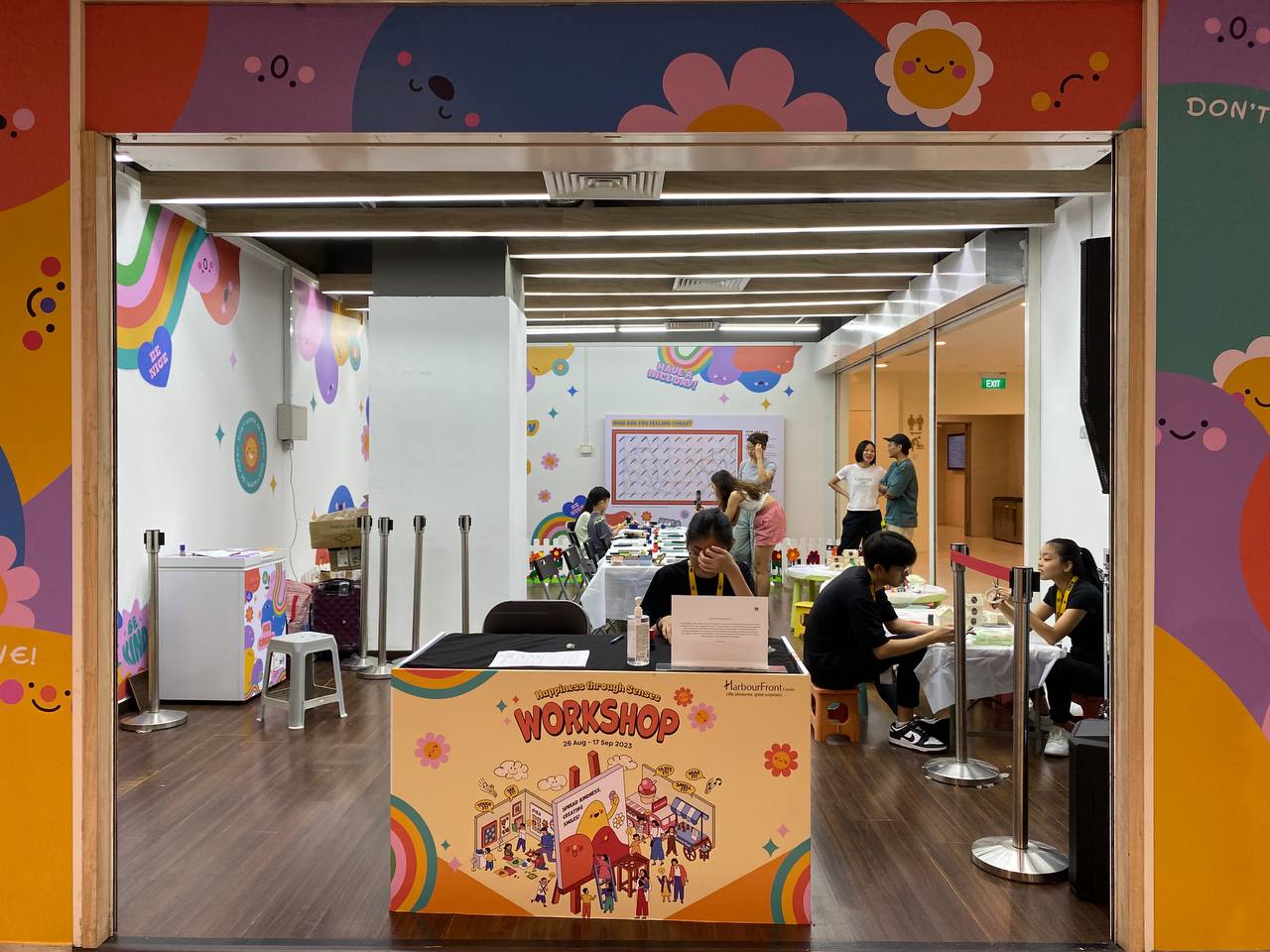 All you have to do is spend a minimum of S$80 to be eligible for one activity entry.
Kids can look forward to the following activities:
Happy bracelet making

DIY fingerprint

Coin bank painting

Castanet painting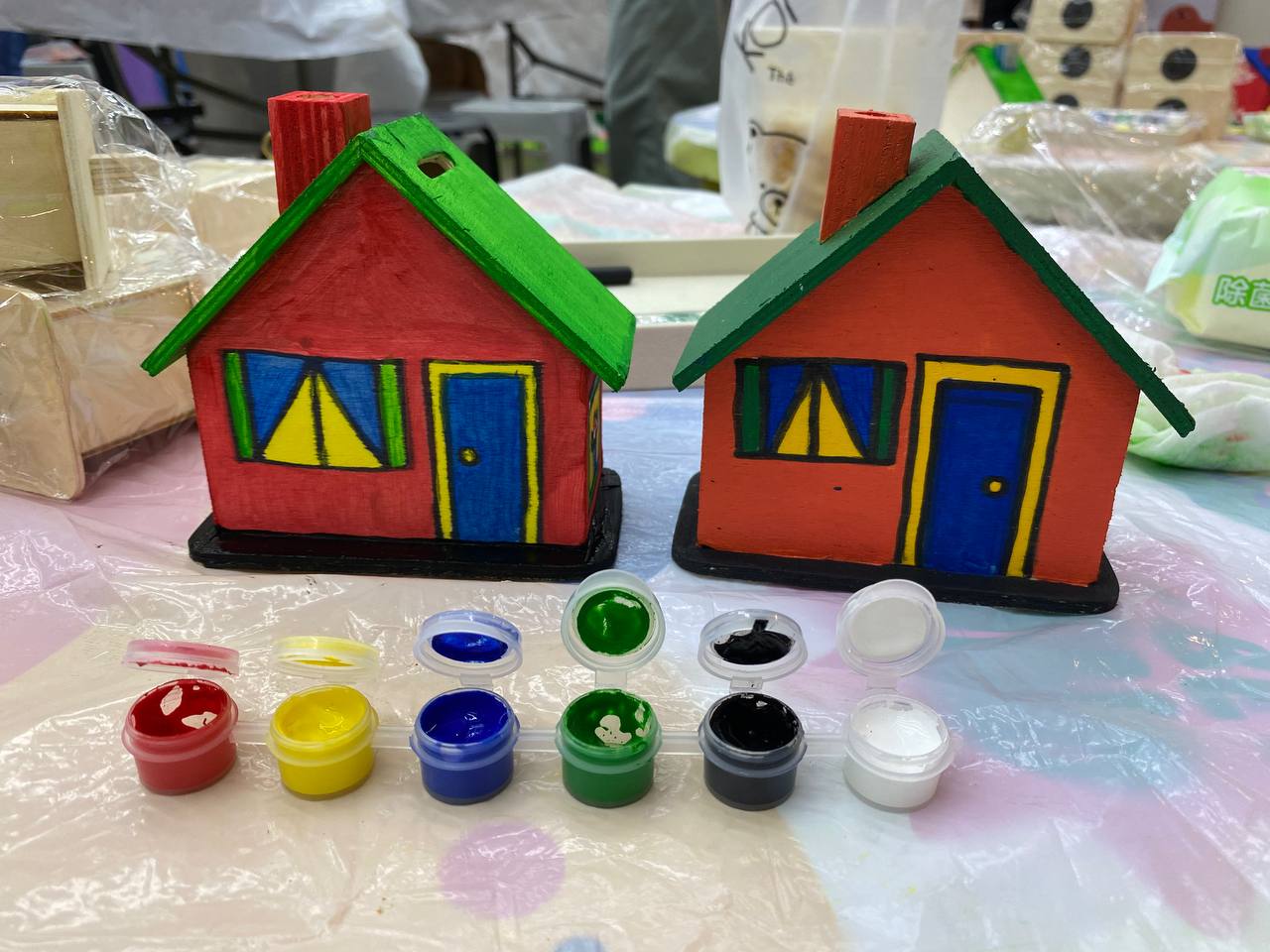 While adults can wind down with these therapeutic workshops:
Terracotta clay oil diffuser

Smiley handphone strap making

Organic aroma soap making

Leather punch letters making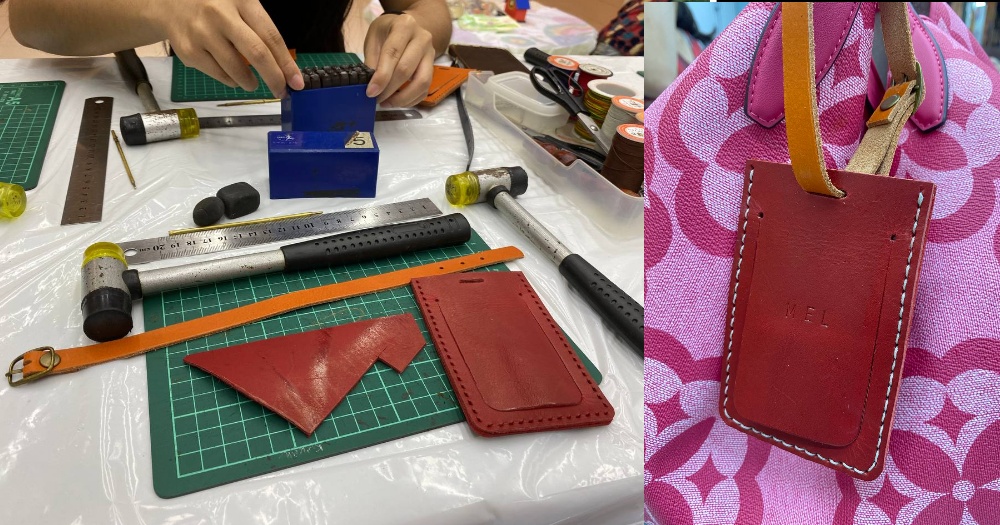 Location: #03-57 (next to Raffles Medical)
Dates
Aug. 26, 27

Sept. 2, 3, 9, 10, 16, 17
Lucky draw and gift with purchase
Customers who spend S$50* will also be entitled to a lucky draw chance while friends of HarbourFront Centre can enjoy double chances.
Prizes
1 x Agora Absolutely Fabulous Party Package (worth S$1,425)

2 x Agora Fantastically Fun Party Package (worth S$1,005)
*Max four chances in the same redemption
There are gifts to be redeemed with a minimum spend as well:
S$50* (corporate, Mon to Fri)

S$80* (friends of HFC/ Corporate/ Safra and 11B Card holders)

S$100* (without enrichment)

S$120* (with enrichment)
*Max two same-day receipts
Gifts
1 x S$10 Voucher or Gift

1 x Activity Pass (to retain receipt)

1 x Sweet Treat for Safra/11B Card Holders/ Corporate
Sustainable deals (Wednesdays only)
On the following Wednesdays, shoppers can look forward to discounts from The Green Party and Don Don Donki when they bring their own bag:
Aug. 23 and 30

Sep. 6 and 13
The Green Party: S$5 off min. spend of S$10 when you bring your own bag
Don Don Donki: S$5 off min. spend of S$10 when you bring your own bag
Tenant Deals
Look out for the following tenant deals as well, while stocks last.
Bio Organicare (#02-15/16)
Buy a Hair Elixir Tonic and get a free Pom Pom Scalp Express Treatment (worth S$108)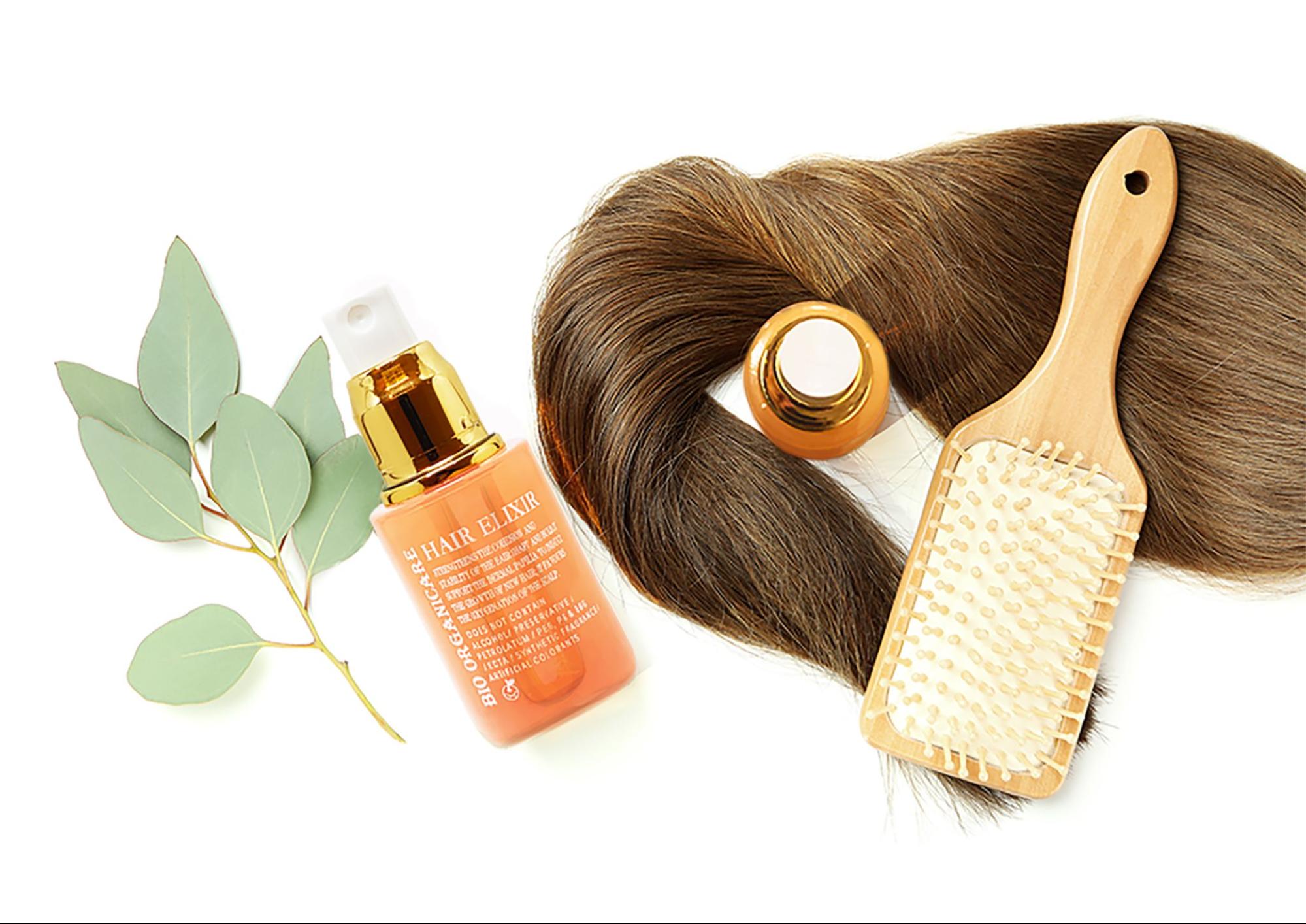 Kskin (#02-120)
Free Kskin Vitamin C Serum add on (worth S$5) with any S$50 combo facial purchased
PastaMania (#02-05/07)
PastaMania Kid's Meal - choose a pasta, an appetiser and a cup of milo for just S$9.90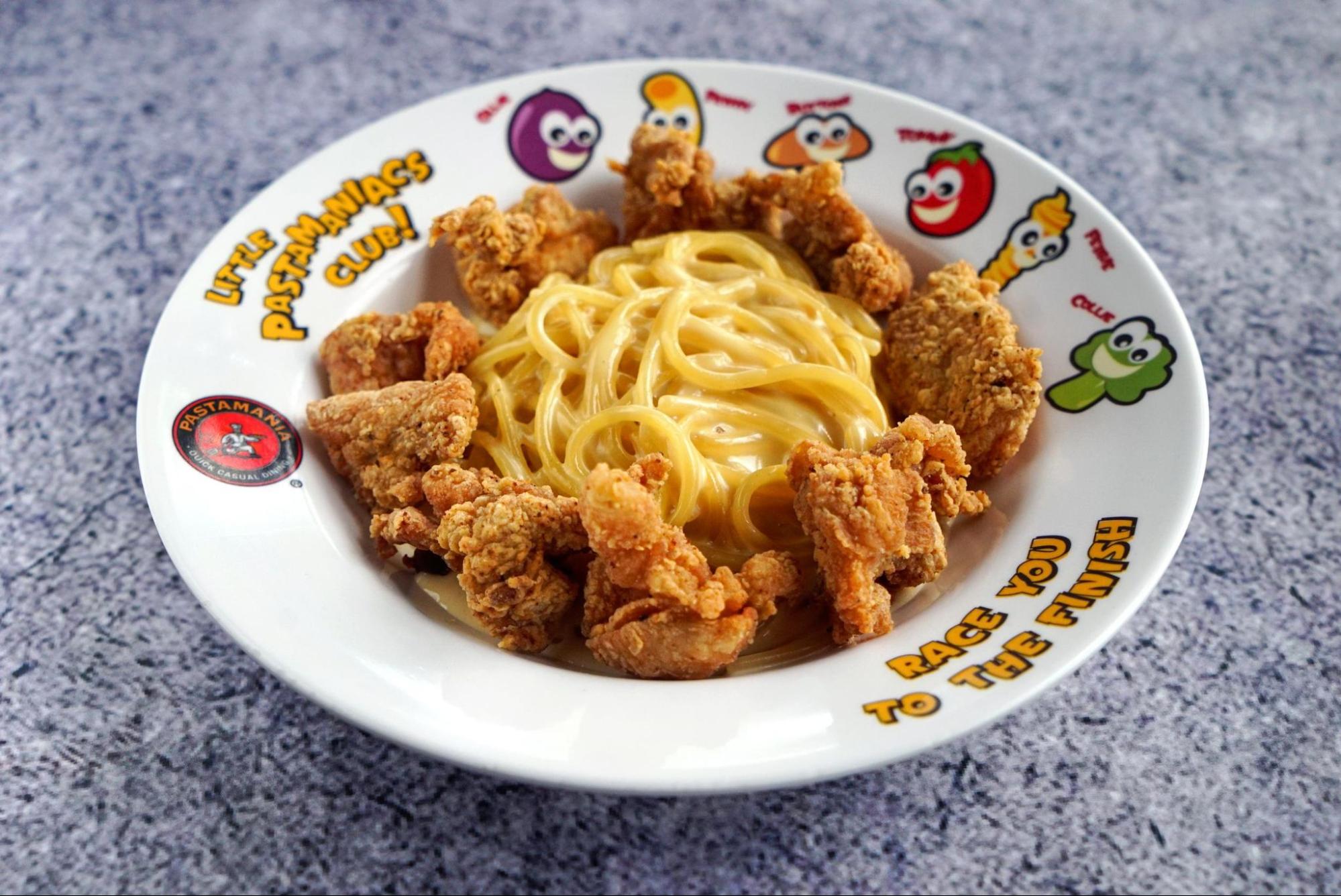 Brighton Montessori (#03-03/04)
From now till Sep. 30, there will be a registration fee waiver and starter pack (includes school bag, folder, two sets of uniforms and one PE attire). The first 20 sign ups will also get a Montessori Kit.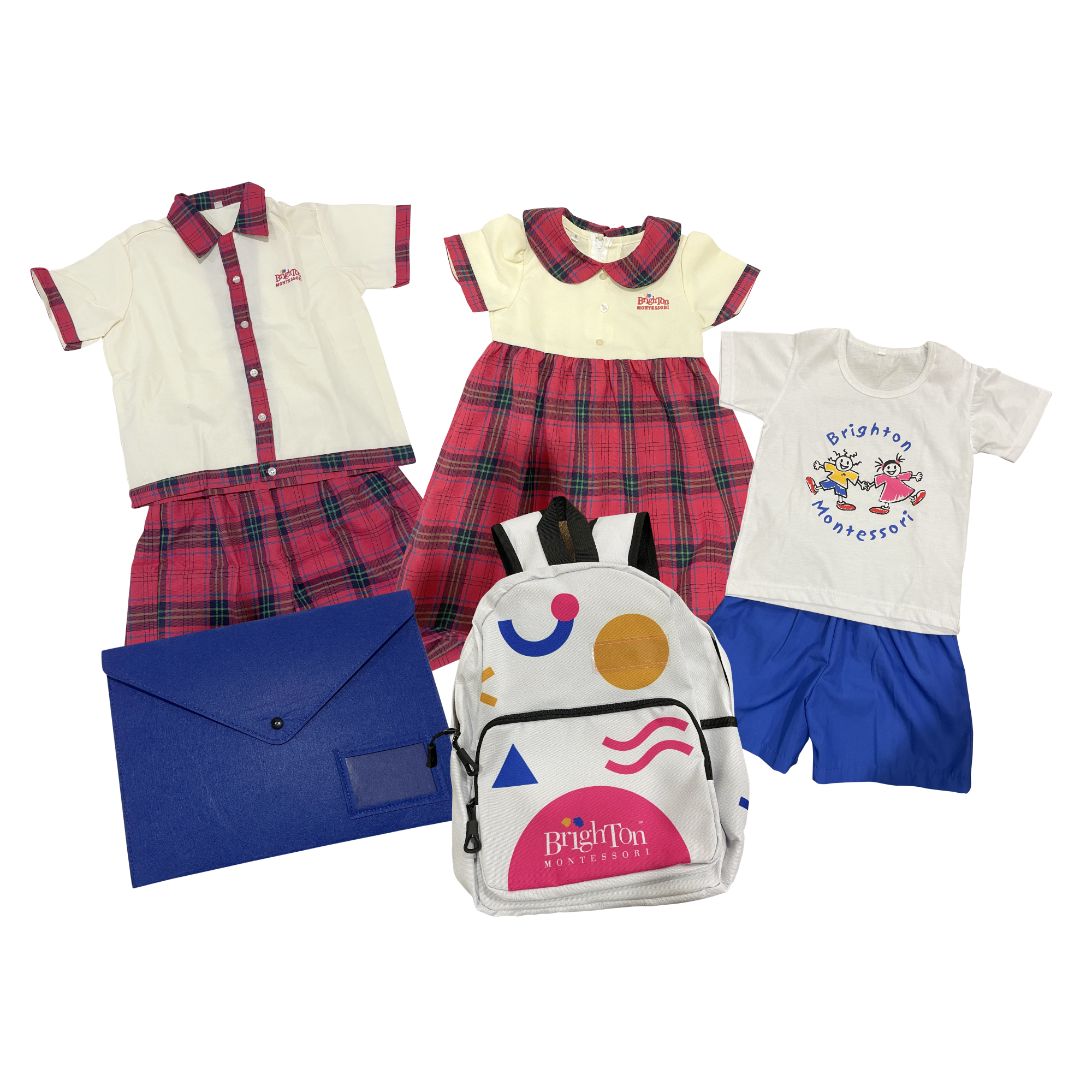 Mothercare (#03-05/06/07)
Enjoy up to 30 per cent off selected items, valid till Sep. 3
Teacher's Day Giveaway
Finally, friends of HarbourFront Centre can redeem one treat at Customer Service Counter level 3 from Sep. 9 to 11.
This is limited to 69 redemptions each day, with no spending required.
This sponsored article by HarbourFront Centre allowed this writer to get in touch with her artsy side.
Top images courtesy of Singapore Art Museum
If you like what you read, follow us on Facebook, Instagram, Twitter and Telegram to get the latest updates.