An American YouTube couple decided to see Singapore in a different way by walking from the top of Singapore to the bottom in 12 hours.
Travel content creators Kara and Nate posted their video titled "We Walked Across Asia's Smallest Country" on YouTube at the beginning of July 2023.
The two shared their journey, starting from Woodland Waterfront Park, where they could see Malaysia and walking all the way to Marina Bay Sands, where after their walk, they will swim in the infinity pool at the top of Marina Bay Sands.
Began the journey at 9:21 am
The couple set off on their cross-island journey at 9:21 am, which was later than expected.
A quick Google search showed that their route would take about six hours and nine minutes to complete a 29.3km walk across Singapore, but Nate shared that the walk would take longer as they planned on making stops along the way.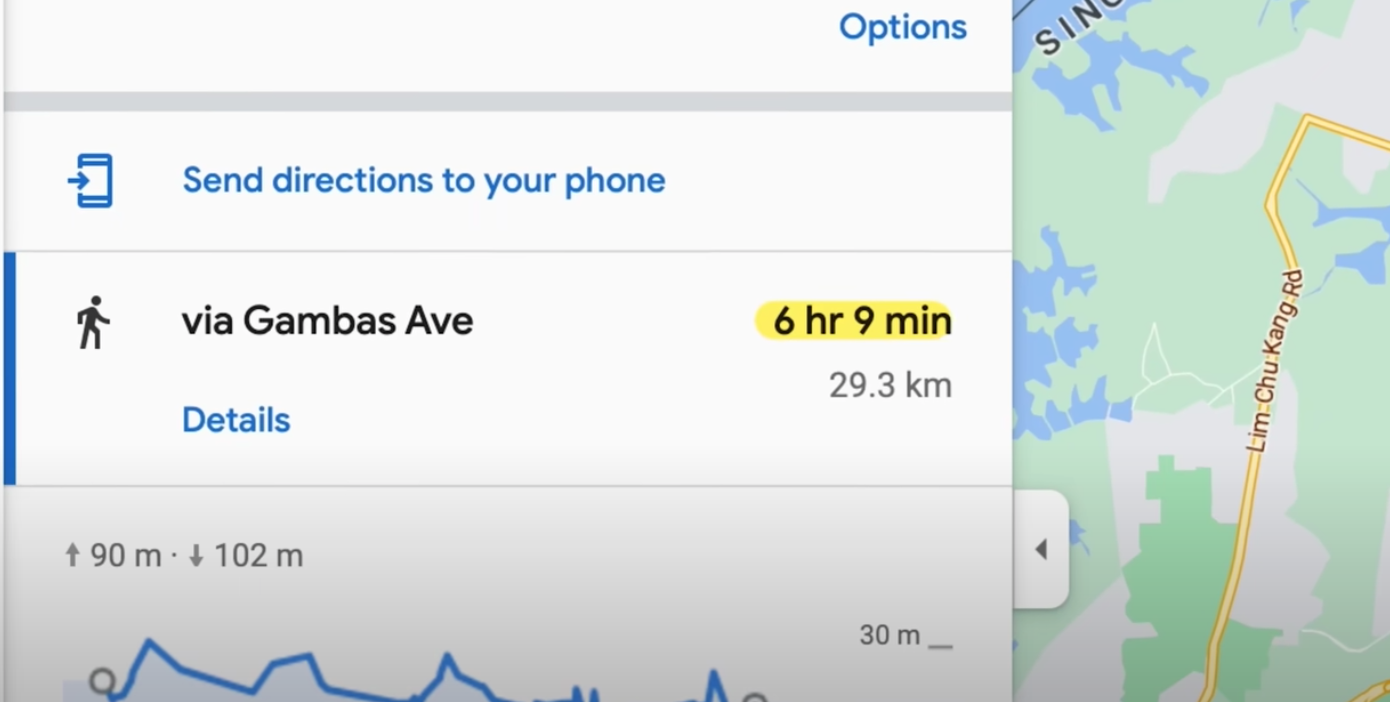 The stops allowed the couple to experience Singapore food and culture along the way.
Nate also shared that the temperature that day was 32 degrees Celsius, and he admitted that he did not consider the sun and heat, making the walk a lot more physically challenging.
"Literally sweat dripping into my eyeballs," he said.
This was not the couple's first trip to Singapore, but they previously only went to Orchard and Marina Bay area, so the walk is "forcing" them to see more of the country, said Nate.
10:24 am
After about two hours, the couple only covered about 3.2 km with no stops beyond a quick drink break to buy some beverages at 7-11.
As the couple walked along Gambas Avenue, Nate shared with Kara different crimes that could land one in prison in Singapore, including selling chewing gum.
However, according to Singapore Statutes Online, the penalty for selling chewing gum is a fine of up to S$2,000.
11:26 am, they reached Sembawang Hot Springs
After walking 6.7 km, the pair reached Sembawang Hot Springs at 11:26 am. The two submerged their feet in the hot springs foot bath area and even purchased two eggs to cook at the hot springs.
12:48 pm, Chong Pang City
By 12:48 pm, they had only covered 9.6km before heading to Chong Pang for lunch.
They ordered some paus and siew mai and something they had never eaten, rojak and century eggs.
While Kara was not a fan of century eggs, Nate described the texture of the egg as akin to a gummy bear.
For the rojak, it appeared to be spicy for both of them.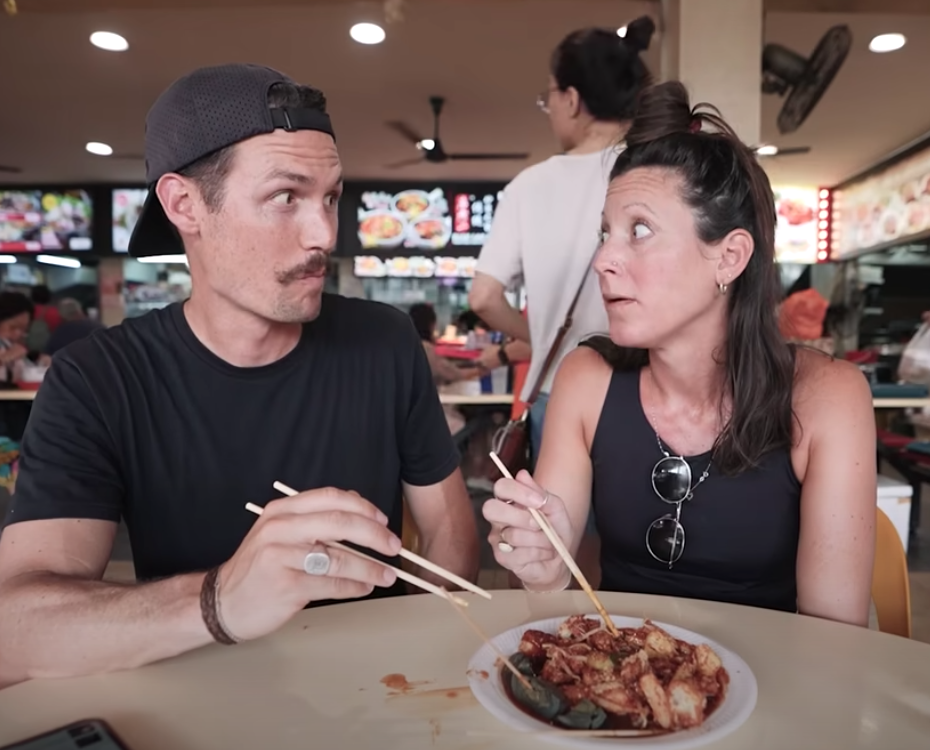 They finished lunch and continued their journey at 1:30 pm.
3:00 pm
By 3:00 pm, they had covered 15.5km but were not halfway through their journey.
Nate also said he felt like he owed Singaporeans an apology because the route he chose went through a lot of construction, making it hard for him to show off the "most beautiful parts" of the country.
They made a quick stop at Yio Chu Kang to get some orange juice from the vending machine before continuing on their quest.
20.1 km in, Kara shared that "everything hurts".
5:38 pm, dinner time
After about eight hours of walking, the pair covered 25.7 km and ended up at Toa Payoh Lorong 8 for a white carrot cake dinner.
Nate then shared that his secret goal when he began the walk was to watch the sunset from the infinity pool, but they were nowhere close to Marina Bay Sands as the sun was setting.
So Nate's new mission was to reach Marina Bay Sands by 10 pm so that they could catch the last light show along the bay.
7:30 pm
While walking between an HDB and another building, Kara said that she was waiting for the area with "all the people and life and coffee shops and shopping", which was apparently what she pictured when she set out on her journey.
By 7:30 pm, the pair had journeyed over 30 km to Little India, stopping for a garlic naan.
8:25 pm, they reached Jalan Besar.
"I would say you are not missing anything by skipping the north," Nate said as he described the south as where all the tourist areas are, and Kara added it was the place to be.
As they walked down Haji Lane, Nate made a passing remark that in his opinion, it was "the biggest tourist street" in Singapore.
After 11 hours and 15 minutes, they were finally on their last mile, having walked over 33 km.
9:21 pm, the finish line
Finally, after covering about 36.5 km in 11 hours, 41 minutes and 57 seconds, they reached their destination at Marina Bay Sands, where the couple was staying.
After their long walk, they treated themselves to a swim in the infinity pool at the top of Marina Bay Sands.
Top photo via Kara and Nate/YouTube
If you like what you read, follow us on Facebook, Instagram, Twitter and Telegram to get the latest updates.