Follow us on Telegram for the latest updates: https://t.me/mothershipsg
"This business is created for the future generations," businessman and now-hawker Henry Teong, 56, tells me.
He is referring mainly to his 16-year-old son Jonus, who has autism.
Concerned that their son may struggle to find employment in the future, Henry and his wife, Mylene, 54, set up a hawker stall selling Neapolitan-style pizzas at Taman Jurong Market and Food Centre in February this year.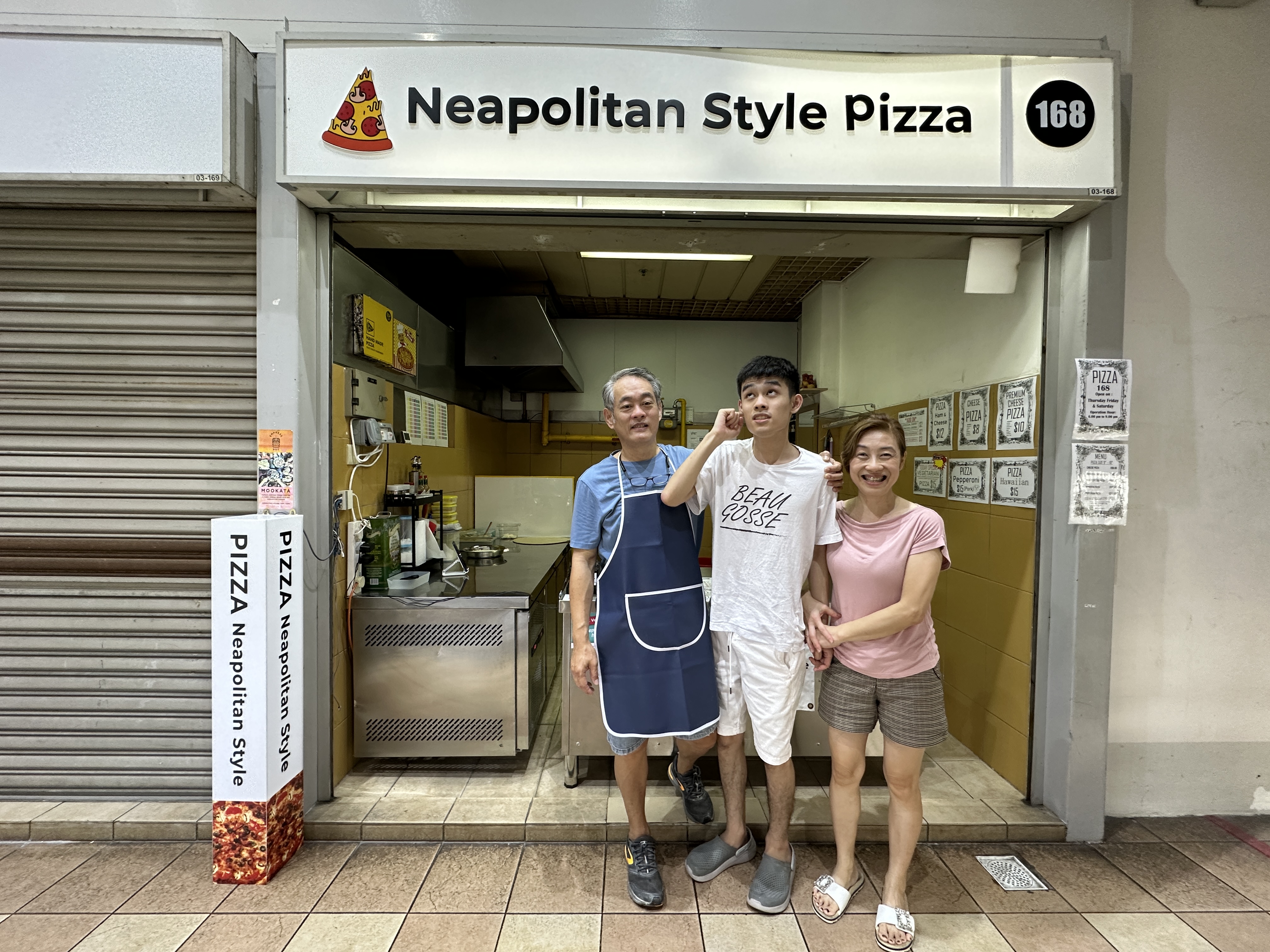 Jonus, who is non-verbal, currently studies at a special education (SPED) school in Yishun. He will graduate in two years' time.
His parents feel that the roadmap for him after graduation is unclear, given that companies that hire people with autism can have lengthy waiting lists.
"It's not easy for him to find employment," shares Mylene, a housewife and Jonus' main caregiver.
"We have to think about what happens when we grow old...[and we can't just] depend on his older brother."
"So we thought, why don't we start our own business and [include] him?" Henry recalls.
Why pizza?
"Jonus loves pizza," Mylene explains, "And we figured it's easier to get him into something that he is already interested in."
In fact, he is their designated taste-tester, and all the pizzas served on the menu have his seal of approval.
The initial idea to sell pizza came during Covid, when the couple had ample time to research on how feasible it would be.
The stall's pizza oven, custom-designed by a chef in Italy, was a gift from Mylene's Italian friend.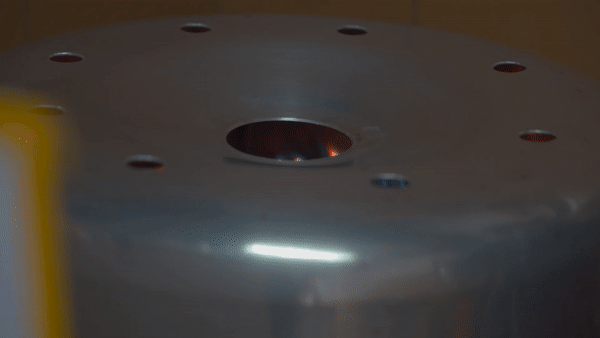 It is also small enough to fit in a hawker stall.
That said, finding the perfect formula for the pizza dough was a challenge, Henry relates.
Leveraging on his background in the chemical industry, he painstakingly fine-tuned the process to account for Singapore's climate, and honed his pizza stretching skills too.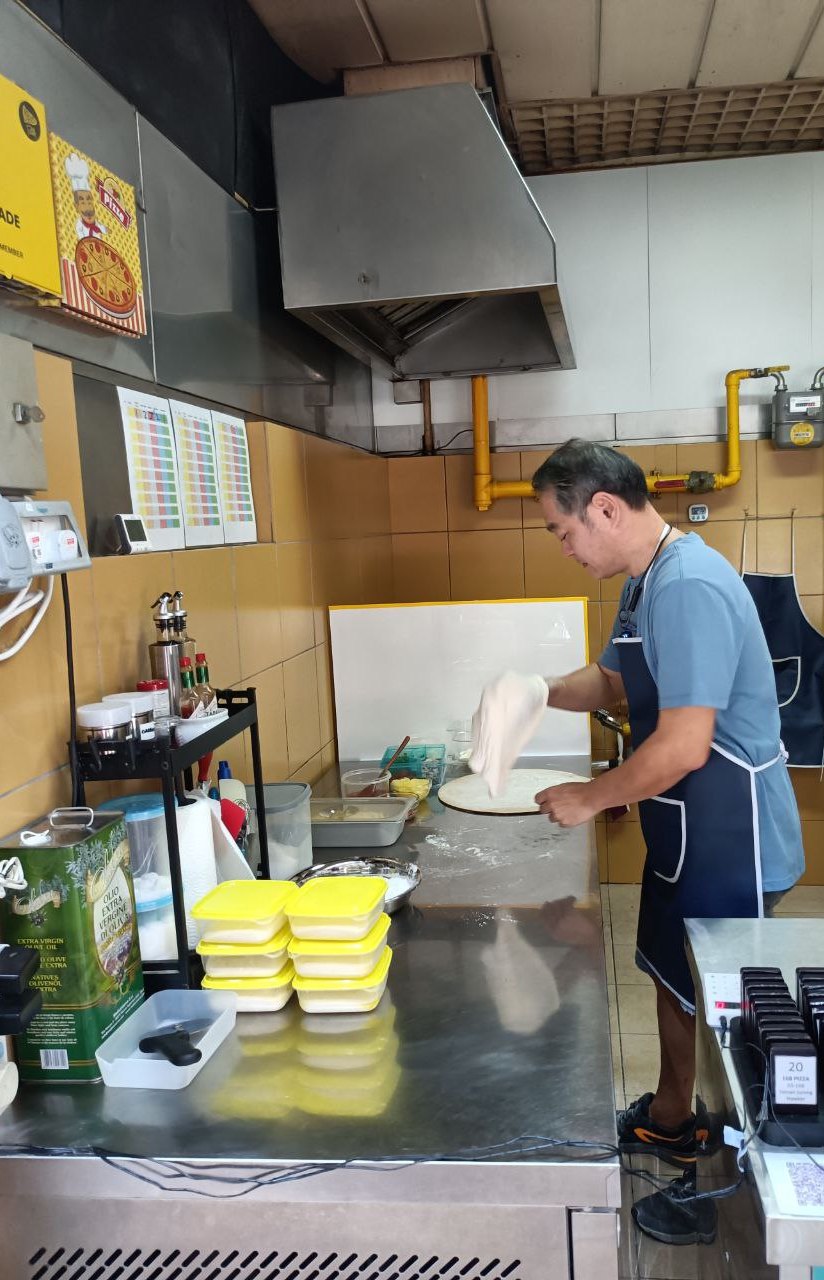 "I made one pizza a week for about a year," Henry chuckles.
Mylene, on the other hand, is in charge of the pizza sauce, and has personalised it with a homemade blend of spices.
The couple decides to set up a pizza shop at a hawker centre as it's not common to find pizzas in this setting.
He figured this would increase the stall's appeal, since pizza is typically sold in restaurants.
"We could sell traditional hawker food, but we feel this caters to the tastebuds of the younger people in Singapore," Henry explains.
Easing Jonus into the business gradually
While this shop was set up with Jonus in mind, Henry and Mylene admit that involving Jonus in the business will be a lengthy step-by-step process.
This is because children with special needs like Jonus will need a long time to adjust and pick up new skills, Henry notes.
They have started by training Jonus to fold pizza boxes for the stall, and he now takes around 14 seconds per box.
The next step, Henry hopes, is to teach him how to make the dough.
After that, he might progress to assembling pizzas, or even manning the cashier.
For now, Jonus' parents bring him down to the stall once a week to familiarise him with the environment.
This is easier said than done as Jonus is extremely sensitive to noise, and can be temperamental.
During our interview, a bird nearby starts screeching continuously, causing Jonus to whine in frustration.
Mylene goes over to soothe him and let him know that they will be heading home soon, while Henry shoos away the offending bird.
Previously, Jonus' outbursts could be triggered by the sound of children crying, but he has since overcome that.
Clearly, Jonus won't be able to handle customers any time soon, as he is still not comfortable with too many people surrounding him but his parents remain hopeful that he will eventually be able to do so.
"We'll [monitor] his progress over these two years, and see if he is able to take it," Mylene shares, "But I believe he can make it."
By exposing him to the business, Henry and Mylene also hope that the experience can help Jonus visualise where money comes from and help him become more independent.
"We [want] to show him that if you want to get something, you have to work to earn the money," Mylene explains.
Selling 300 pizzas a week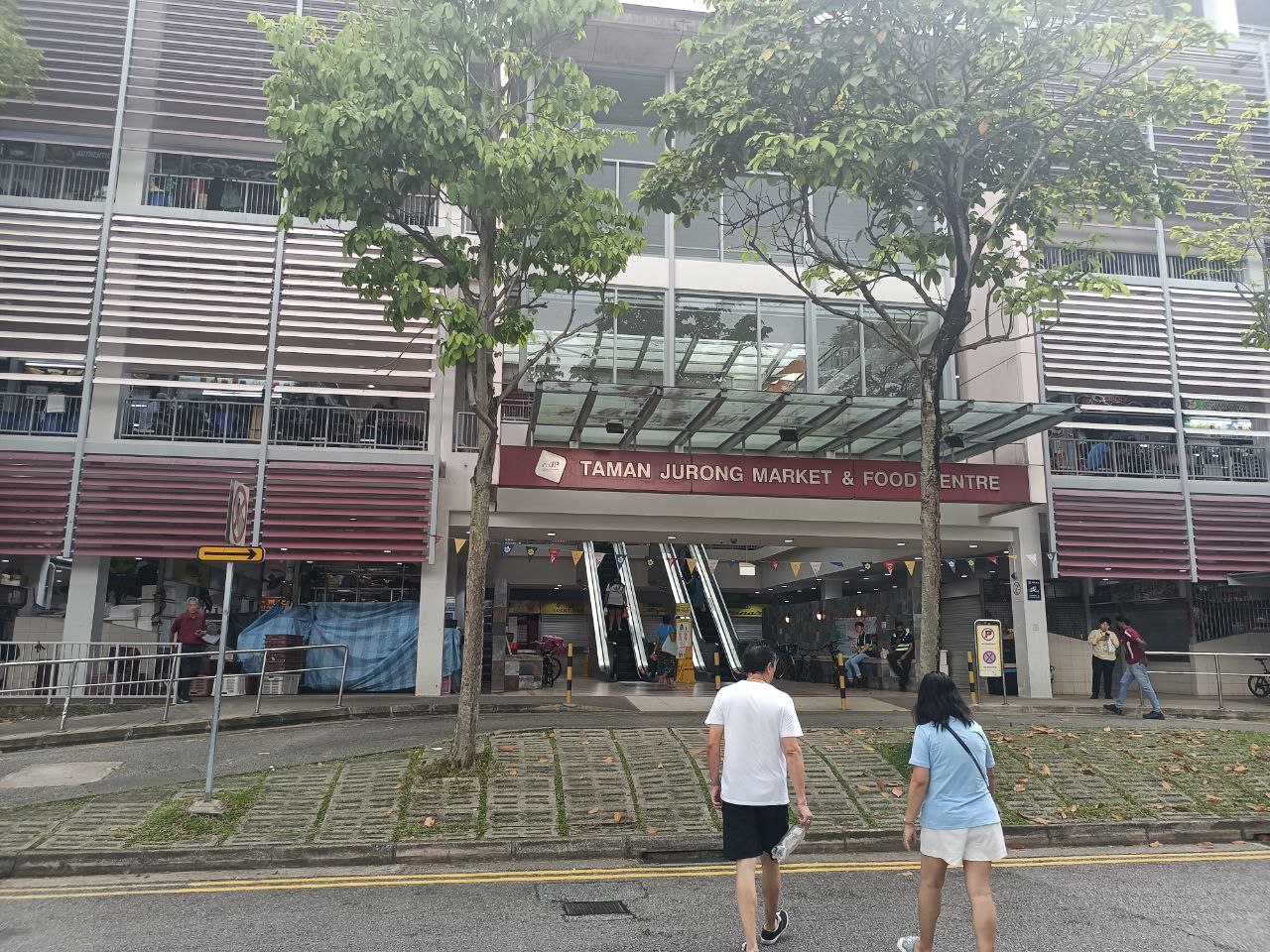 The couple successfully tendered for the stall at Taman Jurong Market and Food Centre in December 2022, after months of trying.
Though it is a long drive from their home in Pasir Ris, Henry felt the relatively quiet neighbourhood made it a suitable location to bring Jonus.
They also fork out a relatively affordable rent of S$2,000 per month.
Presently, the stall opens from 6pm to 9pm on Thursdays to Saturdays, selling 300 pizzas a week.
The grateful couple says this is only possible with the help of their families.
Benjamin, Henry's nephew Sebastian, as well as siblings on both sides have chipped in to serve customers at the stall.
On WhatsApp, their families discuss recipes, and give feedback on how to make the workflow more efficient.
With their input, Henry, the only chef at the stall, has been able to cut down the preparation time for each pizza to two minutes.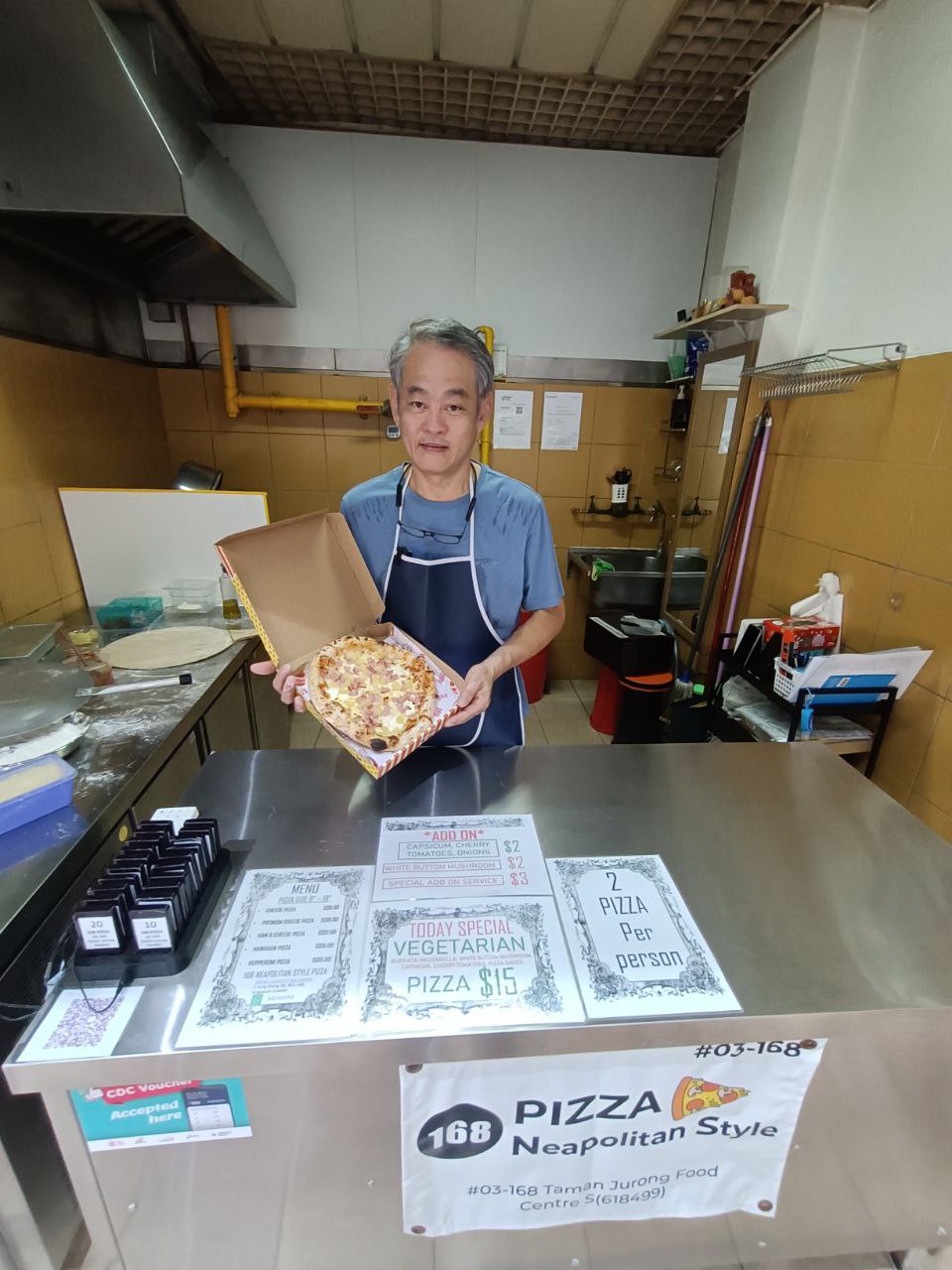 Three months into the hawker business, the couple acknowledged that despite having a thorough planning process, the reality can be tough.
But they are thankful for the support from their loved ones and Jonus for being "an understanding child".
When Jonus observes that his parents were busy, he would refrain from disturbing them, but instead make his needs known afterwards, Mylene shared.
Henry adds that it's been a good learning experience for his family, although he never thought he and his wife would start a hawker business at this age.
The pizzas
Henry's pizzas are each priced at S$15 or under.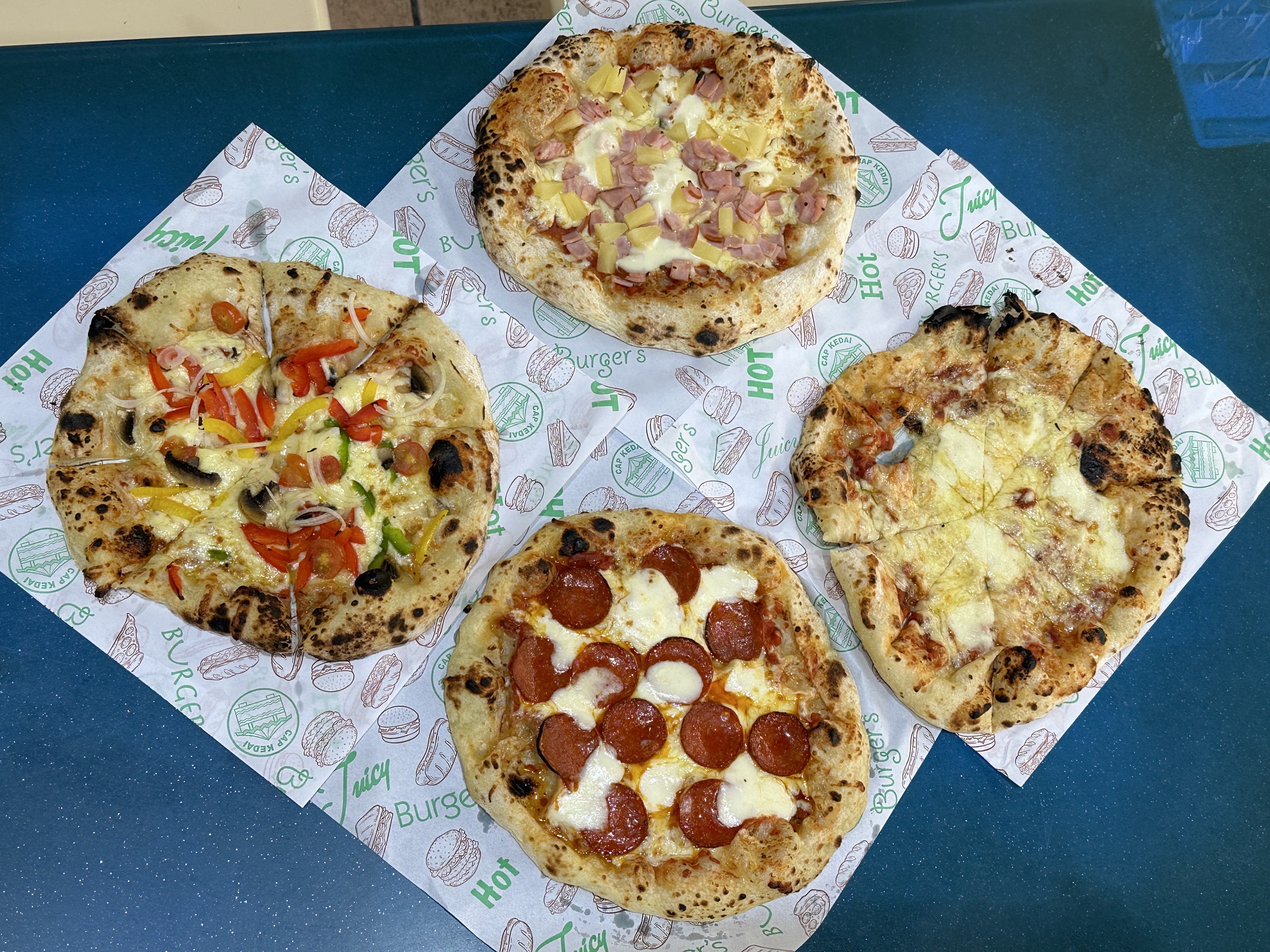 The crust is soft and fluffy, and there is a nice char on them too. I see the resemblance to a wood-fired pizza.
Henry tells us that he gets a range of customers, from young to old.
The most popular flavour among customers? Pepperoni.
Unsurprisingly, it is also Jonus' favourite.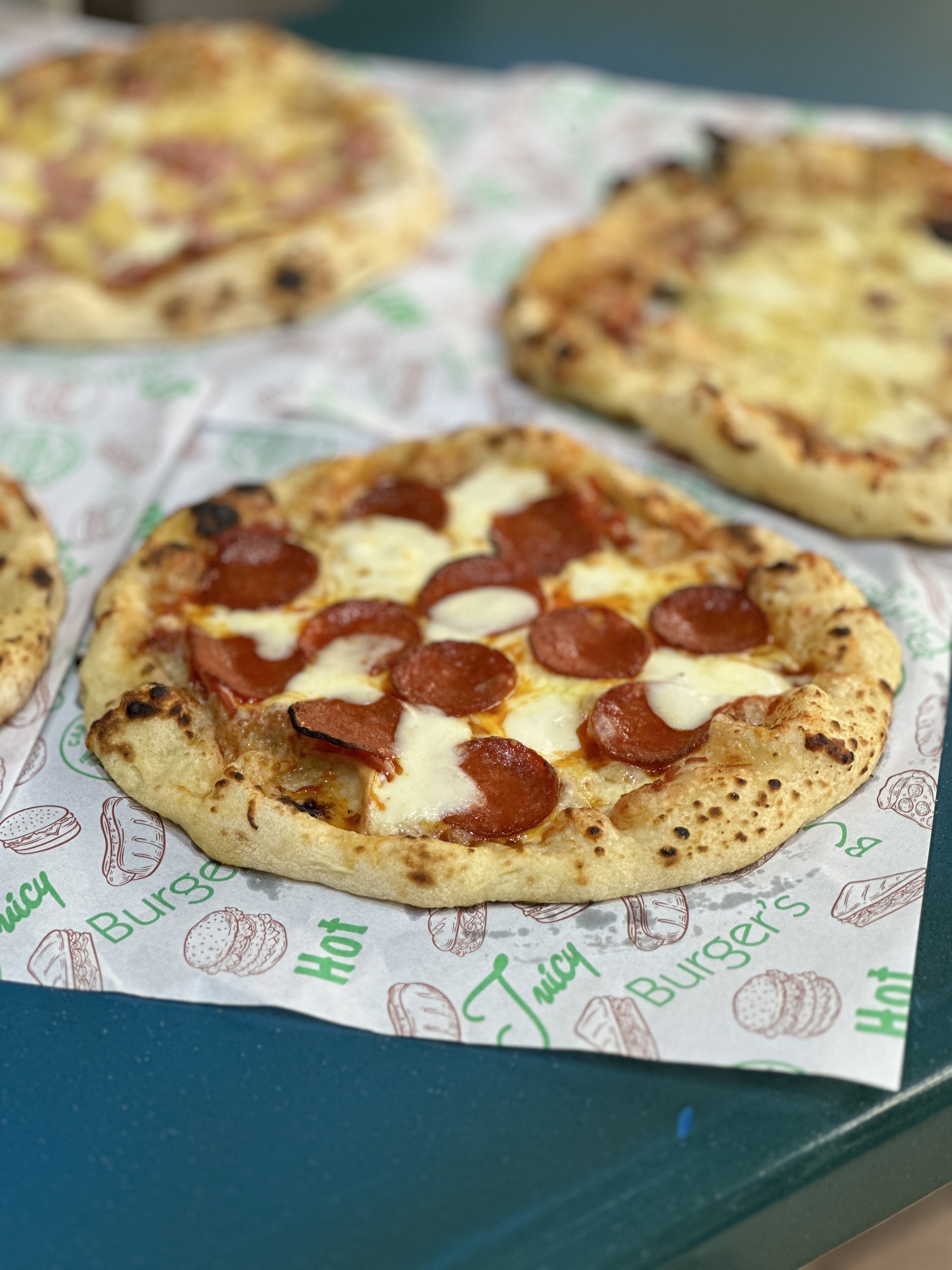 Future plans
In the future, Henry hopes to invest the stall's profits into assistive technology that will make it easier for staff with autism, not just Jonus, to work there.
These include simplified Point-of-Sales displays and contactless payment systems like self-ordering kiosks.
These plans, of course, depend on the stall being sustainable to run, which is something Henry hopes to evaluate after a year.
Details
Address: 168 Neapolitan Style Pizza, 3 Yung Sheng Rd, #03-168, S618499
Operating hours: 6pm to 9pm, Thursdays to Saturdays
Top image by Sheryl Seah.
If you like what you read, follow us on Facebook, Instagram, Twitter and Telegram to get the latest updates.