Follow us on Telegram for the latest updates: https://t.me/mothershipsg
During one of his night shifts in July 2021, Habib Mohammed S/O Asraf Belal encountered a lady sitting on the ledge of a tall building, preparing to jump.
It was the first time the 23-year-old had experienced a case like that as a Ground Response Force (GRF) officer for the Central Police Division.
"When I saw her on the ledge, I had to keep my composure and carry out my appreciation of situation (understanding the situation) to de-escalate the problem."
Woman on a ledge
As a GRF officer, Habib's responsibilities include responding to 999 calls.
Together with his partner, they were the first few officers to arrive at the scene.
"It was definitely a heartracing experience," Habib told Mothership.
Yet he maintained his composure and tapped on the trainings he had gone through, keeping his mind focused on the task at hand.
His partner engaged the woman while he worked with the Singapore Civil Defence Force (SCDF) officers to prepare for contingencies.
While doing so, Habib concurrently updated the Police Operations Command Centre in a timely manner as the situation developed.
"My teammates and I had planned our action plans in advance on how best to manage the situation in order to bring the female subject back to safety," he explained.
Fortunately, the officers eventually managed to talk to the woman, and convinced her to step down.
Not a full-time police officer
Since the incident, Habib has come across similar cases during the course of his duty.
But here's the thing — he isn't a full-time police officer.
He's only a volunteer.
When he's not busy preventing crime in the streets of Singapore, he's just a regular Year 2 student studying mechanical engineering in the National University of Singapore (NUS).
Habib has been a part of the Volunteer Special Constabulary (VSC) in the Singapore Police Force (SPF) for nearly two years now.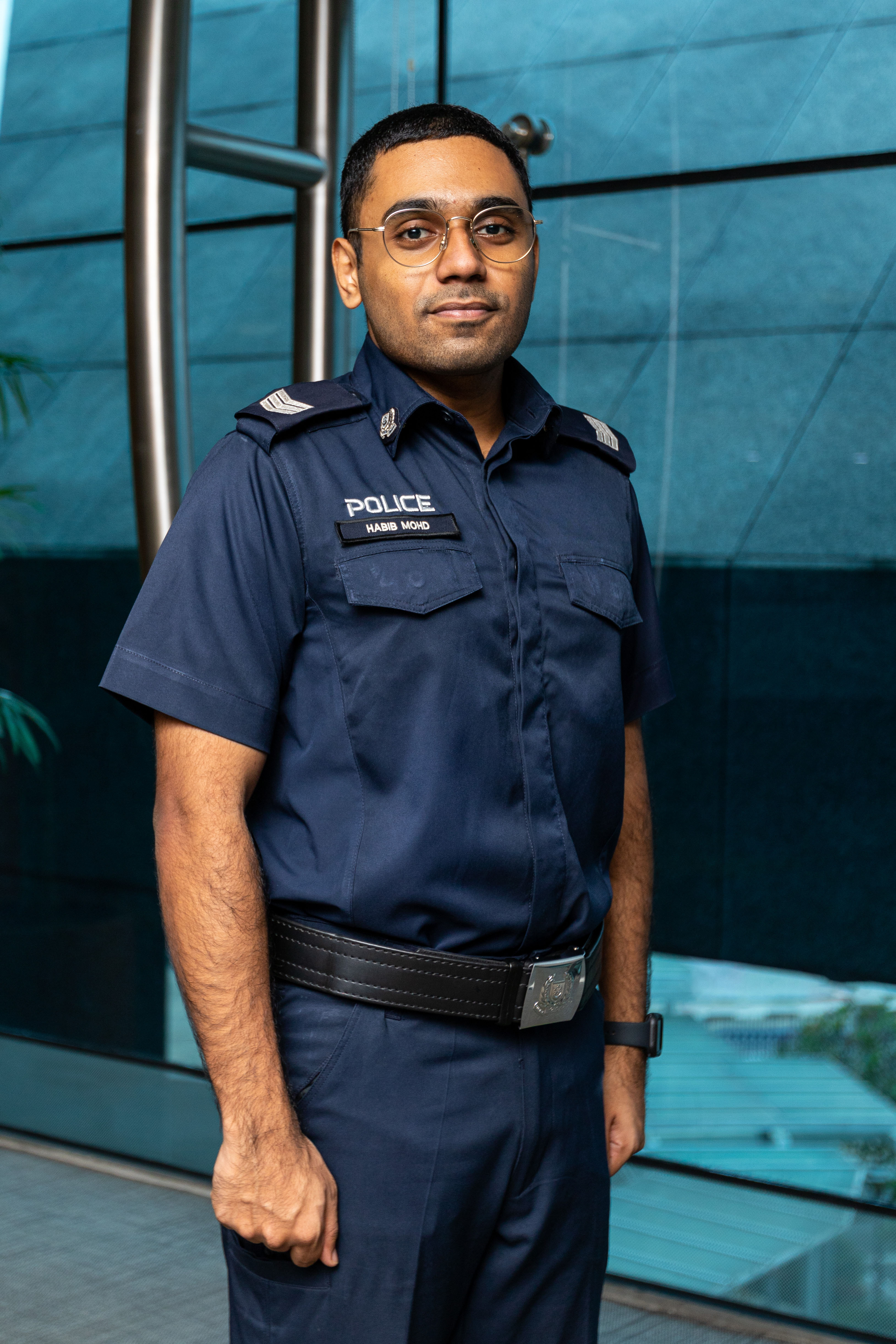 "Not an easy feat"
Despite what the name suggests, being a volunteer for SPF is "not an easy feat".
He has had his fair share of cases involving deaths.
These cases, where he's had to manage the next-of-kin of the deceased persons, are the "toughest", Habib admitted.
Although his mental and emotional well-being would be taken care of by his leaders, being a VSC officer does not mean that the responsibilities or stakes are lower.
In fact, it can be slightly tougher.
Habib told Mothership:
"The responsibilities between the regular officer and me are the same when we are deployed for duties. We look out for each other's safety when on patrols and responding to incidents. Personally, I find it more challenging as a VSC officer, as my regular officer partner is more familiar with the operating terrain than me.

Fortunately, the training that I received as well as the support and guidance provided by my more seasoned regular teammates help boost my confidence when I work alongside them to keep Singapore safe and secure."
Another volunteer with the police
Nurul Jannah Binti Ahmad, 29, shared similar sentiments.
"VSC officers have the same powers as a regular officer when on duty, but we will usually consult our teammates who are regular officers as they have more experience in dealing with cases," she said.
Jannah has been volunteering for SPF since July 2017.
Like Habib, her duty involves patrolling around the neighbourhood, and responding to 999 calls.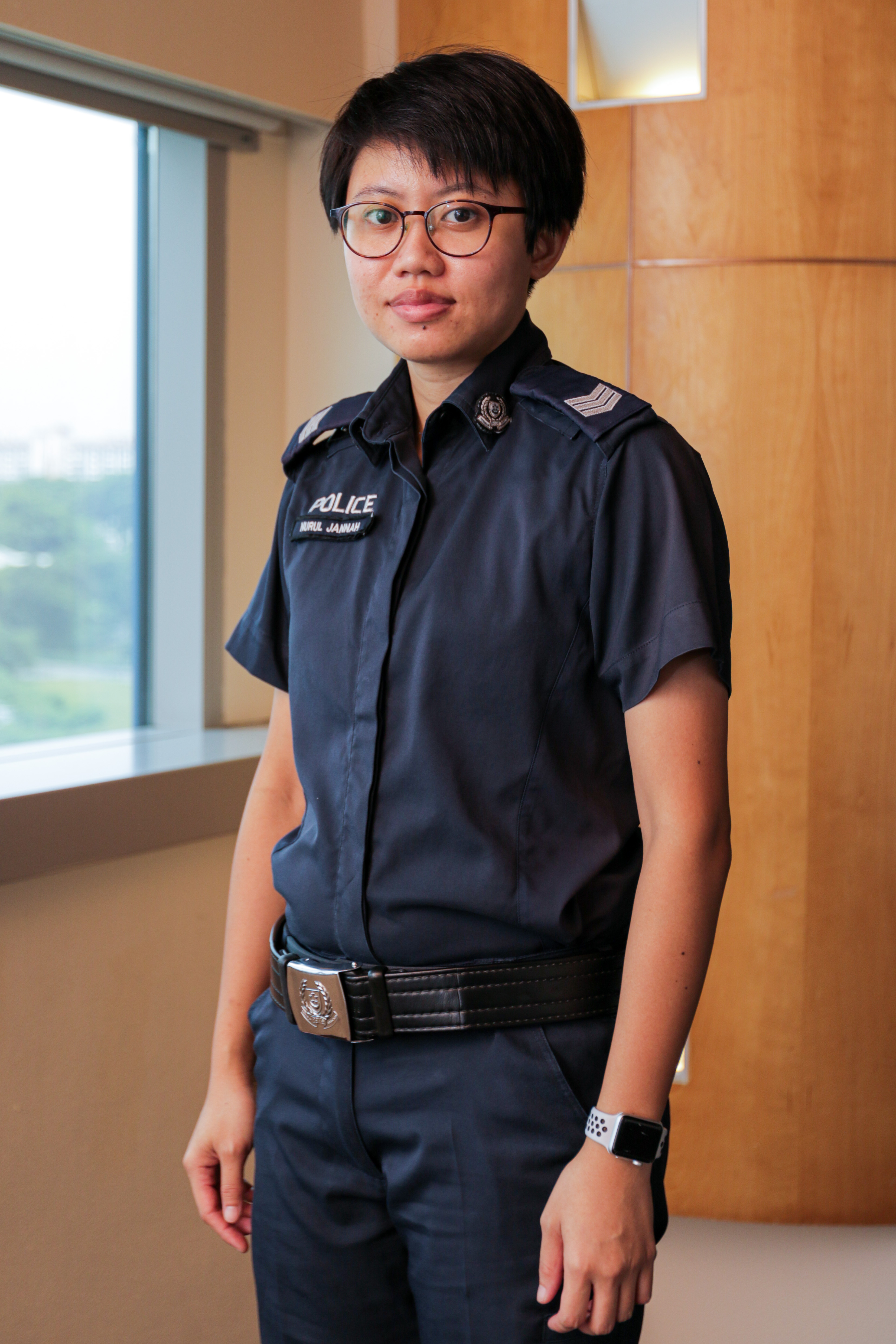 Half-conscious intoxicated man
Jannah once responded to a case involving a young man.
He was believed to be intoxicated, and was lying half-conscious on the ground after having fallen from a height.
"My heart throbbed when I heard his soft groans of pain, but we could only console him verbally and got him the help he needed to get to hospital as quickly as possible," Jannah told Mothership.
Although she was "overwhelmed by fear and sadness" in that moment, Jannah forced herself to remain calm.
"I definitely can relate to some of the cases I've handled, but I do not let them affect me personally," she added.
She credited the training and experiences she's had as a VSC officer for her "empathetic yet firm" attitude.
Trump-Kim summit
On top of her usual duties, Jannah occasionally gets deployed for major security operations.
In 2018, she was in the roving team deployed to attend to law and order for the Trump-Kim summit.
"[I was] excited as it's a new challenge, not knowing what to expect," Jannah said.
Fortunately, the deployment went smoothly as it was well-organised.
Although she didn't end up meeting either of the political figures, Jannah found the experience fruitful.
"I learned how to respond to different kind of situations that we may not experience on our daily patrols around the neighbourhood."
Juggling work & school with police duties
When Jannah is not busy patrolling neighbourhoods and attending to major security operations, she's a full-time lab technologist.
It may seem odd — pursuing a scientific research career while preventing crimes on the side. But Jannah juggles her commitments with discipline and dedication.
She commits to her full-time job during weekdays and does a 12-hour shift as a VSC officer during the weekends.
"My working days do not clash with the days I perform my VSC duty since we are able to decide when we would like to join for duty. Thus, it is easy to manage my work commitments accordingly," Jannah explained.
Things are similar with Habib.
On his school days, he would attend lectures and tutorials, but on weekends or days without tests or classes, he would put on his police uniform.
"It's a challenge in terms of time management on occasions, but I will usually to plan my schedule ahead of time," Habib added.
Why SPF?
It's admirable to see how dedicated they both are to the police force.
But why SPF? Why is it so special to them?
Habib told Mothership that he was inspired by his father, who served with the Criminal Investigations Department (CID) during his reservist days.
The stories his father told him about his days in the police national service (NS) eventually inspired Habib to join VSC.
"[He] would always share the challenges of policing with me on a regular basis. That made my interests in SPF grow. It means a lot to be part of an organisation that my father and me are proud of."
Jannah was also inspired to be a police officer at a young age, having been enchanted by the various uniformed group CCAs during her secondary school days.
She said: "The way police officers don their uniform and carry the equipment around their belt has always made me want to be one too."
Why not be a full-time police officer?
Despite her love and interest for the police force, Jannah has no plans to work full-time for SPF as she can't see herself letting go of her research career.
It simply couldn't work, she explained.
"I can't be a full-time police officer and volunteering on a scientific research."
Thus, the VSC scheme remain a perfect fit for her, allowing her to relish both her dreams at the same time.
Habib, on the other hand, is considering joining SPF full-time after his studies.
He told Mothership:
"I have always had a passion for policing since young and VSC has given me good insights into the life of a police officer. My teammates from Marina Bay Neighbourhood Police Centre (NPC) never fail to guide and motivate me which makes the passion to join the force stronger."

"I hope to make SPF a career in the future so that I can give back to the society in a way I love most."
Will be staying for a long time
Ultimately, both Habib and Jannah can't imagine their lives without being part of the police force.
It doesn't matter if they're a VSC officer or a regular. The experiences and lessons they have learnt in the force are irreplaceable.
Jannah said she has grown to be mentally and physically stronger person. She's also been more observant and tolerant towards other people.
As for Habib, SPF has allowed him to showcase his leadership skills. It has also instilled good values in him to make him a better person.
"My parents are proud of the man that I have become and with the work I do with SPF."

The satisfaction of helping the vulnerable and seeking justice always keep me going."
Follow and listen to our podcast here:
Top images courtesy of Singapore Police Force.
If you like what you read, follow us on Facebook, Instagram, Twitter and Telegram to get the latest updates.