Follow us on Telegram for the latest updates: https://t.me/mothershipsg
The crown prince of Johor Tunku Ismail Sultan Ibrahim has set tongues wagging after joking that Syed Saddiq, formerly the youngest minister in Malaysia, can jump off the Kuala Lumpur Convention Centre (KLCC) without a parachute.
The Johor royalty posted his comment on his Instagram Stories, in response to a netizen's question on what should Syed Saddiq do to gain his attention.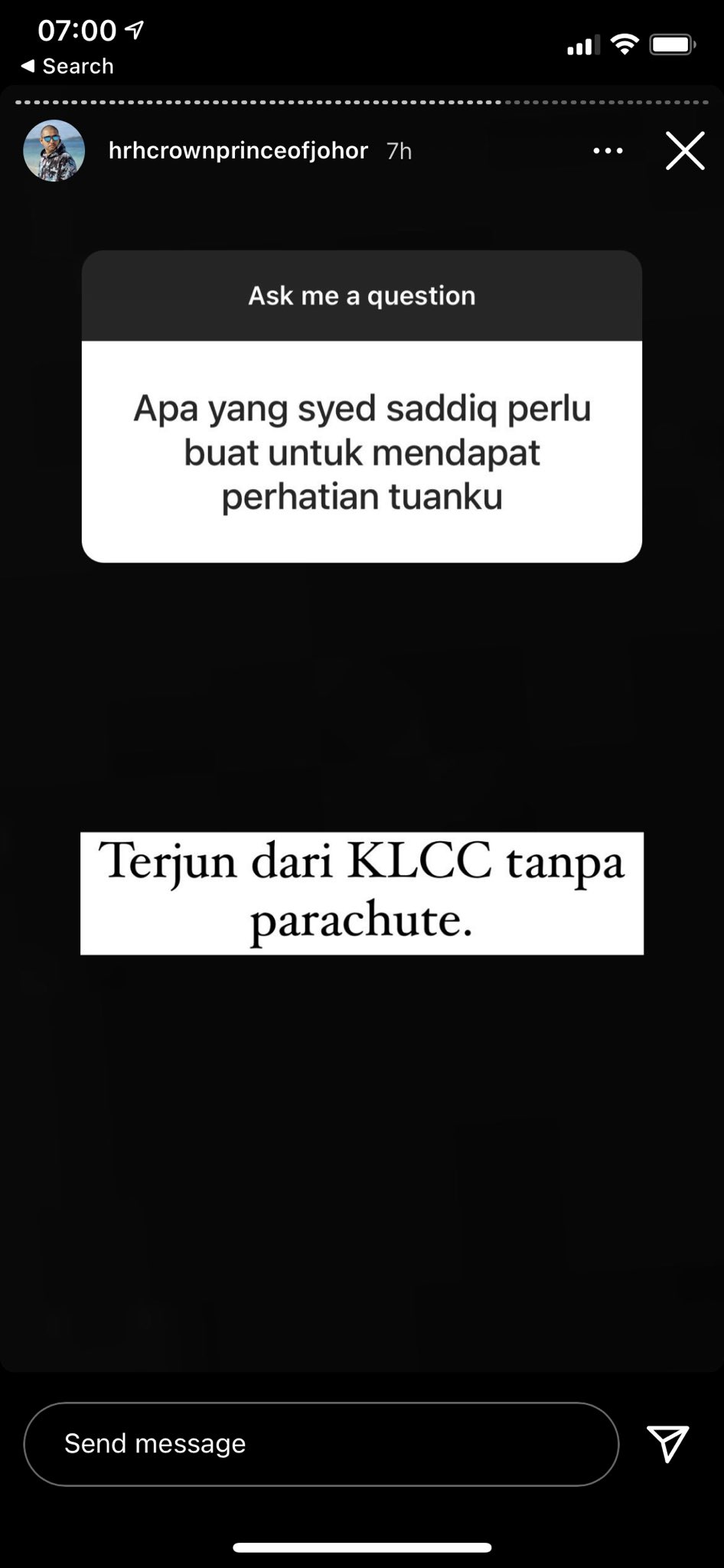 The question was one of many that the crown prince answered after prompting netizens on Instagram to ask him a question, reported The Vibes.
Netizens called him out, while some defended him
Netizens have since expressed their concerns over the crown prince's comment, saying they are "insensitive" as there have been recent reports of an increase in suicide cases this year as compared to last year.
Malaysian independent journalist Norman Goh found the crown prince's statement "alarming" saying that it could put "vulnerable group(s)" in the community at risk.
This is not a roast, this is very alarming. A person of influence telling Muar MP Syed Saddiq to "jump off KLCC".

This is not right, this has to be called out. https://t.co/ROlpfv8lB1

— Norman Goh (@imnormgoh) September 1, 2021
Another social media user tweeted, "a king's son can ask MP to jump down from KLCC without a parachute, but what would happen to us if we asked him the same thing?"
"Syed Saddiq is living rent free in in TMJ's (the nickname of the crown prince) head", a netizen added.
On the other hand, there were netizens that sided with the royalty, brushing it off as a "joke" from the crown prince of Johor.
Meanwhile, a Twitter account dedicated to KLCC related matters weighed in on the issue, tweeting "Please do not jump off KLCC".
Please do not jump off KLCC.

— KLCC Elevators (@KLCCElevators) September 1, 2021
Why the beef?
Another question that came up was why the crown prince seemed to be at odds with Syed Saddiq, as this was not the first time he has made disparaging comments about the Muar MP.
The crown prince recently called Syed Saddiq a "drama queen", after the latter started a crowdfund to pay for his bail and legal fees over charges of allegedly misappropriating party funds, Free Malaysia Today reported on Jul. 23.
Reports in previous years suggested more amicable relations between the two, with the Muar MP attending the crown prince's Hari Raya event back in July 2017, according to Malaysiakini.
Thereafter, their relationship seems to have soured, with subsequent reports of the pair trading jabs in Malaysian media.
History between the two public figures
Syed Saddiq claimed that his relationship with the Johor royalty took a wrong turn after the latter allegedly made "uncomfortable demands" relating to a high-profile event featuring Filipino boxer Manny Pacquiao, when Syed Saddiq was still Minister of Youth and Sports in 2018, reported The Star.
The crown prince also disparaged Syed Saddiq in 2018 for praising former prime minister Mahathir Mohammad, saying he's "delusional or obsessed", reported Malaysiakini.
The crown prince also reportedly hit out at Mahathir for the latter's row with his late grandfather, Sultan Iskandar Sultan Ismail, when Mahathir was still serving as the fourth prime minister of Malaysia.
Netizens further speculated that the crown prince dislikes Syed Saddiq due to his affiliation and close ties to Mahathir.
At the time of writing, Syed Saddiq has yet to respond to the comments made by the Johor royalty.
Related story:
Follow and listen to our podcast here
Top image via HRH Crown Prince of Johor/Facebook & Syed Saddiq Syed Abdul Rahman/Facebook
If you like what you read, follow us on Facebook, Instagram, Twitter and Telegram to get the latest updates.