Falling on September 21 this year, the Mid-Autumn Festival is hardly complete without savouring some mooncakes.
Whether you enjoy the taste of these treats or simply appreciate their pretty packaging, here are seven vendors you can order your mooncakes from this year based on your preferences:
Unique flavours
1. Fyre Singapore's Sakura Blossom Lychee Mooncakes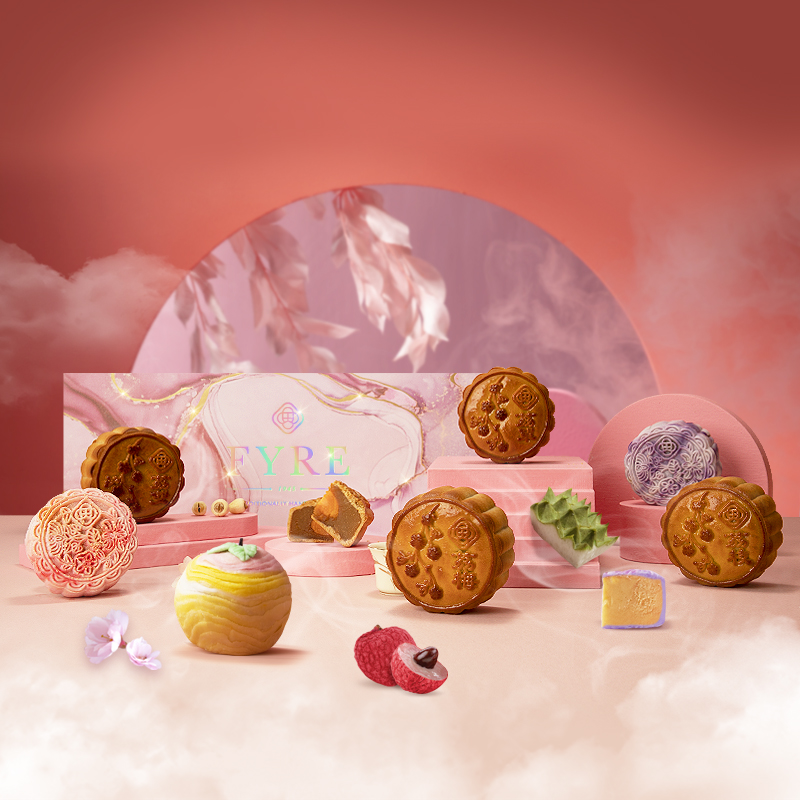 This Japanese-inspired flavour is bound to make you reminisce on your pre-pandemic holidays in Japan.
Enhanced with the rich lychee flavour, the floral scent of Japanese sakura permeates all three types of Fyre Singapore's mooncake offerings — Traditional Baked, Teochew Flaky, and handcrafted Snowskin.
The most eye-catching one is probably the Teochew Flaky Sakura Cherry Blossom Lychee Lotus (S$88.80 for four pieces) mooncake that looks like a peach, complete with stem and leaves.
The Teochew Flaky Taro Yam Lotus (S$78.80 for four pieces) is also available for those who prefer a more traditional Teochew mooncake flavour.
Health-conscious foodies may be pleased to know that Fyre Singapore bakes their Teochew mooncakes instead of frying to reduce calories.
The handcrafted snowskin variety is next in the Sakura Cherry Blossom Lychee line-up.
Made with 100 per cent natural Sakura and Lychee extract, the Sakura Cherry Blossom Lychee Black Gold MSW snowskin mooncakes (S$148.80 for four pieces) in its pastel pink shade are a feast for both the eyes and palate.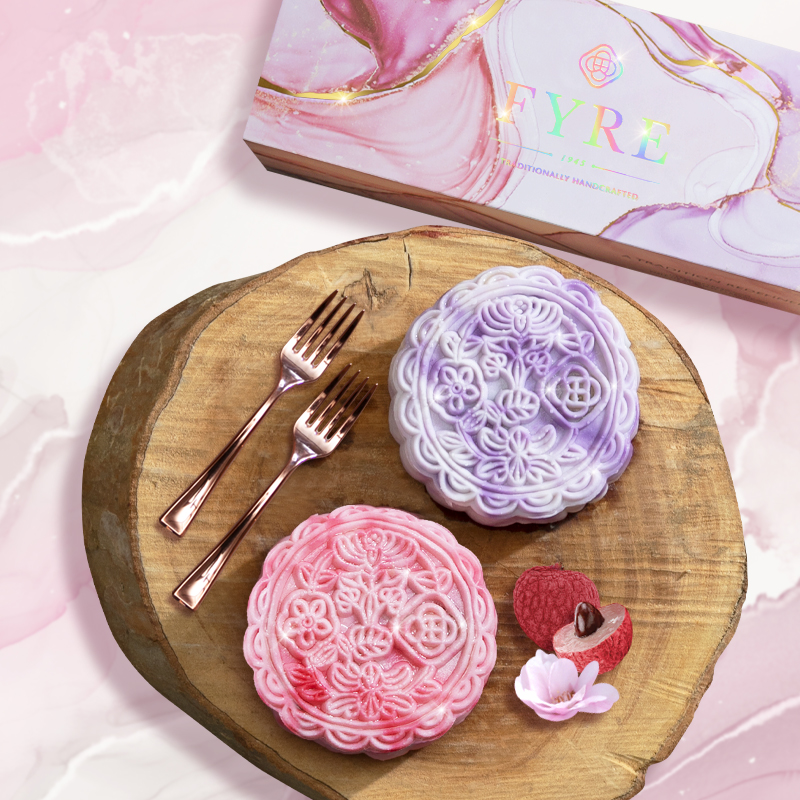 Durian aficionados may also be interested in the 100 per cent Black Gold MSW (S$118.80 for four pieces) lilac handcrafted snowskin mooncakes.
To enjoy the best of both worlds, the Snowskin Ultimum (S$178.80) offers two pieces of each flavour.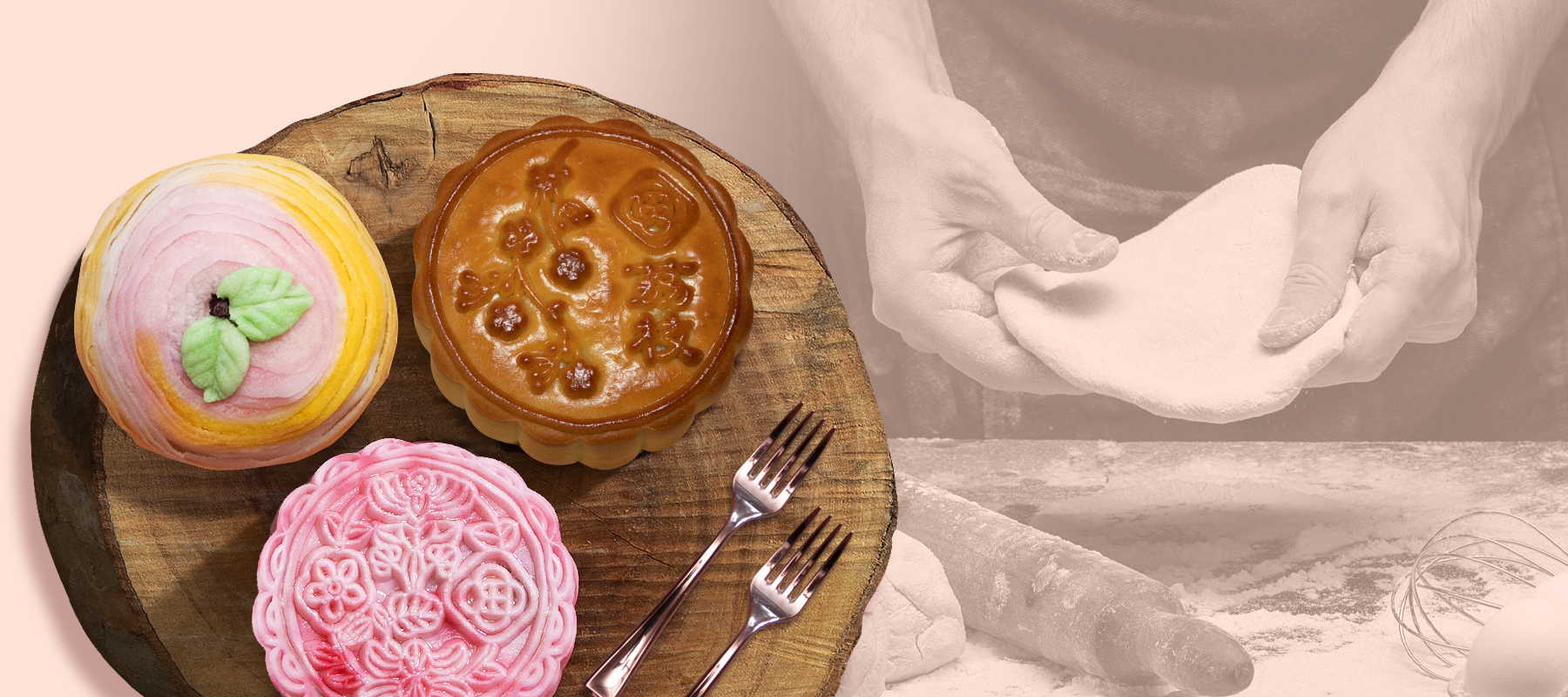 Last but not least, the Traditional Baked Mooncakes come in four varieties, three of which have extra ingredients for an added oomph:
Sakura Cherry Blossom Lychee (S$88.80 for four pieces)

Sakura Cherry Blossom Lychee Cranberry (S$98.80 for four pieces)

Sakura Cherry Blossom Lychee Single Yolk (S$108.80 for four pieces)

Sakura Cherry Blossom Lychee Double Yolk (S$118.80 for four pieces)
If you wish to try all four flavours, opt for the Traditional Ultimum (S$178.80) that comes with one of each and a bottle of Granat wine.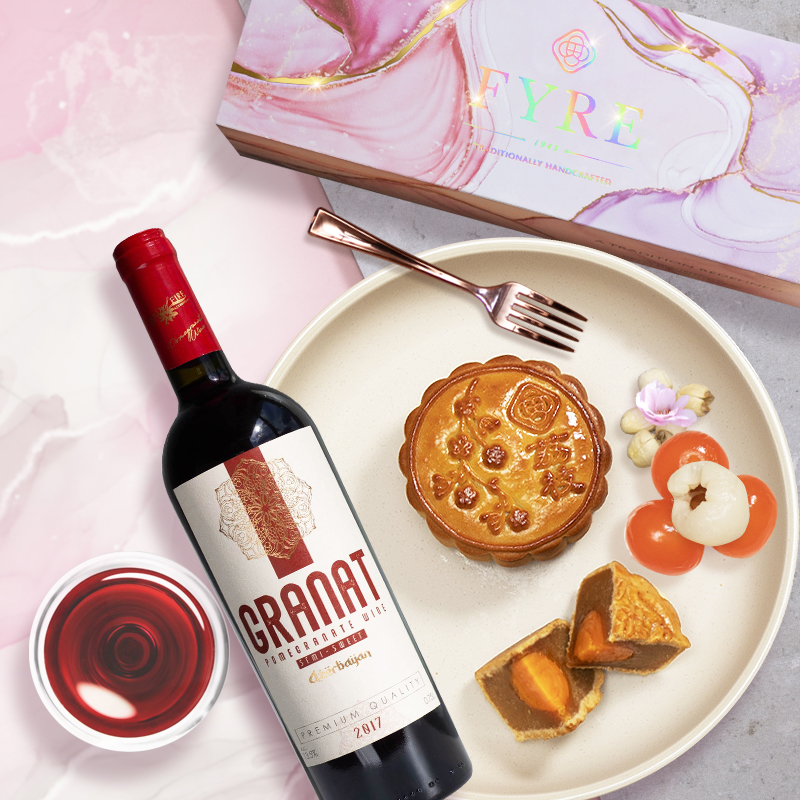 Specially flown in to be paired with Fyre Singapore's mooncake collection, you can also purchase the exclusive wine separately for S$78.80 a bottle.
From now till August 31, 2021, enjoy 25 per cent off all mooncakes and 35 per cent off Ultimum sets at Fyre Singapore's Early Bird Promo.
To order and find out more, click here or contact them at 84887455.
Check out their Facebook and Instagram @fyre.sg for more updates.
2. Yours Sincerely Bakery's Snow Skin Mille-Crepe Mooncakes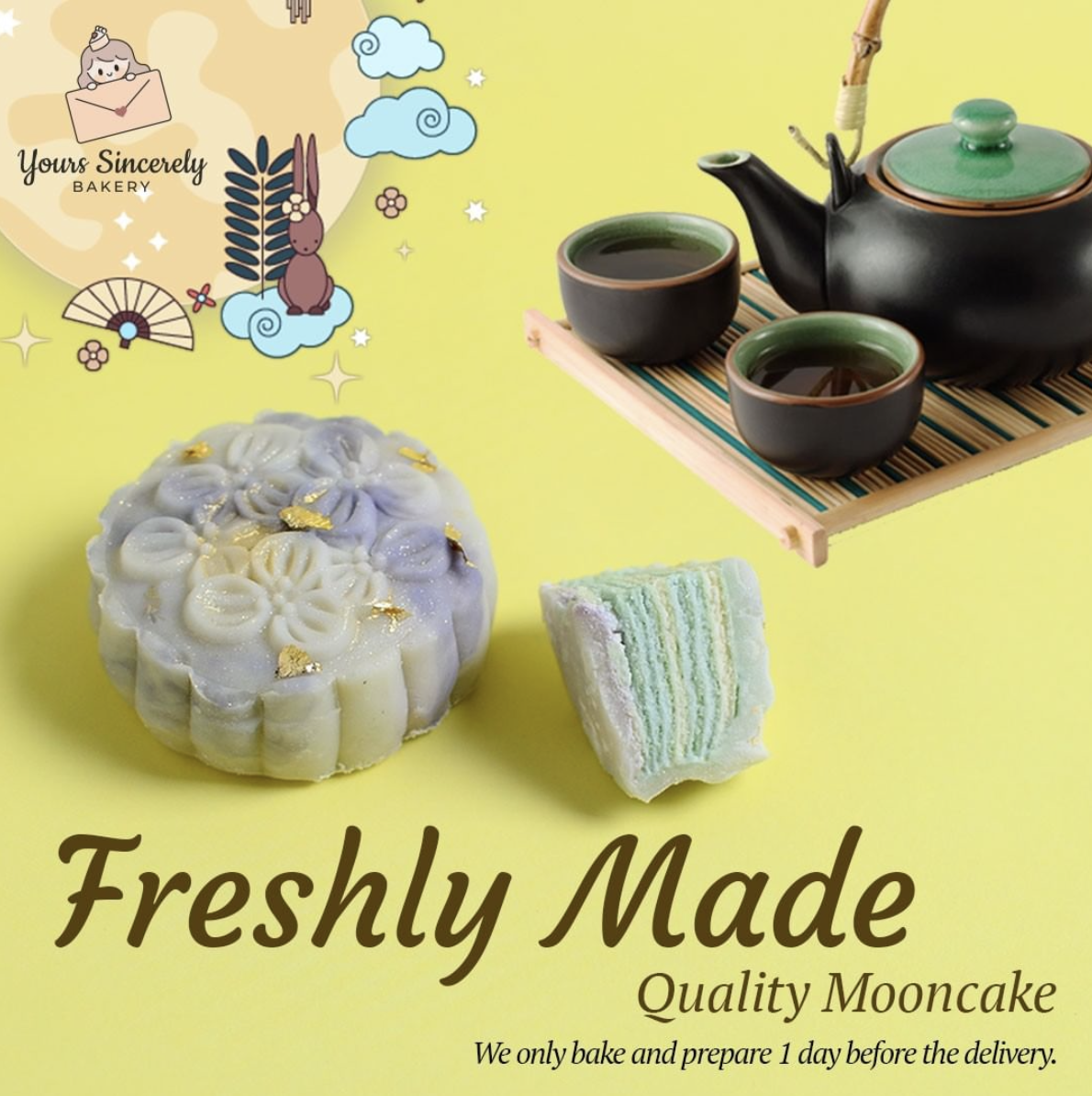 Known for their money-pulling cakes and pinata cakes, Yours Sincerely Bakery has launched their Premium Snow Skin Mille-Crepe Mooncakes (S$72.15 for six pieces).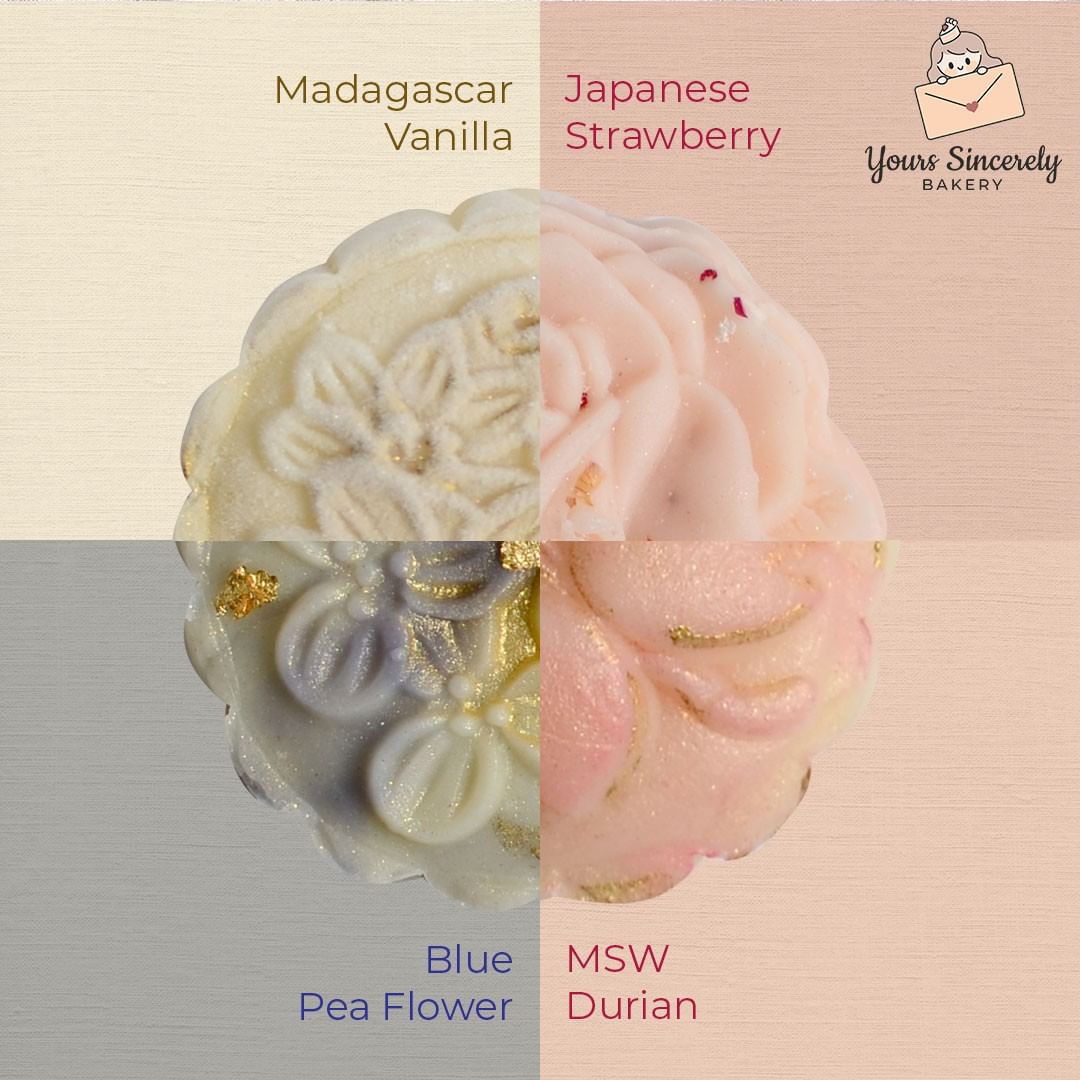 The four flavours, Madagascar Vanilla, Blue Pea Flower, Japanese Strawberry, and MSW Durian (full durian flesh) are available in a single box.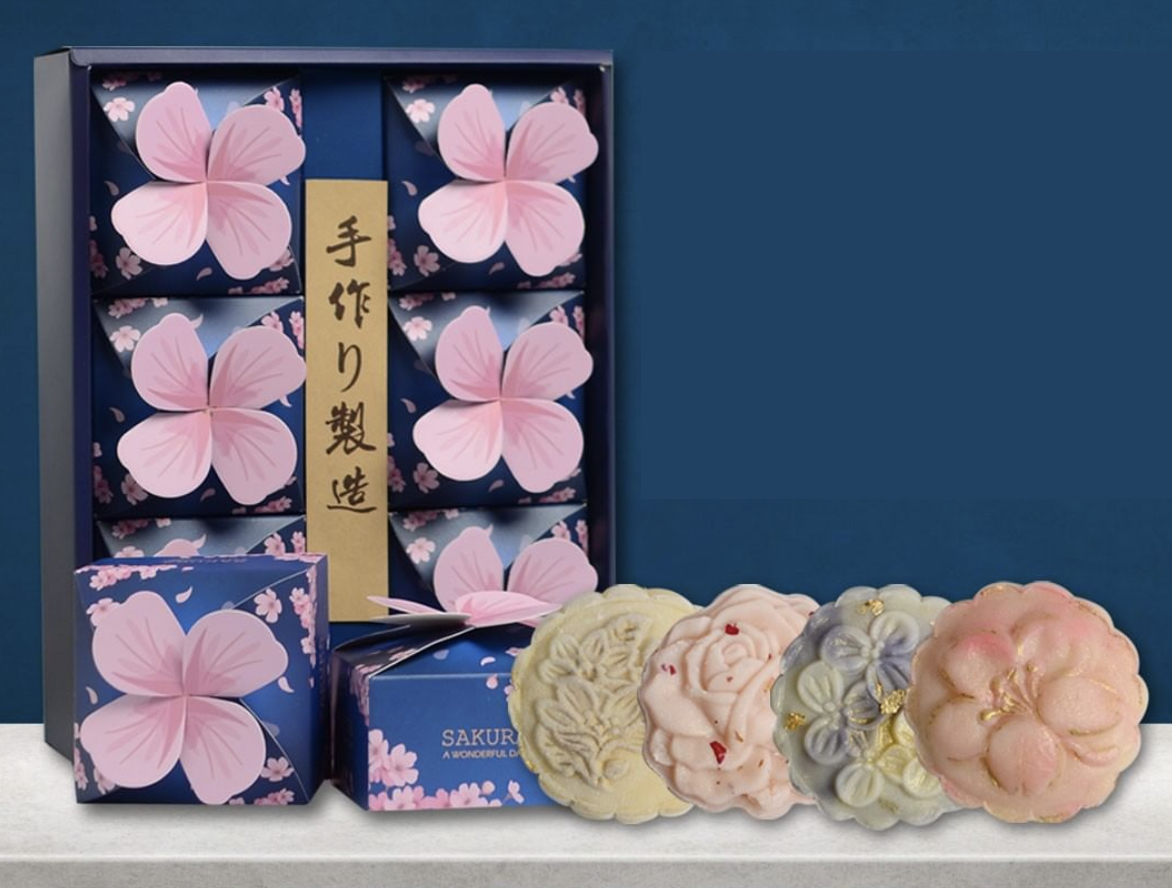 Click here to order and find out more.
Lowest pricing
3. Ah Kiat Frozen Food's Mahjong Mooncakes
Who says quirky-looking mooncakes have to cost an arm and a leg?
Ah Kiat Frozen Food offers mahjong-themed mooncakes at an affordable price to accompany your Mid-Autumn Festival mahjong games.
The 3D Big Three Scholars Mahjong Mooncakes (S$26 for 16 pieces) comes in five different flavours, namely honeydew, sweet potato, red bean, green tea, and pandan bean paste.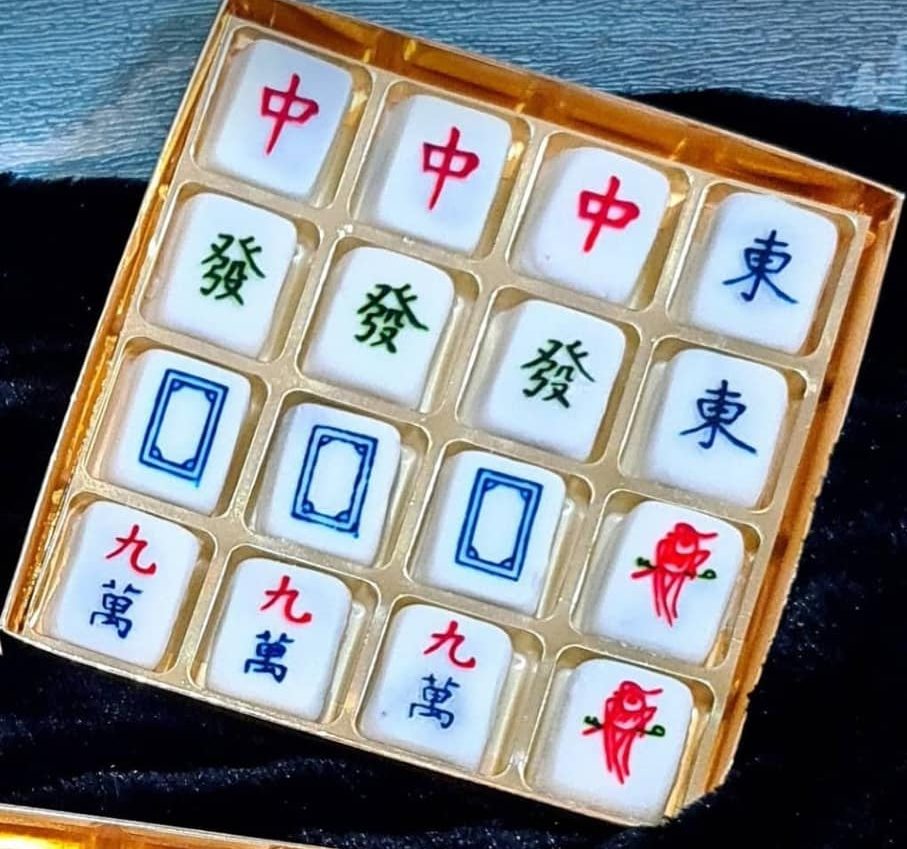 The less realistic-looking version, Golden Thirteen Wonders Mahjong Mooncakes (S$28 for 16 pieces), features a golden finish and different flavours of the snowskin — pumpkin, sweet potato, green tea, and charcoal.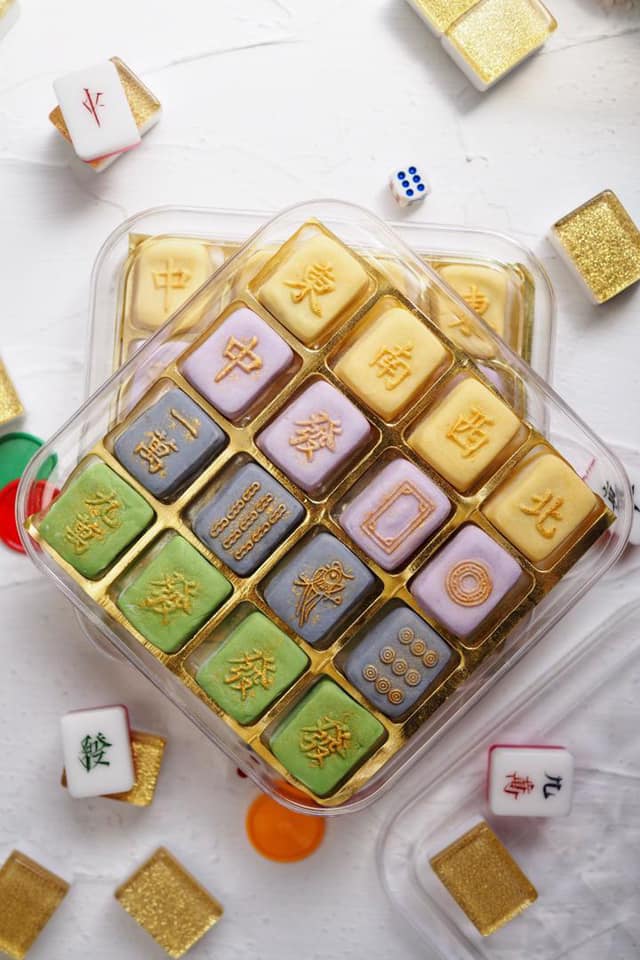 Customers can place their orders through WhatsApp at 83217291 or on its website.
4. Swensen's Mochi Snowskin Ice Cream Mooncakes
Swensen's famous mochi snowskin ice cream mooncakes are back.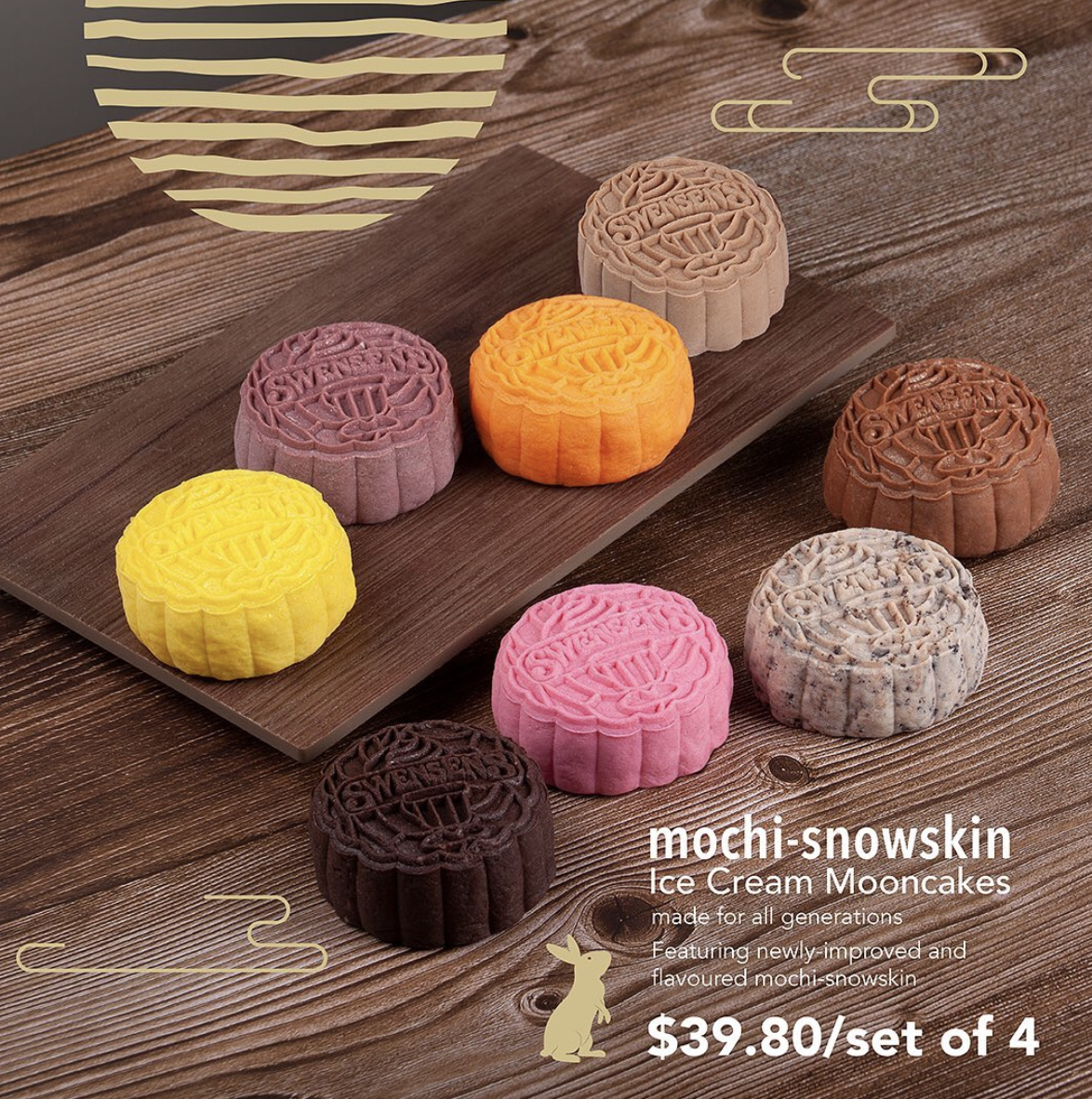 Like last year, the four signature flavours, Sticky Chewy Chocolate, Cookies 'N' Cream, Durian King, and Yam, are available.
Joining the signature flavours are four new flavours — Strawberry, Chempedak, Black Milk Tea, and Maple Machiato.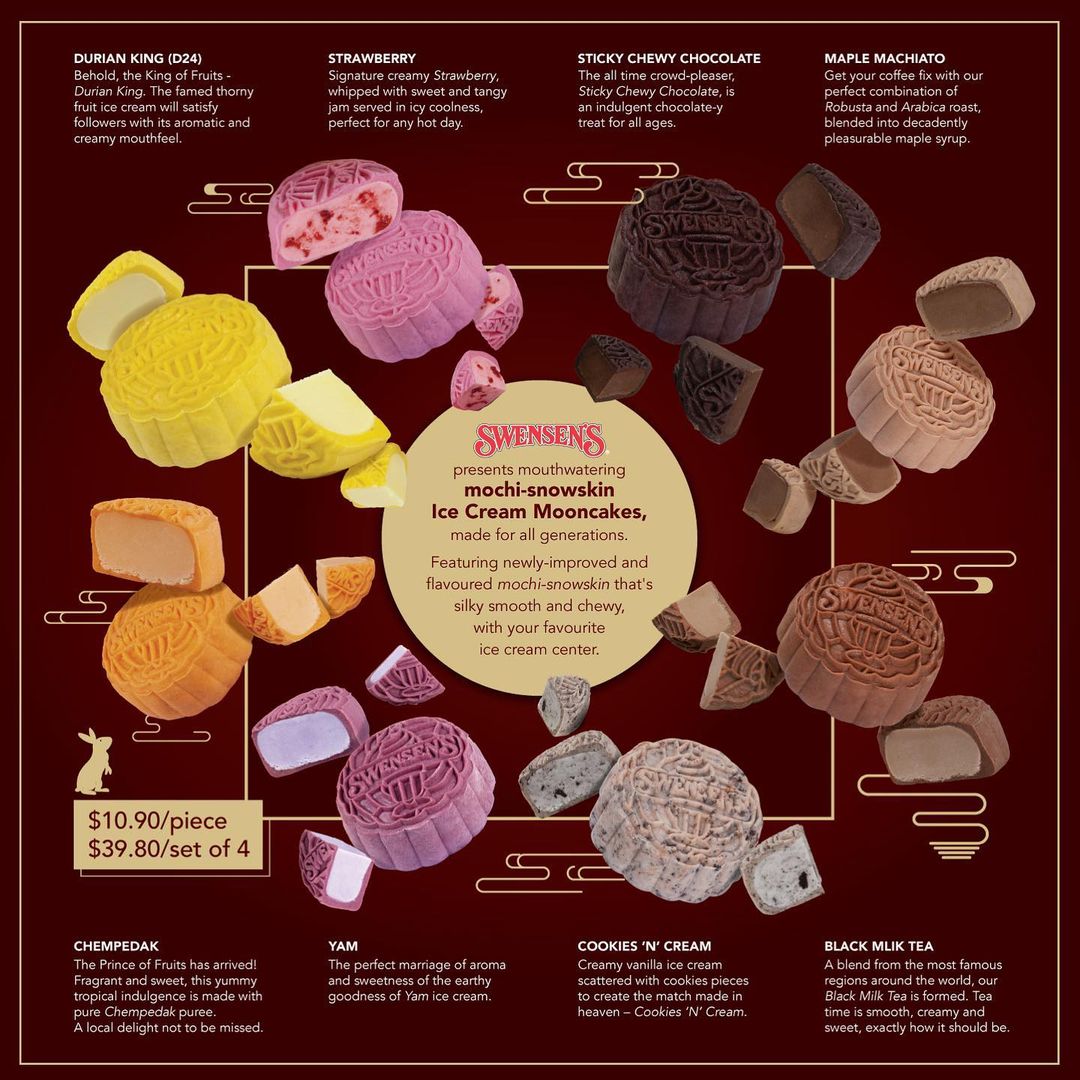 They retail at S$39.80 for four pieces or S$10.90 per piece, and you can order it at any Swensen's outlet, their website, or their customer relation hotline at 6788 8128.
Nicest packaging
5. Lady M's Light-up Ferris Wheel Mooncake Box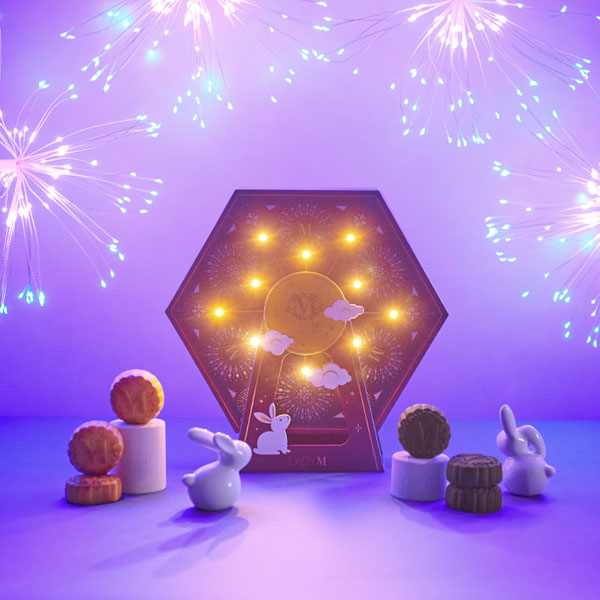 Lady M's light-up Ferris wheel box that opens on each side to reveal the custom-designed mooncakes in collaboration with Kee Wah Bakery.
The Celebration of Lights Mooncake Gift Set (S$95 for six pieces) contains three pieces of custard and chocolate respectively.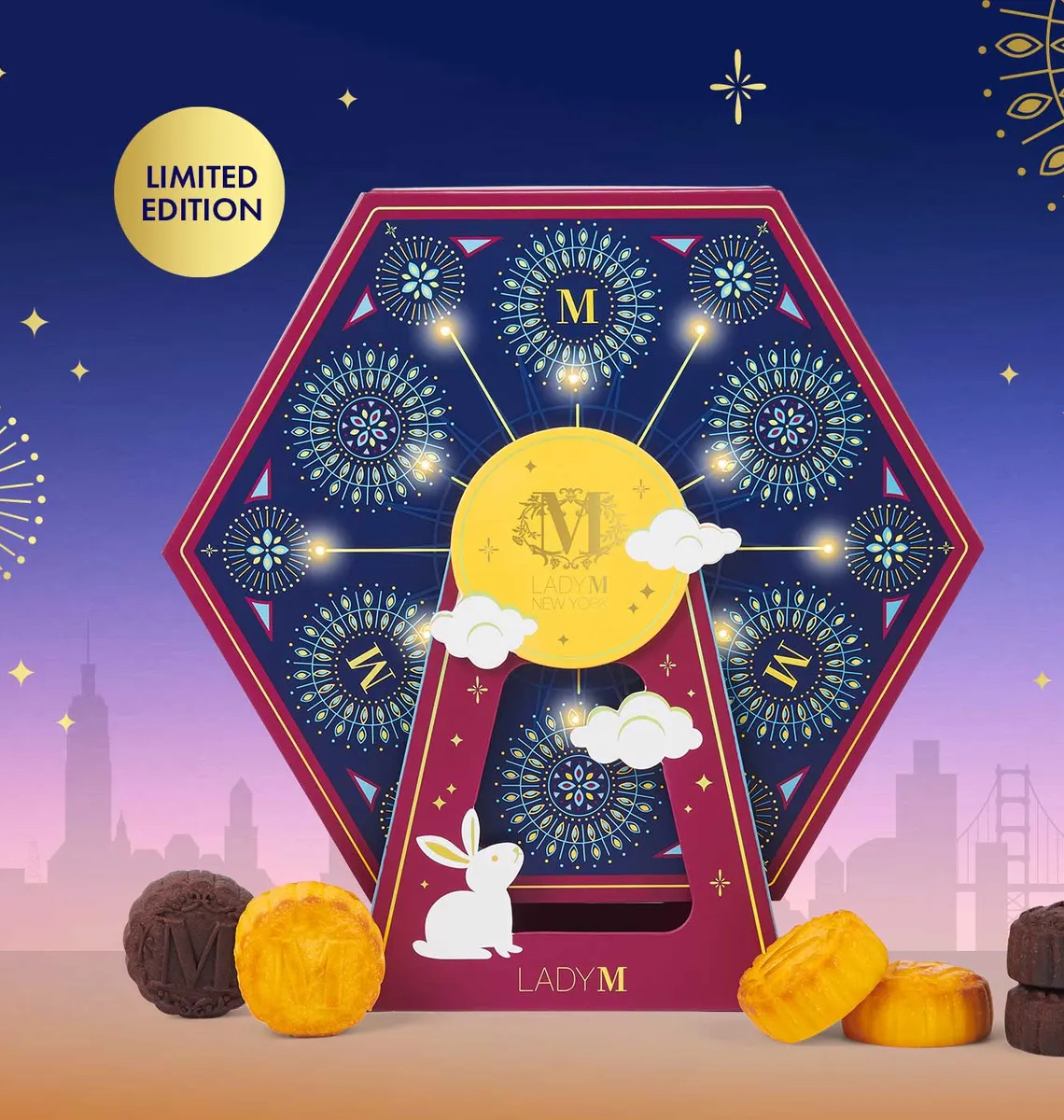 Click here to order and find out more.
6. The Fullerton Hotel Singapore's Giant mooncake Encircled by 14 Small Mooncakes
The Fullerton Hotel takes a step further this year by playing with the sizes and arrangement of their mooncakes in their 15 Treasures Premium Gift Set (S$198 for 15 pieces).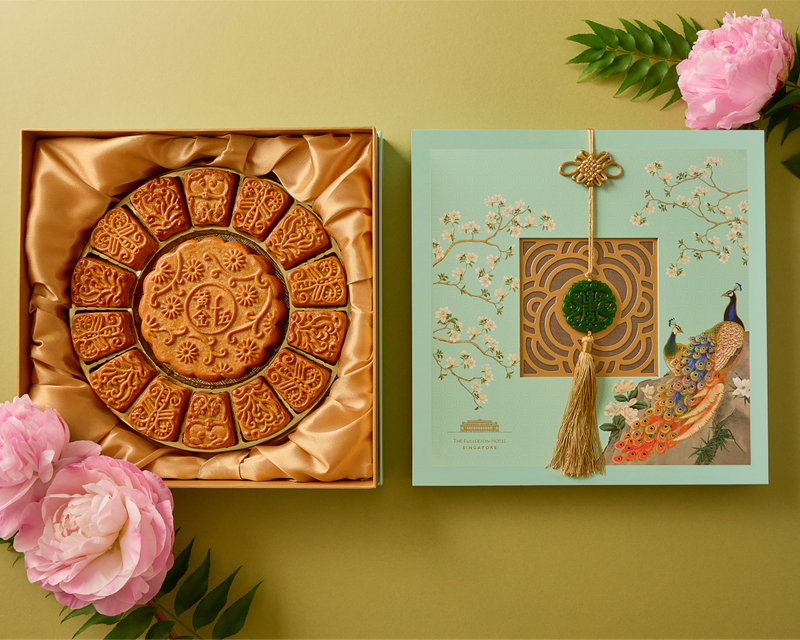 Symbolising the full moon on the 15th day of the eighth lunar month, the giant baked mooncake in the centre contains white lotus seed paste and eight yolks.
The 14 smaller baked mooncakes feature alternating figures of the celestial hare, citron fruit, and firefly in the following flavours:
Red Lotus Seed Paste

Orange

Jasmine

Coffee

Rose

Mixed Nuts and Pineapple

Black Dates

Almond

Pandan

Black Sesame

Cranberry

Red Bean

Osmanthus

Green Tea
They also have a range of other mooncake flavours, both in baked and snowskin varieties, in other packaging such as a tiffin carrier.
Click here to order and find out more.
7. Awfully Chocolate's Harry Potter-themed vintage chest box
You don't need to be a Harry Potter fan to appreciate the Hogwarts-emblazoned, vintage red velvet chest with a quilted interior.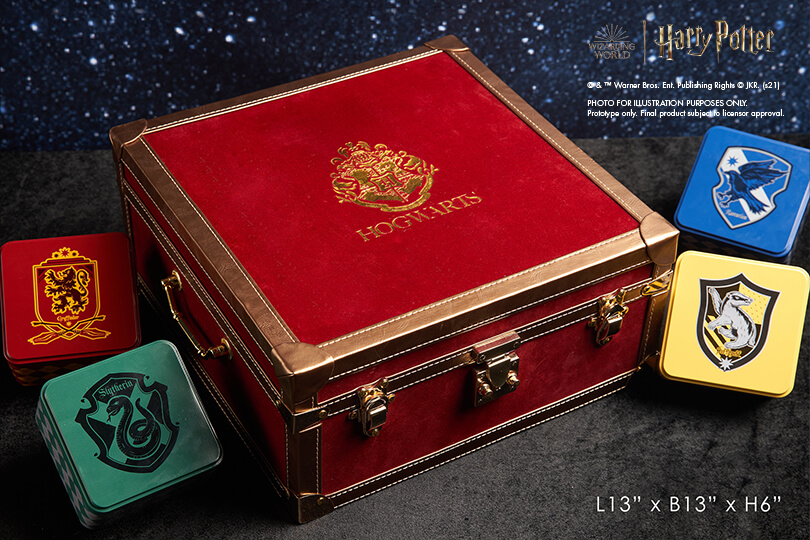 Awfully Chocolate's Harry Potter Mooncake Chest (S$128 for four pieces) features four Hogwarts house tins containing different flavours:
Gryffindor: Red Yam Lotus Single Yolk

Ravenclaw: Blue Pea Pu-Er Lotus with Melon Seeds

Hufflepuff: Pumpkin White Lotus with Double Yolk

Slytherin: Matcha Black Sesame with Black & White Sesame Seeds
For the full collection, opt for the Harry Potter Collector's Edition Chest (S$168 for four pieces) that comes with the set of matching Hogwarts house ceramic plates.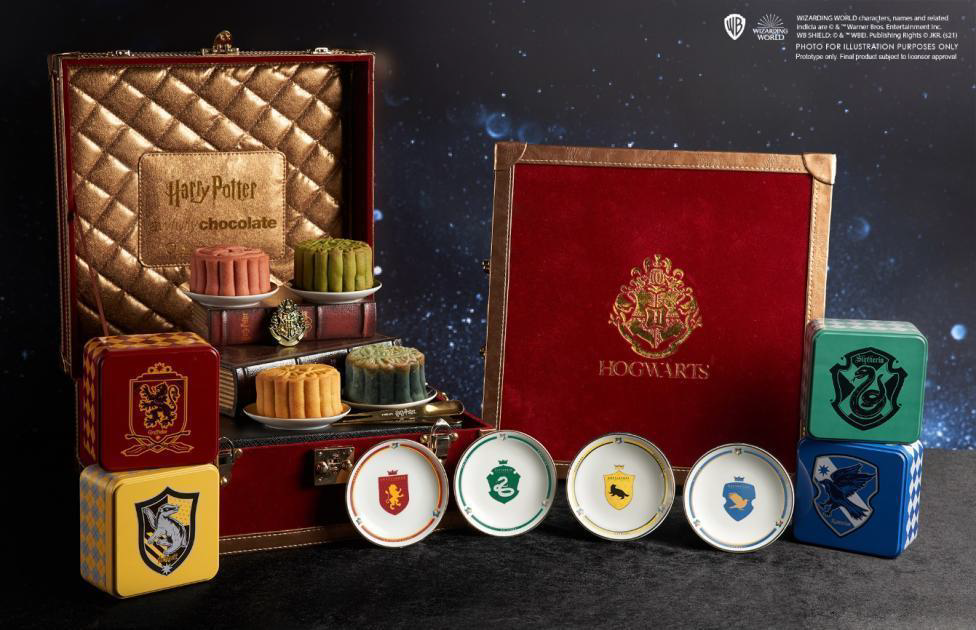 Click here to order and find out more.
This sponsored article by Fyre Singapore has whetted the writer's appetite for mooncakes.
Top images by Fyre Singapore, Lady M, Ah Kiat Frozen Food, and The Fullerton Singapore.
If you like what you read, follow us on Facebook, Instagram, Twitter and Telegram to get the latest updates.