COMMENTARY: WFH has its benefits and pitfalls. And after a year or so of WFH, we should have become more accustomed to its conditions and better equipped to cope with this working arrangement – but have we?
---
Since the Covid-19 pandemic began, many of us have been alternating between working from home (WFH) and a combination of WFH while going into the office on some days, amidst the changing Covid-19 restrictions.
With the latest return to Phase 2 Heightened Alert (P2HA), perhaps we should have become used to WFH by now and have learnt to cope with this new working arrangement.
But it seems like that has not turned out to be the case.
Rising mental toll
During a debate in Parliament on July 27, NTUC assistant secretary-general Melvin Yong highlighted that a growing number of workers, who had been working from home for the past 15 months, were facing mental health issues.
Seven in 10 employees have said that they felt stressed by Covid-19, according to a March 2021 survey by human resource software firm, Employment Hero, which Yong cited.
In addition, two-thirds of the people whom NTUC spoke to in its own "ground sensing" said that they had problems distinguishing work and non-work hours when working from home.
Yong added, "This might be why Microsoft's Work Trend Index reported that 58 per cent of workers in Singapore said they felt overworked, while 49 per cent felt exhausted."
"Sian" of working from home
In my case, I find myself feeling extremely 'sian' (tired of) of WFH, with the experience having since soured into drudgery.
A year ago, WFH five days a week was a highly novel experience — and thankfully, my line of work lends itself easily to working remotely.
During the Circuit Breaker (CB), I was highly motivated to start and finish work on time so that I could enjoy playing video games with my friends; essentially, I could set clear boundaries between work and leisure, and made the effort to maintain those boundaries.
This begs the following questions: why has WFH become such a chore now? Should we not have become used to it after a year?
Poor boundaries separating work and leisure
A major factor is the breakdown of boundaries between work and personal time. In fact, I would argue that maintaining boundaries between work and leisure over a long period of time requires discipline too.
With emails, video calls and instant messaging becoming the default mode of communication, this can lead to work messages being sent round the clock, and a need to constantly be ready to pick up a call or message from employers.
As Workers' Party MP Dennis Tan highlighted in Parliament on June 27, this round-the-clock communication can take on toll rest, family time and mental health, as people find it difficult to draw a line between work and time off from work.
After a year or so, I finding myself working beyond 'regular' work hours increasingly, out of a fear of being seen as unproductive.
This insecurity is also accompanied by a growing sense of inertia and a persistent lack of motivation to complete tasks that I am given, regardless of how light or important they might be.
Not being as productive also means that I have created a vicious cycle of sorts where I struggle to keep up during work hours, finish work later, and wake up late the following day to begin the process again, as a result of sleeping later to "compensate" for the amount of time spent working beyond knock-off hours.
Cue "revenge bedtime procrastination".
According to the BBC, "revenge bedtime procrastination" refers to people sleeping late in order to "regain some sense of freedom" as they do not have much control over their life in the day, according to journalist Daphne K. Lee.
Learned a very relatable term today: "報復性熬夜" (revenge bedtime procrastination), a phenomenon in which people who don't have much control over their daytime life refuse to sleep early in order to regain some sense of freedom during late night hours.

— Daphne K. Lee (@daphnekylee) June 28, 2020
Basically, each moment spent responding to work resulting in a later bedtime in an attempt to hold on to or even carve out a little bit more personal time for ourselves.
Additionally, not having to wake up early for work (as commuting time is no longer part of the equation) also facilitates the mentality that it's OK to sleep a bit later.
Resumption of renovations compounds the drudgery & frays tempers
Compounding all of this is the fact that grass cutting and renovations are now allowed, something which was not present during the CB period.
In one instance, a neighbour of mine was given the go-ahead by the Housing Development Board (HDB) to carry out home renovation, from May 11 to June 9 (the first P2Ha lasted from May 16 to June 13).
This included carrying out demolition works from May 19 to May 21, after the initial P2HA phase had begun.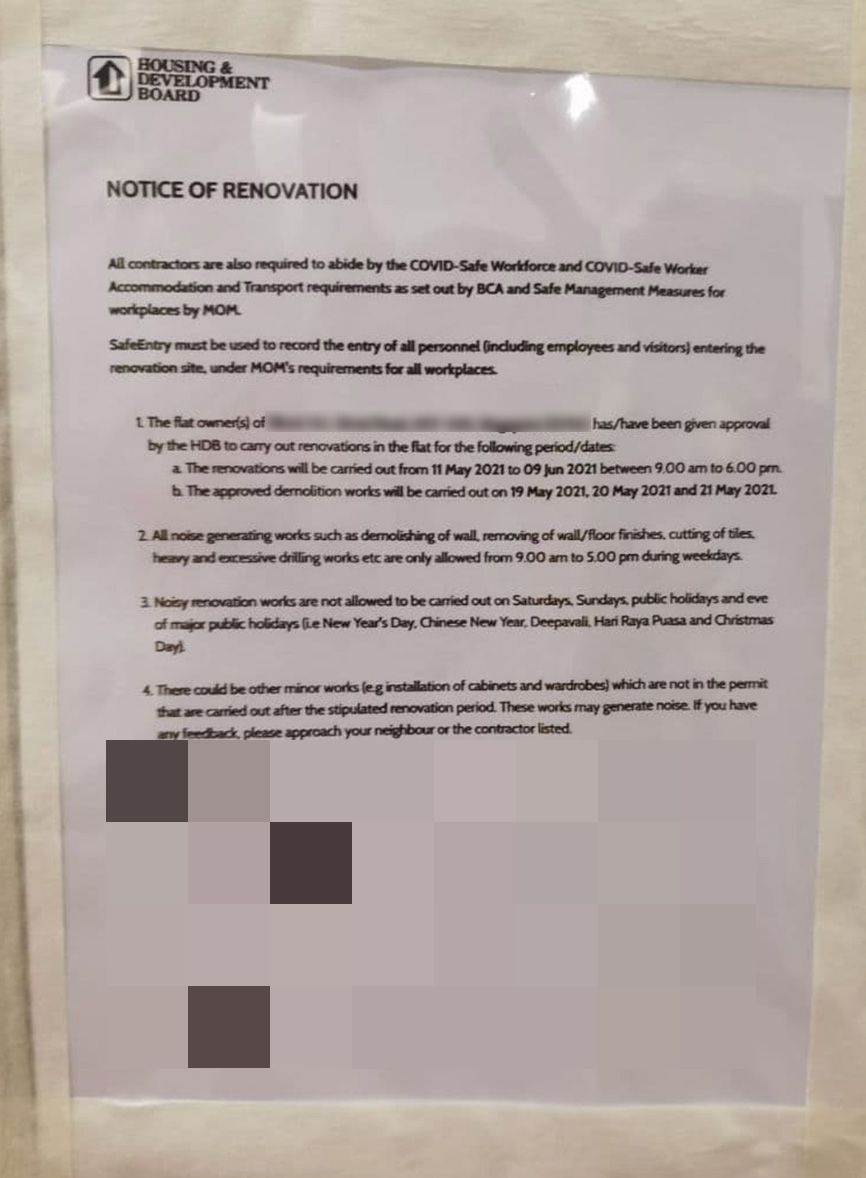 Although most of the heavy drilling from the demolition ultimately did not last for more than two and a half days, it nevertheless made WFH extremely trying.
The same period also saw the carpark beside my block dug up and re-paved, generating even more noise.
All of these have contributed to my short temper during WFH, with even little things such as another member of the household using a vacuum cleaner during a meeting irritating me considerably.
Frayed tempers have not gone unnoticed in Parliament, with NTUC assistant secretary-general Melvin Yong highlighting that neighbours now quarrel because of the slightest noise and smell.
He said:
"Our homes are meant to be a safe space, where we can live, work, and play in peace. But I can empathise with both sides – the new homeowner trying to move into their new home as soon as possible, and their neighbours trying to do an important work presentation virtually from home."
WFH as the only certainty amidst all other uncertainties
Another likely contributing factor is that we are now facing protracted uncertainties about restrictions and when they will be eased.
As mentioned here on why P2HA in general feels worse, the Circuit Breaker last year was followed by a consecutive easing of measures, with Singapore moving to Phase 1, Phase 2, and Phase 3, which lasted all the way up to May this year.
There was a roadmap of sorts in terms of anticipating that things will get better, and what 'better' would look like.
Since we reached Phase 3, however, measures have alternated between being tightened and relaxed with seemingly no end in sight, with the past three months already seeing seven changes to prevailing restrictions.
This is in contrast to the six-weeks of the CB that allowed people to settle in and establish a routine of sorts, including sending food via delivery to friends and family, as a way of keeping in touch.
Perhaps the one thing that has largely not changed however, is WFH.
While we are unable to establish proper routines for our own personal time with friends and families, in light of the quickly-changing restrictions, the routine for work has remained constant.
WFH has been declared to be the default by the Multi-ministry Taskforce (even during Phase 3 Heightened Alert), and looks to be a mainstay in our working lives in the near future.
With no end in sight to WFH, there is a creeping perception that work is starting to take up a bigger proportion of our lives, along with a greater sense of isolation.
Learning to cope better
At this point, it is unsurprising that so many of us who WFH are feeling burnt out.
So what can be done about all this?
Perhaps we can find a way to better divide our time between work and rest. And actually stick to it.
"I always make sure I wake up early enough to have time for breakfast before work. I hate waking up and starting work immediately," was the response of one of my colleagues when I asked her about her WFH routine.
Another colleague said, "You're dispensable."
Although the comment was made specifically regarding disconnecting from work while on leave, I believe the same applies to post-work hours as well.
There is no work that requires to you be ready 24/7, to the point that your rest time and mental health must be sacrificed.
WFH has given new significance to the office space
More importantly, WFH has also given added significance to the office as a physical space marking the separation of work from our personal time.
For me at least, there are many issues that could have been resolved in a much more efficient manner, instead of waiting for a message or email at home, simply by virtue of being in the office with my colleagues.
The space of the office also allows me to concentrate better on finishing my work, on the grounds that I want to leave the office promptly and on time.
Of course, this is not to discount those who might prefer WFH because of a long commute or having more flexibility in incorporating their domestic responsibilities.
But the growing number of people with mental health issues from WFH has led us to consider the merits of a hybrid arrangement of WFH and working from the office as an ideal way forward.
Because fatigue is setting in.
Totally unrelated but follow and listen to our podcast here
Top photo via GettyImages
If you like what you read, follow us on Facebook, Instagram, Twitter and Telegram to get the latest updates.