Follow us on Telegram for the latest updates: https://t.me/mothershipsg
A man in Singapore set up a makeshift drinks station offering free chilled beverages at a lift landing lobby in Woodlands for food delivery riders.
The man behind the thoughtful gesture, Arzme A Rahman shared the story in a Facebook post on Jul. 24.
"Come rain or shine, they'll send our food," Arzme said of food delivery personnel.
He told Mothership that he often used food delivery services.
A ten-year-long resident at Block 646 Woodlands Ring Road, Arzme said he had since relocated to another neighbourhood.
However, he wanted to show a little appreciation to food delivery riders before he left by creating a makeshift drinks station at the lift landing lobby of Block 646.
Doing so allowed him to thank all food delivery riders, outside of those who bring his meals to her doorstep.
Consisting of a portable table and a styrofoam ice box, the drinks station contained cooled beverages for delivery riders to help themselves.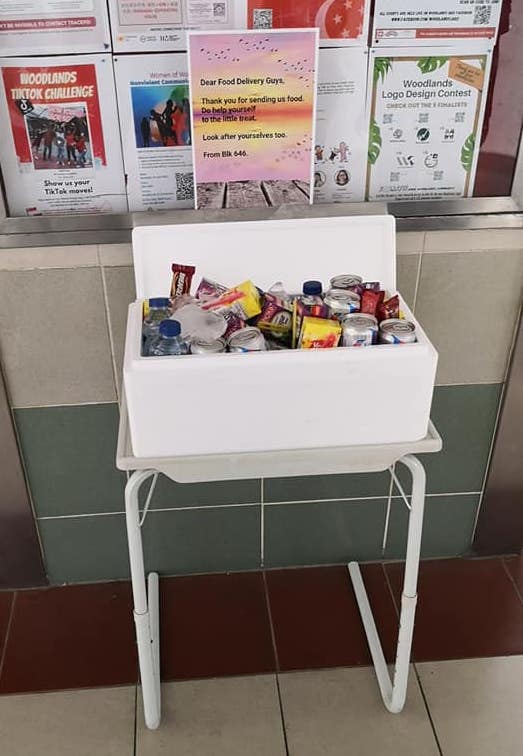 Arzme's initiative did not go unnoticed.
A food delivery personnel who visited the drinks station left a grateful note.
"May God repay you health and wealth for what you have done!!" the note read.
It was signed off as "Delivery Guy".
Besides Arzme, there were others who seemed equally eager to show their appreciation for food delivery personnel.
In his post, he wrote that another person also contributed to her initiative by topping up the drinks at the station.
As of Monday (July 26), Arzme said the drinks station was filled and still at the lift lobby.
"Kita jaga kita"
Reminding people to be kind and take care of each other, Arzme said: "Hope 646 Woodlands Ring Road can keep this going."
"Kita jaga kita" ("Let's take care of each other"), he wrote.
You can read Arzme's post here.
Related stories:
Top image from Arzme A Rahman/Facebook

If you like what you read, follow us on Facebook, Instagram, Twitter and Telegram to get the latest updates.