Joewind Han, 44, still remembers vividly the days of her childhood when she visited the community centre (CC) in her neighbourhood with her mum almost every day to watch TV shows.
The TV set was placed outdoors, and many of her neighbours would drop by and simply sit around and chit-chat with one another, she said.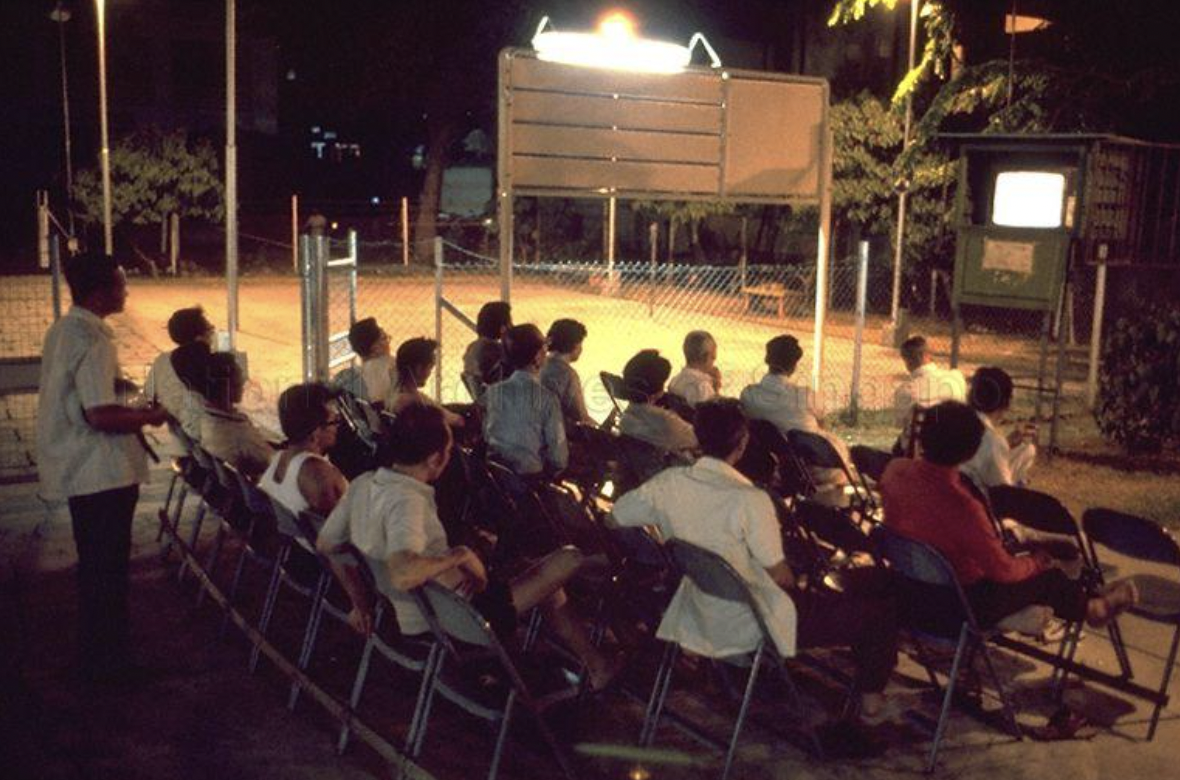 They would usually watch a drama serial, and everyone watching would be "scolding the villain or trying to predict what would happen in the next scene", Han said.
But more than the TV itself, it was the times when she could hang out with other kids after school that she relished the most -- after all, it was during a time when personal entertainment was sorely limited, a far cry from the digital age today that's dominated by smartphones and the Internet.
"I remember fondly how everyone brought food to share, such as homemade cookies and kuehs," she said, adding that she would also play with her friends during commercial breaks.
"Those days were really fun!"
Han and other kids her age would also gather to play basketball, hike at Bukit Timah Hill, and go for the annual Children's Camp organised by the CC.
As they got older, they volunteered together as People's Association (PA) Youth Executive Committee's members as well.
Bounding over so many different activities, Han managed to stay in contact with her childhood friends as well -- something that not everyone can attest to these days.
The CC was her second home
Speaking to Mothership, Han, who now works at a real estate company, said she pretty much grew up at Jalan Besar CC.
More than a gathering place for her to meet and play with her friends, it was where she enriched herself with several skills learnt from the classes held there.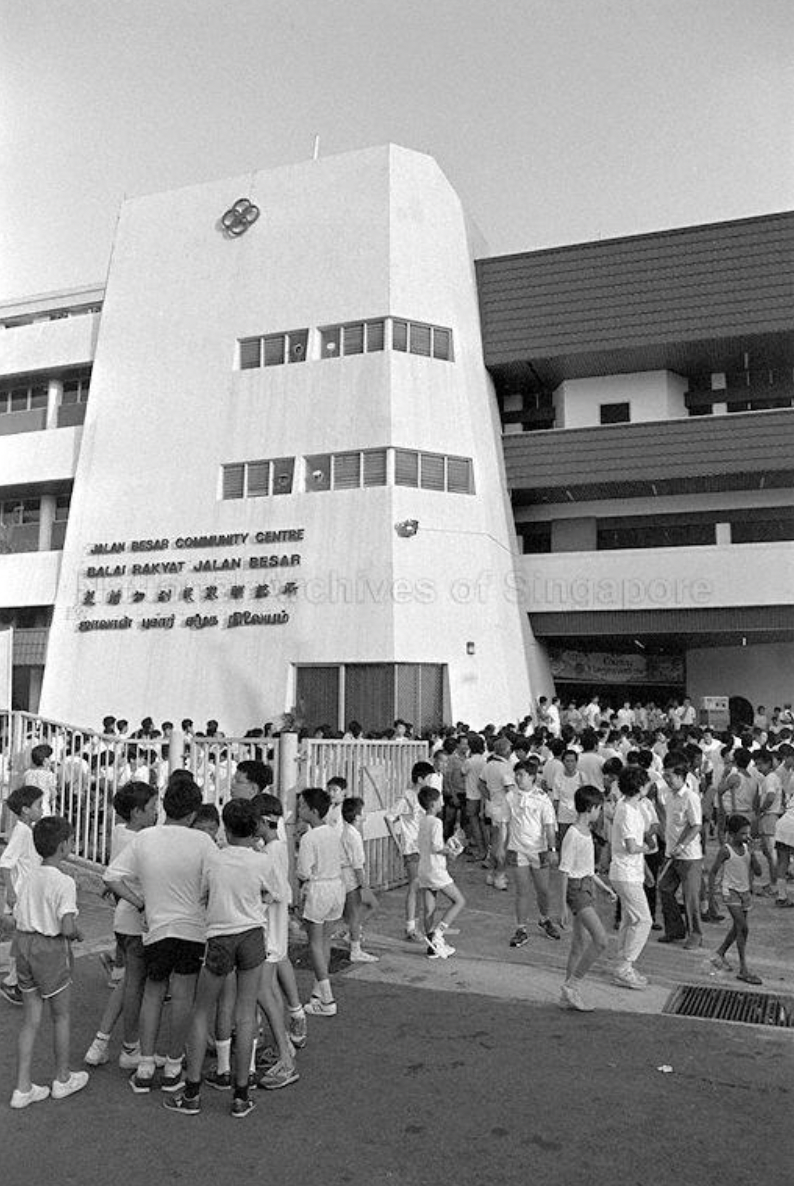 For instance, she learnt how to play the piano -- having attended piano lessons till she was in Secondary Three -- and also took up Chinese martial arts when she was in Secondary Four.
She also attended art classes as a kid for a year or so. That's a pretty fulfilling schedule, even by the standards placed on kids these days.
Having been commuting to the CC near her home several times a week, and spending an inordinate amount of time there for most of her childhood, it was a natural step for Han when she started volunteering there at around the age of 16.
As emails were still a thing of the future, residents were kept informed about various upcoming events, such as monthly luncheons or days when they could go collect "goodie bags" via physical letters that had to be printed and sent out en masse.
Han first helped to slot letters into envelopes and put a stamp on them before sending them out.
"I remember this was quite frequent as there were a lot of letters to be sent out for various purposes," she said.
"I did this with my friends, and it was an easy way to pass time!" she said, adding that she tried to volunteer whenever she was free after school and during the weekends.
From slotting letters, Han became increasingly involved in volunteer work.
She became a committee member at age 18 -- and engaged in other forms of volunteer work as well, such as organising children's activities and helping to clean up the homes of elderly folks, which might not be the most sanitary.
Han recalled a particularly memorable incident in her early 20s when, along with other volunteers, she encountered a cockroach-infested flat where an elderly man lived alone.
"The moment we entered the unit, we saw roaches running everywhere. There were so many of them that they must have numbered in the hundreds. We were so shocked we didn't know what to do!"
Han and her other volunteer friends ended up buying multiple cans of insecticides.
Even though the girls wanted the guys to take on the heavy lifting at first, all of them eventually went into the unit and killed all the roaches.
"I think it took us about three to four hours to clean up the entire flat," she said.
"It might not be the easiest to do so, but I was very happy to have cleaned the flat, she added.
"The uncle wouldn't have roaches crawling around when he sleeps at night, and this was very meaningful to me as it shows that my action does make an impact."
As for the elderly man, Han said he was later referred to the Family Service Centre for follow-up work, and was placed with a social worker who would ensure that his needs are taken care of. He remains as part of the elderly group for the monthly luncheon as well.
Han also clarified that it's not common to see such homes in extreme conditions now, as frequent home visits by Grassroots Advisers help to keep a lookout for such homes and elderly people who live alone.
Never once thought of giving up volunteering
So imbued was volunteering in Han's life that she has never once thought of giving up and spending her time elsewhere instead, like going out with her friends or enjoying a personal hobby.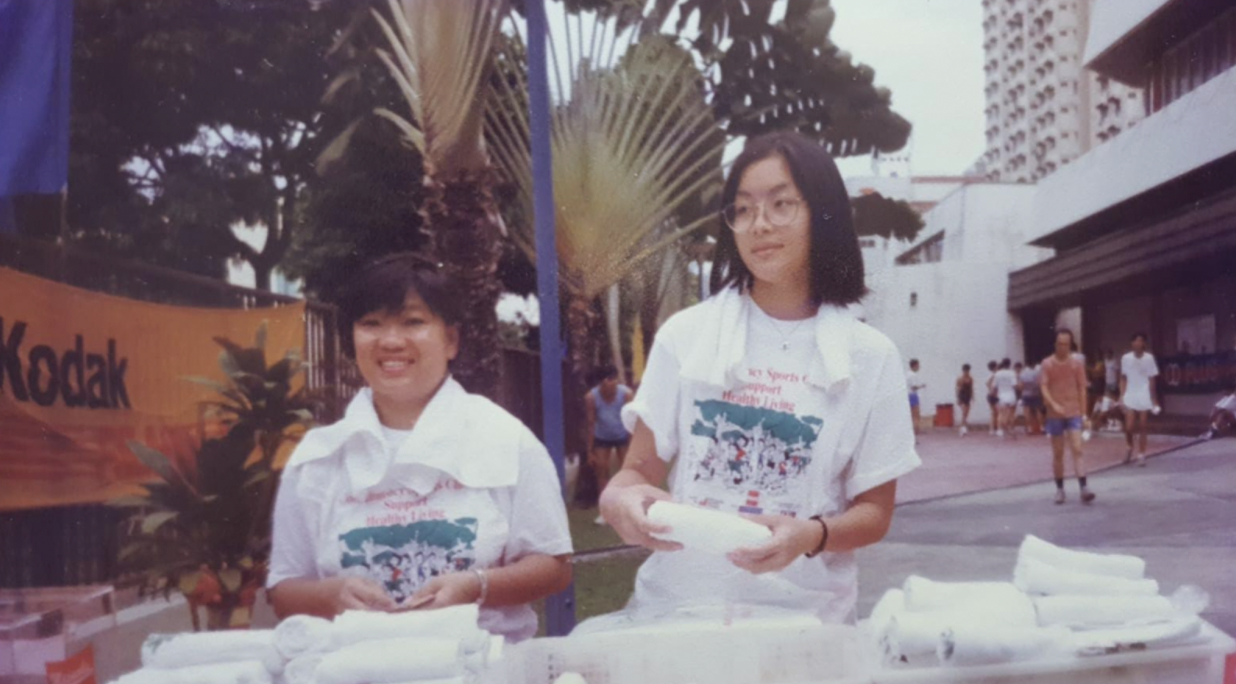 "Growing up in the CC has made it (volunteering) an integral part of my life so I had not thought of quitting," she said.
"The community has become your family, therefore it's not an extra effort to love them as they are just a part of who you are.

Most importantly, I've grown up in the neighbourhood, and have grown old with my neighbours as well, so they would share with me their ideas and suggestions that would help improve the community.

The satisfaction from knowing that you've made a difference in somebody's life, no matter how small, motivates me to keep going."
Such heartfelt words were a constant throughout our interview with Han, who talks about volunteering like it's an indispensable part of her life -- and definitely more than just something that students and job seekers do just to earn some Community Involvement Project points that will elevate their report cards and resumes.
Got her family to volunteer as well
So committed was she to her volunteer work that she even roped in her mother, sister and husband to help out at the CC.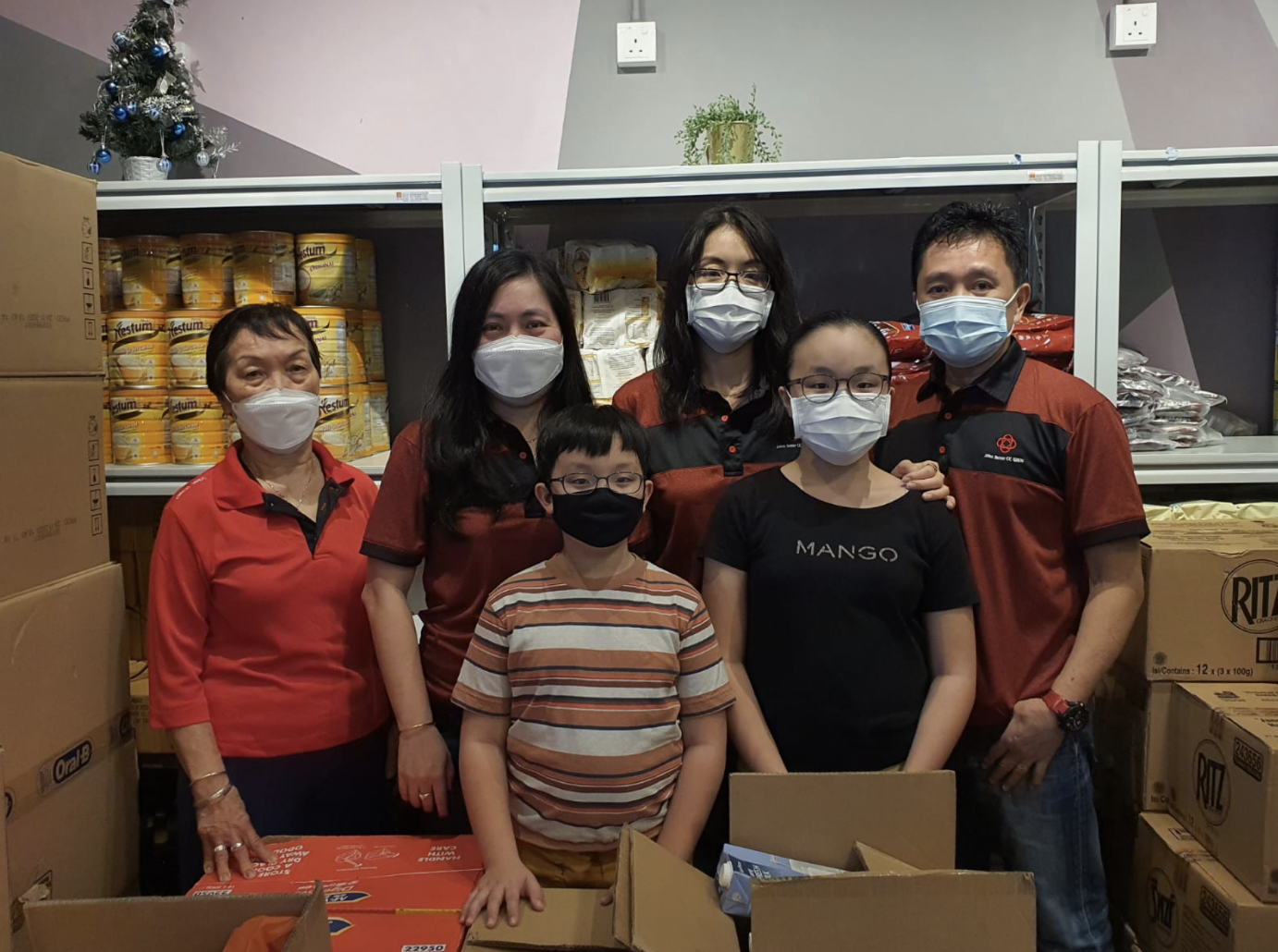 Before Covid-19 hit, her mum joined the PA's Women's Executive Committee, and still helps out by preparing the food at the monthly dinners hosted by the CC for the elderly in the neighbourhood.
Despite being 80 years old, she has rarely missed a session in the last 15 years, unless she was really not feeling well.
"I've already promised them (the CC) that I'll be there, so I can't possibly skip out on this," she told Mothership in Mandarin, adding that it's quite convenient for her to help as the gathering place was just down her HDB block.
She added,"I'm happy whenever I see other old people who are happy."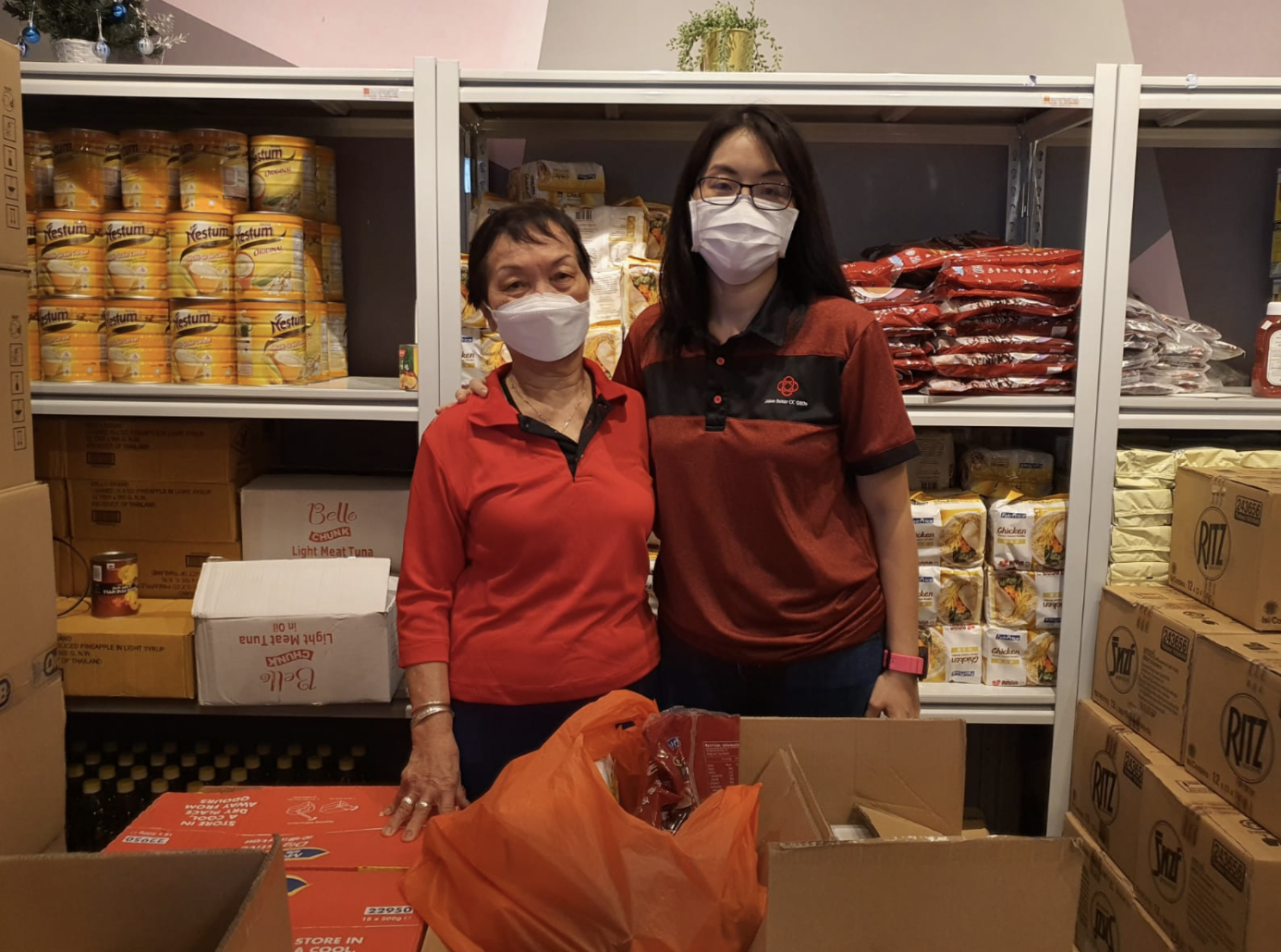 Han's mother was also present whenever the women's group organises one-day excursions for senior residents, such as annual trips to go purchase Chinese New Year (CNY) goods, visits to Pulau Ubin and Kusu Island, as well as festive events like Christmas and Mother Day's dinners.
Such activities, however, have been halted due to the pandemic. The nature of regular activities the CC holds each year has changed as well, Han said, with the CC inviting only 50 elderly people to the hall for this year's CNY celebration, while other residents were encouraged to tune in virtually.
But this has its limitations as well, as not every senior citizen is tech-savvy. Nevertheless, Han said they are attempting to change that through various activities that teach the elderly to do simple tasks on their devices.
Han has also started taking her children -- nine and 11 years old respectively -- to volunteer since last year, helping to distribute fruits, vegetables, and dry items to needy families.
"This taught them to break out of their sheltered worldview, and to understand that there are some people out there who need help," Han said.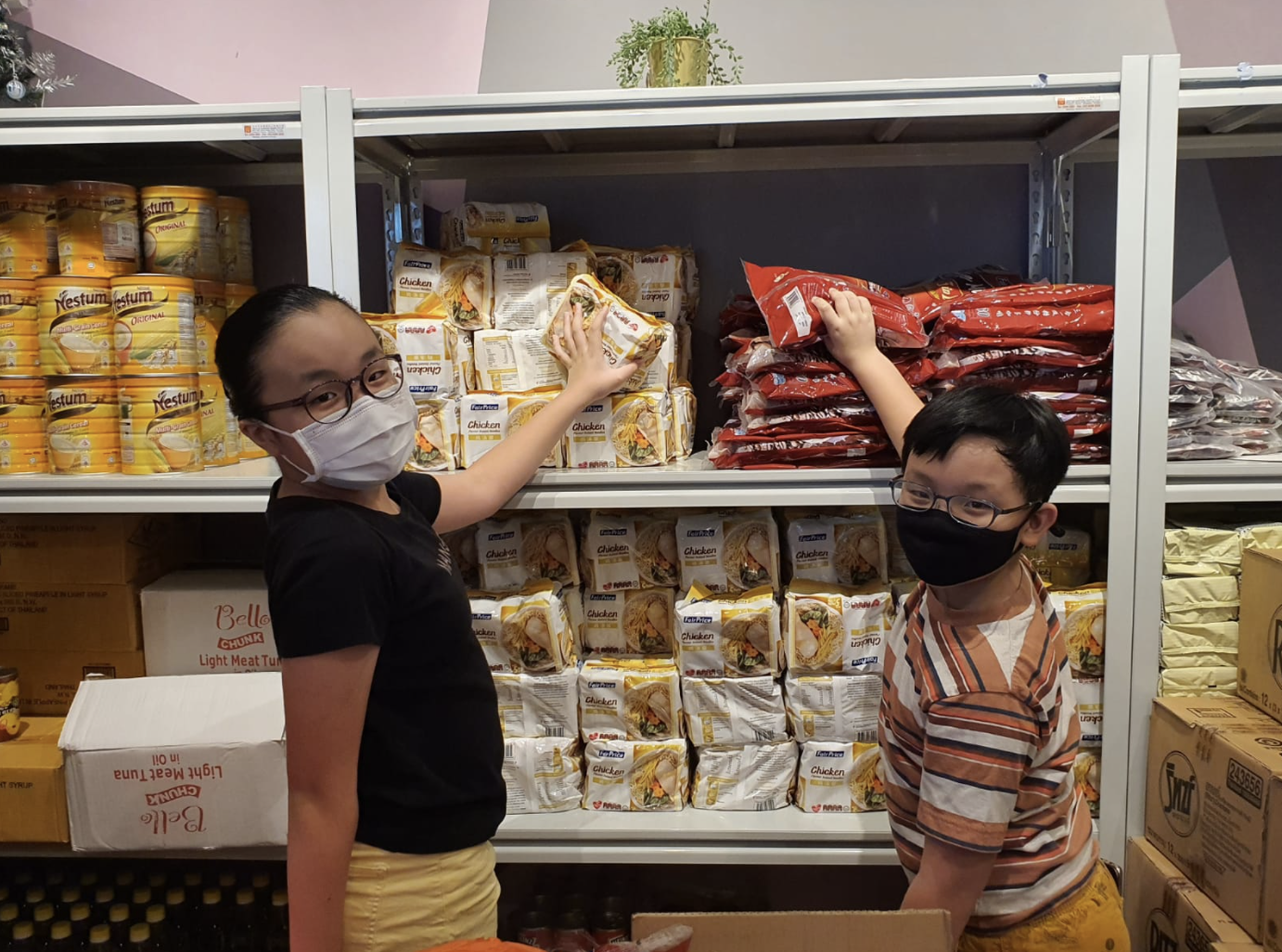 She added that such food distribution is important as some elderly wouldn't buy fruits by themselves. They also found out that Milo is really popular among them.
"I tell my kids that it's good to bless others. While we are just using a bit of our time to do this, we can make others happy," she said.
Han added that after she started volunteering, she saw people from all walks of life, with varying financial situations. Through understanding their difficulties, and helping them out in whatever way they can, she said she has become "a better person".
Han also said the committee often tries to help push the "starting line" of children from disadvantaged backgrounds forward, as compared to kids of more fortunate backgrounds, by giving the former free tuition.
"We try to make it so that their starting line is at least not too far off when they start going to school," she said.
Commitment remains unchanged despite challenges
Still, despite their best intentions and efforts, there were times when they failed to foresee certain problems. For instance, when schools shifted to home-based learning last year, some children encountered difficulties as they come from needy families that don't possess a laptop or computer.
And even if the low-income families have access to computers, there might be more than one child who requires the equipment, presenting yet another set of challenges.
That is taking into account the home environment, whether it's conducive enough for the children to learn, Han said.
To help these children, she said the CC would open up some rooms for students in their final year of studies (students taking their PSLE and 'O' Levels), so they can study in peace.
"It's about whether we move fast enough to address the needs of residents," she said.
Han, who first started volunteering almost three decades ago, is now the Chairperson of the Jalan Besar CC's management committee (CCMC).
And having grown up as a kid in the local volunteering scene, Han can also better appreciate the differences between then and now brought about by changes throughout the years.
"Kids like us back then were happy to run around outdoors and play with simple things like hopscotch, or just sticks that we found. So we were always very excited about various activities that the CC organises, like camps.

Today, we have better facilities, air-conditioned rooms, better equipment for baking classes etc. But we have to think of more ways to engage with the residents, especially the youths and children as they grew up during a different time and were exposed to a different sort of culture than what we were used to."
Despite these challenges, Han said their commitment has remained unchanged, and that they still try their best to provide avenues for activities, especially those from less privileged backgrounds, so as to "close the gaps" that might have emerged as a result of the environment they are in.
As she had walked the path of volunteering herself, Han would like more young people to do so as well, so they can experience the kind of satisfaction she received from being involved in the community.
"You don't have to wait for the right time to make a difference in the community, every small contribution will help make the community a better place," she said.
Do you have a favourite memory from your community to tell? You can tell others about it, as well as your aspirations towards your neighbourhood by submitting your own stories here at PA's website. You can also use the hashtag #OurCommUNITYSG to share your stories on Instagram and TikTok. The campaign runs all the way to November.
This piece that's brought to you by the People's Association helps the writer better appreciate the selfless people who live among us.
Top image courtesy of Joewind Han & former Ministry of Information and the Arts (currently Ministry of Communications and Information)
If you like what you read, follow us on Facebook, Instagram, Twitter and Telegram to get the latest updates.