The Ministry of Health confirmed 163 locally transmitted Covid-19 cases on Monday (July 19), of which 20 belong to the KTV cluster and 116 are linked to the Jurong Fishery Port cluster.
Of the these 163 cases, 44 are linked to previous cases, and have already been placed on quarantine. 102 are linked to previous cases and were detected through surveillance. 17 are currently unlinked.
Among the cases is one senior above 70 years old who is unvaccinated, and at risk of serious illness.
The total number of Covid-19 cases in Singapore now stands at 63,245
There are also nine imported cases on July 19. Three were detected upon arrival in Singapore, while six developed the illness during Stay-Home Notice or isolation.
Five require oxygen supplementation, one in ICU
289 cases are currently warded in hospital. Most are well and under observation.
There are currently five cases of serious illness requiring oxygen supplementation, and one in critical condition in the intensive care unit (ICU).
None amongst these six cases are fully vaccinated, said MOH.
KTV cluster
MOH is investigating cases of Covid-19 infection amongst social hostesses who had frequented KTV lounges or clubs currently operating as F&B outlets, and their close social contacts.
MOH's epidemiological investigations have found that there is likely ongoing transmission at Dynasty Classic KTV (1 Sophia Road) and True Love (211 Geylang Road).
Jurong Fishery Port cluster
MOH is also investigating Covid-19 cases involving markets and food centres that are likely seeded by fishmongers who visited Jurong Fishery Port to collect their stock and sell at the markets and food centres.
According to MOH, there are currently clusters detected at Hong Lim Market & Food Centre and Chong Boon Market & Food Centre.
MOH has also detected cases amongst fishmongers working at the following places:
Albert Centre Market & Food Centre,

Ang Mo Kio Central Market & Food Centre,

630 Bedok Reservoir Road Market & Food Centre,

497 Jurong West Street 41 Market,

505 Jurong West Street 52 Market,

Kim Keat Palm Market & Food Centre,

Mayflower Wet Market & Food Centre,

Teck Ghee Market & Food Centre, and

146 Teck Whye Avenue Market and Tekka Centre.
MOH is also working with the People's Association to distribute antigen rapid test (ART) self-test kits to individuals who have visited selected markets and food centres in the last 14 days, such as residents living in the vicinity of these centres.
The collection will run from July 20 to July 21 at Residents' Committee Centres in the vicinity of the following locations:
Cheng San Market & Cooked Food Centre (527 Ang Mo Kio Ave 10);

Chong Boon Market & Food Centre (453A Ang Mo Kio Ave 10);

Geylang Serai Market and Food Centre (1 Geylang Serai); and

Haig Road Market & Food Centre (14 Haig Rd).
Increase in community cases
Overall, the number of new cases in the community has increased from 19 cases in the week before to 480 cases in the past week.
Singapore will likely see rising cases in the coming days as MOH steps up efforts to detect them to contain their spread in the community.
The number of unlinked cases in the community has also increased from eight cases in the week before to 45 cases in the past week.
The seven-day moving average number of all linked community cases and all unlinked community cases are 62.1 and 6.4 respectively.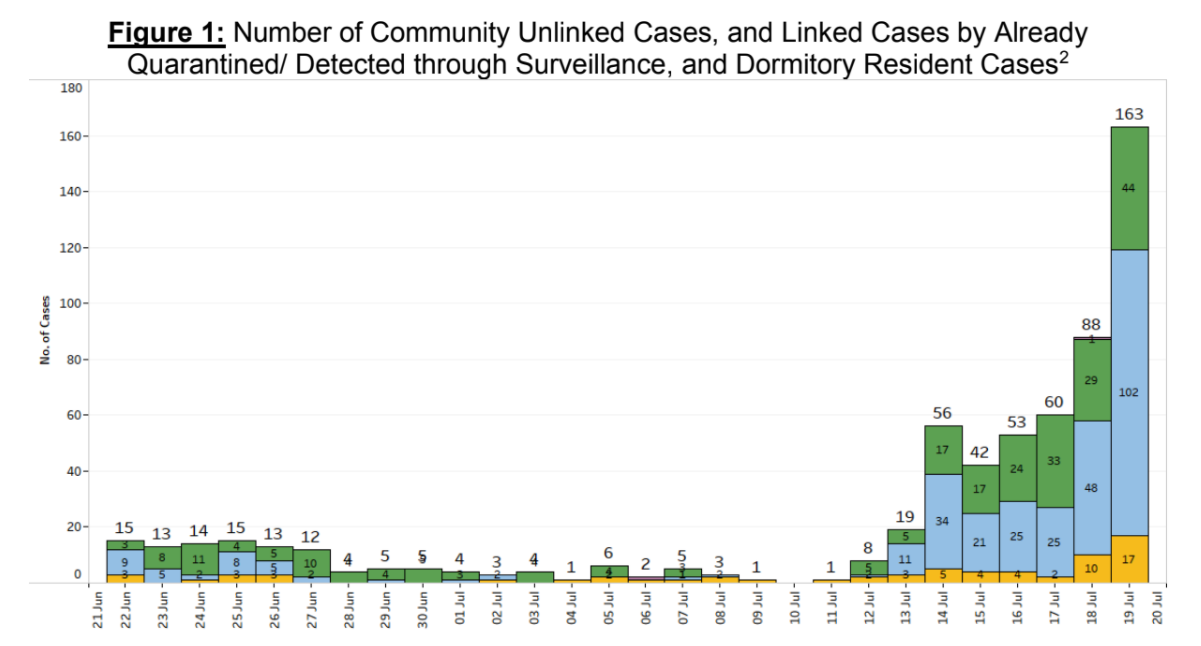 Progress of vaccination programme
As of July 18, 2021, the authorities have administered a total of 6,794,394, doses of Covid-19 vaccines under the national vaccination programme.
The total number of doses administered was 6,794,394, covering 4,153,143 individuals.
2,747,489 individuals have completed the full vaccination regimen, consisting of 106,238 recovered persons who received at least one dose and 2,641,251 who received their second dose.
MOH continues to observe that vaccination helps to prevent serious disease when one gets infected.
Over the last 28 days, 12 local cases required oxygen supplementation, were admitted to ICU, or passed away.
Eight are unvaccinated, four are partially vaccinated, and none was fully vaccinated.
Top image via Dynasty Classic KTV Facebook and TrueLove Bistro & KTV Pub Facebook
If you like what you read, follow us on Facebook, Instagram, Twitter and Telegram to get the latest updates.