A woman in Hougang was caught on camera refusing to share the HDB block lift with a food delivery rider on his way up to make a delivery.
Footage of the incident, shot from the body camera of the delivery rider, was put up on Facebook on July 23.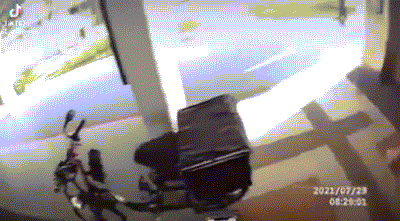 What video showed
The video started with the delivery rider removing food from his thermal bag.
The rider was casually humming a tune at the same time, which was audible in the video.
As he approached the lift, a woman was already waiting at the lift landing.
He then held open the door for passengers to get off before attempting to enter the lift ahead of the woman who was there earlier than him.
But before he could enter the lift, the woman came from behind the food delivery rider, and said, "Excuse me."
She then walked into the lift and said, "You wait for next one."
She stood at the edge of the lift and refused to let the rider in.
The rider questioned her why he couldn't enter and she responded, "I don't share lift".
"I come here first", she added, telling him to release his finger from the lift button so she could go up alone.
She added: "Let go of your hand ah."
She then told the rider to use the other lift at the void deck lobby.
Right before the doors closed, she said: "I know you have camera, it's pandemic."
The rider responded just as the door closed: "You're horrible, you know."
A comment on the Facebook video said the incident occurred at a block of flats in Hougang Avenue 8.
Was woman being cautious or unreasonable?
In response to the woman's antics, multiple online commenters dissed the woman's attitude and said she was being unreasonable.



One commenter said he had encountered the same woman at the block before and urged anyone who meets the woman to just enter the lift.

Other commenters said the woman should have been gracious and allowed the rider to use the lift first, if she wanted her own personal space in an enclosed environment.
Hougang Avenue 8 Covid-19 cases
However, the woman's extra cautious approach to not sharing the communal lift might have stemmed from a recent Covid-19 spread in the community.
The Ministry of Health (MOH) conducted mandatory tests for residents of Block 506 Hougang Avenue 8 on May 20 and 21, after a few Covid-19 cases were found to reside in that block.
Top image screenshot from Complaint Singapore's video. 
If you like what you read, follow us on Facebook, Instagram, Twitter and Telegram to get the latest updates.