Follow us on Telegram for the latest updates: https://t.me/mothershipsg
[UPDATE on Jul. 10 at 8:30pm: This article has been updated with a statement from foodpanda.]
Messages sent by foodpanda support staff have been criticised as being robotic or even unprofessional at times.
Customers and riders alike have experienced issues with what appear to be stock replies that adhere closely to a pre-set template.
Template replies surfaced by accident
What appears to be an unfilled template reply has been sent to a foodpanda customer in Singapore who took a screenshot and uploaded it on Facebook.
The customer, a 32-year-old who gave his name as Hafiz, told Mothership that he had tried to order a meal from McDonald's in Queensway in the evening on Jul. 9, at around 10pm.
The initial estimated delivery time of 10:50pm was then pushed back multiple times to 11:00pm, 11:35pm, 11:45pm, 12:10am and finally 12:20am.
In the midst of all of this, Hafiz reached out to foodpanda support via the Help Centre.
He explained that he was "not trying to be a difficult customer", having waited for around an hour before doing so.
To his surprise, he received a long message — apparently a template used when responding to a customer facing a delayed order.

The screenshot outlines various scenarios such as:
Offering a discount voucher for future orders as compensation for a "Severe Delay".

Responding to a customer wanting to cancel their order.

Providing a reason for the delay in the customer's order.
There was a less-expected scenario that the template apparently catered to as well: "if customer is fussy/asks to cancel order".
What happened to the order in the end?
After speaking to three different agents, he was still not able to get an update on his order.
The third agent Hafiz spoke to said that his case would be put on the agent's "high priority list".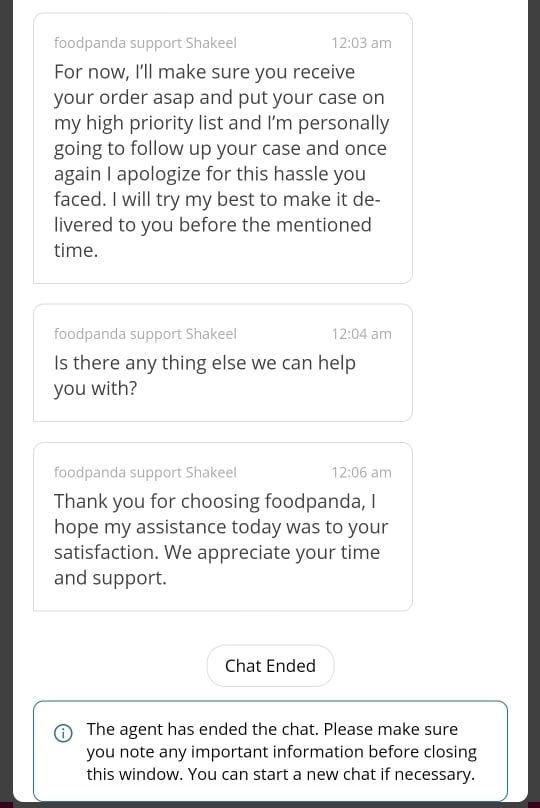 The order was eventually cancelled as there were no available delivery riders, and Hafiz said he eventually went to sleep with an empty stomach.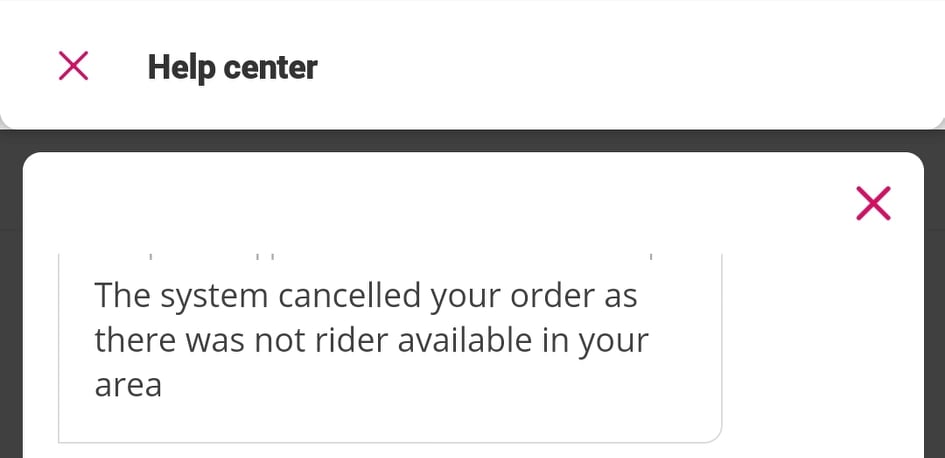 Customer will still order foodpanda in future
Hafiz shared that while this was a less-than-ideal scenario for him, he would still order food deliveries in future, given its convenience, and the fact that Singapore remains in a period of Heightened Alert.
He hopes, therefore, that foodpanda will "do something about their customer service."
"The app help centre is not very helpful at all," Hafiz observed.
Even if the support function has been outsourced, they should still provide answers "by heart" and not simply "repeat the same template", he added.
Mothership contacted foodpanda for comment and received the following response:
"Like most customer service departments, we do have guidelines for our customer service agents to follow. We'll remind them that the customer does not need to see these."
Related story:
Top image via Hafiz and via foodpanda website
If you like what you read, follow us on Facebook, Instagram, Twitter and Telegram to get the latest updates.