The Ministry of Health (MOH) has confirmed 12 new cases of Covid-19 in Singapore on Tuesday (Jul. 6).
This brings the total number of cases in Singapore to 62,652.
Five new locally-transmitted cases
There are five cases of locally-transmitted Covid-19 infection.
Three are linked to previous cases and have already been placed on quarantine, while two are currently unlinked.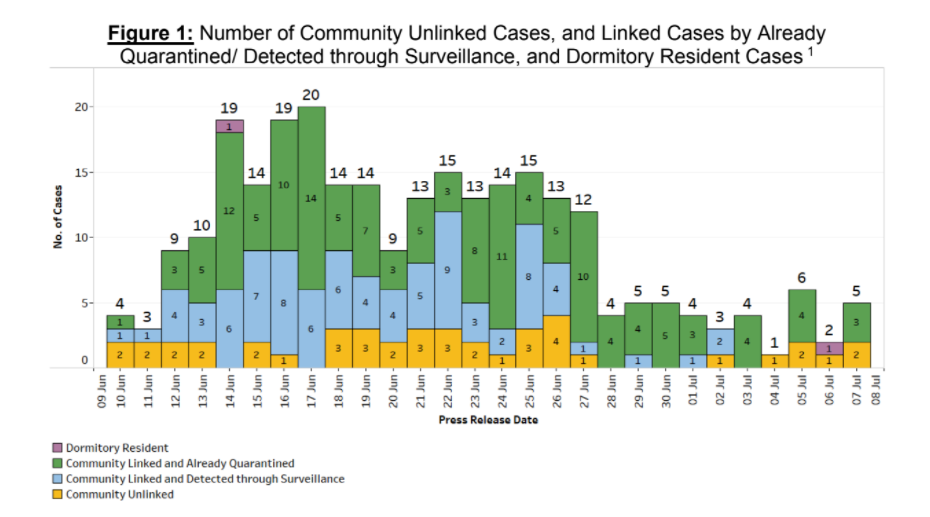 There are seven imported cases, who have already been placed on Stay-Home Notice (SHN) or isolated upon arrival in Singapore.
Five were detected upon arrival in Singapore, while two developed the illness during SHN or isolation.
Decrease in community cases
The number of new cases in the community has decreased from 68 cases in the week before, to 24 cases in the past week.
The number of unlinked cases in the community has also decreased from nine cases in the week before, to seven cases in the past week.
The seven-day moving average number of all linked community cases and all unlinked community cases are 2.4 and 1.0 respectively.
23 active clusters
There are currently 23 active clusters, ranging between three and 94 infections.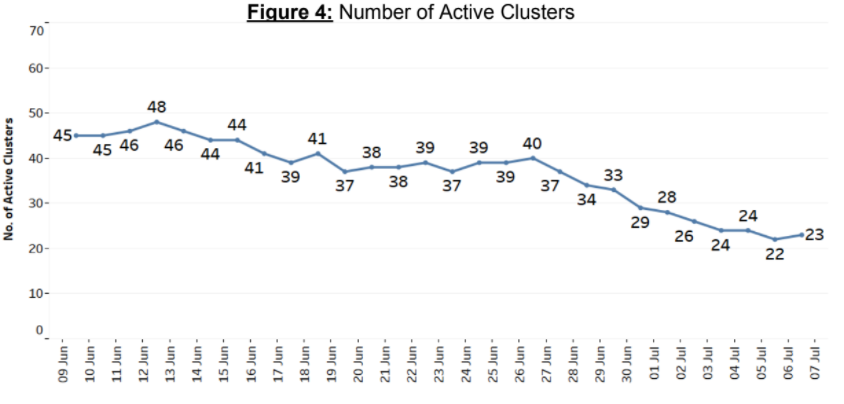 A new cluster, Case 64599, was added to the list.
Three cases were added to the cluster today (July 7), making it a total of four cases in the cluster.
Progress of vaccination programme
As of Jul. 6, MOH has administered a total of 5,933,179 doses of Covid-19 vaccines under the national vaccination programme.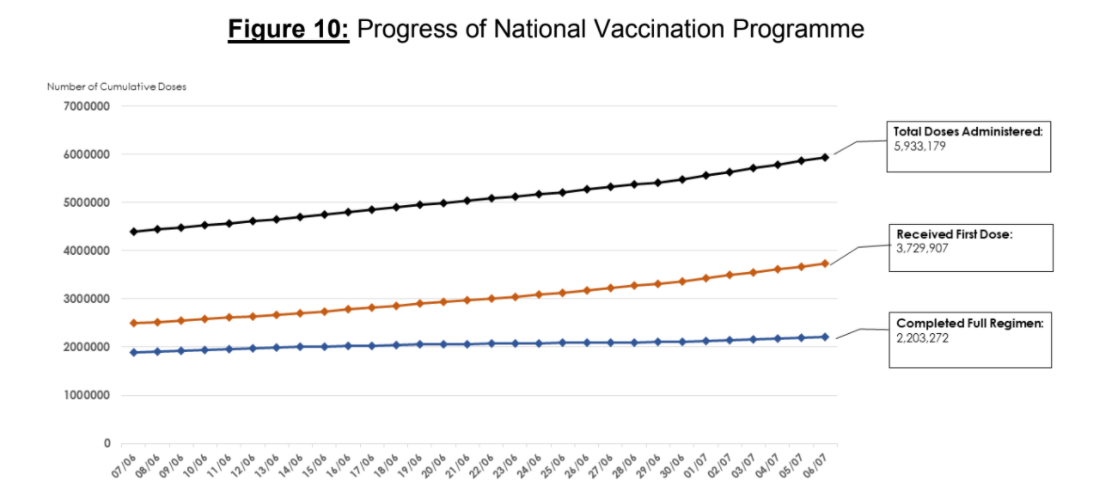 This covers 3,729,907 individuals.
2,203,2729 individuals have received their second dose and completed the full vaccination regimen.
Condition of hospitalised cases
There are currently 90 cases warded in the hospital, most of whom are well and under observation.
In addition, there are seven cases of serious illness requiring oxygen supplementation, and another three are in critical condition in the intensive care unit (ICU).

Top photo by Zheng Zhangxin
If you like what you read, follow us on Facebook, Instagram, Twitter and Telegram to get the latest updates.