Follow us on Telegram for the latest updates: https://t.me/mothershipsg
A fire broke out at 141 Yishun Ring Road on June 29, and 10 people were conveyed to the hospital due to smoke inhalation.
The Singapore Civil Defence Force (SCDF) said that they were alerted to the fire at around 8:30am.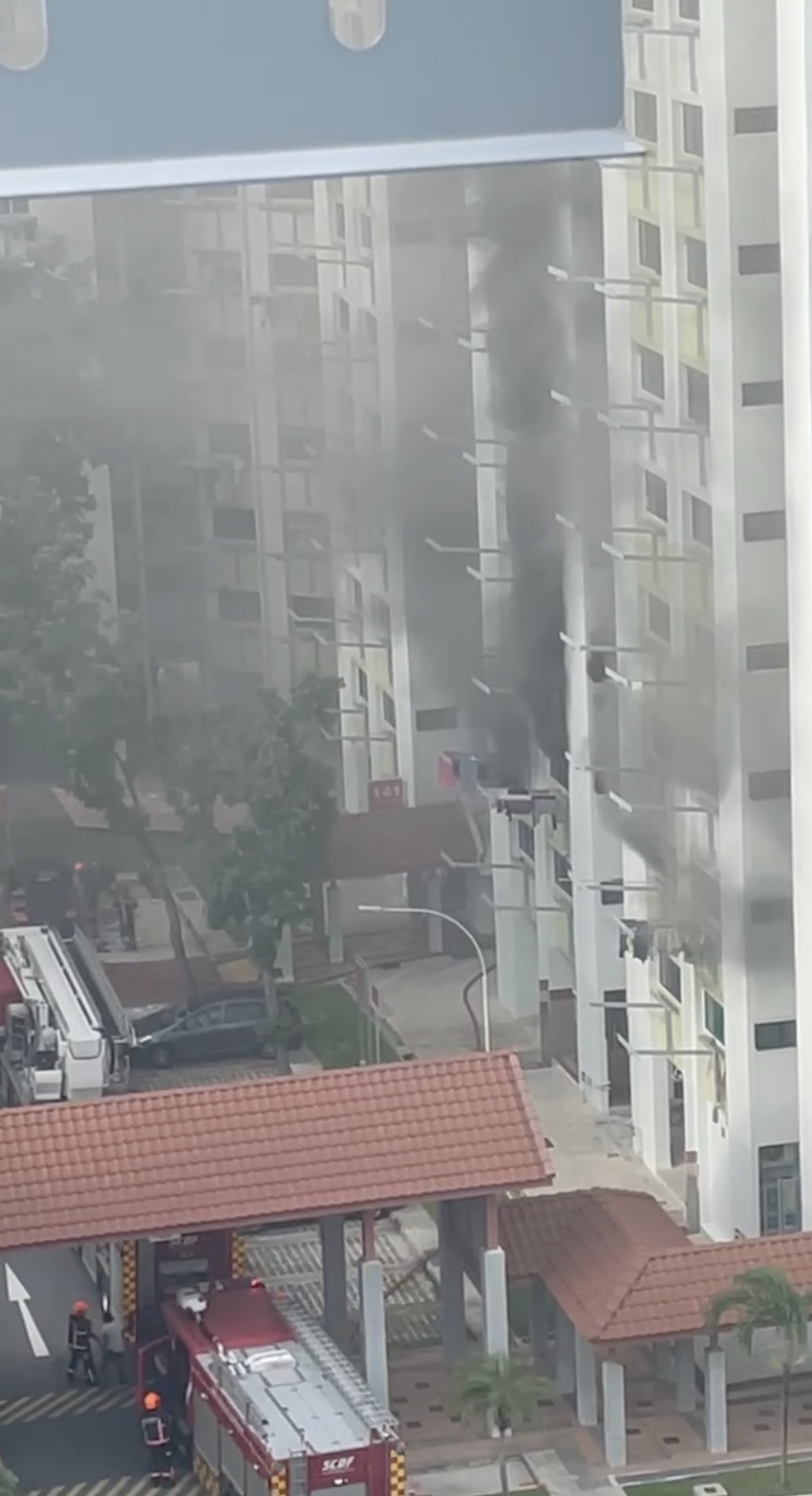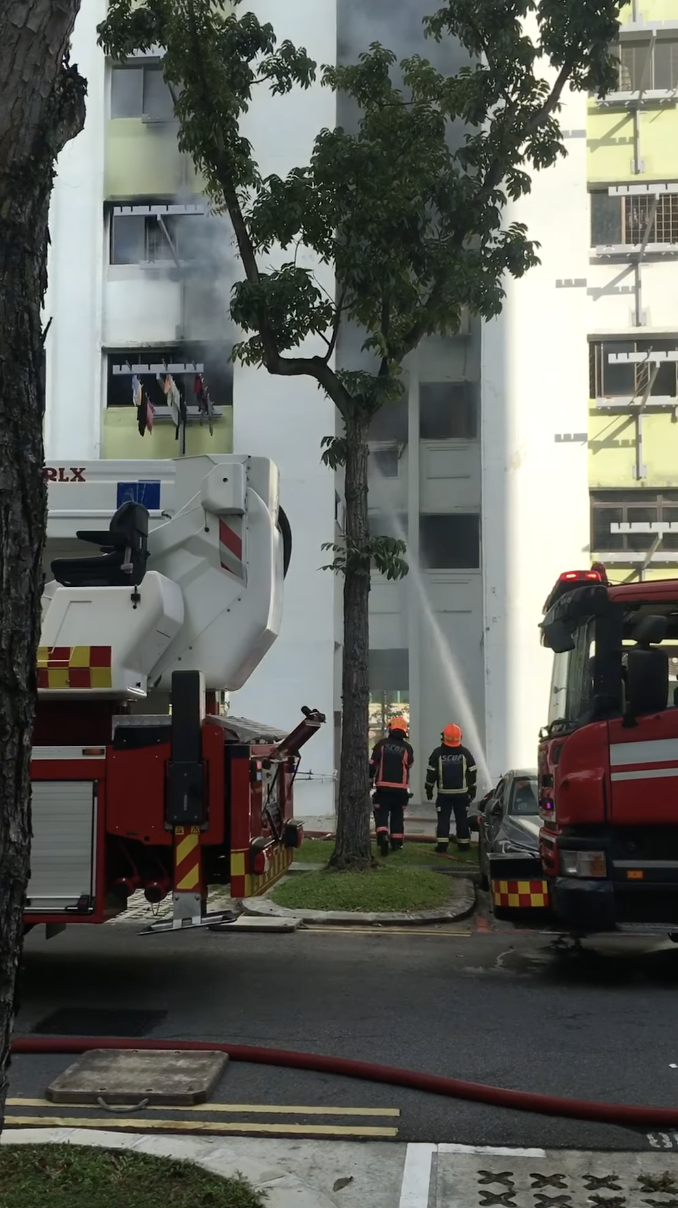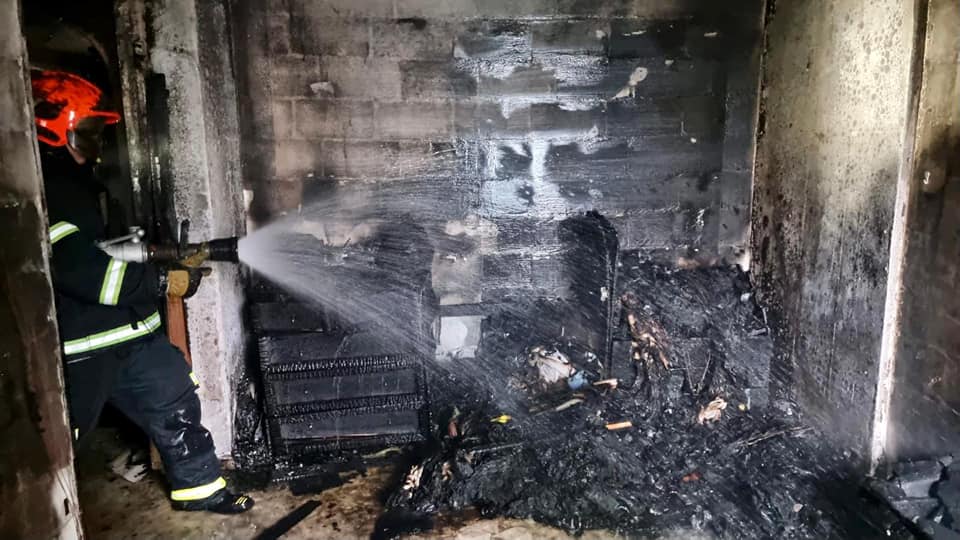 The fire spanned units across three floors on the 3rd, 4th and 5th levels, and was extinguished with three water jets.
About 100 residents self-evacuated from the block.
Maid saves elderly neighbour from unit on fire
The fire had first broken out at a 3rd-floor unit, according to residents who spoke to Chinese daily Lianhe Zaobao.
As the fire rose, the air-conditioning units on the 4th and 5th floors exploded.
Zaobao reported that an 86-year-old woman with dementia, as well as her 68-year-old daughter and her 38-year-old granddaughter, reside in the 3rd-floor unit where the fire had first broken out.
Speaking to Zaobao, the elderly woman's daughter, Papathi, said that her mum had been home alone when the incident occurred.
According to Papathi, her mum had been praying to deities at home when the mattress in a bedroom caught fire.
While the elderly woman was stunned and did not know what to do, their neighbour's helper smelled the smoke from the fire, prompting her to quickly approach the unit and knock on the door.
She also alerted the rest of the neighbours on the same level to evacuate from the building.
However, Papathi said that she later found out from the helper's employer that while her mum had left the unit initially, she returned shortly after and locked herself in.
Upon realising this, the neighbour's helper had immediately rushed back and banged on her door to get her to come out. When the elderly woman finally did so, she was escorted to safety by the rest of the neighbours as well.
Safe
According to The Straits Times, Nee Soon GRC MP K. Shanmugam said at the scene that four units were badly affected by the fire, and that it started in a unit with an old woman.
In a Facebook post, Shanmugam, who is also the Law and Home Affairs Minister, wrote that SCDF fire bikes had arrived within six minutes, and the fire engines came within a few minutes after.
The fire was brought under control within 10 minutes, and there were no fatalities.
Shanmugam added that the residents of the four affected units were given shelter at the Chong Pang Community Centre.
The Housing Development Board (HDB) and Town Council will also provide them with temporary housing.
Here's the full Facebook post:
Top image via K. Shanmugam Facebook  
If you like what you read, follow us on Facebook, Instagram, Twitter and Telegram to get the latest updates.