Multiple handwritten notes were put up at a block of flats in Woodlands, warning of potential karmic repercussions for the person who had taken a wheelchair from an 11th floor HDB common corridor.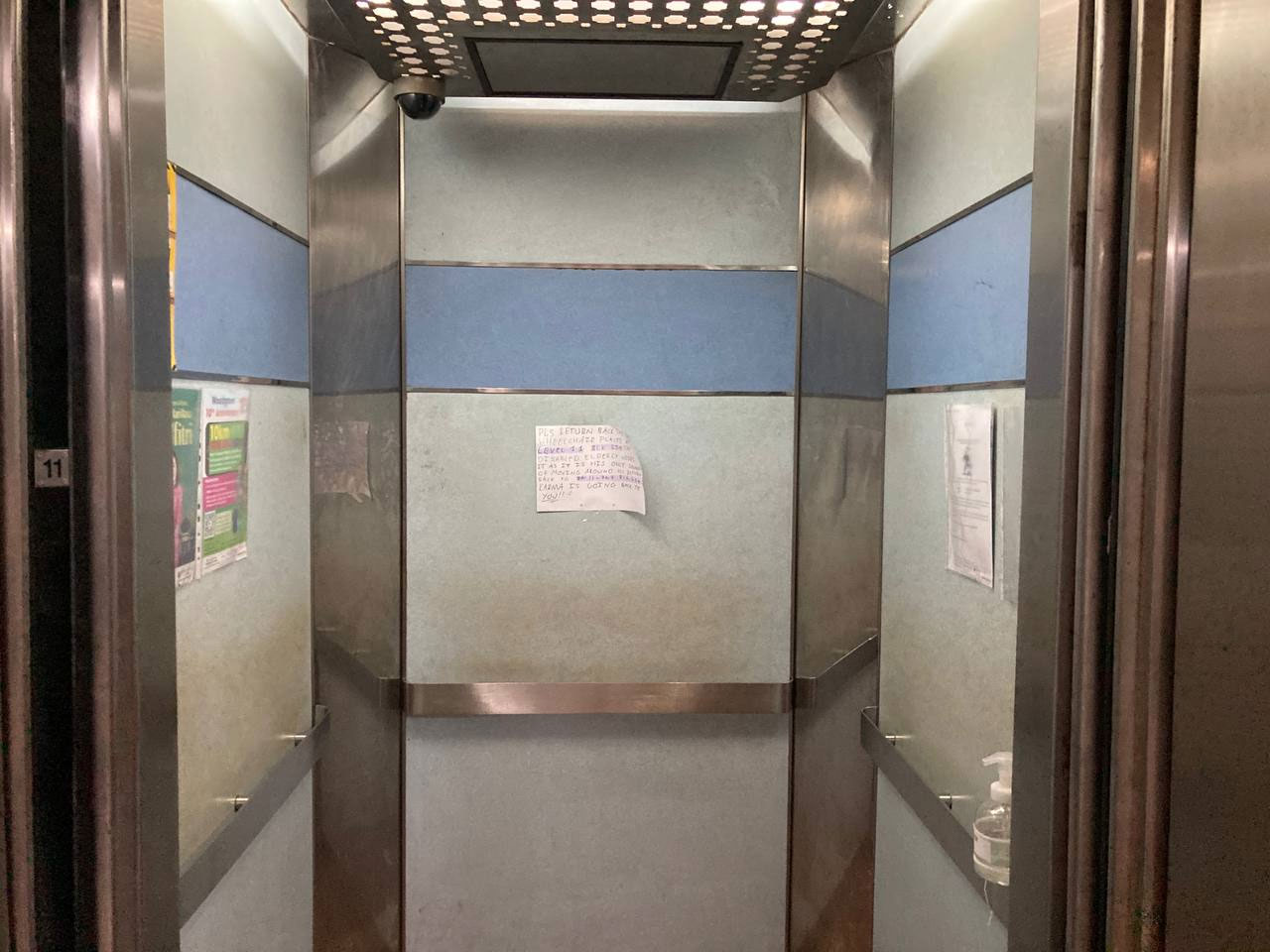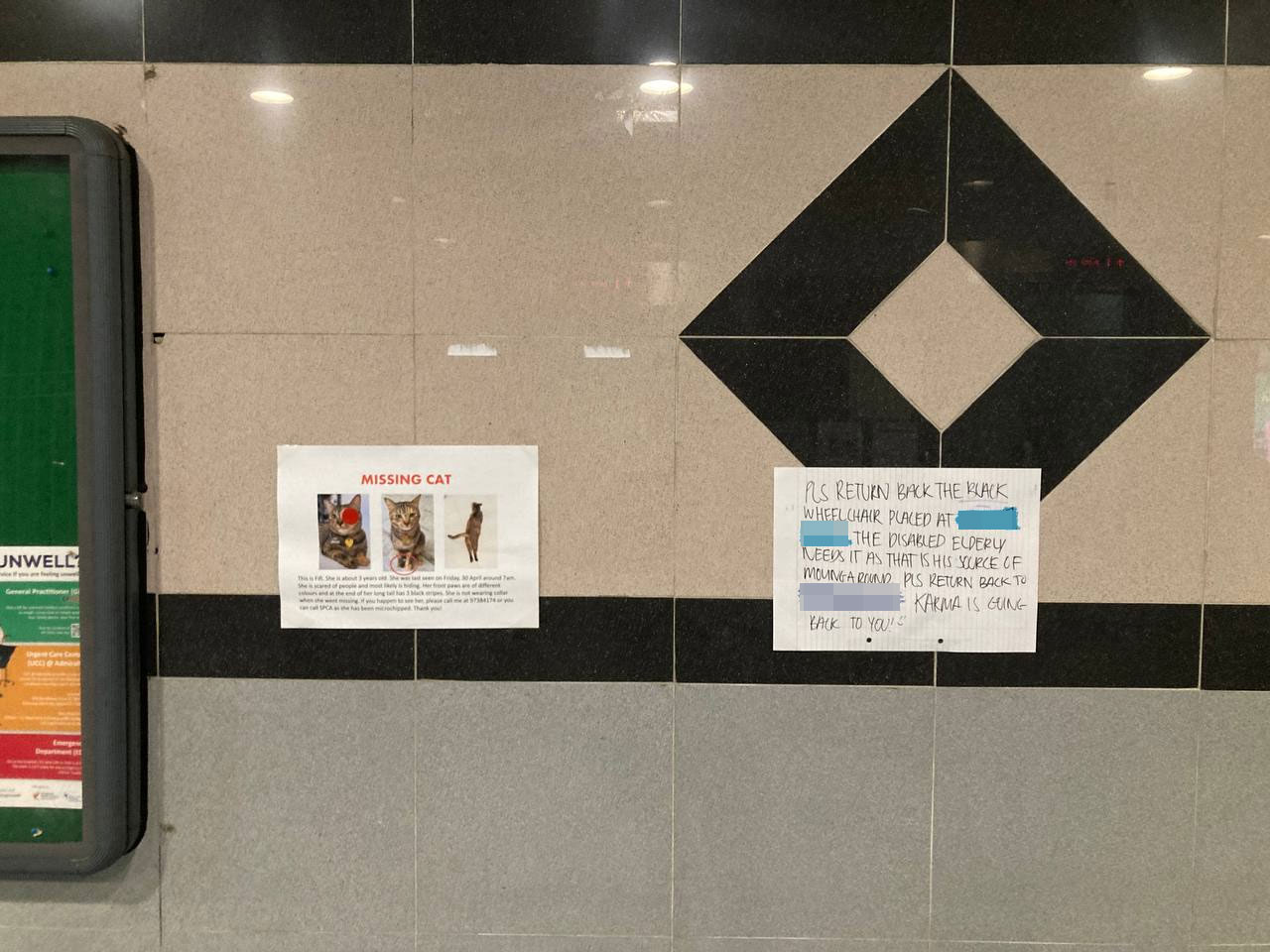 The posters were spotted on June 2, 2021.
One of the posters, found in one of the block's lifts, read:
"Please return back the black wheelchair placed at level [unit level] block [HDB block number]. The disabled elderly needs it as it is his only source of moving around. Please return back to [unit level][HDB block number]. Karma is going back to you!! :)"
What happened
The family involved told Mothership that the wheelchair had been left to dry outside of their 11th floor unit on the night of June 1, after it was washed.
The homeowner, Noor, said the wheelchair was last seen at 10pm when a family member went out of the house to throw rubbish at the common chute.
By 6am the next morning, when Noor left for work, the wheelchair was gone.
The wheelchair is utilised by Noor's father, who is 83 years old.
He requires a wheelchair to get around as he is an amputee.
Checked with cleaners
The family subsequently checked with the cleaners of the block, in case they had mistakenly assumed that the wheelchair was meant for disposal.
However, the cleaners said they did not see the wheelchair.
The notices were put up by Noor's sister later that day.
According to Noor, the family has been living in Woodlands for almost five years without incident.
They even leave their clothes out to dry along the common corridor.
Noor said the family hopes the wheelchair will be returned.
Wheelchairs offered to family
On the same day, in the evening, a photo of the handwritten notice was put up on the Complaint Singapore Facebook group to call attention to the alleged theft.
Help arrived not long after the image was made public.
Noor shared that the Member of Parliament (MP) for the area, Hany Soh, came to know about the incident, and a wheelchair was loaned to the family by the residents' committee.
The family said they are grateful for the assistance.
Members of the public donate wheelchair
Shortly after Mothership.sg spoke to Noor, two members of the public turned up at the unit to give the family a wheelchair at no charge.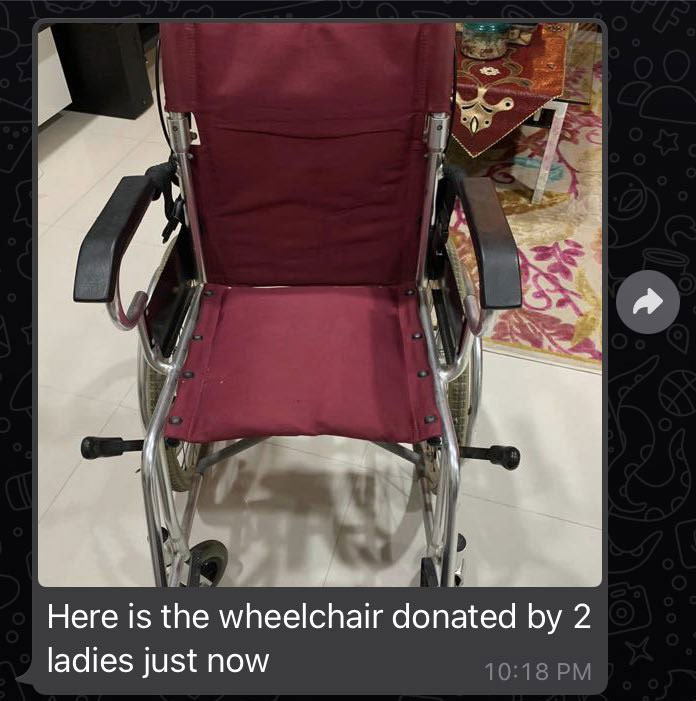 In response to this, and other offers of help, Noor said that he is thankful to the two women for the donation, as well as the concern shown by the public online.
The family has also taken down the notices.
Noor said: "Really would like to say thanks a lot to everybody."

All photos via Nigel Chua
If you like what you read, follow us on Facebook, Instagram, Twitter and Telegram to get the latest updates.